Combat drones are gaining attention as Russia is using them in its invasion of Ukraine, targeting both military forces and civilian infrastructure. Advances in manufacturing, general components miniaturization, as well as control and guidance systems increase their adoption. Unmanned combat aerial vehicles (UCAVs) and loitering munitions such as suicide drones or kamikaze drones carry out highly cost-effective targeted strikes like the ones we see in the Ukraine war today. This widespread adoption of weaponized unmanned aerial vehicles (UAVs) also powers other military applications with small-payload activities that aid reconnaissance operations. Therefore, it is necessary for militaries to effectively detect combat drones for tackling enemy attacks.
Though drones already find applications in military and defense operations, emerging technologies are taking their capabilities beyond rescue, surveillance, and monitoring. These advances will increase the use of UCAVs in military warfare globally. Advanced hardware including sensors or cameras as well as newly developed software enables better reconnaissance, surveillance, and target acquisition (RSTA). This greatly reduces costs and risks associated with traditional military aircraft. Additionally, UAVs are more flexible as they are easily and quickly deployable. They also make saturation attacks significantly more likely, thus posing a threat to even the most sophisticated air defense systems. This is why our research below puts an emphasis on cost-symmetrical detection and mitigation strategies and systems that aid in tackling the increasing number of combat drones and loitering munitions.
As outlined, UCAVs and loitering munitions are taking on an increasingly important role in defense and military operations. This is why equipment to detect combat drones, UCAVs, and loitering munitions is essential for the upper hand in combat, conflicts, and wars. In the Russia-Ukraine war, for instance, detection equipment also has an important role in identifying simpler unsanctioned and foreign unmanned aerial systems (UAS). This enables emergency teams to increase both civilian and army personnel safety as well as critical infrastructure security. To this effect, we conducted in-depth research into global defense startups, scaleups, and technology companies developing technologies to detect and mitigate combat drones. In this first part, we focus on technology solutions that facilitate the detection, identification, tracing, and localization of UAV, UCAV, and loitering munitions activities.
Innovation Map outlines the Top 14 Systems to Detect Combat Drones
For this in-depth research on the Top Anti-Drone Technologies & Startups, we analyzed a sample of 274 global startups & scaleups. The result of this research is data-driven innovation intelligence that improves strategic decision-making by giving you an overview of emerging technologies & startups in the military industry. These insights are derived by working with our Big Data & Artificial Intelligence-powered StartUs Insights Discovery Platform, covering 2 500 000+ startups & scaleups globally. As the world's largest resource for data on emerging companies, the SaaS platform enables you to identify relevant startups, emerging technologies & future industry trends quickly & exhaustively.
In the Innovation Map below, you get an overview of the Top 7 Anti-Drone Technologies to Detect Combat Drones. Moreover, the Anti-Drone Technologies: Drone Detection Innovation Map reveals 14 hand-picked startups, all working on emerging technologies that advance their field.
Top 7 Technologies to Detect Combat Drones
Interested to explore all drone detection technologies, startups, & scaleups?
Global Startup Heat Map covers 274 Drone Detection Startups & Scaleups
The Global Startup Heat Map below highlights the global distribution of the 274 exemplary startups & scaleups that we analyzed for this research. Created through the StartUs Insights Discovery Platform, the Heat Map reveals that the US & Western Europe see the most startup activity.
Below, you get to meet 14 out of these 274 promising startups & scaleups as well as the solutions they develop. These 14 startups are hand-picked based on criteria such as founding year, location, funding raised, & more. Depending on your specific needs, your top picks might look entirely different.
Top 7 Anti-Drone Technologies to Detect Combat Drones
1. Acoustic Detectors
The sounds generated by rotors and engines in drones allow the use of acoustic solutions to detect, classify, and localize them. These solutions primarily utilize microphones or microphone arrays to detect sounds. They also calculate the direction of the flight using algorithms and multiple signal classification. This acoustic method facilitates the detection of combat drones within the near field, those operating autonomously, and the ones that do not emit RF radiations. Further, innovations like tetrahedron acoustic arrays provide more accurate detection, recognition, and mapping of their direction of arrival.
Advanced Protection (AP) Systems enable Directional Drone Detection
Polish startup AP Systems designs and builds a comprehensive system for the detection, tracking, and neutralization of small aerial vehicles. The startup's modular and fully configurable radar sensor augments drone detection capabilities using acoustic sensors. These acoustic sensors provide direction-finding capabilities through AP Systems' digital beamforming technology, enabling robust operation in urban environments.
Prime offers Omnidirectional Acoustic Detection
Spanish startup Prime provides custom technical solutions for defense and protection applications in the military sector. The startup's omnidirectional acoustic sensor, DroneShield, provides full-range drone detection with a 180-degree coverage of surrounding acoustic activities. The omnidirectional microphone is small in size and features multiple color options for inconspicuous installation. Prime's drone detection system also features noise filters that distinguish and eliminate common environmental noises. This improves the accuracy of drone detection in any weather condition.
2. Alert Escalation Platforms
All drone detection methods utilize sensor data to detect and identify malicious flying objects like combat drones and loitering munitions. The detection system generates a large amount of data that requires massive processing to provide cognizable information on the presence of drones or other rogue flying objects. Innovations in artificial intelligence (AI) and other data processing techniques thus aid the development of command and control software that handles drone data. Such solutions automate data collection and processing to quickly and accurately identify unsanctioned flights. AI-based systems also escalate no false alerts to the command chain.
Black Sage advances Automated Drone Detection
US-based startup Black Sage offers an autonomous and interoperable hardware and software platform for counter-UAS (CUAS) applications. The startup's counter-UAS command and control software, DefenceOS, automates rogue drone recognition and effector deployment to counter them. Its automated features avoid the need for operator intervention in UAS threat detection. Additionally, the startup's modular CUAS hardware platform, Sawtooth, features multiple detectors and effector systems customizable to meet mission requirements.
URSA makes a Drone Data Management Platform
US-based startup URSA develops an all-in-one platform for UAS and CUAS ecosystem data handling and processing. The platform analyzes UAS data to identify and prioritize anomalous drone behavior. URSA's vendor-agnostic analytics uses big data and AI techniques to rapidly access and understand drone data on the platform. The startup's modular platform evolves and grows with the environment it operates in, providing continuous actionable risk management.
3. Hybrid Detectors
Using a single method of detection causes blind spots and makes the successful detection of UAVs difficult. Innovations like sensor fusion and joint control systems enable hybrid detection systems with greater accuracy and installation flexibility. They combine radio, electro-optical, and camera sensors with a control platform. The control platform coordinates the data collected by individual sensors and augments each sensor's ability. This way, RF scanners gather information like drone type and control commands as well as location information when combined with acoustic or optical/thermal sensors. This improves the triangulation of loitering munitions and other malicious flights.
Vizgard delivers Sensor Fusion-driven UAV Detection
UK-based startup Vizgard provides a sensor fusion platform for enhancing camera-based systems. The startup's platform-agnostic software, FortifAI, combines AI, sensor fusion, and a camera platform to increase time-critical system autonomy. Its sensor fusion system reduces operator burden and increases the probability of detecting potential threats like kamikaze drones or other enemy UCAVs. The platform also filters false positives from primary sensors, such as radar or RF detectors, and validates each detection alert through visual analysis.
FIONSYSTEMS provides an Integrated Anti-Drone System
South Korean startup FIONSYSTEMS develops integrated anti-drone systems, drone ground control software, and AI-based image processing solutions. The startup's anti-drone system, Clipeus, uses 3D radar, optical cameras, and integrated operation control software. It maps drone activities utilizing radar data to identify target drones and tracks them through real-time image processing. The platform also triggers counter-effectors upon identifying drone threats.
4. Optical Sensors
Advances in optical camera technology allow military tech startups to detect, identify, and analyze drones using camera visuals. These solutions detect objects based on their appearance and motion features across consecutive frames. The visuals of drones and their payloads provide useful forensic evidence that provides insights for faster combat drone and loitering munition identification. But the low spatial resolution and image contrast results in high false-alarm rates making optical solutions unreliable on their own. Therefore, startups leverage vision systems along with other detection techniques.
Bluvec enables 360-Degree Optical Drone Detection
Canadian startup Bluvec offers an optical drone detection system that provides effective security against combat and kamikaze drone threats. The startup integrates its visual sensor into a servo pan-tilt-zoom (PTZ) setup, Blucam A100, and an intelligent AI vision platform. This enables 360-degree detection, intelligent identification, target positioning, and forensic tracking functions.
Walaris develops an Electro-Optical-based Detection System
Walaris is a US-based startup that develops an end-to-end optical system, utilizing optical-based detection, acquisition, classification, and tracking solutions. The startup's electro-optical-based detection system, AirScout Sentry, uses AI-driven software that continuously scans the airspace to monitor drone activities. Upon detecting UAS threats, the software triggers real-time alerts to operators. Further, the solution's open architecture software and flexible application programming interface (API) enable seamless integration with other sensors and systems.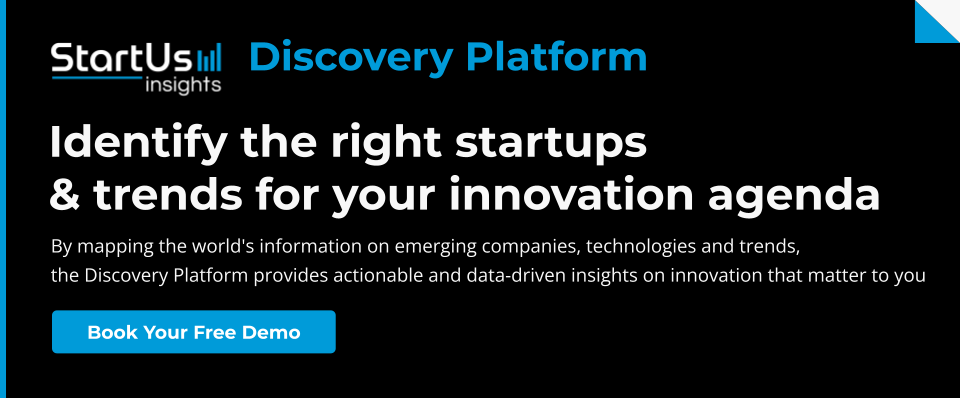 5. Radar
Radar technology enables active drone detection by sending radio-wave signals and analyzing return signals for measuring the direction and distance of flying objects. Although radar solutions are highly dependent on the size of the drone, they support long-range, continuous tracking, and highly accurate localization. Radar-powered detection systems also handle hundreds of targets simultaneously and regardless of autonomous flight and visual conditions like brightness or fog. This data allows mission control and military units to create a map of all flying objects within their range and track anomalous activities.
Edgeforce offers End-to-End Drone Defense
Indian startup Edgeforce creates end-to-end solutions to tackle UCAVs and malicious drones. The startup's radar system leverages active transmitters and receivers to identify and track autonomous UAVs. It automatically detects and tracks multiple drones simultaneously. The system also utilizes machine learning to recognize complex patterns in the data captured by drone sensors. This allows the drone detection system to spot regular flight activities from abnormal ones.
Noology develops 3D Radar Technology
US-based startup Noology makes a radar-based drone detection system to secure critical sites and infrastructure. The startup's spherical view radar (SVR) offers real-time spherical coverage of the airspace with the provision to cover a wide area through networking. This eliminates blind spots and increases the efficiency of UAS detection and tracking. The solution also offers a graphical user interface that pinpoints drone locations on 2D and 3D displays.
6. Radio Frequency Analyzers
Radiowaves are critical for unmanned flights to communicate between the drone and the controller. Every UAV model uses a unique radio frequency (RF) band for the transmission and reception of control commands. These communications contain information pertaining to the hardware addresses of drones and controllers that aid in identifying their make and model. Innovative RF analyzers are capable of triangulating drones and their controllers. This enables the detection and identification of unfriendly drones and loitering munitions in restricted airspaces. Radio-based solutions also provide a long-range and low-cost drone detection means to passively detect and identify multiple drone systems.
Dabin Systems makes an RF-based Counter-Drone System
South Korean startup Dabin Systems provides Ostrich, a counter-drone system that determines the presence of rogue flying objects like suicide drones. It detects RF signals transmitted and received between the drones and controllers. For this, the system uses an active antenna unit (AAU)-based antenna and a control computer that is easy to install and transport. The AAU is water and dustproof and features self-heat dissipation capabilities for seamless operations in extreme environments.
Skycope Technologies provides RF Spectrum Drone Sensing
Canadian startup Skycope Technologies develops hardware and software solutions that utilize RF spectrum sensing to search for drones and their remote controllers. The startup's sensor system, SkyEye, uses passive detection of RF signals to locate drones in its sphere of influence. Its software platform also compares these RF signals with a drone library to confirm the detection. Additionally, the platform's AI ensures drone detection even in cases of new and unknown drones not included in the library.
7. Thermal Detectors
The motors, batteries, and other onboard equipment of drones radiate a significant amount of heat that imparts thermal signatures. These signatures are recognizable by thermal sensors. Thermal detection has higher resilience to adverse weather conditions, thereby enabling UAS detection in foggy or overcast conditions. However, they have a lower range compared to other detection methods and find use alongside radio or optical systems. This improves the identification ability of the drone detection equipment without adding expensive radio wave detectors and analyzers.
Optimized Electrotech offers Infrared (IR)-based Drone Detection
Indian startup Optimized Electrotech develops imaging surveillance technology utilizing electro-optics. The startup's long-range surveillance system, Noct Vision, detects combat drone threats in visible light and night conditions as well as enables zero-light imaging. It applies long-wave IR manipulation and high-sensitivity thermal detectors that spot even the slighted faults along the perimeter. This allows authorities to take preventive action and mitigate drone attacks.
Blighter Surveillance Systems creates an Anti-UAV Defense System (AUDS)
UK-based startup Blighter Surveillance Systems makes an AUDS that disrupts and neutralizes UAVs engaged in hostile airborne surveillance and potentially malicious activities. It is a smart-sensor and effector package that remotely detects small UAVs. The startup's AUDS then tracks and classifies them before providing the option to disrupt their activity. Moreover, the high-sensitivity thermal imager in the startup's detection system enables the detection of small UAVs in all weather conditions.
Discover all Anti-Drone Technologies, Trends, & Startups
The principle focus of every drone detection system is to maximize its ability to accurately identify malicious flying objects. They include enemy reconnaissance drones and loitering munitions. Advances in sensor technologies facilitated by electronic miniaturization and easier integration with advanced analytics platforms allow for the complete utilization of airspace activity data. This simplifies the process of pattern recognition, thereby accelerating the confirmation of malicious activities and minimization of false alarms.
Although the detection of combat drones offers precious intelligence on enemy UAVs, a mitigation strategy is necessary to neutralize the threat. Here, innovations in counter-drone systems facilitate the adoption of takedown systems that decapacitate the detected drones. These countermeasure systems utilize kinetic and non-kinetic techniques to land combat drones and loitering munition without threatening citizen and infrastructure safety. Discover these solutions in part two of our Anti-Drone Technologies report!
Looking for emerging anti-drone technologies & startups?
✕