Innovations in dermatology advance the diagnosis and treatment of various conditions such as acne, eczema, psoriasis, dermatitis, and more. Rising pollution levels in the atmosphere and increasing sedentary lifestyles after the pandemic are causing more cases of dermatological problems among people of all ages. Developments such as laser and light therapies and photodynamic therapy are tackling the rising challenges in dermatology. Read more to discover top trends and innovative startups impacting dermatology.
Innovation Map outlines the Top 8 Dermatology Trends & 16 Promising Startups
For this in-depth research on the Top 8 Trends & Startups, we analyzed a sample of 3 350 global startups & scaleups. The result of this research is data-driven innovation intelligence that improves strategic decision-making by giving you an overview of emerging technologies & startups in the healthcare industry. These insights are derived by working with our Big Data & Artificial Intelligence-powered StartUs Insights Discovery Platform, covering 2 500 000+ startups & scaleups globally. As the world's largest resource for data on emerging companies, the SaaS platform enables you to identify relevant startups, emerging technologies & future industry trends quickly & exhaustively.
In the Innovation Map below, you get an overview of the Top 8 dermatology Trends & Innovations that impact 3 350 companies worldwide. Moreover, the Dermatology Innovation Map reveals 16 hand-picked startups, all working on emerging technologies that advance their field.
Top 8 Dermatology Trends
Tree Map reveals the Impact of the Top 8 Dermatology Trends
Based on the Dermatology Innovation Map, the Tree Map below illustrates the impact of the Top 8 Dermatology Trends. Advanced Diagnostic solutions make skin disease identification easier for medical professional professionals and people themselves at home. Innovations in pharmaceutical dermatology focus on the development and testing of new and existing drugs, such as topical, oral, and injected medicines to treat a variety of skin conditions. Besides these, personalized skin care and cosmetic therapy improve skin and hair health and appearance through therapies and treatments. Digital dermatology includes innovations in technologies, such as telemedicine, electronic medical records, and artificial intelligence while allergy care provides solutions for abnormal immune responses to substances. Lastly, sustainable cosmetics reduce the negative effects of cosmetics on the environment with clinical decision-support technologies assisting medical professionals with data-driven diagnostic information.
Interested to explore all 3 000+ dermatology startups & scaleups?
Global Startup Heat Map covers 3 350 Dermatology Startups & Scaleups
The Global Startup Heat Map below highlights the global distribution of the 3 350 exemplary startups & scaleups that we analyzed for this research. Created through the StartUs Insights Discovery Platform, the Heat Map reveals that the US and India see the most startup activity.
Below, you get to meet 16 out of these 3 350 promising startups & scaleups as well as the solutions they develop. These 16 startups are hand-picked based on criteria such as founding year, location, funding raised, & more. Depending on your specific needs, your top picks might look entirely different.
Top 8 Dermatology Trends in 2023
1. Advanced Diagnostics
Dermatological diagnostics is an important field as it identifies the underlying cause of skin conditions ranging from simple acne to skin cancers. However, current dermatological diagnostics face a range of problems such as limited accuracy of tests, lack of accessibility, and general discomfort in the tests themselves. To overcome these problems and tackle rising dermatological issues, startups are developing advanced molecular testing and AI-based diagnostic tools.
Dermadiagnostix specializes in Molucuar Diagnostics
Brazilian startup Dermadiagnostix develops molecular diagnostics tests that zoom into the gene level to deliver objective and precise information. Their tests feature complete automation using LabDisk and a single-use cartridge that contains all reagents necessary for assay performance. Besides this, the modularity of the interconnection of the reaction chambers provides flexibility in performing new tests. The startup's molecular tests provide dermatologists with the ability to perform differential diagnoses of psoriasis and eczema.
Skintelligent develops AI-based Skin Diagnostics
US-based startup Skintelligent develops an AI-based skin diagnostics platform that provides skin analysis reports. The application works by allowing users to upload selfies or take photos for analysis by Skintelligent's deep learning-based skin model. After the analysis, users receive a unique skin report with parameters such as acne, pigmentation, wrinkles, etc. along with personalized product recommendations.
2. Pharmaceutical Dermatology
There is high consumer demand for services like anti-aging, skin cancer prevention, and hair growth which are being provided through various forms of medication. At the same time, there are growing concerns over side effects, high cost making them inaccessible and the inefficacy of generalized treatments. For these reasons and more, clinical-stage pharmaceutical companies focus on the research and development of therapeutics to treat skin conditions while addressing their negative drawbacks.
Seanergy develops Therapeutics for Inflammation
Seanergy is an Israeli startup that develops topical treatments for inflammatory and other skin conditions. Their patented technology combines anti-inflammatory active pharmaceutical ingredients with sulfated polysaccharides to create a potent therapeutic effect. Besides topical therapeutics for inflammatory conditions, their technology enables the treatment of autoimmune diseases and others.
NextPhase Therapeutics advances Exosome-based Topical Treatments
US-based startup NextPhase Therapeutics develops exosome-based topical treatments that target immuno-inflammatory dermatologic diseases. The startup's exosomes interact with skin lesions to modulate the inflammatory cascade which stops the abnormal activity of tissue and restores the skin barrier. NextPhase's topical therapy is also able to formulate exosomes with a proprietary set of proteins to treat psoriasis and atopic dermatitis.
3. Personalized Skin Care
Personalized skin care takes into account an individual's unique characteristics and skin type, rather than using a one-size-fits-all approach. Most skin care solutions do not factor in pollution levels or UV exposure which varies from person to person and changes their skin response to dermatological solutions. Moreover, internal health factors like hormones play an important role in better skin, nails, and hair and are receiving increasingly more research and development.
Sequential Skin offers Microbiome-based Skincare
UK-based startup Sequential Skin provides microbiome-based skincare solutions through their test that identifies the state of an individual's skin microbiome. The test uses quantitative real-time PCR (qPCR) to look at specific markers in the skin microbiome. Moreover, the microbiome markers are generated in ISO 13485 medical devices and are CAP-accredited. The tests show skin health with a skin microbiome index score, along with skin traits, age, and the impact of the environment on their skin. The solution gives individuals the information needed to follow personalized skincare routines that are specifically optimized for their microbiome.
Veracity Selfcare advances Hormone-based Skincare
Veracity Selfcare is a US-based startup that develops hormone-based skincare with an at-home saliva test that delivers personalized wellness routines. The test provides individuals with information on hormone levels for estrogen, progesterone, testosterone, DHEA, and cortisol. Additionally, it also accounts for hormone level fluctuations by basing calculations on the date of the person's last period. Once the test is complete it provides recommendations for skincare products, supplements, diets, and lifestyles tailored to match their unique hormone levels.
4. Cosmetic Therapy
Cosmetic therapies are gaining popularity as they improve skin appearance, self-esteem, and overall quality of life. While there is growing global demand for cosmetic therapies, many current therapies carry significant risks of side effects while surgical cosmetical treatments are not only expensive but may also cause permanent damage. This is why startups are developing solutions such as light therapy and topical formulations that promote skin and hair care without any negative side effects.
Aneira Pharma provides a Hair Growth Formulation
US-based startup Aneira Pharma develops a hair growth formulation that grows, thickens, and darkens hair for men and women. The startup's prescription hair growth formulation, AN01, is a novel and proprietary topical formulation for androgenetic alopecia. Unlike conventional hair loss and hair growth products, Aneira Pharma's topical formulation works without many of the negative side effects. Their other topical formulations include products to enhance eyebrow growth.
Passiva PLT advances Passive Light Therapy
Passiva PLT is a US-based startup that specializes in passive light therapy using inexpensive and convenient red light phototherapy. Its quantum biotechnology platform converts sunlight and other ambient light sources into the same therapeutic wavelengths used in red light therapy. Passiva PLT's passive light therapy increases the efficacy of a wide range of products including cosmetics, eye care, protective wear, and much more.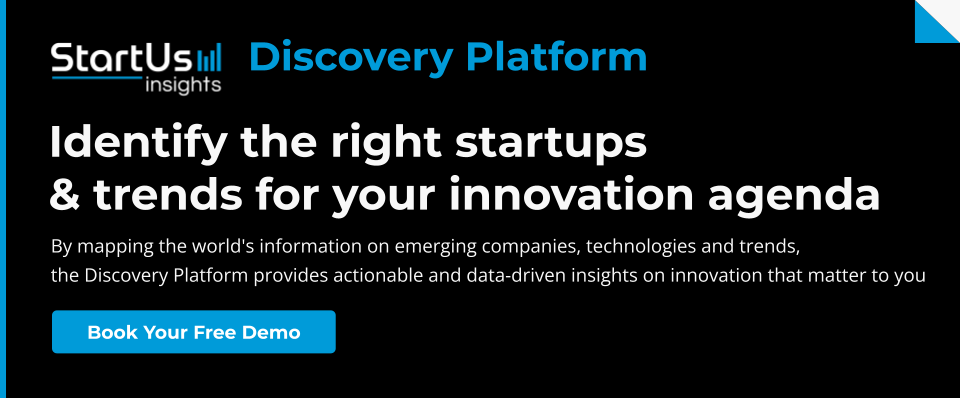 5. Allergy Care
Allergies have a significant impact on a person's quality of life ranging from minor symptoms such as sneezing to major ones like asthma attacks or anaphylaxis. Many people may not be aware that they have allergies or may not know how to manage their allergies effectively as certain skin conditions, like eczema and hives, may be triggered by allergies. Moreover, some people experience adverse reactions to allergy treatments which pose a significant danger to them. Therefore, advances in allergy tests and treatments enable patients to receive better care and overcome their allergies.
Hippo Dx automates Allergy Testing
Belgian startup Hippo Dx develops an autonomous and AI-assisted device to automate allergy testing. Their product S.P.A.T, provides evidence for allergic sensitization and confirms the diagnosis of a suspected type I allergy. Moreover, the device's speed frees time for medical staff, costs significantly less than allergen solutions, and standardizes processes to prevent variation in test results. The device's digital results enable physicians to interpret diagnostics results immediately without waiting.
Third Harmonic Bio advances pH-based Anti-Allergy Treatment
Us-based startup Third Harmonic Bio specializes in allergy and inflammation treatment of dermatological and respiratory diseases. Their load program, THB-001 is a potent and highly selective, oral small molecule inhibitor of KIT. It deactivates and depletes mast cells in multiple which provides broad symptomatic relief across a range of inflammatory diseases. Besides this, their pipeline of solutions includes therapeutics for chronic inducible urticaria, chronic spontaneous urticaria, and asthma.
6. Digital Dermatology
The COVID-19 pandemic has driven the dermatological industry like many others to incorporate digital technologies such as mobile applications and telemedicine. Through digital dermatology, patients are able to avoid long travel which also makes it accessible to rural or underserved communities that may not have access to dermatological healthcare facilities. Moreover, in-person doctor visits are often associated with very long wait times which is completely removed through mobile-based apps.
SQIN offers a Mobile-based AI Skin Self Check
German startup SQIN develops an AI-based health platform that checks for signs of skin conditions and diseases. The mobile app scans skin to determine skin type if it is oily, dry, or normal, and also analyzes skin color, to gauge a person's skin reaction to the sun and the level of protection required. It also measures skin condition parameters such as skin age, enlarged pores, wrinkles, and dark spots. SQIN's mobile app enables individuals to take preventative care of their skin and seek dermatological advice through telemedicine.
OMHU digitally Assess Skin Conditions
Danish startup OMHU develops a teledermatology app that gives individuals an assessment of their skin symptoms by in-house dermatologists. Their app-based solutions also include IMAGINE, a skin tracker that documents and understands changes in skin conditions over time. While HUDPILOT uses AI to serve as a decision-support platform for dermatological medical professionals. Their applications focus on improving patient self-diagnosis and virtual patient-doctor interaction.
7. Sustainable Cosmetics
Cosmetic materials and materials add to global pollution through microplastics in packaging and chemicals like parabens, triclosan, and benzophenone. Besides this, the synthetic materials in artificial cosmetics pollute ecosystems as it leaches into the air, water, and soil and destroys entire ecosystems such as coral reefs. Innovations in natural-based materials for packaging and cosmetic ingredients solve the environmental concerns of the cosmetics industry while making them more economical.
The Witchery CPH creates Plant-based Cosmetics
The Witchery CPH creates sustainable cosmetics from natural ingredients and avoids using artificial materials as the core of its products. Their locally sourced plant-based ingredients include apples, pears, cabbage, and beetroot which also reduces CO2 emission, water use, and deforestation associated with typical cosmetic production. Besides this, their packaging also promotes sustainability as their glass bottles use wrap made from Møn.
New Frontier Bio develops Natural Cosmetical Compounds
US-based startup New Frontier Bio identifies, optimizes, and commercializes natural compounds for human health and longevity. Their product pipeline includes skin health and supplements based on natural compounds that provide significant benefits across many of the mechanisms of human aging including skin aging. Their technology focuses on optimizing natural compounds for delivery and potency so that consumers live healthy and more youthful lives.
8. Clinical Decision Support Systems
Clinical decision support systems are vital tools that provide medical professionals with data-driven and evidence-based recommendations or alerts for their patients. Innovations in these systems enable medical professionals to diagnose complex conditions not detected or often missed by current methods. Moreover, clinical decision support systems enable dermatologists to detect critical diseases like cancer earlier and provide faster and more reliable skin diagnosis.
AI Medical Technology innovates AI-based Medical Image Analytics
AI Medical Technology is a Swedish-based startup that develops an AI-based and clinically validated decision support tool. Their product, the Dermalyzer, features a database that curtains 100.000 images of skin lesions ensuring fewer melanomas are missed, and fewer incorrect diagnoses. It also enables dermatologists to make diagnoses of all types of skin cancers within seconds through its AI-empowered image analysis software. Moreover, this decision support tool also significantly reduces the cost of diagnosis and the need for unnecessary skin excisions.
Bdetect creates a Melanoma Detection Device
Latvian startup Bdetect develops an AI-based handheld and point-and-click melanoma detection device. The device performs rapid recording and evaluation to support clinical decisions at the point of care. Besides this, it is also useable wirelessly and features multispectral LEDs that illuminate lesions and use data from below the skin at cellular and subcellular levels. The cameras have a field of view of 25 mm with an analysis time of 10 seconds. Through this device, dermatologists are able to provide quick and decisive medical prognoses.
Discover all Dermatology Trends, Technologies & Startups
Healthcare professionals are increasingly relying on decision-support tools for rapid and data-driven diagnostics for dermatological conditions. While cosmetic therapies focus on improving both the external appearance of skin and skin health, pharma solutions work on balancing internal factors such as hormones and microbiomes. Lastly, fields like advanced diagnostics and digital dermatology receive more innovations as a result of the pandemic and its effect on telemedicine.
The Dermatology Trends & Startups outlined in this report only scratch the surface of trends that we identified during our data-driven innovation & startup scouting process. Among others, telemedicine, plastic surgery, & advanced hair loss treatment will transform the sector as we know it today. Identifying new opportunities & emerging technologies to implement into your business goes a long way in gaining a competitive advantage. Get in touch to easily & exhaustively scout startups, technologies & trends that matter to you!
Looking for healthcare startups & technologies?
✕