The complexity of clinical data sourced from patient care and clinical trials hinders its adoption in research. This problem is resolved through the employment of cutting-edge technologies, resulting in more effective and efficient healthcare procedures and drugs. Electronic health record (EHR) management systems, big data, analytics, and artificial intelligence assist physicians in making sense of massive volumes of data and delivering more individualized care. Further, interoperability platforms and security solutions simplify data sharing between various healthcare systems and organizations. This industry research provides you with an overview of the top 10 clinical data management trends in 2023 based on 1234 startups and scaleups. They work on digital pathology, advanced diagnostics, clinical decision support, and more. Read more to explore how these trends improve operational efficiency and care delivery.
Innovation Map outlines the Top 10 Clinical Data Management Trends & 20 Promising Startups
For this in-depth research on the Top Clinical Data Management Trends & Startups, we analyzed a sample of 1234 global startups & scaleups. This data-driven research provides innovation intelligence that helps you improve strategic decision-making by giving you an overview of emerging technologies in the healthcare industry. In the Clinical Data Management Innovation Map, you get a comprehensive overview of the innovation trends & startups that impact your company.
These insights are derived by working with our Big Data & Artificial Intelligence-powered StartUs Insights Discovery Platform, covering 3 790 000+ startups & scaleups globally. As the world's largest resource for data on emerging companies, the SaaS platform enables you to identify relevant technologies and industry trends quickly & exhaustively.
Tree Map reveals the Impact of the Top 10 Clinical Data Management Trends
Based on the Clinical Data Management Innovation Map, the Tree Map below illustrates the impact of the Top Clinical Data Management Trends in 2023. Startups and scaleups leverage big data, advanced analytics, AI, EHR management, and interoperability platforms to simplify data acquisition and analysis. Further, startups develop digital pathology, computational medicine, and advanced diagnostic solutions for the efficient use of clinical data and to derive positive changes in healthcare. There is increasing use of public health data to take swift actions in cases of public health emergencies. Lastly, data security and integrity solutions ensure the privacy and accuracy of clinical data.
Top 10 Clinical Data Management Trends in 2023
Global Startup Heat Map covers 1234 Clinical Data Management Startups & Scaleups
The Global Startup Heat Map below highlights the global distribution of the 1234 exemplary startups & scaleups that we analyzed for this research. Created through the StartUs Insights Discovery Platform, the Heat Map reveals high startup activity in the US, followed by Western Europe and India. Below, you get to meet 20 out of these 1234 promising startups & scaleups as well as the solutions they develop. These clinical data management startups are hand-picked based on criteria such as founding year, location, funding raised, & more. Depending on your specific needs, your top picks might look entirely different.
Interested to explore all 1200+ clinical data management startups?
Top 10 Clinical Data Management Trends in 2023
1. Big Data & Analytics
With the use of big data and analytics techniques, healthcare professionals gather, handle, and analyze massive amounts of patient data more effectively. Such tools enable clinicians to spot patterns and trends in data that are otherwise challenging or impossible. This results in more precise diagnoses and individualized treatment strategies. Predictive analytics also assist clinicians in identifying potential health hazards and implementing preventative measures. Predicting readmission rates, identifying high-risk patient demographics, and optimizing treatment strategies are some specific applications of big data and predictive analytics in clinics.
Signifience provides Statistical Clinical Data Analysis
Signifience is a French startup that offers biostatistics and clinical data analytics solutions for pharma and biotech companies. The startup leverages biostatistics and statistical programming in research processes, from study design and result interpretation to the regulatory submission process. It uses adapted statistical software like SAS or R to deliver insights into study results and develop statistical analysis plans to accurately analyze collected data. Signifience's biostatistician experts also assist in interpreting statistical results and communicating findings to stakeholders.
Prism delivers Biomedicine Business Intelligence
Prism is a US-based startup that develops a data science platform to simplify biomedical research data analysis. It enables evidence-based drug discovery, data-driven hypothesis formulation, automated evidence synthesis, and more. Additionally, the platform allows pharma researchers to quickly run dynamic analyses while leveraging transparent data science. It is flexible to use and ensures the security of data for clinical trial design, market analyses, and research synthesis. With Prism, pharma companies save time on manual processing, maximize the value of existing resources.
2. Artificial Intelligence
By automating data analysis and decision-making processes, AI transforms the way clinical data is collected and maintained. With AI, healthcare professionals more effectively and reliably evaluate vast amounts of patient data, including electronic health records and medical images. In addition to identifying potential health hazards and forecasting patient outcomes, AI algorithms increase the precision of diagnosis and treatment strategies. Startups are offering solutions around medical image analysis, natural language processing (NLP) for EHRs, and AI-powered chatbots for patient triage and support.
NOMA AI provides Clinical Data Analytics
NOMA AI is a US-based startup that develops a platform based on AI and machine learning to analyze clinical data from EHRs. It integrates into hospital IT systems to process patient information and support the deployment of predictive models and clinical intelligence tools. The platform's modular design allows for adaptability and cost efficiency, as well as provides unified data formats across hospitals, providing real-time insights.
Aspen Insights enables AI-powered Clinical Trials
Aspen Insights is a US-based startup that creates a software solution to boost clinical trial enrollment rates. It utilizes NLP and machine learning to analyze electronic health records and match patients to trials based on their clinical records. The software ensures accurate enrollment feasibility analysis, optimal candidate identification, and a streamlined recruitment workflow, accelerating medical treatment development.
3. EHR Management
Electronic health records improve the accuracy and accessibility of patient data, enhance clinical outcomes, reduce errors, and ensure the overall quality of patient care and medical research. By enabling healthcare practitioners to quickly obtain, arrange, and store patient health data, EHRs combine patient information from several sources. They include medical history, test results, and diagnostic imaging, into a single detailed record. By offering a whole picture of patient health, EHR management systems enhance clinical decision-making and treatment planning. EHRs also increase data gathering accuracy and efficiency, eliminating the need for paper-based records and manual data entry.
Chart Synergy streamlines Health records
Chart Synergy is a US-based startup that enables healthcare providers and organizations to maximize their resources and improve patient outcomes. The startup's software platform utilizes data analytics and machine learning to extract insights from healthcare data and provide actionable recommendations. Chart Synergy's platform also optimizes workflows, reduces costs, and enhances patient care. By streamlining the data analysis process, the startup empowers healthcare providers to make informed decisions, leading to better outcomes for both patients and providers.
SPEDA enables Automated EHR Data Extraction
SPEDA is a Danish startup that makes a solution to enable automatic data extraction and transfer from electronic patient records to research platforms like REDCap and OpenClinica. This allows for easy, fast, and safe data extraction without deep integration with record systems. The startup's modular system allows researchers to select specific data points for their research projects and have the data automatically transferred in real time. As a result, the startup reduces the risk of human errors in clinical research.
4. Clinical Data Interoperability Platforms
Clinical data interoperability platforms improve data sharing, patient outcomes, and healthcare quality. They also eliminate the need for duplicate testing and procedures, reducing costs. Such platforms facilitate smooth data transmission across various healthcare providers and systems, improving clinical data collection and management. A more comprehensive picture of a patient's medical history is possible because of these platforms, which ensure secure patient data movement between various EHR systems, laboratories, and other healthcare locations.
SanteSuite simplifies Clinical Data Interoperability
SanteSuite is a Canadian startup that offers immunization management systems (IMS) and clinical data repositories among other solutions for digital health. The IMS and data repositories are scalable solutions and interoperable with several global health databases. SanteSuite also offers a software toolkit to create patient-specific dashboards and track events of births and deaths. With SanteSuite's solution, healthcare providers access patient information from anywhere, at any time, and share it securely with other healthcare professionals. The platform also meets HIPAA and GDPR compliance requirements and is customizable to suit the needs of different healthcare organizations.
Syntegra generates Synthetic Healthcare Data
Syntegra is a US-based startup that creates precise synthetic data to preserve data privacy and serve as a bridge between organizations' data privacy and data science requirements. This approach enables the health sector to adopt a data-centric approach as well as improve patient care and clinical outcomes. Through Syntegra's application programming interface (API), researchers and clinics instantly access patient-level data to accelerate data analytics, develop predictive models, and generate synthetic control groups for clinical trials. The startup also uses synthetic data to accurately mirror the statistical patterns of the original data without linking to actual patients, ensuring patient privacy.
5. Medical Data Security & Integrity
Solutions for data security and integrity are essential for ensuring data compliance and mitigating sensitive data leaks in healthcare facilities. These technologies offer a strong defense against cyber threats, data breaches, and other dangers that jeopardize the confidentiality of patient or clinical trial data. For this, hospitals leverage patient data encryption, cyber security software, secure data storage systems, and access control to restrict data access and prevent data breaches. Data security and integrity solutions also improve healthcare outcomes, increase patient trust, and reduce the risk of expensive legal repercussions.
Feroot enhances Healthcare Data Security
Feroot is a Canadian startup that offers cybersecurity solutions for healthcare. The startups' data security software solutions, Inspector and PageGuard, reduce the risk of a data breach and keep the network secure, enabling healthcare providers to concentrate on treating patients. Feroot's Inspector automatically discovers and reports on all JavaScript web assets and their data access. It identifies security vulnerabilities on the client side and provides specific remediation advice to security teams in real time.
Kephala ensures Secure Clinical Trial Management
Kephala is an Irish startup that provides a secure cloud platform for the efficient and secure management of clinical trials and research. The startup's cloud platform, Kephala Share, tracks, transfers, and stores large clinical trial files containing sensitive clinical data. It also supports file uploads on multiple formats and three predefined user types. The platform is also ISO 27001 certified and adheres to privacy as well as follows health-related regulations such as GDPR and HIPAA.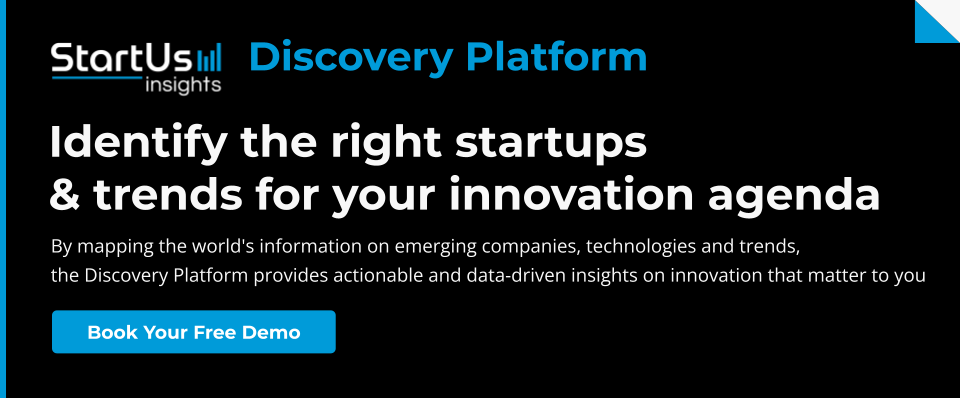 6. Digital Pathology
Digital pathology transforms the way healthcare professionals interpret and handle medical data, particularly in the area of diagnostic pathology. By digitizing tissue samples and other specimens, such systems enable pathologists and other healthcare practitioners to analyze and advise on samples remotely. Healthcare professionals effectively and reliably detect and treat a variety of illnesses, such as cancer, infectious infections, and uncommon genetic disorders, by utilizing digital imaging. Digital pathology systems have a variety of use cases, including the capacity to conduct remote consultations and combine pathology data with other clinical data sources.
DataPathology enables Faster Pathological Diagnosis
DataPathology is a Moroccan startup that provides innovative digital pathology solutions to enable faster and more accurate disease diagnosis. e-PATH is a cloud-based digital platform that allows laboratories to share slides and pathological diagnosis results. The startup's other product, eye-PATH, is an AI module that aids the diagnosis of breast cancer and tuberculosis. DataPathology thus advances the field of pathology through technology and empowers pathologists with the tools they need to provide the best possible care to patients.
Snorkel delivers Automated Clinical Data Labeling & Processing
Snorkel is a US-based startup that offers a comprehensive platform for healthcare organizations to efficiently and effectively manage their data. It leverages machine learning to automate and streamline data labeling, annotation, and processing. With Snorkel, healthcare organizations improve the accuracy of their data, reduce costs, and accelerate research and development. The platform also automates data extraction from clinical trial records for digital pathology. Additionally, it classifies medical papers by topic to enhance research accessibility and categorizes patient records to identify potential candidates for actionable clinical trials
7. Public Health Management
Clinical data improves public health management by providing valuable insights into the health status and healthcare needs of populations. By analyzing clinical data, public health officials identify trends and patterns in disease prevalence, outbreaks, and epidemics. Public health data also allows authorities to develop targeted interventions to prevent and control disease spread. Additionally, clinical data inform health policy decisions, improve healthcare delivery, and support research and development of new treatments and therapies.
EVYD Technology aids Public Health Tracking
EVYD Technology is a Singaporean startup that specializes in providing innovative solutions for public health challenges. The startup's system uses AI and machine learning to track and monitor infectious diseases in real-time. It enables public health agencies and organizations to improve their data management, analysis, and communication capabilities. The system also allows timely investigation and response to potential health threats through active syndromic surveillance. The guidelines are continuously updated based on real-world evidence while alerts and safeguarding measures are triggered when different risk levels are reached.
Interome identifies Public Health Trends
Interome is a US-based startup that improves public health by making complex datasets easy to understand. The startup's digital health platform, Pulse, utilizes AI and machine learning to observe patterns and trends across geographies and identify factors impacting public health. The platform also bridges the gap between precision medicine and public health data by generating actionable insights from data on a continuous basis.
8. Computational Medicine
The emerging field of computational medicine uses analytical and computational technologies to advance healthcare and medical research. Computational medicine assists physicians in making better treatment decisions, predicting patient outcomes, and customizing treatment approaches based on distinct patient features. This allows researchers to analyze massive datasets in medical research and find novel biomarkers and therapeutic targets. Electronic health records, imaging analysis, genomic analysis, and clinical decision support systems are examples of computational medicine applications. Likewise, precision medicine, which provides patients with individualized treatment and preventative methods, requires computational medicine.
ComMedX enables AI-powered Drug Discovery
ComMedX is a Chinese startup that develops technologies for small-molecule drug discovery. It combines various techniques, such as X-ray crystallography and cryo-EM structures, as well as new chemical libraries along with AI and machine learning. ComMedX also offers a lead discovery platform that accelerates drug development. This allows biotech companies to navigate new chemical spaces and identify new targets faster and at a lower cost than ever before. The startup's unique approach combines ultra-large docking screening methods with a hierarchical lead optimization pipeline, enabling them to quickly identify and optimize lead compounds for drug development.
deepnostiX simplifies Human Microbiome Analysis
deepnostiX is a Pakistani startup that uses computational and machine learning to advance research on the human microbiome, personalized medicine, and disease cures. The startup leverages microbial data analysis and computational systems biology to develop an application. The app, in cooperation with doctors, health practitioners, and nutritionists, helps health-conscious people understand their personal gut microbiome. It also makes personalized treatment choices that impact their general well-being, fitness levels, mood, energy, and even serious diseases.
9. Advanced Diagnostics
By providing the required details to correctly identify and diagnose diseases, clinical data plays a significant part in advancing sophisticated diagnostic tools. Novel diagnostic techniques assist physicians in making more informed decisions regarding the best course of therapy for their patients. Clinical data is also useful for creating new diagnostic technologies and enhancing already existing ones, such as genetic testing, laboratory analyses, and imaging methods. For this, clinical data management startups leverage AI and machine learning to analyze enormous amounts of data. Lastly, clinical data enables precision diagnostics for patients when combined with data processing techniques.
Qlarity Imaging offers AI-driven Image Analysis
Qlarity Imaging is a US-based startup that develops an AI-based technology called QuantX. It is an FDA-cleared diagnostic AI software that improves the performance of radiologists during the interpretation of breast magnetic resonance images (MRIs). The software extracts and analyzes data from breast MRIs to enhance decision-making. QuantX also allows the assessment and characterization of breast abnormalities from MRI data in patients who are at high-risk.
Anygence provides AI-powered Disease Diagnostics
Anygence is a Czech Republic-based startup that develops diagnostic tools to support quick, personalized, and decentralized healthcare access. The startup makes use of historical data and advanced analytics to aid early disease prevention. With regular screening, the startup monitor developments in patient to detect irregularities and predict future problems. This allows physicians and patients to transition to predictive and preventive healthcare.
10. Clinical Decision Support System (CDSS)
Clinical decision support systems are computer-based instruments that offer medical professionals immediate access to patient-specific data and improve clinical decision-making. By lowering medical errors, increasing diagnosis accuracy, and promoting evidence-based practice, CDSS enhances healthcare. CDSS also supports clinicians with diagnosis and treatment planning, using data on patient history, drugs, allergies, and laboratory findings. In medical research, CDSS allows researchers to find patterns and relationships in massive data sets to develop new therapeutic alternatives and improve patient outcomes. Other applications of CDSS include clinical alerts for harmful drug interactions, risk assessments, reminders for preventative treatment, and drug dose recommendations. To offer smooth and effective decision support, CDSS is incorporated into electronic health records, mobile applications, and other clinical systems.
OraQ AI offers CDSS for Dental Care
OraQ AI is a Canadian startup that develops a clinical decision support system for dentistry clinics. It combines AI and machine learning to provide sophisticated diagnostic insights. The CDSS integrates patient data, imaging data, and supplemental data to improve treatment procedures without altering the practice. This simplifies diagnosis, reveals novel therapy possibilities, and directs treatment planning.
AIDA Diagnostics develops CDSS for Blood Inventory
AIDA Diagnostics is a Polish startup that offers solutions for end-to-end blood management in hospitals. Its AIDA Blood solution estimates the required level of blood inventory to be held on a given day. For this, the startup utilizes AI, which also forecasts blood component shortages. This inventory planning decision support system offers a quick and simple way to acquire all the information required for managing blood inventory.
Discover all Clinical Data Trends, Technologies & Startups
The use of advanced technologies has the potential to further improve clinical data management and analysis, enabling healthcare organizations to improve patient care. Clinicians make judgments faster and more accurately with image analytics and artificial intelligence. Additionally, clinical data management startups are building solutions to automate data acquisition and storage to democratize otherwise siloed data, promoting a transparent ecosystem. Lastly, the use of synthetic data for drug development is another growing trend that will bring positive outcomes in terms of medical research and healthcare. The Clinical Data Management Trends & Startups outlined in this report only scratch the surface of trends that we identified during our data-driven innovation & startup scouting process. Identifying new opportunities & emerging technologies to implement into your business goes a long way in gaining a competitive advantage.
Looking for MedTech startups & solutions?
✕