Medical technology innovations revolutionize the diagnosis and treatment of heart diseases, which are critical chronic conditions that can be fatal if not monitored and treated in a timely manner. With early detection and screening technologies, healthcare startups make it possible to predict and analyze the risk of developing heart disorders with greater accuracy. Advanced imaging accelerates cardiac diagnosis, allowing for the analysis of diagnostic images from cardiac computed tomography (CT), magnetic resonance imaging (MRI), and electrocardiography (ECG). Smart point-of-care tests (POCTs) and digital health apps also improve clinical diagnosis for home and remote healthcare. Read on to explore the top 10 cardiac diagnosis trends and 20 startups developing novel solutions for cardiac care.
Innovation Map outlines the Top 10 Cardiac Diagnosis Trends & 20 Promising Startups
For this in-depth research on the Top 10 Cardiac Diagnosis Trends & Startups, we analyzed a sample of 641 global startups & scaleups. This data-driven research provides innovation intelligence that helps you improve strategic decision-making by giving you an overview of emerging technologies in the cardiac care industry. In the Cardiac Diagnosis Innovation Map, you get a comprehensive overview of the innovation trends & startups that impact your company.
These insights are derived by working with our Big Data & Artificial Intelligence (AI)-powered StartUs Insights Discovery Platform, covering 3 790 000+ startups & scaleups globally. As the world's largest resource for data on emerging companies, the SaaS platform enables you to identify relevant technologies and industry trends quickly & exhaustively.
Tree Map reveals the Impact of the Top 10 Cardiac Diagnosis Trends
Based on the Cardiac Diagnosis Innovation Map, the Tree Map below illustrates the impact of the Top 10 Cardiac Diagnosis Trends in 2023. Startups and scaleups are developing innovative products for cardiac diagnosis. For example, AI enables informed diagnostic support and precise detection of abnormalities. Digital health apps and wearables allow for passive heart parameter monitoring to predict signs of arrhythmia in users, particularly chronic care patients. Additionally, point-of-care tests offer accurate diagnoses of cardiac diseases in lab standards at remote locations and support home-based diagnoses. Imaging techniques, such as nuclear cardiology, also advance the precision of scans and aid in early disease prediction.
Top 10 Cardiac Diagnosis Trends in 2023
Global Startup Heat Map covers 641 Cardiac Diagnosis Startups & Scaleups
The Global Startup Heat Map below highlights the global distribution of the 641 exemplary startups & scaleups that we analyzed for this research. Created through the StartUs Insights Discovery Platform, the Heat Map reveals high startup activity in the US, followed by Europe and India. Below, you get to meet 20 out of these 641 promising startups & scaleups as well as the solutions they develop. These cardiac diagnosis startups are hand-picked based on criteria such as founding year, location, funding raised, & more. Depending on your specific needs, your top picks might look entirely different.
Interested to explore all 600+ cardiac diagnosis startups & scaleups?
Top 10 Cardiac Diagnostics Trends for 2023
1. Artificial Intelligence
Healthcare professionals are using artificial intelligence for the detection and diagnosis of cardiovascular disorders, resulting in improved patient outcomes. Startups are developing machine learning (ML) algorithms to analyze medical imaging data, such as ECGs, echocardiograms, and cardiac MRI scans. These algorithms recognize patterns and features associated with heart diseases by training on large datasets of these images. Additionally, AI models and algorithms analyze data from wearable devices, such as fitness trackers and smartwatches, which continuously collect data on heart rate, heart rate variability, and other physiological parameters. This data enables the monitoring of heart disease symptoms and forecasting patients' risks of developing heart disease in the future.
Humors Tech advances AI-based Breath Analysis
Indian startup Humors Tech develops Respr, a non-invasive screening device. It is a point-of-care (POC) Medtech tool that takes in the patient's breath and analyzes the volatile organic compounds (VOCs) to provide diagnostic insights. The startup combines AI and the internet of things (IoT) to analyze the volatile chemical markers to screen for diseases. Its proprietary AI algorithms and models aid in the early detection of diseases such as cardiovascular disorders, chronic kidney disease, diabetes, and more. The startup's early disease screening tool aids in cardiac disease risk prediction and enables doctors and patients to make informed decisions.
Magicardio develops an AI Algorithm for ECG analysis
Iranian startup Magicardio provides an AI-powered mobile app for ECG analysis. It collects data and connects with the startup's companion app through Bluetooth to transfer data. This data enables physicians to interpret ECG/EKG readings. The app also allows users to input ECG reports in picture format and the inbuilt AI algorithm detects abnormalities. Magicardio thus enables patients and physicians to ensure seamless cardiac monitoring while delivering a detailed dashboard and a history of medical records.
2. Medical Devices
Conventional medical devices, including stethoscopes, blood pressure gauges, and electrocardiograms (ECG), play an essential role in the standard diagnosis of various heart diseases. Emerging companies are innovating their features and offering ease of use of medical devices, such as point-of-care ECG monitors, wearables, passive Holter monitors, and blood pressure monitors. These devices, in combination with software advancements, enable the early detection of cardiac disease and allow healthcare providers to make evidence-based decisions and develop appropriate patient care plans.
Vital Tech builds Mini ECG Devices
Moroccan startup Vital Tech makes a series of cardiac diagnostic and monitoring devices. The startup's device TH12 is a lead-based ECG monitor with an AI-based ECG platform for patient data management in clinical facilities and home-based care. The Mini ER2 is a miniaturized ECG monitoring device, coupled with an app to monitor abnormalities in heart functions. The battery-inbuilt device enables users to perform 500 cardiac measurements. Vitaltech's devices support patients and doctors in effectively monitoring, predicting, and preventing atrial fibrillation episodes.
AmZetta Technologies provides a Holistic Heart Monitor
Indian startup AmZetta Technologies creates a device for multiple heart parameter monitoring. The startup's Body Organ and Life Tracker (BOLT) wireless heart monitor measures blood pressure, oxygen saturation, pulse, blood cholesterol, total hemoglobin count, and body temperature. It monitors health parameters and enables users to maintain their personal health records and delivers vital data insights. AmZetta Technologies also allows users to customize the device parameters and share the data with their physicians for diagnosis and treatment planning.
3. Diagnostic Imaging
Image analysis is the most popular method for detecting arrhythmia, atherosclerosis, coronary artery disease, and other major cardiac disorders. Chest X-ray, cardiac computed tomography (CT), and magnetic resonance imaging (MRI) are the primary techniques available to diagnose heart diseases. Startups are developing image analytics solutions that leverage deep learning technologies to improve patient outcomes. These advances reduce manual errors in both the results and interpretation to provide incidental findings of cardiac anomalies. Such solutions also accelerate the diagnosis of cardiac diseases to facilitate early detection and care.
KardioLabs enables Automated CT Scan Analysis
US-based startup KardioLabs automates the reporting of CT coronary angiograms using AI and deep learning-powered platforms. The startup's Klasifier platform enables coronary artery disease diagnosis. Kardiolab's Kalcium platform also facilitates calcium scoring and related diagnosis. Also, the startup's Kwantifier provides quantitative analysis of cardiac prognosis. Using these solutions, the startup ensures precise detection of cardiac blockages and coronary artery disease.
Kaminari Medical builds an Advanced Catheter System
Dutch startup Kaminari Medical offers a catheter device that uses proprietary technology to analyze diagnostic medical images. The startup's technology combines intravascular ultrasound (IVUS) and photoacoustic (PA) imaging in one catheter (IVPA). It detects coronary artery disease using the acoustic waves of light impacting the plague. The combined technology improves coronary revascularization and enables physicians to accurately predict cardiac diseases.
4. Gene-based Analysis
Predictive analytics plays a crucial role in reducing morbidity and, in some cases, even mortality. As a result, healthcare startups support early risk prediction and disease detection. Most heart diseases are linked to co-morbidity, such as diabetes, obesity, or chronic kidney disease, and are detected using certain mutations in the central dogma or nucleic acids. Genetic testing, DNA sequencing, and other molecular diagnostic techniques also aid in accurately predicting the risk of developing heart disease. Innovative algorithms analyze gene biomarkers using evidence-based data to interpret and provide predictive insights while promoting personalized therapy for patients.
Arcensus provides Genomic DNA tests
German startup Arcensus develops diagnosis and testing solutions. The startup provides gene tests to generate insights into hereditary heart diseases. Arcensus's myLifeHeart collects samples from users and sequences entire genomic DNA. The startup then analyzes more than 450 genes related to heart conditions. This process captures the mutations in the genomic data to predict the risk of developing heart diseases. The report is shared in the user portal, enabling consent-based sharing with physicians. Arcensus also takes incidental findings into account and updates the report every three months based on the mutation evidence data, allowing early and precise prediction of cardiac disorders.
Orchid Health simplifies Heart Disease Risk Assessment in Embryos
US-based startup Orchid Health advances gene-based risk assessment. Through its embryo test, the startup analyzes an embryo's genome to predict disease risk. Orchid's genetic testing predicts atrial fibrillation and coronary artery disease risk of an unborn embryo. The startup's pre-implantation screening test analyzes the genome to provide a risk score-based report of embryos to select for in-vitro fertilization (IVF) procedures. This technique reduces the risk of abnormality in the child and also ensures healthy offspring implantation.
5. App-based Heart Monitoring
Healthcare monitoring is adopting digital health and telemonitoring tools and software, which support home-based diagnoses of various health conditions, including cardiac disorders. Emerging companies are building advanced mobile health apps, featuring AI/ML dashboards, for continuous monitoring of vital signs such as blood pressure, blood sugar, heart rate, and ECG. These apps support cardiac monitoring for chronic heart patients and provide timely alerts when they identify abnormal recordings. Physicians and patients receive these alerts and such solutions deliver predictive insights to detect heart attacks or arrhythmia episodes early, facilitating timely treatment.
ProCarement develops a Cardiac Monitoring App
German startup ProCarement offers a mobile application for cardiac patients. The startup's ProHerz app records patients' heart rhythm, blood pressure, oxygen saturation, and temperature data. ProHerz is a chronic cardiac care monitoring tool that measures, stores, and analyzes heart parameter trends chronologically. The startup's app connects with devices through Bluetooth to provide health status updates. ProHerz detects abnormal readings and notifies the user, physician, and contacts, ensuring timely care.
HeartKinetics builds a Myocardial Activity Monitoring App
Danish startup HeartKinetics makes a digital health app to monitor myocardial activity. The startup develops KINO.CARDIO and Kinocardiograph to measure myocardial activity through smartphone motion sensors. HeartKinetics' app is connected to a web platform that aids healthcare providers in clinical decision-making. It leverages AI to analyze the collected data and perform predictive insights to assess treatment efficacy.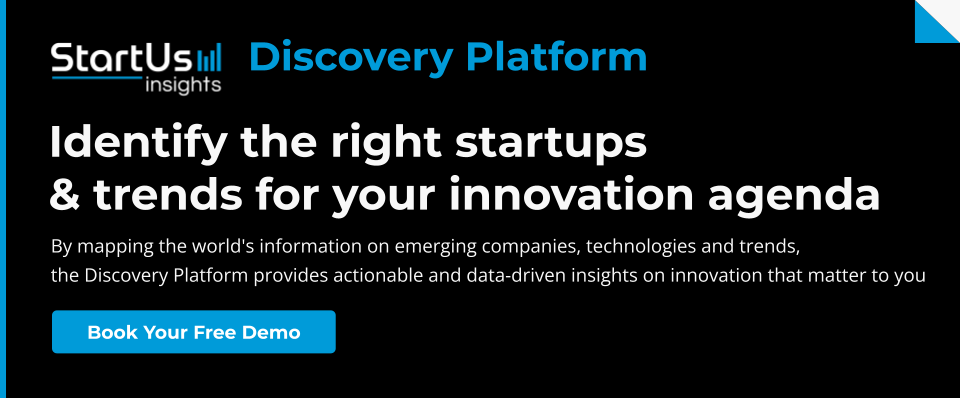 6. Wearable Heart Monitoring
Health monitoring is increasingly becoming remote. Vital signs are measured in real-time through wearables, which play an important role in remote patient monitoring (RPM). Wearable heart rate monitors are becoming popular as individuals are able to continuously monitor their vital signs. These devices are typically worn on the wrist, chest, or other parts of the body and provide valuable information about heart function. Wearable heart monitoring devices actively or passively provide information about heart function, allowing users to identify potential cardiac issues and monitor treatment effectiveness.
ABIORO designs a Patch for ECG monitoring
Brazilian startup ABIORO designs heart-monitoring wearable devices. The startup's ABIORO RX Patch is an adhesive patch for passive monitoring of ECG for up to 14 days. ABIORO's AI-powered platform uses convolutional neural network (CNN)-based models to analyze the ECG waveforms. The startup enables optimized cardiac monitoring with ease of wear and is wearable even during exercise, showering, or sleep. This is beneficial over traditional Holter monitors that are limited by the hours of monitoring and are also not waterproof.
Rhythm Diagnostic System (RDS) offers Patch-based Heart Disorder Prediction
French startup RDS provides a patented medical patch solution. The startup's MultiSense is a miniaturized proprietary patch that enables the monitoring of clinical parameters including oxygen saturation, respiratory rate, and heart rate. It is suitable for monitoring the acute stages of clinical pathways in post-surgery patients. The collected data is processed and visualized in its platform, enabling physicians to assess physiological values and predict heart anomalies.
7. Point of Care Tests
POCTs or diagnostic tests performed at the bedside or at home in proximity to patient care utilize technologies such as quantitative strips, microfluidics, and biochips to rapidly deliver results. These tests hold significant value in diagnosing heart disease, especially in emergency scenarios or areas where laboratory access is limited. Early detection and treatment of diseases become possible through these diagnostic assays, which also decrease the need for more invasive procedures like angiography or catheterization. While these tests do not substitute standard procedures entirely, they still provide useful tools for the early screening of disorders, especially in resource-constrained regions.
Biohabit enables Heart Failure Diagnosis using Saliva Samples
UK-based startup Biohabit develops a point-of-care test to diagnose heart failure. The startup's NT-Detect device is a non-invasive saliva-based test solution. It allows diagnosis of heart failure during general practitioner consultation. NT-Detect is portable and affordable for heart failure testing. The startup's patented solution allows point-of-care assessment in GP and primary care conditions. This reduces the need for hospitalization and promotes early screening to limit the risk of cardiac failure.
Cor.Sync aids Ischemic Heart Disease Detection
Brazilian startup Cor.Sync is a diagnostics startup providing POCT devices. The startup's comprehensive diagnostic solution detects ischemic cardiovascular diseases in critical care units. The startup's device measures troponin levels with standard lab accuracy within minutes. It is connected to an ML-powered platform that delivers clinical decision support. The POCT platform also provides insights into the test results, allowing physicians to implement evidence-based care plans.
8. Heart Disease Analytics
Techniques to analyze and interpret clinical data benefit from the advances in predictive analytics. Startups are working on identifying, detecting, analyzing, and visualizing medical data. Big data allows for the storage, collection, and collation of enormous volumes of clinical data, which includes electronic medical records (EMR), laboratory information systems (LIS), clinical notes, and more. Natural language processing (NLP) and deep learning solutions interpret the data to derive specific insights on cardiac abnormalities from datasets. These analytical tools effectively enhance the prediction of risk and population health metrics. Overall, analytics on heart disease enables improvements in the diagnosis, treatment, and management of cardiovascular diseases. This provides valuable insights into patient data to improve clinical decision-making and patient outcomes.
ZeCardio Therapeutics performs CRISPR-based Phenotype Screening
Spanish startup ZeCardio Therapeutics specializes in the analytics of cardiovascular drugs and parameters. The startup's platform performs high-throughput screening of target genes to analyze cardiac degeneration after acute cardiac damage. It provides a tool for genetic association studies in cardiovascular disease. ZeCardio's methodology combines the advantages of the CRISPR- Cas9 system for generating somatic mutant larvae by using guide RNAs that target candidate genes. Using high mutagenesis efficiency and a high-throughput in vivo imaging system, the process enables morphological and functional analysis of cardiovascular phenotypes. The platform thus enables cardiac impact assessment and advances gene-based analysis and understanding of heart diseases.
egnite identifies Undiagnosed Cardiac Diseases using Data Trends
US-based startup egnite is a digital health and analytics company. The startup develops CardioCare, an AI and big data-driven platform to identify and provide insights on heart failure. It utilizes data trends in aortic stenosis (AS) patient populations to help doctors identify patients with severe, undiagnosed AS and track the progression of the moderate disease. CardioCare aids in structural heart patient management and reduces ejection fraction (HFrEF). The startup's tool enables the incidental finding of undiagnosed aortic stenosis (AS) and prevents delayed diagnosis.
9. Implantable Devices
Advances in cardiac monitoring expand to include more implantable devices. Although invasive in nature, these devices provide efficient monitoring of heart anomalies in cardiac patients. Small electronic devices, such as pacemakers, catheters, or defibrillators, are surgically implanted in proximity to cardiac tissue to enable continuous passive monitoring of heart activities. These implantable devices also deliver predictive insights into diagnostic and curative aspects for patients. Implantable devices are useful in monitoring heart failure episodes in patients, tracking treatment effectiveness in chronic patients, and regulating cardiac rhythm in cases of abnormal heart rate patterns.
invivoPower provides a Transcutaneous Cardiac Monitoring Device
Swedish startup invivoPower is the developer of a transcutaneous cardiac monitoring implant device. The startup's link-based wireless energy transfer connector attaches to the body, with intact skin. This enables cardiac patients to connect the active medical implant devices, including vascular assist and total artificial heart to the transformer and ensure energy transfer. This technology is beneficial for chronic cardiac care patients as it ensures prolonged care and monitoring.
Future Cardia offers a Subcutaneous ECG Monitor
US-based startup Future Cardia builds a cardiac implant to monitor heart failure. The startup's subcutaneous insertable cardiac device measures ECG and other cardiac parameters. It then transmits the measured and encrypted cardiac data to a connected proprietary mobile app. Future Cardia's implant device has a three-year battery life, making it suitable for long-term monitoring. This ensures chronic care management of patients with data-driven diagnostic and therapeutic insights.
10. Nuclear Cardiology
The development of novel interdisciplinary technologies is now possible due to innovations in cardiac diagnostic techniques. Nuclear cardiology is one such field that combines techniques in nuclear physics and healthcare to diagnose and treat heart diseases. Radiotracers, which are radioactive materials, are injected into the patient's bloodstream and absorbed by the heart muscle, emitting gamma rays. Cameras then detect these gamma rays to create diagnostic images of the heart tissue blood flow, facilitating accurate disease detection.
Sonnest advances Cardiac Imaging using a Smart Contrast Agent
US-based startup Sonnest develops perfusion agents for cardiac ultrasound technology. The startup's Electrast is an electrically sensitive imaging agent that is used to perfuse heart tissue. It enables assessment and monitoring of the structure and function of the heart. Electrast is an echo contrast imaging agent that gets activated during the ultrasound procedure, enabling enhanced image analysis. This agent uses nuclear cardiology principles to ensure accurate cardiac function assessment and disease risk prediction.
Life Molecular Imaging specializes in Cardiac Amyloidosis Diagnosis
UK-based startup Life Molecular Imaging advances cardiovascular imaging techniques like molecular and nuclear cardiology technology to enable critical pathology visualization. The startup's technology enables cardiac amyloid imaging using Florbetaben, an 18F-labeled stilbene derivative. Florbetaben binds to amyloid deposits with suspected cardiac amyloidosis. Also, the startup's collaborators are working on 18F-GP1 small molecule positron emission tomography (PET) tracer-based Thrombus imaging. This enables the detection of acute thromboembolic events in patients. These technologies and platforms improve the understanding and assessment of cardiovascular diseases, ensuring early treatment plans and limiting morbidity.
Discover all Cardiac Diagnosis Trends, Technologies & Startups
Innovations in technologies and products enable medical professionals to detect heart problems early on, improving treatment efficacy and patient outcomes. Molecular testing methods such as CRISPR Cas9-based mutation testing and editing not only enhance detection but also pave the way for personalized treatment. From advanced imaging techniques to wearable devices and mobile health applications, the field of cardiac diagnostics continues to evolve, opening new possibilities for the future. The cardiac diagnosis trends & startups outlined in this report only scratch the surface of trends that we identified during our data-driven innovation & startup scouting process. Identifying new opportunities & emerging technologies to implement into your business goes a long way in gaining a competitive advantage.
Looking for healthcare startups & technologies?
✕