Building materials have constantly adapted to the functional requirements of the construction industry. The growing focus on net zero construction and architecture promotes innovations that facilitate energy-efficient and low-carbon building practices. These innovative technologies and new materials cut down the carbon footprint of buildings and also give them a new aesthetic. Further, digital innovations gather data and transform them into insights for decision-making. In this report, you will explore the top building materials industry trends that drive innovations in the construction sector.
10 Latest Trends in Building Materials (2024)
Innovation Map outlines the Building Materials Industry Trends & 20 Promising Startups
For this in-depth research on the Top Building Material Trends and startups, we analyzed a sample of 2126 global startups & scaleups. This data-driven research provides innovation intelligence that helps you improve strategic decision-making by giving you an overview of emerging technologies in the construction industry. In the Building Materials Innovation Map, you get a comprehensive overview of the innovation trends & startups that impact your company.
These insights are derived by working with our Big Data & Artificial Intelligence-powered StartUs Insights Discovery Platform, covering 3 790 000+ startups & scaleups globally. As the world's largest resource for data on emerging companies, the SaaS platform enables you to identify relevant technologies and industry trends quickly & exhaustively.
Tree Map reveals the Impact of the Top 10 Building Materials Trends in 2024
Based on the Building Materials Innovation Map, the Tree Map below illustrates the impact of the Top 10 Building Materials Innovation Trends in 2024. Startups and scaleups utilize technologies like artificial intelligence (AI) and the Internet of Things (IoT) to monitor and enhance the lifecycle of building materials. Additionally, the reduction in carbon footprint facilitated by the use of green and energy-efficient materials allows construction companies to achieve their decarbonization goals. Further, lightweighting technologies lower operational effort which again reduces energy requirements.
Online marketplaces automate and streamline the material procurement process to reallocate human resources for other value-adding operations. Innovations in material science make cutting-edge composites, coatings, and adhesives available for large-scale utilization in construction, drastically enhancing building performance. Finally, carbon capture, utilization, and storage (CCUS) techniques offer an efficient method for large-scale emission reduction.
Global Startup Heat Map covers 2126 Building Material Startups & Scaleups
The Global Startup Heat Map below highlights the global distribution of the 2126 exemplary startups & scaleups that we analyzed for this research. Created through the StartUs Insights Discovery Platform, the Heat Map reveals high startup activity in Western Europe, followed by the US and India.
Below, you get to meet 20 out of these 2126 promising startups & scaleups as well as the solutions they develop. These building material startups are hand-picked based on criteria such as founding year, location, funding raised & more. Depending on your specific needs, your top picks might look entirely different.
Interested in exploring all 2100+ building material startups & scaleups?
10 Emerging Building Materials Industry Trends in 2024
1. Artificial Intelligence
The advent of AI and Industry 4.0 offer opportunities to integrate advanced digital technologies into traditional industry practices of the building materials industry. AI technologies facilitate the improvement of building materials in every phase of its lifecycle including design, manufacturing, and application. These AI-powered enhancements improve the durability, sustainability, safety, and recyclability of building materials.
Additionally, AI-based algorithms outperform humans in detecting defects and inconsistencies in quality control, leading to higher-quality materials and reduced waste. Machine learning algorithms also analyze vast datasets to suggest innovative material combinations, aiding engineers to minimize the time spent on material selection. With its ability to enhance operational efficiency, quality, sustainability, and collaboration, AI paves the way for more resilient and environmentally conscious construction.
ORIS simplifies Building Material Data Mapping
French startup ORIS offers a construction materials platform that utilizes AI algorithms to map data on construction materials. The platform's construction material database references the geolocation, properties, and specifications of products. Based on this data it offers businesses AI-powered insights for the smarter use of materials and making informed decisions for more sustainable, resilient, and safe linear infrastructure.
MIXTERESTING optimizes Concrete Mix Designs
Austrian startup MIXTERESTING provides an AI-based platform for maintaining, testing and documenting concrete mix designs. It combines mathematical optimization, physical models, and AI to propose new concrete mix designs. The platform also allows customized data integrations that include API interfaces and Excel integrations for simple drag-and-drop upload of existing data. The solution, in this way, designs and optimizes concrete mixtures for different use cases, developing better mixtures fast and simple.
2. Green Building Materials
Sustainable building material alternatives, such as recycled, renewable, and low-impact concrete, play a pivotal role in reducing the industry's environmental footprint. Utilizing recycled materials like reclaimed wood or recycled concrete aggregates, decreases the demand for virgin resources, curbing depletion and waste. Additionally, green materials, like bamboo and engineered wood, are renewable resources that offer durable and eco-friendly alternatives to traditional building materials.
Further, low-impact materials, such as rammed earth and adobe, minimize energy-intensive production processes and greenhouse gas emissions. The adoption of these green materials mitigates environmental concerns and also enhances indoor air quality, promoting healthier living spaces. Finally, sustainable and eco-friendly building materials help builders and developers meet regulatory requirements more easily.
αlter βiota manufactures Sustainable Concrete Additives
Australian startup αlter βiota is a green chem-tech company that improves concrete through its bio-additives. The startup produces hydrous bio-graphene oxide (hBGO) admixtures, which are stable dispersions of activated bio-graphene optimized for concrete mix designs. Using it in concrete enhances mechanical and chemical performance, improving its strength and durability.
The production process of hBGO is also sustainable, using a patent-pending, water-based method with minimal waste. The ingredients are primarily non-toxic as well as renewable forestry and agricultural by-products.
Bio Build Technologies makes Green Concrete Additives
Italian startup Bio Build Technologies develops bio-active construction materials that impart self-healing properties to building materials. The startup's active gel is composed of a bacterial component dissolved in a gel-based solution. This allows bacteria to remain attached to concrete surfaces by activating their self-healing function to seal the cracks formed. In this way, BBT's green additive for concrete facilitates constant self-repair for buildings.
3. Lightweighting
As structures become taller and urbanization increases, the demand for materials that are both strong and lightweight is very high. Traditional heavy building materials like concrete and steel pose logistical and environmental challenges due to their weight, energy-intensive production processes, and transportation requirements. On the other hand, lightweight materials reduce the load on structures, decrease construction time and costs, and improve energy efficiency.
Innovative lightweight materials like composites, aerated concrete, and foam insulation are strong and sustainable. The lightweighting strategy contributes to reduced carbon emissions during transportation and construction. This also enables the construction of taller buildings while adhering to weight restrictions imposed by urban planning regulations. Further, lightweighting enhances seismic resilience, making buildings more resistant to earthquakes and other natural disasters.
Unilite produces Lightweight Aggregates (LWAs)
Taiwanese startup Unilite makes lightweight aggregates (LWAs), porous particles used as substitutes for gravel or sand in concrete. The porous structure of the startup's sludge lightweight aggregate ensures lightweight properties while maintaining high strength and low water absorption. The lightweight concrete made from these aggregates also offers better heat insulation, sound insulation, fire prevention, earthquake resistance, and corrosion resistance.
SusMaX converts Coal Waste into Lightweight Aggregates
US-based startup SusMaX transforms waste coal combustion products into valuable construction lightweight aggregates. The startup employs a thermodynamics-based technology to transform these combustion products into an aggregate – Spherical Porous Reactive lightweight Aggregate (SPoRA).
This aggregate finds applications in structural lightweight concrete, internal curing, concrete masonry units, geotechnical fillings, green roofs, and water filtration systems. SPoRA promotes landfill diversion, being entirely made from waste coal combustion products, reducing the dead load in structures and extending concrete service life.
4. Advanced Composites
Advanced composites are high-performance materials composed of polymers, fibers, and other additives. In construction, they offer exceptional durability and resistance to corrosion that is ideal for withstanding harsh environmental conditions. The resistance to weathering and pests ensures that structures remain robust over time. This reduces maintenance costs and increases the lifespan of buildings.
Additionally, composites allow the molding of complex shapes, enabling innovative architectural designs and reducing the need for multiple components. The flexibility in design introduced by advanced composites aids engineers and architects in creating complex and innovative structures while reducing construction time and costs. These combined benefits improve the efficiency and cost-effectiveness of construction as well as reduce the environmental impact of the built environment.
SFTec makes Fiberglass-reinforced (FRP) Polymer Rebar
Canadian startup SFTec specializes in fiberglass-reinforced polymer building materials for concrete structures. The startup's FRP rebar offers greater tensile strength than steel, electrical and thermal non-conductivity, and a significant reduction in weight. Further, these composite reinforcements are resistant to corrosion and ensure higher longevity.
Carbon Rivers offers Graphene-based Composites
US-based startup Carbon Rivers develops and commercializes second-generation polymer composites, graphene-based materials, and advanced composites. The startup's graphene-based composite distributes well in resins and adds mechanical integrity. This offers higher composite strength and flexural properties for reduced costs and greater performance. The composite also offers hydrophobic qualities, fire retardancy, and tunable electrical and thermal conductivity.
5. Internet of Things
IoT technologies enable real-time monitoring of construction sites and materials. This real-time data provides valuable insights into various aspects of buildings including safety, quality control, and efficiency. IoT-powered sensors enable the detection of structural weaknesses or material defects early in the construction process. This allows for timely repairs and reduces the risk of accidents or costly rework.
The embedded IoT devices also monitor environmental conditions during the manufacturing, storage, and transportation of building materials. This continuous monitoring ensures that materials remain in optimal condition, reducing the risk of damage or deterioration and improving the overall product quality. The real-time data and insights provided by IoT devices enable better decision-making, reduce costs, and improve overall efficiency.
ConcreteAI offers Concrete Monitoring Sensors
Singapore-based startup ConcreteAI provides real-time data and crucial insights about building materials through the integration of AI and IoT-based technologies. The startup's real-time concrete monitoring solution enhances the visibility of curing progress and eliminates unnecessary time and resource expenditures.
The system visualizes real-time early-age strength and temperature development of on-site concrete, leading to reduced casting cycle times and resource wastage. The solution also overcomes the disadvantages of traditional testing methods that fail to provide accurate early-stage structural concrete data due to variations in curing conditions.
Duramon simplifies Structural Health Corrosion Monitoring
Duramon is a Swiss startup that advances the construction industry by providing real-time structural health corrosion monitoring solutions. The startup's technology offers a comprehensive solution that includes wireless embeddable sensors, smart data analysis, and actionable recommendations based on data interpretation. These sensors monitor degradation processes in various infrastructures such as bridges, tunnels, and parking garages.
Further, the solution validates the durability and effectiveness of repair solutions and assesses new sustainable concrete solutions. DuraMon's sensor technologies, combined with smart analytics enable early detection and understanding of deterioration processes in reinforced and prestressed concrete infrastructures.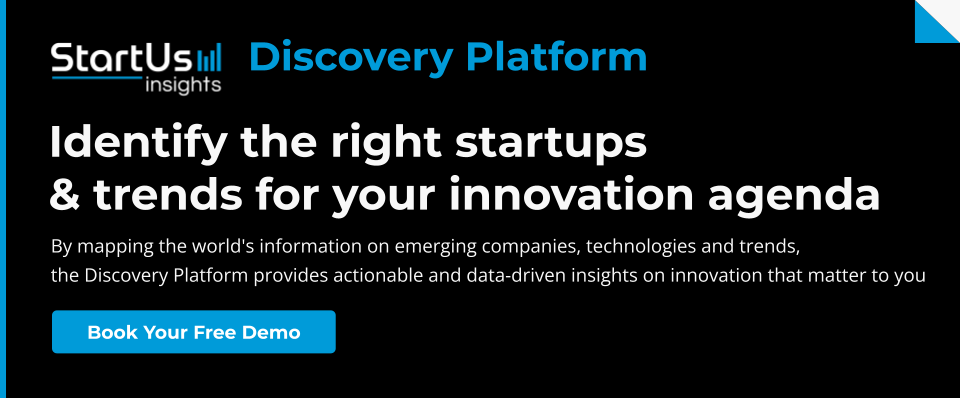 6. Online Material Marketplaces
Online marketplaces for building materials increase supply chain transparency by aggregating construction materials from multiple suppliers. This enables buyers to compare prices and quality easily. Improved transparency promotes fair pricing and competition, mitigating issues related to cost inefficiencies. Further, online marketplaces provide a broader network of suppliers, reducing dependency on a single source. It further enhances supply chain resilience, which is crucial in the face of disruptions and shortages.
Such platforms also streamline procurement processes by reducing administrative overhead for both buyers and suppliers. This facilitates efficient logistics and inventory management, allowing for real-time order tracking and minimizing the risks of stockouts and overstocking. Thus, online marketplaces reshape the building materials industry by improving transparency, resilience, and operational efficiency, benefitting both buyers and suppliers.
InfraCred enables Smart Procurement of Building Materials
Indian startup InfraCred offers a smart procurement platform for building materials. The platform connects a network of verified buyers and sellers to ensure better prices, quality, and variety. It allows manufacturers to upload their product details and retailers to search, purchase, and track products all within a single app.
InfraCred offers over 50 product categories and emphasizes building trust by eliminating middlemen, leading to direct trade. This approach guarantees high material quality for buyers and expedites payments for sellers.
Field Materials simplifies Building Material Procurement
US-based startup Field Materials offers a comprehensive procurement platform to streamline processes like quoting, ordering, and invoicing in the construction industry. It connects stakeholders like field foremen and superintendents, project managers, purchasers, leadership, and accountants with suppliers.
The platform ensures significant efficiency improvements by saving on project material costs through its quotes module and reducing purchase order processing time. The Invoices module further ensures cost savings by detecting price and quantity discrepancies in invoices.
7. Enhanced Coatings
Durability and longevity are the pressing issues facing building materials exposed to harsh environmental conditions. Enhanced coatings, such as weather-resistant and anti-corrosion coatings, offer a protective barrier to building materials. This extends their lifespan and reduces maintenance costs. These coatings also contribute to sustainability by minimizing the need for frequent replacements, conserving resources, and reducing waste.
Additionally, coatings with self-cleaning properties aid in maintaining the aesthetic appeal of buildings over time, reducing the need for frequent cleaning and maintenance. Other enhanced coatings provide aesthetic versatility, enabling architects and designers to achieve visual effects while ensuring long-lasting protection. In this way, enhanced coatings empower architects and designers to push the boundaries of creativity while maintaining functionality.
Coval Group develops Nano Coating Technologies
US-based startup Coval Group utilizes covalent bonding to produce a range of thin, clear, and durable coatings that bond to any substrate. The startup's nanotech-based solution ensures that the coatings are abrasion, chemical, and corrosion-resistant. This makes them a more sustainable and cost-effective alternative to traditional coatings and paints.
Coval Concrete is the startup's thin-film, single-component coating designed to seal, enhance, and protect concrete surfaces. It forms a chemically resistant barrier against staining, etching, and graffiti, reducing maintenance costs and the need for harsh cleaning chemicals. Coval Group's coatings also ensure easy application, and superior adhesion, and are easy to clean, offering a coating solution for surfaces regardless of the surface.
ChemTech makes Wood Protection Coatings
US-based startup ChemTech develops protective formulations for wood structures. The startup's TechWood 2200 stabilizes and protects the wood against mold, termites, and wood rot decay. It encases wood in a semi-permeable polymer barrier, allowing the material to breathe while limiting harmful natural transpiration. This results in a stronger, more stable product and yields a reduction in moisture absorption and a reduction in formaldehyde emissions.
8. High-performance Adhesives
Structural integrity and longevity of building materials is a critical challenge solved by high-performance adhesives. They offer exceptional bonding capabilities that aid in securely joining various building materials, like metals, concrete, glass, and composites, ensuring the durability and stability of structures. The adhesives provide an alternative to traditional mechanical fasteners, reducing the risk of corrosion and weakening over time.
Further, advanced adhesives enable the construction of lightweight and energy-efficient designs by eliminating the need for additional components like screws and bolts. This streamlines the building process and reduces material usage. High-performance adhesives also facilitate prefabrication and modular construction by bonding components offsite with high speed and precision. This makes the construction process more efficient, reducing labor costs and project timelines.
TILCRA offers Tile and Stone Adhesives
German startup TILCRA manufactures adhesive solutions for the installation of ceramic and non-ceramic floor and call coverings. The startup's range of tile and natural stone adhesives offers a fast-hardening cement. It allows grouting after a few hours and full loading in just a few days saving time and costs. The startup's adhesive after drying is less rigid, allowing better absorption of vibrations, tensions, and movements preventing the tiles from chipping.
LignoSphere produces Wood-based Adhesives
Finnish startup LignoSphere develops wood-based, ecological, carbon-neutral adhesives, coatings, and paints from lignin. The startup's patent-pending production and functionalization process facilitates the use of spherical lignin nanoparticles for large-scale applications in adhesives and composites.
They are prepared from the black liquor side stream of pulping plants in an energy-efficient, closed-cycle process. The startup's technology minimizes the use of fossil feedstock due to the recycling of solvents in the closed-cycle process.
9. Energy-Efficient Materials
Energy-efficient materials ensure sustainable construction practices to reduce energy consumption and combat climate change. These materials, including advanced insulation and low-emissivity windows, offer superior thermal performance, reducing heating and cooling loads in buildings. This leads to lower energy bills for occupants and also decreases greenhouse gas emissions associated with heating and cooling systems.
Moreover, such materials enable the construction of environmentally friendly structures by optimizing energy usage, contributing to green building certifications. Energy-efficient materials also enhance indoor comfort by maintaining consistent temperatures, leading to improved occupant well-being.
Innergy Solutions improves the Thermal Comfort of Buildings
Lebanese startup Innergy Solutions manufactures energy-efficient construction materials that enhance the thermal comfort within the building while reducing its energy demand. The startup's blocks add to the thermal resistance of the buildings. Its building envelope solution utilizes bio-based materials that offer a passive and latent energy savings strategy. The technology presents a thermal storage and insulating solution that reduces cooling/heating-associated energy costs.
Adept Materials manufactures Moisture Regulating Materials
US-based startup Adept Materials develops multifunctional construction materials that increase energy efficiency, comfort, and durability. The startup's proprietary two-layer system endows materials with advanced moisture management capabilities. This provides a moisture barrier that also removes new and existing moisture. The moisture regulation property also stabilizes the temperature of the interior environment, reducing heating and cooling costs.
10. Carbon Capture, Utilization and Storage
CCUS technology captures carbon dioxide (CO2) emissions at the source, such as cement or steel plants, preventing them from entering the atmosphere. The captured CO2 is then utilized in various ways, such as in the production of sustainable building materials like carbon-negative concrete or in enhancing the growth of algae for biomass. This approach to carbon utilization reduces the need for traditional raw materials while enabling safe storage of CO2 underground.
By integrating CCUS into their operations, building material manufacturers significantly reduce their environmental impact, making the industry more sustainable and environmentally responsible. CCUS technologies also incentivize the development and adoption of carbon-negative building materials, reducing the industry's carbon emissions. By addressing the carbon footprint of building materials, CCUS aligns the construction industry with global efforts to combat climate change.
ecoLocked converts Buildings into Carbon Sinks
German startup ecoLocked offers biochar-based concrete admix materials that reduce embodied CO2 and turn buildings into carbon sinks. The startup's material inset captures CO2 in the built environment, reducing the need for clinker cement. At the same time, it improves the buildings' performance along with key parameters such as durability, thermal insulation, and curing time.
Plantd offers Carbon-Negative Home Building Materials
US-based startup Plantd produces carbon-negative home-building materials made from fast-growing perennial grass. Perennial grasses like bamboo act as carbon sinks that regenerate much faster than traditional resources like trees. The startup's material is designed for wall sheathing and roof decking as a drop-in replacement for oriented strand boards (OSB) with zero trees cut down. The material does not have any added formaldehyde, fillers, waxes, or any other petroleum-based chemicals used in standard OSB panels.
Discover all New Trends in Construction Materials
The future of the building materials industry is set to be shaped by a focus on sustainability and innovation. Key trends include the use of green and sustainable materials like bio-based and recycled products, the development of self-healing materials, and the application of 3D printing for construction. The use of advanced materials such as aerogel, graphene, and nanomaterials, the integration of transparent solar panels, and phase change materials for energy efficiency are also gaining commercial popularity.
The construction materials industry trends and startups outlined in this report only scratch the surface of trends that we identified during our data-driven innovation & startup scouting process. Identifying new opportunities & emerging technologies to implement into your business goes a long way in gaining a competitive advantage.
Interested in exploring all 2100+ building material startups?
✕
Looking for building material startups & technologies?
✕
Looking for specific construction material trends & technologies?
✕