Blockchain is a great tool for businesses and end-users to democratize services and ensure data privacy and security. Moreover, the growing demand for cryptocurrencies and Web3 integration is advancing blockchain development across industries. This report provides an overview of the top 9 blockchain trends and innovations in 2023. They range from tokenization and smart contracts to blockchain security and enterprise blockchain. Read more to explore how they impact your business.
Innovation Map outlines the Top 9 Blockchain Trends & 18 Promising Startups
For this in-depth research on the Top Blockchain Trends & Startups, we analyzed a sample of 3 765 global startups & scaleups. The result of this research is data-driven innovation intelligence that improves strategic decision-making by giving you an overview of emerging technologies & startups in the blockchain industry. These insights are derived by working with our Big Data & Artificial Intelligence-powered StartUs Insights Discovery Platform, covering 2 500 000+ startups & scaleups globally. As the world's largest resource for data on emerging companies, the SaaS platform enables you to identify relevant startups, emerging technologies & future industry trends quickly & exhaustively.
In the Innovation Map below, you get an overview of the Top 9 Blockchain Trends & Innovations that impact blockchain companies worldwide. Moreover, the Blockchain Innovation Map reveals 3 765 hand-picked startups, all working on emerging technologies that advance their field.
Top 9 Blockchain Trends
Tree Map reveals the Impact of the Top 9 Blockchain Trends
Based on the Blockchain Innovation Map, the Tree Map below illustrates the impact of the Top 9 Blockchain Trends in 2023. Startups and scaleups are developing solutions to accelerate crypto deployment and transactions. Tokenization improves the liquidity of physical and digital assets, while smart contracts enable complex transactions on the blockchain. Further, blockchain developers are advancing novel cryptography and blockchain security methods to improve data safety and reliability. There is also a growing interest in blockchain networks tailored for enterprise applications, including private blockchains. Lastly, startups are developing decentralized applications (dApps) for a range of use cases on blockchain networks.
Interested to explore all 3 500+ blockchain startups & scaleups?
Global Startup Heat Map covers 3 765 Blockchain Startups & Scaleups
The Global Startup Heat Map below highlights the global distribution of the 3 765 exemplary startups & scaleups that we analyzed for this research. Created through the StartUs Insights Discovery Platform, the Heat Map reveals that Europe and the US see the most startup activity.
Below, you get to meet 18 out of these 3 700+ promising startups & scaleups as well as the solutions they develop. These blockchain startups are hand-picked based on criteria such as founding year, location, funding raised, & more. Depending on your specific needs, your top picks might look entirely different.
Top 9 Blockchain Innovation Trends for 2023
1. Cryptocurrencies
Cryptocurrencies leverage blockchain to store transactional data in peer-to-peer networks. As a result, they eliminate centralized authorities like banks to reduce transaction fees and speed up fund transfers. The growing interest in cryptocurrencies drives innovations towards sustainable and high-performance cryptos to reduce the carbon footprint and transaction times. Moreover, blockchain imparts inherent security to crypto transactions, making financial interactions safer. However, most exchanges keep wallet data in centralized servers, making it prone to attacks. Advances in Web3 will allow crypto exchanges and users to mitigate this threat and use cryptocurrencies to replace fiat currency.
Bottlepay offers a Crypto Payment Gateway
UK-based startup Bottlepay provides a crypto payment gateway. It onboards users through an accelerated verification process and enables them to convert GBP or EUR to BTC in any direction. For this, the startup uses the Lightning network, a payment protocol that operates on top of Bitcoin. The gateway thus enables users to transact money to content creators through social media platforms and leverage cross-border transactions without fees.
ChainCard makes a Web3 Crypto Wallet
ChainCard is a Canadian startup that develops a Web3 cryptocurrency wallet. It allows users to utilize cryptocurrencies like BTC and ETH on blockchain and VISA-accepting platforms. The wallet also provides users with yield for saving as cryptocurrencies and supports asset swapping within the wallet. This facilitates the efficient replacement of fiat currencies with crypto counterparts.
2. Asset Tokenization
Tokenization uses blockchain to fractionalize digital or physical assets into digital tokens. This is the same principle that cryptocurrencies utilize. However, blockchain-powered tokenization allows businesses and retail users to convert assets, such as real estate portfolios and art pieces, into digital tokens. This increases the liquidity of otherwise illiquid assets, allowing owners to sell tokens conveniently through secondary markets. This improves the accessibility of investors to previously unavailable assets and provides newer opportunities for portfolio diversification. Further, smart contracts automate token transactions and increase transactional transparency, offering a single source of truth. Consequently, tokenization enables all stakeholders to verify their holdings and ensure fair practices.
Buzzmint simplifies Digital Asset Tokenization
Buzzmint is a UK-based startup that builds a digital asset tokenization platform. It enables brands and creators to quickly create and deploy non-fungible tokens (NFTs) of their digital assets. The platform also allows them to leverage existing digital infrastructure and eliminate forwarding their customers to external platforms to sell their tokens.
Courtyard aids Physical Asset Tokenization
US-based startup Courtyard creates a physical asset tokenization platform. It makes digital twins of physical assets as NFTs while allowing users to vault the underlying assets. They are able to trade the NFTs on any marketplace, and the platform securely stores the transaction and provenance history on the blockchain. This allows brands to set up automated royalties and sell products globally while eliminating counterfeits.
3. Smart Contracts
Smart contracts are critical components of all blockchain ecosystems as they replace middlemen to govern and execute all P2P transactions. Therefore, startups offer easy-to-use platforms that allow businesses and blockchain developers to create smart contracts. They usually require minimal coding and thus accelerate development workflows. Further, there is growing interest among solutions that audit smart contracts for vulnerabilities due to the increasing number of cyberattacks against blockchain systems. Such platforms allow smart contract developers to automate security analysis. Advances in cryptography, access management, and contract structure also improve the efficiency of smart contracts.
Viveel facilitates Smart Contract Creation
Portuguese startup Viveel creates a smart contract builder for organizations. The startup's platform leverages visual programming and a template-driven workflow to accelerate production. Upon configuring the components and configurations, organizations are able to directly deploy smart contracts. The platform then issues audits to the deployed smart contracts, which become active decentralized applications. This enables rapid deployment of smart contracts in blockchain networks and accelerates the time-to-market.
Acria Network builds a Cross-Chain Real-World Data Network
German startup Acria Network develops a cross-chain real-world data network. It uses oracle nodes that utilize cross-chain technology to eliminate middlemen and provide multiple blockchains with real-world off-chain data. Additionally, the network allows users to utilize preferred cryptocurrencies as collaterals. Only the distributors of real-world data are able to operate oracle nodes, thereby ensuring the trustworthiness of data, while other participants receive staking rewards for providing additional credibility to the nodes.
4. Advanced Cryptography
Blockchain networks utilize cryptography to encrypt communication between nodes, ensuring the immutability and verifiability of transactions. For this, blockchain developers rely on symmetric and asymmetric cryptographic algorithms. The symmetric cryptography technique offers the same key for the communicating nodes, whereas the asymmetric method leverages public and private keys for message encryption and decryption. For example, multi-signature algorithms generate digital signatures with the involvement of multiple parties. Zero-knowledge proof (ZKP) is another technique to provide proof of knowledge without sharing the knowledge across the network. These techniques allow blockchain developers to increase user and transaction privacy while preserving security.
Ruby Protocol makes a Privacy-Centric Web3 Protocol
Candian startup Ruby Protocol builds a decentralized privacy-centric Web3 protocol. It leverages functional encryption (FE) that allows users to encrypt information on-chain, which only holders of approved private keys are able to decrypt. The protocol is a private data management framework and data access control gateway that implements a privacy layer interacting with the multi-chain ecosystem. This enables private know-your-customer (KYC) authentication, NFT-gated access, regulatory-compliant asset ownership, and privacy-preserving cloud computing.
Goldario provides Precious Metal-backed Tokens
Estonian startup Goldario offers precious metal-backed tokens. The startup combines blockchain and cryptography to tokenize the eco-cycle of gold and emerald mining, jewelry manufacturing, and jewelry retail businesses. This improves the security of digital asset trading as well as the liquidity and accessibility of precious commodities. Moreover, the startup supports lower investment minimums and tracks the progress of the companies they invest in for improved transparency.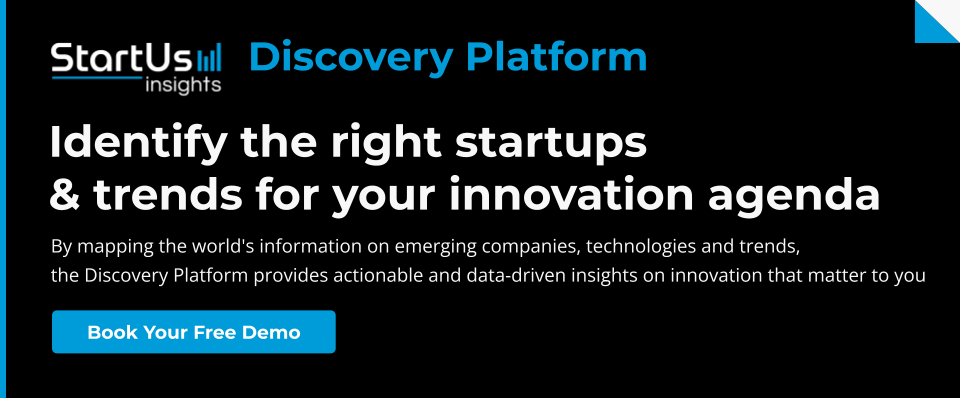 5. dApps
Blockchain networks enable decentralized applications through peer-to-peer nodes and smart contracts. For instance, the Ethereum blockchain offers tailored tools to create decentralized applications. dApps eliminates the control and interference of centralized authorities and thus safeguards privacy and development flexibility. Moreover, it enables fair pricing for applications and services across all stakeholders, improving transparency and monetization opportunities. Additionally, dApps have no downtimes as they leverage decentralized computing and ensure a secure development ecosystem with open-source licensing. Lastly, blockchain-powered decentralized applications are crucial to accelerating Web3 integration.
Cube simplifies dApp Token Staking
Cube is an Indian startup that aids dApp token staking. The startup's API allows app developers to integrate staking access. Cube also encrypts its API calls with transport layer security (TLS) and asymmetric cryptography. It enables automated yield strategies like auto-compounding and leverage staking. This allows dApp developers to save time on development and reduce time-to-market.
Moralis Web3 offers Enterprise-Grade Web3 APIs
Moralis Web3 is a Swedish startup that develops enterprise-grade Web3 APIs. The startup provides APIs for EVM and Solana blockchains as well as for NFTs and blockchain data streaming. This allows enterprises and dApp developers to accelerate dApp prototyping and scale apps quickly. The startup also reduces the costs and complexity associated with dApp development.
6. Blockchain as a Service
The affordability and flexibility of cloud-based services promote the as a service business model for blockchain networks. This allows blockchain developers to rapidly create and host blockchain apps and smart contracts, reducing time-to-market. For companies, blockchain as a service also saves the costs of hiring developers for in-house network development. This allows them to focus on feature enrichment and product optimization for their offerings while keeping their network agile and efficient through service providers.
NIFTRON makes a Blockchain as a Service Platform
NIFTRON is a UK-based startup that creates a blockchain as a service platform. It, along with the startup's software development kit (SDK), enables businesses to leverage blockchain and develop apps with plug-and-play modules. Additionally, the platform handles user account and transaction management and allows users to tokenize various data types. This enables businesses to cut down development costs and time.
Everblock provides Blockchain Solutions as a Service
Everblock is a Brazilian startup that provides blockchain solutions, such as smart contracts and decentralized storage, as a service for the healthcare, education, and media industries. It allows organizations to leverage blockchain-driven applications to ensure data security and improve data transparency. Consequently, the startup enables healthcare companies to enhance patient privacy and data compliance, educational organizations to prevent document fraud, and media companies to tackle copyright infringements.
7. Private Blockchain
Private blockchains are permissioned blockchains owned primarily by businesses and organizations. Unlike public blockchain networks, private blockchains feature centralized authorities that decide user accessibility for the networks. Moreover, each node in private blockchains holds a copy of the entire blockchain and the owner is able to reverse or delete transactions. This allows businesses to achieve better control over enterprise data while retaining transaction verification and validation capabilities. Since private blockchains have much lesser nodes than public networks, the former also features high transaction throughput and easy scalability.
AlleoChain advances Private Blockchain Development
AlleoChain is a Cypriot startup that aids private blockchain development. The startup's no-setup no-code platform allows businesses to host private blockchains in a secure cloud environment and automate data integration using SQL. It also backup the data for increased redundancy. This enables companies to scale blockchain applications quickly.
Dafecs facilitates Virtual Organization Deployment
Dafecs is a Turkish startup that makes a virtual organization deployment platform. It combines a private blockchain network, Ethereum smart contracts, tokenization, the internet of things (IoT), InterPlanetary File System (IPFS), and front-end libraries. Through this, the platform secures data sharing across stakeholders, strengthening organization-wide governance and decision-making.
8. Blockchain Security
Blockchain primarily finds applications for financial transactions and as investment vehicles. Further, data integrity and privacy becomes crucial for all blockchain networks as businesses and users transition to more blockchain-centric workflows. To ensure the safety of such networks, startups develop blockchain security solutions. They utilize advanced analytics and artificial intelligence (AI) to monitor smart contracts, nodes, and transactions to identify discrepancies. This enables prompt identification of malicious users and the prevention of data or asset theft. Blockchain security solutions are essential for businesses that utilize blockchain for supply chain management, asset trading, and data management.
Veridise offers Blockchain Security as a Service
Veridise is a US-based startup that provides blockchain security as a service. The startup's tools allow businesses and blockchain developers to automate security analysis for smart contracts, Web3 applications, zero-knowledge circuits, and more. This enables them to promptly identify vulnerabilities before blockchain deployment and mitigate in-house tool development.
Forta makes a Decentralized Monitoring Network
Forta is a US-based startup that develops a decentralized monitoring network for security and operational monitoring of blockchain activities. It consists of independent node operators that scan all transactions and block-by-block changes for outlier transactions. Thus, the network is able to detect threats and anomalies in decentralized finance (DeFi), NFTs, governance systems, bridges, and other Web3 systems in real-time. It then sends alerts to subscribers to prevent loss of funds and quickly neutralize threats.
9. Enterprise Blockchain
Businesses are hesitant to use public blockchains like Bitcoin and Ethereum due to a lack of data control and increased data visibility. Even though some companies rely on public blockchains, there is a growing demand for private and consortium blockchains. Such enterprise blockchain networks provide businesses better control over their data while retaining other blockchain features such as security and traceability. This allows companies to be data-compliant while integrating blockchain-based applications. Moreover, blockchain automatically enhances enterprise data security, mitigating cost-intensive data leaks.
AstraKode simplifies Enterprise Blockchain Development
Italian startup AstraKode offers Network Composer, an enterprise blockchain development platform. It allows businesses to make customized permissioned blockchain networks. The platform also features a low-code approach and automated testing to accelerate development workflows. This, in turn, enable companies to host their blockchain networks on the cloud for better accessibility and configurations.
Zblocks aids Enterprise NFT Campaign Management
US-based startup zblocks builds dPlat Pro, an enterprise NFT campaign management platform. It optimizes NFT lifecycle management and integrates with customer relationship management (CRM) systems. The platform supports multichannel NFT delivery for reduced bounce rates and offers customer insights based on NFT interactions. These features allow enterprises to enhance customer acquisition, retention, and reach across customer lifecycles and transition to owner relationship management (ORM).

Discover all Blockchain Trends, Technologies & Startups
Advances in data processing and cryptography will enhance the performance of smart contracts and, in turn, blockchain networks. As blockchain-developing companies are starting to reduce their carbon footprint, the energy consumption associated with blockchain transactions will decrease further. These solutions will accelerate the deployment of blockchain applications across industries and power Web3.
The Blockchain Trends & Startups outlined in this report only scratch the surface of trends that we identified during our data-driven innovation & startup scouting process. Among others, digital assets, quantum computing, and enterprise blockchains will transform the sector as we know it today. Identifying new opportunities & emerging technologies to implement into your business goes a long way in gaining a competitive advantage. Get in touch to easily & exhaustively scout startups, technologies & trends that matter to you!
Looking for emerging blockchain startups & technologies?
✕