Thousands of new startups are founded every year – emerging companies with the potential to disrupt the packaging industry. To give you a head-start on emerging technologies & startups that will impact the packaging sector in 2023, we analyzed a total of 150 global biodegradable packaging startups & scaleups. Meet 10 of the most promising startups to watch!
Global Startup Heat Map highlights 10 Biodegradable Packaging Startups to Watch in 2023
Out of 150, the 10 Biodegradable Packaging startups to watch are chosen through the Big Data & Artificial Intelligence (AI)-powered StartUs Insights Discovery Platform, covering over 3 790 000+ startups & scaleups globally. As the world's largest resource for data on emerging companies, the SaaS platform enables you to scout relevant startups, emerging technologies & future industry trends quickly & exhaustively.
The Global Startup Heat Map below highlights the 10 biodegradable packaging startups you should watch in 2023 as well as the geo-distribution of the other 140 startups & scaleups we analyzed for this research. We hand-picked the 10 highlighted biodegradable packaging startups based on our data-driven startup scouting approach, taking into account factors such as location, founding year, the relevance of technology, & funding, among others.
Interested to explore all 140+ biodegradable packaging startups?
HumusPak provides Home Compostable Protective Packaging
HumusPak is a US-based startup that offers home compostable protective packaging products like air cushions and compostable mailers. The startup uses cornstarch or vegetable-based plastic, and bio-based polymer to make these packaging products,.which are highly protective and cost-effective. Businesses use the startup's lightweight packaging air cushions to improve product protection. Also, they break down into natural elements in a composting environment without leaving toxic chemicals in the soil.
EcoPackables delivers Recycled Packaging Solutions
EcoPackables is a US-based startup that produces sustainable packaging products from recycled materials. The startup utilizes compostable and customizable raw materials, including polymers, recycled plastic, and recycled paper. Its product line includes compostable shipping labels made from post-consumer recycled (PCR) white paper with a non-toxic adhesive. The startup's other product is kraft paper-based pouches that feature various moisture barrier options. EcoPackable thus provides businesses to leverage custom branding and improve sustainability.
THECA makes Molded Fiber Packaging
Turkish startup THECA offers sustainable, cellulose-based, and compostable molded fiber packaging solutions. The startup's product line includes Endcap Fiber Packs and Tray Fiber Packs. These packages protect and cushion products from edges and create individual spaces for each component. Further, the startup provides end-to-end packaging solutions from concept design to product delivery to its clients. Businesses in various industries, including electronics, furniture, foods, and beverages, use these packaging products to advance carbon neutrality.
Source Green offers Nature-derived Packaging Materials
Hong Kong-based startup Source Green develops a sustainable packaging platform. The startup utilizes hemp, algae, wool waste, sugarcane waste, wood pulp, and bamboo to create bio-based garment bags and product boxes, recycled paper tubes, and more. A few of the raw materials that Source Green uses are biobased polybutylene succinate (BioPBS) and chitosan. BioPBS withstands higher temperatures, making it ideal for hot beverage cups and utensils for freshly cooked food. Whereas, chitosan is antimicrobial and has applications in creating protective foam for packaging, shipping, construction, and electronics industries.
NanoIn provides a Biodegradable Bio-Film
Brazilian startup NanoIn develops Aequor, a biodegradable bio-film for sustainable packaging. The startup leverages natural components sourced from seaweed and wood for creating biodegradable packaging. Moreover, it molds the packaging materials into different formats, including capsules. These capsules dissolve in water after use without generating microplastics, thereby replacing plastic packages and reducing environmental impacts.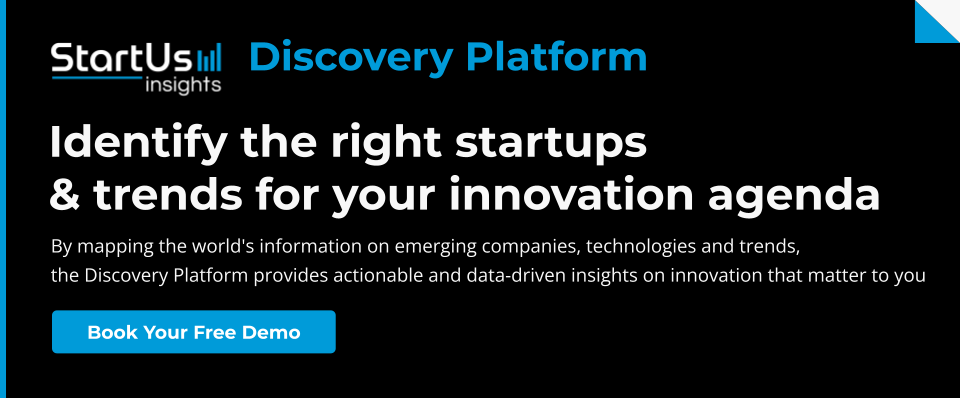 Papair manufactures Paper Bubble Wrap
German startup Papair makes sustainable packaging solutions. The startup's recycled paper bubble wrap, PapairWrap, is stable and tear-resistant. It provides secure cushioning for products during shipping. PapairWrap's geometric bubble shape allows it to adapt to various product shapes to minimize space utilization, making it a cost-effective packaging option. Additionally, businesses use the startup's products to reduce volume weight and postage costs. The use of recycled paper in the product avoids the use of synthetic materials or adhesives, advancing sustainable shipping.
Bpacks provides Biowaste-sourced Packages
UK-based startup Bpacks offers disposable packaging solutions sourced from biowaste. This approach replaces traditional raw materials like oil and wood with agricultural and wood waste for its products. The startup's products are environmentally friendly and only composed of bio-based materials. Additionally, its production workflows include automated processes, such as crushing, grinding, shelving, and mixing. The mixture is then extruded into molds under pressure, followed by pressing and drying. The resulting packaging products are heat-resistant, plastic-free, and easily compostable at home. Bpacks thus reduce the environmental impact of packaging waste and mitigates the need for virgin raw materials in the packaging supply chain.
Uuvipak produces Edible Packages
Australian startup Uuvipak develops natural and home-compostable edible food and product packaging. The startup upcycles clean food byproducts from grain flour and juice to make these products. Its product line includes edible cups, bowls, and plates. The edible cups are an alternative to single-use plastic cups and promote sustainability. This way, Uuvipak allows organizers to eliminate plastic waste from events and venues.
GROAM develops Biodegradable Foams
Swiss startup GROAM creates sustainable foams sourced from agricultural waste streams. The startup's proprietary foaming technology converts agricultural biomass waste into biodegradable foams. It is also developing biodegradable protective packaging for e-commerce. GROAM's foam production is environmentally friendly, unlike linear mass production of virgin materials that often end up in landfills or oceans. As a result, the startup is contributing to the polymeric foam industry by introducing sustainable foam solutions and minimizing waste.
pFIBRE manufactures Biodegradable Epoxy Resins
Singaporean startup pFIBRE makes biodegradable epoxy resins. The startup leverages marine biodegradable plant-based ingredients to make flexible packaging films. These films emulate the properties of plastics, serving various packaging solutions. Moreover, such products decompose naturally in outdoor settings without releasing harmful gas or toxins into the environment. Businesses utilize pFIBRE's non-polluting packaging solutions to reduce their carbon footprint and waste production.
Discover All Emerging Packaging Startups
The packaging startups showcased in this report are only a small sample of all startups we identified through our data-driven startup scouting approach. Download our free Packaging Innovation Report for a broad overview of the industry or get in touch for quick & exhaustive research on the latest technologies & emerging solutions that will impact your company in 2023!
Looking for emerging biodegradable packaging startups & technologies?
✕
Get your free Packaging Innovation Report
We'll deliver it straight to your inbox!
✕