Process digitization and the Internet of Things (IoT) integration generate large volumes of highly relevant data. They are critical in revealing unidentified trends and process inefficiencies as well as for improving performance. Businesses that do not leverage this data find it laborious to stay competitive in the market. We give you data-driven innovation insights based on our analysis of 5414 big data startups & technologies so that you do not miss out on emerging solutions that optimize data management. These solutions allow you to find inefficiencies in your operations and improve customer satisfaction. Read more to explore the top examples of big data across 10 industries and how they advance your business.
Tree Map reveals the top Big Data Examples across 10 Industries
The Tree Map below illustrates the top big data use cases across 10 industries in 2023 and 2024. The marketing industry sees the most activity among big data startups due to the easy availability of user-specific information. All industries use their customer data to improve product and service offerings as well as enhance sales activities. Additionally, retail and FinTech companies leverage big data to derive insights into their operations.
Further, big data significantly improve efficiency in healthcare, logistics, and manufacturing industries. On the other hand, data management companies utilize big data to automate and improve data collection, processing, and compliance. Lastly, the mobility industry enhances road safety using big data while the edtech sector leverages it to boost school and student management.
Global Startup Heat Map covers 5414 Big Data Startups & Scaleups
The Global Startup Heat Map below highlights the global distribution of the 5414 exemplary startups & scaleups that we analyzed for this research. Created through the StartUs Insights Discovery Platform, the Heat Map reveals that Western Europe has a high concentration of big data startups, followed by the US and China.
Below, you get to meet 10 out of these 5414 promising startups & scaleups as well as the solutions they develop. These big data startups are hand-picked based on criteria such as founding year, location, funding raised, and more. Depending on your specific needs, your top picks might look entirely different.
Interested in exploring all 5000+ big data startups?
Top Big Data Applications across 10 Industries (2023 & 2024)
1. Marketing Technology
Marketers leverage big data and analytics tools to better utilize the massive amount of customer information. Brands and businesses use big data solutions to identify customer preferences and market trends. Further, they enable marketing teams to deliver personalized advertisements for customers. All of this directly increases conversion and retention rates.
Additionally, growing concerns around data privacy impact the nature and development of marketing analytics platforms through automated data governance. This allows brands and marketers to ensure the safety of sensitive user data. Many startups also develop big data tools that integrate into the brands' social media handles to better understand their customers.
Kolsquare offers Influencer Analytics
Kolsquare is a UK-based startup that makes an influencer marketing campaign management platform. It combines big data, AI, and machine learning (ML) to improve ad targeting. The platform uses a proprietary audience credibility index that allows brands to identify the most relevant influencers for individual campaigns and fake influencers.
It also enables them to track campaign performance through key performance indicators (KPIs) like social accounts and the number of influencers. This empowers brands and marketers to better divert their ad investments and ensure high conversion rates.
2. Retail
The retail industry primarily integrates big data to improve customer engagement and drive sales. However, it combines with existing data management systems, like enterprise resource planning (ERP) and customer relationship management (CRM) management, to generate insights. This enables retailers to improve inventory planning and optimize in-store operations.
Further, big data solutions have a profound impact on eCommerce channels as it offers a means to better utilize massive amounts of customer-specific information. They allow retail companies to identify emerging product trends, optimize product pricing, and, in turn, increase sales.
ClearCut Analytics provides Retail Analytics
US-based retail analytics startup ClearCut Analytics offers market ad brand intelligence. The startup's digital shelf analytics software measures and tracks sales through Amazon to monitor trends. It also enables retailers to quantify product availability and assess daily price fluctuations to optimize product pricing using price elasticity analysis.
Further, the startup's eCommerce market intelligence platform utilizes eCommerce datasets to monitor category trends and offer competitor benchmarking. These solutions allow retail and eCommerce companies to drive successful product innovations and accelerate sales.
3. FinTech
Financial data management is crucial to improve operational efficiency and mitigate fraud. FinTechs leverage big data to collect, clean, and analyze large private and public financial datasets. This offers insights into market trends, customer requirements, and compliance management.
For example, analyzing the micro transactions of customers improves visibility into their frequent transactions, allowing FinTech to personalize product offerings for each customer. Additionally, financial services companies utilize big data, along with AI, to provide chatbots that address customer queries. This further enables FinTechs to collect relevant financial data directly from customers and personalize service offerings.
Datago Technology advances Financial Data Extraction
Hong Kong-based startup Datago Technology simplifies financial data extraction. The startup leverages big data and AI to extract, clean, and mine financial information from unstructured data. Moreover, it collects data from financial databases, as well as the news, social media discussions, corporate announcements, and analyst research papers. This enables financial services companies to utilize real-time market information and make informed investment decisions.
4. Healthcare
The increased rates of adoption of digital health records and hospital management systems force healthcare companies to integrate big data into their workflows. It handles patient data from onboarding to discharge and rehospitalization.
Additionally, big data and analytics solutions enable hospitals to deviate repetitive tasks away from doctors and make them available to the patients. This improves healthcare delivery and improves patient engagement. Big data also improves the visibility of healthcare supply chains by increasing visibility into operations as well as mitigating counterfeiting activities.
BIGBOX aids Healthcare Data Analysis
BIGBOX is an Indonesian startup that develops bespoke solutions for healthcare data analysis. The startup leverages various data acquisition and processing like AI and natural language processing (NLP). For example, BIGBOX uses IoT devices to collect patient data and predict patient outcomes. The startup further utilizes big data from private and public sources to improve patient satisfaction and safety.
5. Logistics
Big data allows logistics companies to increase visibility into their operations and supply chains. This enables them to identify inefficiencies and optimize operations. To aid this, startups develop big data solutions powered by AI and ML.
For instance, AI-powered route optimization platforms analyze historic route profiles to optimize fleet efficiency. Similarly, big data enables better handling of real-time data in warehouses, fulfillment centers, and during transit, using connected devices. Logistics companies further leverage the technology to identify market trends and predict demands to improve supply chain resiliency.
Addepto delivers Logistics Business Intelligence
Addepto is a Polish startup that offers logistics business intelligence. The startup uses big data, machine learning, and predictive analytics to integrate data from multiple sources into its enterprise data warehouse (EDW).
Addepto's solution allows logistics companies to extract business insights in real time and address issues like damaged inventory, stock errors, and demand miscalculations. This, in turn, improves business decisions, operational efficiency, and savings.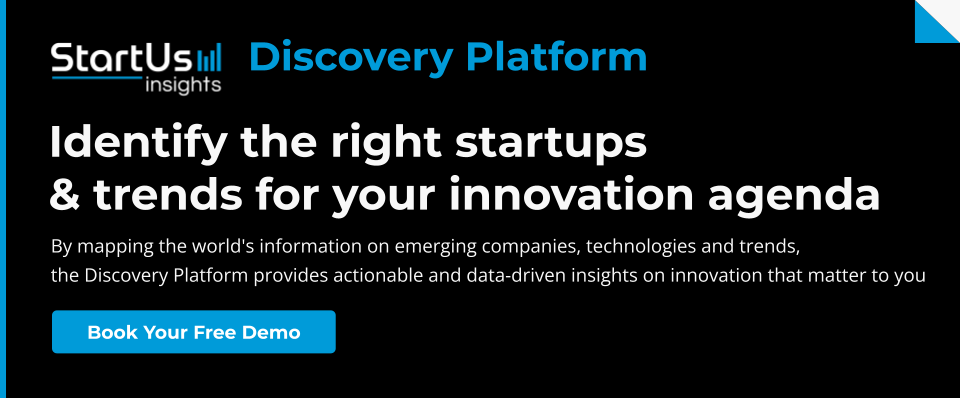 6. Real Estate
IoT integration and backend process automation create a lot of data for real estate companies. They use big data to better utilize this highly relevant information and convert them to sales. For example, many startups provide data-driven sales optimization platforms that personalize ads and offers for specific customers. This enhances marketing strategies, increases conversion rates, and enhances customer experience.
Further, data-driven workflows allow property management companies to enable dynamic property pricing and improve sales. Big data also provides insights into the performance of each property and predicts their future performance to optimize investment decisions.
Gleensite offers Real Estate Insights
UK-based startup Gleensite makes a platform that provides real estate insights. It continuously collects spatio-temporal datasets from various sources, including private datasets. The platform then applies ML-based adaptive and modulable predictive models to visualize insights on their real-time mapping platform. Real estate companies use it to identify and prioritize investment opportunities, reveal risk factors, and visualize what cities or streets may look like in the next 5 to 15 years.
7. Data Management
The primary use case of big data is improving data management across industries. Businesses integrate it into existing tools like ERP and CRM to derive insights into operations. Further, big data tools drive machine learning and AI models to develop high-performing algorithms.
They enable technologies like digital twins, predictive maintenance, and real-time analytics, among others. Therefore, startups develop out-of-the-box data acquisition and processing tools. This enables businesses to mitigate in-house product development and reduce capital expenses.
Bornio facilitates Data Compliance Management
US-based startup Bornio develops a compliance-enforcing platform for data management. The rising concerns over data theft and leaks require enterprises to ensure stringent data security and compliance.
The startup's platform automates the data privacy ops lifecycle to simplify collaboration between key stakeholders to define, enforce, and monitor data privacy policies. It also provides granular access controls to sensitive data, allowing consumers to access data on a need-to-know basis. Further, Bornio offers continuous risk assessment that enables data scientists to improve security and lower vulnerability reaction times.
8. Manufacturing
Big data improves visibility into manufacturing operations and asset conditions. It utilizes data from IoT devices, operational technology (OT), manufacturing execution systems (MES), and other control systems. This enables manufacturers to promptly identify plant inefficiencies and avoid unexpected downtimes.
Additionally, big data enables data-powered solutions like digital twins and predictive maintenance. They further enable manufacturers and plant operators to improve process and asset monitoring to increase efficiency. Such solutions also enhance maintenance planning and overall equipment effectiveness (OEE).
amentis solutions advances Condition Monitoring
amentis solutions is a German startup that creates DXS Condition Monitoring, a condition monitoring platform. It uses the startup's data management solution to combine data from all systems and components on factory floors.
DXS Condition Monitoring then proactively compares and evaluates the process, machine, and energy data to promptly identify critical conditions. This allows manufacturers to mitigate unplanned downtimes, improve maintenance planning, and reduce operational costs.
9. Mobility
The mobility industry generates a large number of datasets through connected vehicles and infrastructure. Big data structures this data and applies AI or ML to generate insights into mobility operations. This enables service providers to optimize routes, traffic, and workflows.
It also enables continuous monitoring of vehicle locations and automatically identifies deviations in driver behavior to tackle suspicious activities. As a result, big data solutions improve road safety. Further, mobility companies use big data to monitor vehicle conditions and optimize fuel consumption. This, in turn, reduces energy costs and the environmental impact due to the mobility sector.
Smove.City provides Mobility Data
Cypriot startup Smove.City develops a mobility data platform. It aggregates global mobility data from various transit providers to analyze mobility patterns, emphasizing bus and train routes with frequent services. This allows authorities and mobility companies to optimize public transport infrastructure, including bikes, trains, and metro services.
Besides, the platform enables mobility service providers to reduce traffic and enhance road safety. The startup also offers a bike-sharing system that integrates real-time data analytics and performance management for bike-share programs.
10. EdTech
The recent transition to online and hybrid class environments due to the pandemic created an overload of data for trainers to deal with. However, effective use of this information allows educational institutions to monitor students and improve their learning and school administration. That is why startups offer big data tools tailored for educational institutions.
They readily integrate into school or college management systems to leverage the already available data. Through this, big data solutions enable trainers and schools to automate various tasks like curriculum management and attendance tracking. Consequently, they reduce the burden on administrators and teachers while allowing them to better interact with students.
Brickfield Education Labs enables Learning Management System (LMS) Optimization
Brickfield Education Labs is an Irish startup that optimizes Moodle LMS. The startup's toolkit leverages big data and AI to automate internal processes such as content evaluation and bulk-fix missing data. It further allows schools and trainers to deliver study materials through multiple formats like audio, ePub, and electronic Braille. Brickfield Education Labs' toolkit thus enables schools to future-proof course content and improve their accessibility, usability, and effectiveness.
Discover All Big Data Startups
Advances in AI, deep learning, and high-speed connectivity will improve the performance of big data solutions and enable real-time data processing across industries. It benefits businesses in optimizing operations in real-time while customers receive more personalized content and products. With startups developing more user-friendly big data tools, IT teams are also able to mitigate intensive maintenance operations. This further accelerates the integration of big data into business infrastructure. Get in touch to identify specific big data startups & solutions that advance your business!
Looking for advanced big data startups & technologies?
✕