Emerging autonomous vehicle (AV) trends meet the growing demand for fully autonomous operations, driver safety, and sustainability. Startups are developing autonomous cars with features like advanced driver-assistance systems (ADAS), light detection and ranging (LiDAR), and computer vision. Deep learning algorithms and neural networks improve decision-making to control actions such as steering and braking. Connectivity tools also enable communication between driverless cars as well as between cars and infrastructure. Other trends in the industry include the internet of things (IoT) and extended reality (XR). Read more to find out how autonomous vehicle trends and innovations advance your business.
Innovation Map outlines the Top 8 Autonomous Vehicle Trends & 16 Promising Startups
For this in-depth research on the Top Autonomous Vehicle Trends & Startups, we analyzed a sample of 1 213 global startups & scaleups. The result of this research is data-driven innovation intelligence that improves strategic decision-making by giving you an overview of emerging technologies & startups in the automotive industry. These insights are derived by working with our Big Data & Artificial Intelligence-powered StartUs Insights Discovery Platform, covering 2 500 000+ startups & scaleups globally. As the world's largest resource for data on emerging companies, the SaaS platform enables you to identify relevant startups, emerging technologies & future industry trends quickly & exhaustively.
In the Innovation Map below, you get an overview of the Top 8 Autonomous Vehicle Trends & Innovations that impact 1 213 companies worldwide. Moreover, the Autonomous Vehicle Innovation Map reveals 16 hand-picked startups, all working on emerging technologies that advance their field.
Top 8 Autonomous Vehicle Trends
Tree Map reveals the Impact of the Top 8 Autonomous Vehicle Trends
Based on the Autonomous Vehicle Innovation Map, the Tree Map below illustrates the impact of the Top 8 Autonomous Vehicle Trends in 2023. Startups and scaleups are developing ADAS solutions to improve vehicle safety. Advances in IoT and sensor technology enable accurate monitoring of surroundings and obstacles. Further, LiDAR sensors that see through fog and mist present a promising automation opportunity. The use of AI algorithms and neural networks in autonomous driving also ensures driver safety and optimizes traffic flows. Blockchain is another trend in the AV sector for vehicle tracking, payment security, and data management. Additionally, autonomous vehicles now leverage vehicle-to-everything (V2X) technology to improve navigation and road safety. More connectivity thus calls for cybersecurity measures to mitigate malicious threats. Lastly, businesses use XR to test autonomous vehicles and attract customers by offering virtual experiences of autonomous driving.
Interested to explore all 1 200+ autonomous vehicle startups & scaleups?
Global Startup Heat Map covers 1 213 Autonomous Vehicle Startups & Scaleups
The Global Startup Heat Map below highlights the global distribution of the 1 213 exemplary startups & scaleups that we analyzed for this research. Created through the StartUs Insights Discovery Platform, the Heat Map reveals that the US sees the most startup activity.
Below, you get to meet 16 out of these 1 213 promising startups & scaleups as well as the solutions they develop. These autonomous vehicle startups are hand-picked based on criteria such as founding year, location, funding raised, & more. Depending on your specific needs, your top picks might look entirely different.
Top 8 Autonomous Vehicle Innovation Trends for 2023
1. Internet of Things
IoT connects autonomous vehicles to the internet, other vehicles, and infrastructures. This allows real-time data acquisition and analysis to make timely decisions based on current traffic conditions, thus preventing accidents. Further, IoT-enabled sensors allow cars to monitor their surroundings and detect oncoming obstacles. Newer sensor technologies like LiDAR use lasers to scan the environment. Continuously rotating LiDAR sensors send multiple laser pulses to create 3D representations. It provides highly precise data that enables autonomous vehicles to react faster as compared to human drivers.
AutoL develops LiDAR Sensors
South Korean startup AutoL develops LiDAR sensors for level 3 and higher autonomous driving. Its high-sensitivity transmission and reception technology recognizes the surrounding environment in detail for more accurate detection. AutoL's sensors detect objects around 300 meters during the daytime, providing a long-range and wide field of vision. As a result, the laser-based sensor quickly detects other vehicles and pedestrians.
Omnitron Sensors works on Micro-Electromechanical Systems (MEMS) Sensing Technology
US-based startup Omnitron Sensors advances MEMS sensing technology. It combines novel silicon photonics and laser scanning to produce optical MEMS sensors. These optical sensors transmit light pulses and capture the reflections to detect objects. This ensures the safety and autonomy of self-driving cars.
2. Artificial Intelligence
AI algorithms are advancing a range of autonomous vehicle use cases. Object detection algorithms accurately determine obstacles such as pedestrians, vehicles, traffic signs, and other barriers in the vicinity of autonomous vehicles. Convolutional neural networks (CNN) recognize and classify different parts of the road. This allows autonomous vehicles to make appropriate decisions such as route optimization and path planning. Innovations in deep learning algorithms also improve voice recognition, sentiment analysis, gesture recognition, and motion detection in autonomous vehicles. This facilitates in-car infotainment and natural language interfaces. Machine learning enables tracking of eye or head movements, facial expressions, and driver behavior monitoring to further enhance safety.
dRISK aids Autonomous Vehicle Training
UK-based startup dRISK makes a tool for training autonomous vehicles. It leverages AI and multiple data sets such as semantic segmentation data, object segmentation data, depth maps, training images, and videos. The startup facilitates driverless cars to quickly recognize and respond to high-risk edge cases and better spot edge circumstances. This improves the autonomous ability and safety of driverless vehicles.
Arctictern facilitates Driver Monitoring
German startup Arctictern offers an AI-based driver monitoring system (DMS). It deploys deep learning algorithms to continuously analyze the driver's eye, face, and head movements. The DMS also assesses the driver's heart rate and body temperature to detect wellness, drowsiness, and distraction. In case of a likely accident, it warns the driver using flashlights or sound, and even via autonomous vehicle control. This safeguards the vehicle and its passengers from accidents due to human error while ensuring the safety of other vehicles on the road.
3. Vehicle Connectivity
Vehicle connectivity solutions connect vehicles to other vehicles (V2V), infrastructure (V2I), the electric network (V2N), and even pedestrians (V2P). V2P solutions alert drivers, pedestrians, and vehicles about the current road conditions and surroundings. V2I technology captures vehicle-generated traffic data to inform the driver of safety, mobility, and environment. It enables collision, wrong lane, and crash warnings. On the other hand, V2V solutions connect vehicles using dedicated short-range communications (DSRC) or 5G for crash avoidance, platooning, and traffic flow optimization.
HIRSCHI offers V2X Connectivity
Columbian startup HIRSCHI advances V2X connectivity using cameras and AI. It installs long-range cameras connected to optical fibers at periodic distances on roads. The use of optical cables supports long geographical distances as they eliminate electromagnetic noise. The startup's solution then captures videos and image data to send to driverless cars for autonomous decision-making. This improves object detection and it predicts parameters like pedestrian movements, vehicular distance, and speed every few meters. As a result, it reduces the risk of accidents as well as aids level 4 autonomy.
VEStellaLab advances Autonomous Parking
South Korean startup VEStellaLab facilitates V2I-enabled autonomous parking. The startup's indoor parking navigation system, WatchMile, allows drivers to find empty parking spaces. It syncs with technologies like closed-circuit televisions (CCTV), sensors, and machine vision systems to find indoor parking spots where global positioning systems (GPS) signals do not work. WatchMile also provides insights into vehicle location, parking duration, and potential parking fees, allowing drivers to make informed data-driven decisions.
4. Advanced Driver Assistance Systems
ADAS combines sensor technologies, cameras, and AI to perceive the environment around the vehicle. It then either provides this information to the driver or takes autonomous action when necessary. The technology enables adaptive cruise control (ACC) to automatically adjust the vehicle speed to maintain a safe distance from other vehicles. Additionally, automatic emergency braking (AEB) provides a forward collision warning and applies breaks automatically, if required. Similarly, blind spot monitoring (BSM) reduces crashes when changing lanes. This technology also powers other features like in-car navigation systems, head-up displays (HUDs), and adaptive light control.
M-ADAS provides Adaptive Cruise Control
Israeli startup M-ADAS advances adaptive cruise control using cybernetics technology. It calculates and plans vehicular travel speeds to prevent errors. Additionally, the ACC alerts the driver in case of a likely accident and reduces the driving speed. With analytics and driver telematics, it also enables traffic accident investigations for automotive insurance claims.
Hypermile builds an AI Driver Assist
UK-based startup Hypermile develops Co-Pilot, an AI driver assist that optimizes fuel efficiency in commercial vehicles. It leverages AI and computer vision to better understand the road ahead and controls vehicular speed as needed. Co-Pilot also provides automatic speed adjustments in case of road curves or bends, preventing aggressive driving and potential accidents. Moreover, the platform reduces the wear and tear of autonomous vehicles.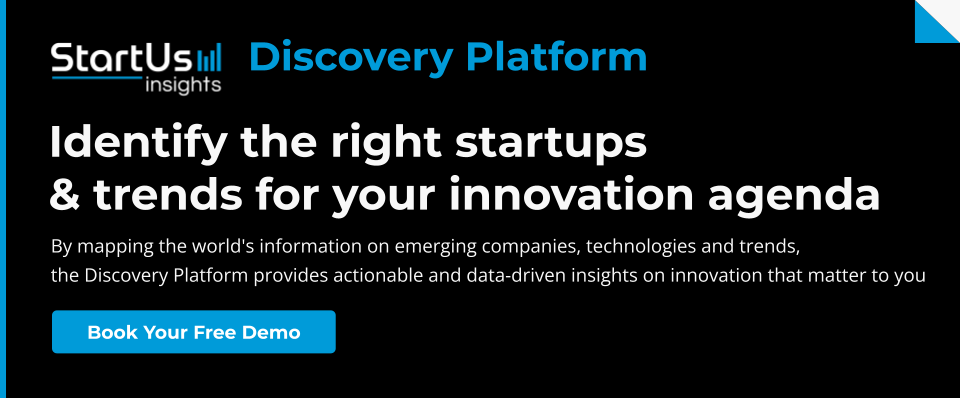 5. Big Data & Analytics
Autonomous vehicles rely heavily on the data they receive through cameras, radar, and sensors. The growth of big data is improving deep learning algorithms in autonomous vehicles to make them safer for mass adoption. Moreover, autonomous vehicles process and analyze data from built-in sensors to map their surroundings. Self-driving cars themselves generate data necessary for efficient road planning, safer pedestrian walkways, or danger alerts. That is why big data and advanced analytics have a significant impact on autonomous driving. Autonomous vehicle manufacturers are also using vehicle data to improve design and manufacturing.
Kognic delivers Perception Analytics
Swedish startup Kognic develops a perception analytics platform for the safer operation of autonomous vehicles. It measures key performance indicators (KPIs) to judge the quality of the automotive data. This improves dataset deployment for increasing the safety and performance of autonomous vehicles. As a result, the startup allows manufacturers to develop and validate safe perception systems that enhance vehicular safety.
Aidrivers creates an Autonomous Data Platform
UK-based startup Aidrivers builds an autonomous data platform for ports and industrial operations. It uses knowledge-based global path planning to optimize and manage fleets. Using continuous data gathering, 3D mapping, and localization, the platform improves the perception and responsiveness of driverless vehicles for enhanced autonomy. Another platform from the startup offers a 3D simulation of the AV environment. This facilitates staging and testing with minimum downtime.
6. Automotive Cybersecurity
As vehicular integration with other devices or systems grows, new threats and vulnerabilities emerge. Cyber attacks result in loss of vehicular control, system failure, collision, data theft, and more. This leads to accidents and vehicular theft. Consequently, startups are working on cybersecurity solutions for autonomous vehicles. This includes risk analysis, process auditing, and security assessments with dummy hazards. Automotive cybersecurity solutions ensure trustworthy communication between vehicles and between the driver and vehicle for improved traffic flow and safety.
Saesol Tech offers V2X Cybersecurity
South Korean startup Saesol Tech provides V2X cybersecurity for autonomous driving. It works on security authentication servers and virtual private networks (VPNs) to prevent cyber attacks on self-driving vehicles. This allows safe communication between vehicles and users, infrastructure, as well as other vehicles.
Foretellix enables Vehicular Safety Verification
Israeli startup Foretellix offers digital tools for vehicular safety verification of AVs. The startup's platform, Foretify, deploys big data and analytics for AV testing automation to validate ADAS productivity and security. By finding bugs early in the development cycle, the startup's platform reduces the failure of autonomous systems. It also provides full traceability of integrated systems for enhanced vehicular security.
7. Extended Reality
Extended reality technologies such as augmented reality (AR) and virtual reality (VR) are playing an increasingly important role in the development of autonomous vehicles. VR generates realistic virtual scenarios for machine learning, providing a safe environment to test AV software. AR powers HUDs that offers improved navigation and entertainment options, helping drivers better understand their environment for safe driving. On the other hand, startups are creating virtual showrooms to provide customers with a unique experience. To sum up, extended reality technologies are enabling the rapid development of automated vehicles without risking potential accidents due to long-term road testing.
VisualARise makes 4D Holographic AR
US-based startup VisualARise offers AR-based holographic 4D imaging for autonomous cars. The startup combines cameras, LiDAR, and RADAR to display navigation data, virtual road signs, and safety alerts in front of the driver. It also warns the driver in case of obstacles outside the line of sight. This enhances the safety of driverless vehicles irrespective of weather and lighting conditions.
CY Vision innovates 3D Holographic Displays
US-based startup CY Vision develops 3D holographic HUDs for autonomous vehicles. The startup's displays use AR to scan across multiple depth planes and provide a large field of view (FOV) for the driver. By integrating with advanced driver assist, cameras, GPS, LiDAR, and smartphones, the startup's technology creates an engaging visual experience for drivers. Further, it features high frame rate overlays that dynamically adapt as per the driver's eye or head position. This reduces eyes off-road time, thereby preventing distracted driving and accidents.
8. Blockchain
The adoption of self-driving cars requires the processing of large volumes of data. Blockchain, with its distributed ledger and cryptography technologies, enables faster and more secure data management. Its decentralized ledger network provides access to all data simultaneously and more accurately. Deployment of blockchain in autonomous vehicles thus enables better vehicle tracking, communication, and connectivity. At the same time, blockchain-enabled smart contracts simplify car insurance payments, repairs, and tolls. Moreover, blockchain facilitates incentivization when sharing data via V2V or V2I. Drivers and vehicle owners are also able to earn rewards by selling their vehicular data to manufacturers with blockchain-based solutions.
Mobilian builds a Blockchain-based AV Security Network
UAE-based startup Mobilian provides a blockchain-based network to secure autonomous vehicles. Its decentralized ledger collects and safely stores unstructured vehicular data. Blockchain ensures the accuracy of the gathered data that finds use in the development of AI for autonomous vehicles. This prevents cyber attacks and secures autonomous operations.
Autonomy Chain provides a Blockchain-secured Cloud Network
Singaporean startup Autonomy Chain provides a blockchain-based cloud network for AVs. It connects autonomous vehicles to a common platform for a safe and transparent exchange of information, allowing users to benefit from shared data. The platform is not limited to particular AV models or owners, thus democratizing the exchange of vehicular data. Moreover, the decentralized structure ensures a secure environment for AVs to communicate with each other and their surroundings.
Discover all Autonomous Vehicle Trends, Technologies & Startups
The transition from semi to fully autonomous vehicles is underway and we will see more powerful AVs in the years to come. Advances in sensor technology and LiDAR offer a 360-degree view of the surrounding environment for improved safety. Automotive businesses are also paying attention to sustainability and reducing emissions in their vehicles. Further, fully autonomous vehicles play a great role in automating transportation, impacting industries such as public transport, logistics, and tourism, among others.
The Autonomous Vehicle Trends & Startups outlined in this report only scratch the surface of trends that we identified during our data-driven innovation & startup scouting process. Among others, improved situational awareness, V2X connectivity, and 5G will transform the sector as we know it today. Identifying new opportunities & emerging technologies to implement into your business goes a long way in gaining a competitive advantage. Get in touch to easily & exhaustively scout startups, technologies & trends that matter to you!
Looking for emerging autonomous vehicle startups & technologies?
✕