Architectural innovations are crucial to address the inefficiencies of current processes and improve returns on investments (ROI). Technologies such as artificial intelligence (AI), virtual reality (VR), 3D printing, and cloud computing improve project quality, coordination, and implementation. Similarly, startups and scaleups are experimenting with existing and newer methods to develop strong, sustainable, and resilient buildings with advanced designs and materials.
Innovation Map outlines the Top 10 Architecture Trends & 20 Promising Startups
For this in-depth research on the Top 10 Architecture Trends & Startups, we analyzed a sample of 771 global startups & scaleups. This data-driven research provides innovation intelligence to improve strategic decision-making by giving you an overview of emerging technologies in the architecture industry. In the Architecture Innovation Map below, you get a comprehensive overview of the innovation trends & startups that impact your company.
These insights are derived by working with our Big Data & AI-powered StartUs Insights Discovery Platform, covering 3 790 000+ startups & scaleups globally. As the world's largest resource for data on emerging companies, the SaaS platform enables you to identify relevant technologies and industry trends quickly & exhaustively.
Tree Map reveals the Impact of the Top 10 Architecture Trends
Based on the Architecture Innovation Map, the Tree Map below illustrates the impact of the Top 10 Architecture Trends in 2023. AI facilitates material selection, process automation, and resource optimization. While startups develop advanced materials that are sturdier and greener, additive manufacturing enables architects to implement multiple design iterations economically. Designers also use immersive technologies such as AR and VR to visualize and perceive designs on a real-world scale. Sustainability remains the central theme and builders incorporate renewable energy sources, energy efficiency, and circular economy principles in their architectural designs.
Top 10 Architecture Trends in 2023
Global Startup Heat Map covers 771 Architecture Startups & Scaleups
The Global Startup Heat Map below highlights the global distribution of the 771 exemplary startups & scaleups that we analyzed for this research. Created through the StartUs Insights Discovery Platform, the Heat Map reveals high startup activity in the US, across Europe, and in India. Below, you get to meet 20 out of these 771 promising startups & scaleups as well as the solutions they develop. These 20 architecture startups are hand-picked based on criteria such as founding year, location, funding raised, & more. Depending on your specific needs, your top picks might look entirely different.
Interested to explore all 700+ architecture startups & scaleups?
Top 10 Architecture Trends in 2023
1. Artificial Intelligence
AI automates tasks such as researching design and code databases, design optimization, site selection, and construction management to save time. Startups develop AI models to inspect zoning data, site demographics, environmental factors, and site selection. Likewise, AI enhances the design process by analyzing factors like structural integrity, energy efficiency, material durability, and cost parameters. This empowers construction planning and reduces material wastage while addressing worker shortage. Moreover, engineers and architects leverage synthetic or generative AI to generate multiple design iterations that fit the client's specifications and design vocabulary. Such solutions allow designers to allocate their time to high-level designing and advance parametric design.
Maket AI advances Generative Architectural Design
Canadian startup Maket AI provides a generative AI-powered platform to create schematic designs for building floor plans. It takes environmental and other space constraints in natural language and generates various design variations. This significantly reduces the time to develop architectural plans and advance early-stage planning by producing multiple design iterations. Architectural, engineering, and construction (AEC) teams use Maket AI's platform for design modeling and real-time collaboration.
Zackplan facilitates Building Visualization
Austrian startup Zackplan enables 3D building visualization and VR creation for home staging and marketing. The startup's platform leverages AI to produce true-to-scale 3D visualizations and 360-degree photographs from schematic floor plans. It automates marketing content production for home staging and visualizations for construction monitoring. Architects, real estate developers, and property agents utilize Zackplan's platform to speed up design visualization, prevent empty viewing, and reduce marketing time.
2. Advanced Materials
Engineered materials that utilize fewer resources to develop, are sturdier, or offer better workability over conventional materials are desirable by the AEC industry. High-performance materials improve the mechanical properties of structures while ensuring aesthetical appeal. Startups also offer innovative materials such as self-healing concrete, photovoltaic (PV) glass, and dust-resistant nanocomposites. Further, startups manufacture greener alternatives to traditional materials with comparable qualities such as low-carbon steel, engineered wood, and bio-based materials. These sustainable materials feature high durability, thermal insulation, recyclability, and endurance to withstand high loads and extreme weather. They reduce the environmental impacts of construction without compromising structural performance.
BioZeroc produces Carbon-Negative Concrete
BioZeroc is a UK-based startup that manufactures carbon-negative and bio-inspired concrete. It is made from waste organic feedstocks and circular reagents mixed with bacteria. This composition replaces cement in concrete manufacturing and reduces the carbon footprint of construction materials. Moreover, this zero-carbon concrete features comparable strength and geometrical flexibility in the construction process.
Mycela provides Fungi-based Composite Materials
Mycela is a Norwegian startup that produces fungi-based composite biomaterials. The startup grows and mixes fungal mycelium with local organic waste to self-grow composite materials. They exhibit characteristics such as better insulation, strength, compostability, fire resistance, and water resistance. Therefore, the startup's biomaterials find use in the architecture and interior design industries. Moreover, they improve cost affordability and reduce construction waste by adopting a circular production process.
3. Immersive Technologies
Startups create immersive experiences that allow designers, clients, and stakeholders to visualize and experience architectural designs. For this, they leverage immersive technologies, such as AR, VR, and mixed reality (MR). These technologies deliver photorealistic space visualization to enable early detection of potential design errors and space optimization to improve design accuracy. Similarly, MR creates shared immersive environments where all stakeholders are able to collaborate and experience designs in a more interactive and engaging way. Immersive technologies also find use in marketing and sales to provide virtual building or site tours.
Log Build aids VR-based Site Monitoring
Japanese startup Log Build makes Log Walk, a cloud-based VR platform for remote construction site management and monitoring. It utilizes a 360-degree camera and smartphone to gather on-site information and enable visualization in a VR environment. This facilitates real-time communication, quality control, site supervision, and field personnel management. Moreover, the platform equips project managers and contractors with remote construction site progress and safety monitoring tools.
Cityscaper advances Building Design Modeling
German startup Cityscaper builds Cityscape, an AR-based application for building design modeling. It creates 3D impressions that allow users to check various ideas and opinions in the real-world context during the design phase. This saves time and cost of sampling on-site for builders, architects, and project teams.
4. Cloud Computing
Solutions hosted on remote cloud servers enable architects, designers, and contractors to collaborate on projects in real time. This improves communication, reduces errors, and increases efficiency. Startups thus provide cloud-based platforms that enhance the accessibility of project documents and information across devices. Moreover, cloud computing offers scalable and cost-effective file storage solutions while providing robust security features to ensure the privacy of sensitive project information. Some startups offer solutions that deliver high-performance computing (HPC) for data-intensive tasks such as 3D modeling and rendering.
Programa makes Project Management Software
Australian startup Programa develops cloud-based project management software for interior and architecture design studios and renovators. It simplifies project, process, and purchase management in a single platform. The software offers a product library and supports pinboard creation with automatic schedule and specification updates to streamline workflows. Interior designers and architects use it to refine and share updated project schedules without the need for version control. Additionally, it offers lead-generation and eCommerce integration to advance sales of interior design brands.
Naraci offers Interior Design Software
Indian startup Naraci provides a software-as-a-service (SaaS) platform to accelerate interior designing, visualizing, and project planning. It supports freehand sketching, bill of materials (BOM) setup, bill of quantity (BOQ) management, as well as 2D and 3D modeling. The platform also features design templates, machine drawings, and 3D visualization without the need to switch different applications. This enables architects and interior designers to offer real-time rendering and share quotations with clients.
5. Advanced Robotics
Robotics improves the productivity and efficiency of projects by automating tasks such as fabrication, assembly, and construction. Businesses employ robots to custom-build complex building components and structures at a fraction of the time and cost of manual processes. Architectural robots also perform dangerous or hazardous tasks such as working at heights or confined spaces. They address the shortage of skilled labor force and improve construction site safety. Further, startups utilize robotics to reduce project timelines and improve revenue. Robotics thus reduces waste by optimizing material usage and energy efficiency, advancing sustainable architecture.
Automated Architecture (AUAR) enables Distributed Timber Manufacturing
UK-based startup AUAR enables distributed, robotically assembled timber manufacturing. The startup facilitates modular timber house manufacturing through robotic automation in its micro-factories. AUAR leverages off-the-shelf robots to pre-fabricate one and two-storey housing components and living spaces from standard timber that are assembled on-site. Contractors, builders, and developers leverage AUAR's prefabs to create sustainable community homes rapidly with minimal material wastage.
MESH offers Robotic Prefabrication
Swiss startup MESH provides 3D-printed polymer meshes for formwork and reinforcement fabrication. For this, the startup leverages its patented robotic fabrication technology and computational design. It uses 3D geometry files and structural analysis to produce project-specific complex 3D mesh structures. The startup then applies robotic control algorithms and industrial robots to weld and customize complex reinforcement mesh. This is applicable even for high-load structures and large-scale projects. The startup's technology thus enables the prefabrication of complex or curved reinforcement cages and 3D concrete structures without the need for formwork.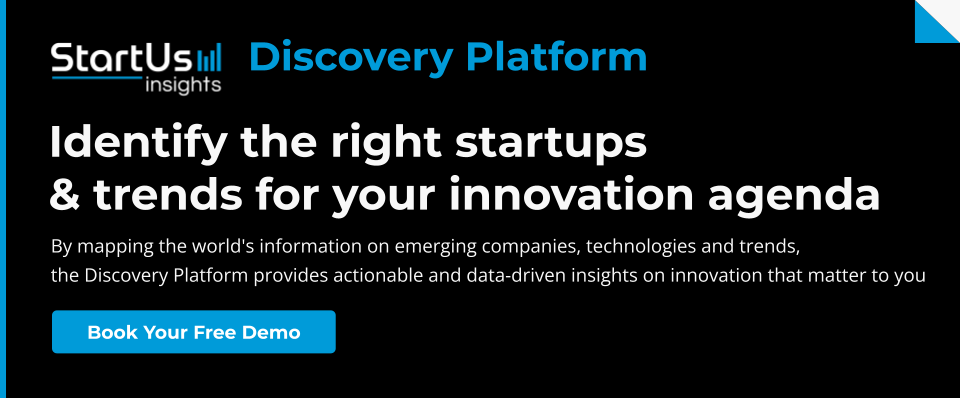 6. Building Information Modeling
BIM advances the digital transformation of the AEC industry by enabling data-driven, end-to-end asset lifecycle management. It centralizes data from various sources and stages of a project to foster collaboration. This also mitigates data silos and reduces errors, conflicts, and delays. Startups provide BIM platforms that integrate various tools for specific project stages like planning and design visualization. Architects use BIM to accelerate design conceptualization, modeling, documentation, and coordination with clients. It further facilitates construction and asset management by gathering data from the site and providing process insights. Innovative BIM software offers realistic design representations through 2D and 3D computer-aided design (CAD) models and enables informed decision-making. They allow architects to identify potential problems and minimize reworks. Lastly, BIM software improves project planning, scheduling, and material management, improving productivity and cost savings.
Vitus Cloud simplifies Construction Intelligence & Data Management
Danish startup Vitus Cloud develops a cloud-based platform for construction intelligence and data management. The startup's module, Vitus Advanced, connects with BIM software and utilizes data from external sources to provide actionable insights on project requirements. It also streamlines data management through rule-based structuring and reorganization processes as well as realigns data and file formats in a common nomenclature. This ensures real-time data connectedness, provides constructability insights and improves AEC project management.
Recloud facilitates Construction Deviation Detection
Spanish startup Recloud makes construction deviation detection software. It takes BIM models and point cloud data from 3D site scans and analyzes the differences to detect deviations. This enables project managers to create deviation reports, share data with other stakeholders, and prompt corrective action from on-site teams. The startup thus eases construction supervision and allows real-time and precise defect detection, saving time and rework costs.
7. 3D Printing
Additive manufacturing or 3D printing empowers architects to create unique structures that are difficult to achieve with traditional construction methods. It also offers creative design flexibility by enabling concept revisions at low costs and greater speeds. Further, architectural firms leverage 3D printing to prefabricate building components as well as advance modular and distributed manufacturing. Such solutions offer substantial cost savings and streamline construction processes by reducing material waste. Additionally, 3D printing optimizes material usage, enables precision fabrication, and delivers accurate project cost estimation. Startups develop 3D printers that support a wide range of materials, including concrete, plastic, and recyclable materials tailored for the architectural sector.
Centauroos advances Construction Waste Recycling
Centauroos is an Italian startup that recycles construction waste to produce new architectural elements. The startup recovers residue building materials to use as aggregates for 3D printing blocks. The 3D-printed blocks also feature an interlocking mechanism that responds to local stress to increase the anti-seismic response and adaptability. As a result, the startup reduces construction waste while enabling context-driven building development for communities and historic sites.
LUYTEN develops Mobile Concrete Printers
Australian startup LUYTEN provides mobile 3D concrete printers with integrated AI software for large-scale construction. The startup's range of 3D printers, PLATYPUS, features multi-axis operations and uses its gantry system to support large print length dimensions. Additionally, each of these printers utilizes the startup's proprietary extruder, TURSIOPS, which includes an anti-clog mechanism for high-speed and fast-setting mixture prints. Consequently, the startup's 3D printers enable data-controlled fabrication of complex architectural geometries along with on-site quality checking and automated adjustments.
8. Renewable Architecture
The demand for green architecture and high energy costs drive the integration of renewable energy sources in building design and construction. Startups innovate in renewables-based architecture to reduce the energy consumption of buildings through insulation, efficient lighting systems, and passive solar design. This reduces greenhouse gas emissions and lowers operating costs for building owners and provides long-term cost-savings. Similarly, startups design compact solar panels, wind turbines, and geothermal systems for on-site clean energy generation, reducing reliance on fossil fuels. Architects and interior designers utilize renewables-based architecture to improve indoor air quality and natural ventilation through green roofs, biophilic design elements, etc.
Aeromine Technologies enables On-site Energy Generation
US-based startup Aeromine Technologies provides an on-site wind energy generation solution for large buildings. The startup's aerodynamically designed patented energy units use airfoil technology to capture building airflow and generate energy. Moreover, these units integrate with existing solar energy panels to accommodate the building's complete energy needs economically and sustainably. It requires low maintenance and is suitable for large rooftop buildings such as warehouses, manufacturing facilities, offices, and apartment complexes.
IMPACT ACOUSTIC makes Acoustic Materials
Swiss startup IMPACT ACOUSTIC develops ARCHISONIC, an acoustic absorber building material. The startup upcycles single-use plastics, waste cardboard, sawdust, and recycled PET bottles to create its material. With ARCHISONIC, the startup also develops light and sound-absorbing products such as ceiling baffles, dividers, lighting, ceiling, and wall panels. Architects, furniture designers, and manufacturers use ARCHISONIC to improve the acoustic performance of their designs and products.
9. Circular Architecture
The architecture industry is adopting the circular economy to design and construct workflows that improve resource efficiency. Startups reduce waste and resource consumption by using materials that are durable, recyclable, and reusable. Circular architecture also advances modular construction and material recovery that expands the building or material lifespan. Further, startups utilize computational design to retrofit or repurpose existing building spaces for contemporary use. Architecture companies build platforms that provide data-driven insights for asset management, increasing building life. Innovative circular supply chain platforms enable green construction material sourcing and increase supply chain transparency. These platforms improve regulatory compliance and incentivize greener initiatives.
Respace facilitates Space Repurposing
Dutch startup Respace provides wooden built-in systems that simplify space repurposing in existing buildings. The startup prebuilds building-specific elements such as doors, walls, floor plates, balustrades, stairs, etc., which are assembled on-site. Its parametric system, Box-in-Box, provides custom, stackable, and switchable 3D modules made of sustainable laminated veneer lumber (LVL). The startup then utilizes parametric design software to generate custom designs for each project. New and existing building owners use the startup's technology to redesign their building space using circular materials and systems.
ZupplySite advances Resource Circularity
Danish startup ZupplySite offers a material management platform to improve resource circularity and transparency. It maps new and old materials by creating digital identities for tracking them in existing and new construction projects. The platform also integrates with existing tools and connects different stakeholders to improve material reuse. AEC businesses use this platform to lower their carbon emissions by material circulation and generate new revenue sources.
10. Energy-Efficient Architecture
Energy efficiency solutions in buildings and structures eliminate heat and energy loss as well as reduce energy and maintenance costs. Startups provide advanced heating, ventilation, and air conditioning (HVAC) systems that optimize energy utilization and reduce the environmental impacts of buildings. They also deliver provisions for high-performance building envelopes, such as insulation and air barriers, that reduce energy losses and operating costs. Similarly, building management and automation solutions monitor existing systems such as HVAC and lighting, t optimize consumption. This significantly curtails maintenance costs while also retaining comfort for occupants. Architecture software for energy-efficient solutions promotes passive design strategies and provides building energy simulations to improve natural lighting and building ventilation.
Space2 provides Energy-Efficient Cabins
New Zealand-based startup Space2 develops custom, energy-efficient prefabricated eco-cabins. The startup leverages triple-glazed windows and high-density polyisocyanurate (PIR) foam insulation to improve thermal efficiency. This minimizes heat loss and lowers the heating and cooling requirements, increasing energy efficiency. Further, the startup utilizes recycled plastic bottles, biodegradable materials, steel exo-subfloor, and high-performance building materials in construction.
Archimethod offers Building Energy Simulations
Swiss startup Archimethod uses computational design to provide 3D site analysis and simulations. The startup's software, Building Energy Analysis, estimates HVAC, lighting, electricity, and water system energy consumption as well as the potential for on-site renewable energy production. It then uses predictive modeling based on geometrical 3D building models and parameters such as local climate, proposed construction materials, etc. This enables architects and developers to compare suitable design variants for the desired energy efficiency levels and make informed decisions.
Discover all Architecture Trends, Technologies & Startups
The architecture industry rapidly adopts novel technologies like digital twins and the internet of things (IoT) to make smart buildings. Startups are utilizing advances in nanotechnology and biotechnology to further develop bioclimatic structures and eco-friendly paints and coatings. Sustainable and climate-positive architecture remains the top priority of the industry. The architecture trends & startups outlined in this report only scratch the surface of trends that we identified during our data-driven innovation & startup scouting process. Identifying new opportunities & emerging technologies to implement into your business goes a long way in gaining a competitive advantage.
Looking for architecture startups & technologies?
✕