Even in the wine industry, digitization offers innovative solutions to tackle potential risks, enhance efficiency, and foster sustainable practices. Startups and scaleups develop solutions to monitor processes, ensure quality control, and support decision-making. Precision viticulture uses technologies such as drones, satellite imagery, robots, and soil sensors to gather and evaluate data on soil composition, vine health, and weather conditions. This data-driven approach allows winemakers to optimize vineyard management practices, minimize resource waste and enhance the quality of wine. In this report, explore the top 10 wine industry trends and 20 innovative companies.
Innovation Map outlines the Top 10 Wine Industry Trends & 20 Promising Startups
For this in-depth research on the Top 10 Wine Industry Trends & Startups, we analyzed a sample of 631 global startups & scaleups. This data-driven research provides innovation intelligence that helps you improve strategic decision-making by giving you an overview of emerging technologies in the beverage industry. In the Wine Industry Innovation Map below, you get a comprehensive overview of the innovation trends & startups that impact your company.
These insights are derived by working with our Big Data & Artificial Intelligence-powered StartUs Insights Discovery Platform, covering 3 790 000+ startups & scaleups globally. As the world's largest resource for data on emerging companies, the SaaS platform enables you to identify relevant technologies and industry trends quickly & exhaustively.
Tree Map reveals the Impact of the Top 10 Wine Industry Trends
Based on the Wine Industry Innovation Map, the Tree Map below illustrates the impact of the Top 10 Viticulture and Winemaking Trends. Startups and scaleups are deploying innovative solutions to optimize wine quality and reduce costs through enhanced production processes. Interactive solutions, that improve virtual tastings and other vineyard activities, allow consumers to experience the winemaking process more intimately, thus increasing their engagement. Technologies such as remote imaging, internet of Things (IoT) devices, and soil sensors provide detailed data on environmental conditions that affect grape growth and quality. Further, advances in robotics reduce the need for manual labor resulting in cost savings. Additionally, smart packaging and blockchain technology improve product transparency, traceability, and quality assurance. Finally, intelligent cellars enable winemakers to regulate parameters that improve the aging potential and preserve wine quality.
Top 10 Wine Industry Trends in 2023
Global Startup Heat Map covers 631 Wine-making & Viticulture Startups
The Global Startup Heat Map below highlights the global distribution of the 631 exemplary startups & scaleups that we analyzed for this research. Created through the StartUs Insights Discovery Platform, the Heat Map reveals high startup activity in the US, followed by Europe and the UK. Below, you get to meet 20 out of these 600+ promising startups & scaleups as well as the solutions they develop. These viticulture & wine-making startups are hand-picked based on criteria such as founding year, location, funding raised, & more. Depending on your specific needs, your top picks might look entirely different.
Interested to explore all 600+ wine-making & viticulture solutions?
Top 10 Wine Industry Trends in 2023
1. Interactive Consumer Experience
The digital revolution creates new opportunities to connect winemakers with consumers through interactive experiences regardless of their location and time. This recent trend uses immersive technology applications to combine the virtual and real world. Startups develop virtual tasting events allowing consumers to learn various tips through videos, and experience wine tasting through delivered kits. Furthermore, augmented reality (AR) powered labels in wine bottles provide detailed information about the quality of the brand, authenticity, and hidden stories, thus creating a unique experience for the consumer. Lastly, AR wine labels enable educational opportunities for customers to expand their wine knowledge and make informed purchasing decisions.
Upwine offers Interactive Wine Tasting
Spanish startup Upwine provides an innovative platform that connects wine producers with consumers through recorded video capsules. This solution allows consumers to take part in an interactive session that assesses the different phases of the wine tasting and compare feedback with the recorded video capsules. The platform also generates unique tasting codes for a collaborative wine tasting experience including wine files and fun quizzes. Upwine thus enhances the wine-tasting experience and fosters a sense of community among wine enthusiasts.
My Wine Guide develops Digital Wine Lists
US-based startup My Wine Guide offers a digital platform for hospitality providers to enhance the consumer's wine experience. The platform features an interactive map that allows users to explore wineries and different wine types around the world. Further, this solution provides educational resources for consumers to guide them through their wine exploration. Informational videos, articles, and other resources in the platform enable consumers to learn about wine and make informed decisions when selecting wines.
InVintory digitizes Wine Collection
Canadian startup InVintory develops a smartphone-based platform for wine collectors. The startup's platform allows wine enthusiasts to track and locate their prized bottles with ease. InVintory focuses on enhancing customer experience through customer relationship management tools on the platform. Wineries deepen customer engagement by leveraging features such as personalized recommendations and tailor-made loyalty programs.
2. Connected Vineyards
Startups and scaleups are developing technologies that enable winemakers to access real-time data of vineyards to mitigate the adverse impact that environmental conditions have on the grapevines. These connected vineyards involve the use of technologies such as sensors, data analytics, and automated irrigation systems to increase the efficiency of vineyard operations. The sensors and connected devices used in vineyards enable grapevine quality control and keep a check on critical parameters such as soil conditions, manage irrigation, and provide weather forecasts. This real-time monitoring of vineyards facilitates better decision-making and allows for more precise and targeted management of the vineyards.
Croptide offers Vine Sensors
New Zealand-based startup Croptide specializes in vine sensors to provide accurate real-time data on vine health. The startup's device attaches directly to the trunk of the grapevines to read the key metrics from the plant. It allows growers to make informed decisions about their crops, optimize resources, and achieve sustainability objectives. This solution enables growers to refine the management to achieve better yield and quality while minimizing water, fertilizer, carbon emissions, labor, and other inputs.
Bevine develops Vineyard Management Software
Bulgarian startup Bevine offers vineyard management software to help wine producers reduce production costs and maximize quality yield. This tool integrates remote sensing technology to gather environmental data along with predictive models to generate accurate forecasts. It leverages data such as air and soil temperature, humidity, wind speed, and direction for enhanced accuracy. The software provides visualizations of vineyard information through a mobile application, helping wine growers increase yields and enhance the safety and quality of their harvests.
3. Remote Imaging
Remote imaging technology provides a comprehensive view of the vineyard's health through satellite imaging, ground imaging, unmanned aerial vehicles (UAVs), and Laser Image Detecting. This allows wineries to create 3D maps of vineyards and easily capture data from both soil and vines. Moreover, remote sensing combines sensor data (temperature, humidity, sun exposure, soil conductivity) and satellite imagery to monitor environmental conditions in real-time. This data facilitates faster decisions about grape quality, biological cycles, and overall production capacity. Startups leveraging this technology trend enhance operational efficiency and reduce the negative impact of external factors like climate change and natural disasters on the wine production process.
Cropsy Technologies offers Intelligent Vision Systems
Crospy Technologies is a New Zealand-based startup developing intelligent vision systems for growers to monitor vines' health, to identify missing, dying, and unproductive grapevines. The startup's vision system attaches to one of the existing vineyard vehicles to understand every single vine and profile each leaf in real time as the vehicle passes by. This solution measures the current state of grapevines to diagnose declining productivity and disease in the earliest stages. Early detection allows for proactive treatment and better vineyard management decisions.
Terroir from Space conducts Precise Terroir Analysis
Italian startup Terroir from Space uses satellite imagery to provide reliable remote sensing data about vineyards. The solution analyzes the characteristics of existing plots of land from space and provides advice on necessary adjustments to improve yields and quality. Further, the startup uses a trained artificial intelligence algorithm to detect unexploited plots of land optimal for wine production. Terrior provides viticulturists with valuable insights to make informed decisions to mitigate risks associated with changing climate conditions.
4. Robotics & Automation
Robotic automation is a rapidly growing trend revolutionizing vineyard management. Startups and scaleups leverage advances in robotics to automate repetitive and labor-intensive tasks such as pruning, monitoring water levels, controlling pests, and protecting from external damage. With automated robots, grapevine growers improve the efficiency of the existing processes, reduce labor costs and fill in labor gaps. Moreover, GPS-based guidance systems allow robots to navigate freely in the vineyards to perform the assigned tasks. Digital advancements also allow vine growers to program the robots using a smartphone. Finally, automated machines increase sustainability in the form of reduced energy and water consumption, improved soil quality, and fewer hazardous chemicals.
Ladybug Robotics manufactures Autonomous Vineyard Robots
Canadian startup Ladybug Robotics develops autonomous robots to boost the productivity of grape growers. The robots are equipped with an advanced sensor suite that allows for autonomous navigation and task execution precisely under rigorous quality control. Further, the solution is designed to automate repetitive tasks such as spraying, harvesting, and pruning in the vineyard. These robotic solutions help growers overcome challenges regarding the shortage of labor.
NOBO ROBOTICS develops Autonomous Bird Control Robot
US-based startup NOBO ROBOTICS provides an autonomous robot designed to protect vineyards from bird damage. The robot utilizes a combination of autonomous movement, visual recognition, and sound-emitting capabilities such as lasers, loud noises or distress calls to scare away birds. The robot also detects when its current module is losing effectiveness and alerts the farmer when a new module is required. Overall, NOBO ROBOTICS enables eco-friendly practices to immediately respond to bird activity in the vineyard and prevent crop damage.
5. Vineyard Biosecurity
Vineyards represent a habitat for many living organisms, therefore, protecting vineyards from biosecurity threats like pests and diseases is a critical aspect for the viticulture industry. Indeed, producing premium quality wines is heavily dependent on disease-free grapes, healthy vines, and a vineyard free of pests. Accessing data on microclimate of vineyards, allows winemakers to identify periods of high pest activity. This enables them to determine the optimal time for pest treatment. Startups providing vineyard biosecurity solutions for disease or infection management alert winegrowers on possible pest hazards within a vineyard along with guidance to handle the situation. Additionally, climate change and wildfire smoke negatively impact vineyards and wine grapes. Hence, the adoption of new technologies helps treat smoke-tainted grapes enhancing the quality and the taste of wine.
Purfresh Wine offers Smoke Taint Removal
US-based startup, Purfresh Wine uses ozone technology to remove impurities such as sulfur, and pesticides caused by exposure to smoke. The process involves placing the grapes in a sealed ozone generation container after harvest and before pressing to remediate the smoke. The smoke taint removal system improves the quality of wines and save harvest from the smoke caused by fires.
VineForecast develops Vine Protection App
German startup VineForecast provides an app that provides high-quality infection forecasts for vine protection. It helps growers to effectively prevent powdery and downy mildew through modeling infection conditions. Further, the app provides real-time information regarding the current infection risk. VineForecast leverages data analytics and predictive modeling to mitigate disease risks, optimize treatment strategies, and enhance vineyard health and productivity.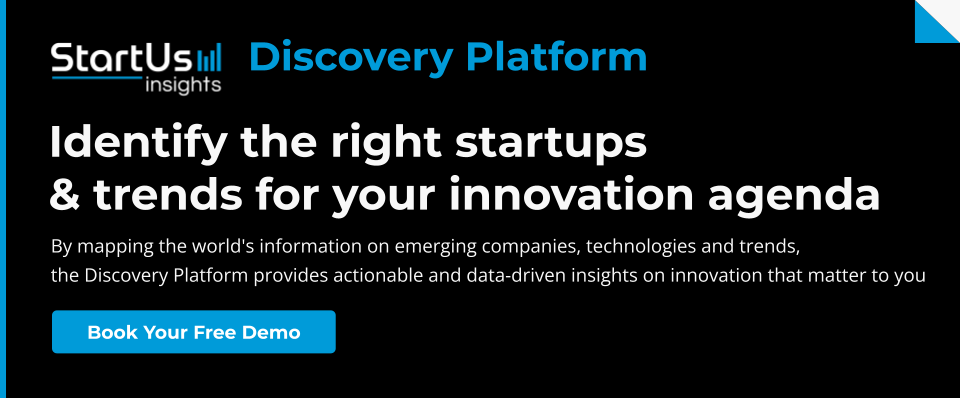 6. Soil Management
Soil management is a trend in viticulture that emphasizes the importance of soil health for the production of premium-quality wines. Startups provide soil mapping solutions based on electromagnetic conductivity and ground-penetrating radar to measure soil properties and variability. This data helps in preparing soil management plans tailored to specific areas, thus optimizing the operations. Additionally, startups leverage technology to monitor the soil-water profile relationship under different irrigation practices throughout the growing season. Moreover, this trend involves solutions to evaluate soil pH, drainage, and nutrient levels to increase vine health, quality of wine, and overall productivity in vineyards.
EarthScout produces Wireless Soil Moisture Sensors
US-based startup EarthScout provides wireless sensors that measure field soil moisture and support growers to reduce pivot irrigation and drip irrigation costs. All the real-time data on soil moisture is sent to a smartphone app. This technology allows growers to identify the crop wilting point and adjust the irrigation systems to the levels necessary for healthy vine growth. The solution thus helps growers save money, time and preserve the quality of vines.
LandScan specializes in Soil Core Sensing
US-based startup LandScan offers a soil sensing tool with seven sensors that push into the vineyard ground and characterizes the full soil profile quickly. This tool helps viticulturists with real-time soil information and soil mapping capabilities. Hence, it enables them to examine soil health at different depths, monitor nutrient levels and analyze organic matter. Sensors work independently to enhance the accuracy of texture and water-holding capacity.
7. Blockchain-based Authentication
Blockchain technology helps to establish trust, transparency, and traceability across the wine industry by allowing every stage of the process to be recorded in secure, tamper-proof blockchain ledgers. Blockchain enables the recording of each wine production stage (harvesting, production, distribution), and entails the ability to verify the steps that the product has followed with identification of traced objects such as wine bottles. Consumers are able to scan tags with their smartphones to verify all the information, from the time of bottling to the pesticides and fertilizers used during production. Further, startups leverage the technology to counter fraud, preserve the authentication of wines, and provide consumers with product-related information.
Crurated offers NFT Certified Provenance
UK-based startup Crurated creates NFT certification for each wine bottle to eliminate counterfeit risk, assure full transparency on the origins of wine, and provide traceability. It allows users to build their own personal digital wine cellar, backed by a transparent ledger of ownership of wine bottles, which makes it easy to track provenance. Additionally, users make online purchases directly from winemakers, track consumption, and receive tailored recommendations based on their tastes.
Ensimaro develops a Blockchain-based Traceability System
Italian startup Ensimaro offers a blockchain-based traceability system that allows wineries to track the entire process from harvesting to bottling and distribution. The solution protects brands from counterfeiting and helps wineries engage with consumers directly, thus providing more personalized experiences. Moreover, it enables consumers to access information on each bottle regarding the origin, authenticity, and quality ratings of the wine.
8. Smart Packaging
Smart packaging utilizes NFC labels, QR Codes, or RFID tags to integrate connectivity into wine packaging. These technologies allow the control of various parameters such as temperature, humidity, and light exposure during storage and transportation. Moreover, this emerging trend focuses on sustainability through the use of recycled and biodegradable materials. The importance of minimizing carbon footprint and waste generation makes winemakers pursue eco-friendly packaging solutions such as plant-based or compostable materials. Further, wine producers utilize smart packaging to improve product safety, prevent counterfeiting and sustain product quality.
1275 SA produces NFC labels
Swiss startup 1275 SA incorporates NFC labels in the wine bottles to provide a full record of its history and the conditions it was exposed to. Additionally, the startup provides a mobile app for the users to view, manage and monitor the wine bottles in real-time. Its Internet of Bottles technology provides proof of authentication, and tracks and manages inventory. Further, the startup's solution ensures precise condition documentation, enabling the identification of potential issues that cause the wine to spoil or age prematurely. It guarantees that wines are preserved at optimal conditions throughout the entire process.
Mushloop provides Biodegradable Wine Packaging
Indian startup Mushloop offers biodegradable packaging to safely ship wine bottles. This solution replaces styrofoam and plastics with mycelium and agricultural waste while using minimal amounts of resources. This bio-based packaging breaks down naturally in the ground without any help from chemicals. Mushloop's eco-friendly packaging derived from natural resources serve as a substitute for petrochemical-based plastics, thus reducing carbon footprint and accelerating degradation.
9. Nano-Oenology
Nanotechnology is a promising technology revolutionizing the wine manufacturing processes from harvesting to packaging. Nano-oenology involves the use of nanomaterials designed as antimicrobial agents to remove preservatives and pollutants in wine. Moreover, nanomaterials allow wine producers to measure parameters of wine such as flavor, aroma, or even color intensity. Additionally, the involvement of nanosensors aids in measuring levels of sugar and acidity of grapes. This is beneficial to control processes such as fermentation and aging, resulting in better-quality wines. Lastly, nanoscience in winemaking improves organoleptic properties and ensures safety.
Nanobubbles Europe specializes in Nanobubbles Technology
Polish startup Nanobubbles Europe uses nanobubbles technology to remove all sulfite contents in wine. This solution allows winemakers to produce organic wines that involve healthier ingredients such as polyphenol and anthocyanins content. This startup offers a sustainable alternative to traditional wine preservatives using nanotechnology to remove sulfite preservatives without sacrificing taste.
10. Intelligent Wine Cellars
Intelligent wine cellars are an emerging trend that revolutionizes the way consumers store and manage wine collections. With recent technologies, smart cellars operate under the control of cellar management software. Smart wine storage systems use sensors to detect environmental conditions such as temperature and humidity. Moreover, it allows users to track how the wines are aging, access their collection remotely, and receive notifications when it is time to consume their bottles.
neodisplay offers Smart Wine Cabinets
Italian startup neodisplay offers a smart wine cabinet that features innovative technology designed to preserve and protect the wine collection. The smart cabinet is equipped with a temperature and humidity-controlled environment, a light block design, and an integrated app for organizing wine collection. The app allows users to monitor cabinet parameters by sending notifications if the temperature and humidity exceed optimal levels.
Vino Vault develops a Cellar Management Platform
US-based startup Vino Vault offers a cellar management platform that monitors the wine's preservation and storage. This solution ensures that each bottle is protected and stored in perfect conditions with optimal security. The application provides the collector with details such as the tasting notes for each wine, the ideal time to drink, and the collection's value. The startup's solution provides secure storage for fine wines, ensuring they are protected from potential damage or theft.
Discover all Wine Industry Trends, Technologies & Startups
The innovative technologies in this report drive production and allow winemakers to make their operations more profitable, efficient, and cost-effective. The wine industry is rapidly evolving with the use of IoT sensors, automated application of fertilizers, and new practices of aging wine. Additionally, automated wine trading is set to grow further through proper blockchain verification, allowing consumers to easily purchase investment-grade wine. Other innovations combine AI with chemistry to create wines without grapes. The Wine Industry Trends & Startups outlined in this report only scratch the surface of trends that we identified during our data-driven innovation & startup scouting process. Identifying new opportunities & emerging technologies to implement into your business goes a long way in gaining a competitive advantage.
Looking for wine industry startups & technologies?
✕