Emerging waste management industry trends meet the industry's growing demand for autonomous operations, digitalization, and sustainability. The industry is increasingly automating processes like waste sorting, collection, and disposal. To aid this, startups develop robotic recyclers that sort waste using artificial intelligence (AI)-backed algorithms. On the other hand, drones monitor landfills to measure air quality and detect radiation.
Other waste management trends include innovative composting and advanced recycling. Further, businesses are exploring ways to incorporate sustainable materials, circular product design, biodegradable packaging, and more to enable a closed-loop supply chain. Blockchain-powered solutions track material lifecycle to improve recycling efficiency and divert waste away from landfills. The focus is to not only improve the overall efficiency of waste management operations but also to reach the ultimate goal of sustainability with minimum pollution. This article was published in August 2022 and updated in August 2023.
Innovation Map outlines the Top 8 Waste Management Industry Trends & 16 Promising Startups
For this in-depth research on the Top Waste Management Trends & Startups, we analyzed a sample of 2927 global startups & scaleups. This data-driven research provides innovation intelligence that helps you improve strategic decision-making by giving you an overview of emerging technologies in the waste management industry. In the Waste Management Innovation Map, you get a comprehensive overview of the innovation trends & startups that impact your company.
Top 8 Waste Management Industry Trends in 2024
These insights are derived by working with our Big Data & Artificial Intelligence-powered StartUs Insights Discovery Platform, covering 3 790 000+ startups & scaleups globally. As the world's largest resource for data on emerging companies, the SaaS platform enables you to identify relevant technologies and industry trends quickly & exhaustively.
Tree Map reveals the Impact of the Top Waste Management Technology Trends
Based on the Waste Management Innovation Map, the Tree Map below illustrates the impact of the Top 8 Waste Management Trends. Startups and scaleups are automating waste sorting using AI-based algorithms and robotics while advanced recycling plants are increasing material recovery. Apart from chemical plastic recycling, startups develop plastic-eating microbes that decompose plastic waste, making it one of the most innovative waste management technologies.
IoT-enabled smart waste bins incorporate sensors that monitor dumpster fill levels and notify waste collectors at the right time. Further, the use of blockchain ensures the traceability of materials whereas big data improves waste data analysis. Lastly, sustainable packaging materials and waste-to-energy (W2E) solutions, among others, facilitate the transition to a circular economy.
Global Startup Heat Map covers 2927 Waste Management Startups & Scaleups
The Global Startup Heat Map below highlights the global distribution of the 2927 exemplary startups & scaleups that we analyzed for this research. Created through the StartUs Insights Discovery Platform, the Heat Map reveals high startup activity in the UK, followed by the US and India. Below, you get to meet 16 out of these 2927 promising startups & scaleups as well as the solutions they develop. These waste management startups are hand-picked based on criteria such as founding year, location, funding raised, & more. Depending on your specific needs, your top picks might look entirely different.
Interested to explore all 2900+ waste management startups & scaleups?
8 Emerging Technologies in Waste Management (2024)
1. Artificial Intelligence
Managing waste is a multi-step process that involves scheduling pickup, trucking, and sorting. Dealing with enormous quantities of waste makes the process cumbersome. Integrating AI into workflows automates waste management and improves operational efficiency. For example, startups offer AI-based solutions that determine the optimal route for garbage trucks, saving fuel costs and traffic delays.
Additionally, AI-driven autonomous garbage trucks reduce the risk of occupational injuries to drivers. Computer vision and machine learning (ML) algorithms also facilitate smart sorting by distinguishing between different types and sizes of waste materials. This increases the accuracy and speed of sorting, especially for plastic recycling companies. Lastly, AI-based platforms maintain safe operations by constantly monitoring operating conditions in hazardous waste facilities.
FloVision Solutions aids Food Waste Reduction
US-based startup FloVision Solutions incorporates machine vision in waste bins to capture food waste. The type and price of food wasted are identified using machine learning algorithms. This data is then analyzed on the proprietary dashboard, FloVision Analytics, to provide customized recommendations to users.
It also forecasts the demand to prevent the overproduction of items. This way, the startup allows cafeterias and restaurants to reduce their food waste and costs.
Arcubed makes an Automated Recycling Bin
New Zealand-based startup Arcubed develops OneBin, an automated recycling bin. When it detects an item, the bin automatically segregates the waste into the aforementioned categories using AI and machine vision. This ensures the recycling of all eligible items, with less waste ending in landfills.
Moreover, the two-compartment bins incorporate fill-level sensors to view their current capacity status and ensure on-time waste collection.
2. Robotics
Manual waste sorting is a time-consuming process and human inefficiencies increase the amount of trash ending up in landfills. That is why waste management facilities are using robotic waste sorting. Industrial robots, along with sensors, computer vision, and AI, are automating waste segregation practices, ensuring material-specific disposal.
Robotic arms work faster and lift heavier objects as compared to human counterparts as well as pick plastics from beaches and oceans. Further, drones monitor the landfills to detect any toxin or radiation leakage. They also monitor carbon emissions and pollution levels around landfills to enable proactive litter management.
Angsa Robotics develops an Autonomous Trash Picking Robot
German startup Angsa Robotics makes an autonomous trash-picking robot. Using AI and machine vision, the robot identifies and automatically picks up trash like cigarette butts, bottle caps, or plastic scraps in parks. It also utilizes sensors to avoid collisions during autonomous navigation.
Further, analysis of the field data allows users to identify an optimum location for placing trash cans. The robot also reduces the time spent by cleaning personnel so that they focus on other demanding tasks.
Clearbot drives Ocean Waste Collection
Chinese startup Clearbot builds robots for ocean waste collection. The startup's robots use AI and machine vision to identify plastics in the water. Backed by solar power, they navigate autonomously and collect waste on identification.
To strengthen their AI, the robots collect images of trash on the beach for more accurate identification. This allows governments and companies to minimize manual intervention in plastic waste removal from water bodies.
3. Internet of Things
Conventional waste collection methods have predefined routes and schedules. As a result, garbage collecting trucks often empty the waste bins either when they are still empty or start overflowing before they are emptied. IoT-based waste management facilitates waste bin tracking in real-time. This facilitates timely waste collection and disposal without overflowing dumpsters.
IoT-based temperature sensors monitor the temperatures of dumpsters to prevent explosions and fires. Moreover, RFID tags used in garbage trucks allow tracking of the location of these vehicles. This provides companies with highly relevant data that enables better decision-making and plan optimization.
Sensorita advances Data-Driven Waste Management
Norwegian startup Sensorita develops IoT-enabled sensors for waste containers. The sensors use machine learning to provide users with data-driven insights into their container fleet. This allows waste management companies to cut costs and ensure efficient asset utilization.
The sensors also enable them to reduce carbon emissions for sustainable waste management.
MUSA provides an IoT Monitoring System for Waste Management
MUSA is an Indonesian startup that offers an IoT monitoring system for waste management. It features modules for sensor and data aggregation, analytics, and centralized environment data management. The startup also provides a customized AI model on demand.
With MUSA's system, industrial plants are able to monitor and control environmental parameters in real-time to decrease waste. Its integrated environmental reporting and data analysis provide meaningful insights for plant managers to reduce operational costs.
4. Circular Economy
Circular waste management ensures minimum waste by reusing and repurposing existing products into new raw materials or products. This allows optimal utilization of materials instead of discarding them before end-of-life. Now companies design products that have multiple lifecycles instead of the take-make-dispose approach. They reuse their production waste to create new products.
Further, waste-to-energy (WTE) plants process solid waste to produce steam for electricity generation. Brands also implement sustainable packaging by sourcing eco-friendly materials for a minimal environmental impact.
Vytal offers Packaging-as-a-Service
German startup Vytal offers reusable packaging containers. Users borrow their packaging containers when required and return them after use. The startup then cleans them and puts them into use again, thereby preventing the accumulation of disposable waste.
switcH2 aids Wastewater to Hydrogen Conversion
Australian startup switcH2 develops a waste-to-energy electrolysis technology. The startup's electrolyzer consists of catalysts that break down organic waste from breweries to generate hydrogen.
Hydrogen provides a clean fuel to generate electricity or power trucks and machines. This way, the startup ensures circularity in the organic waste supply chain.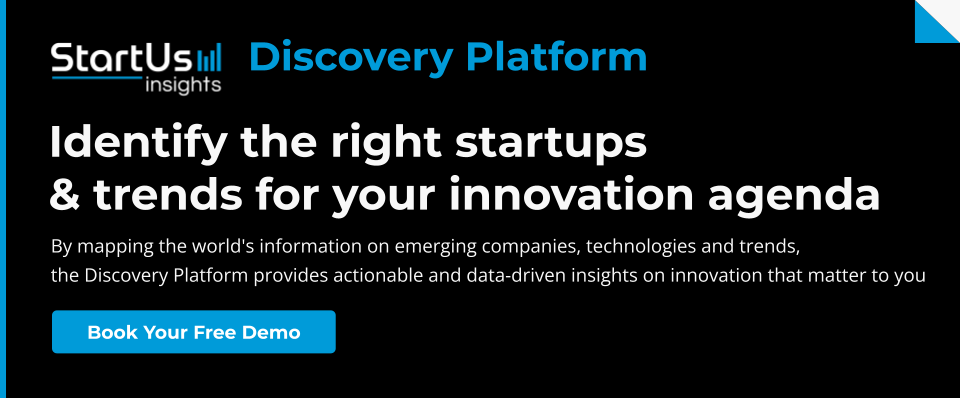 5. Advanced Recycling
Waste management facilities are integrating advanced recycling solutions like material scanners, autonomous waste picking systems, and more to improve operational efficiency. Such solutions increase waste stream quality and allow recyclers to recover more materials through mechanical recycling.
Further, innovations in chemical recycling enable them to recycle materials without losing quality. This eliminates the need for virgin materials, advances the circular economy, and offers higher economic value to recovered materials. Lastly, many waste management companies use end-to-end automation process automation to streamline waste processing, increasing profits.
Urbeno advances Electronic Waste Recycling
Indian startup Urbeno recycles electronic waste. The startup develops a shredding system that processes e-scarp to make it easier for recycling. It repurposes electronic equipment to prevent environmental pollution caused by e-waste.
Besides offering insights on cost optimization, the startup also allows companies to control their reverse electronic supply chain for better e-waste management.
Blue Green Vision creates Optical Waste Sorters
UK-based startup Blue Green Vision makes optical sorters for plastic recycling. Its optical sorter features a hyperspectral camera that uses infrared light to differentiate between different plastic types like polyethylene terephthalate (PET), polyvinyl chloride (PVC), polyethylene (PE), polystyrene (PS), and more.
The startup separates the different types for efficient recycling. Being automatic, the camera enables the sorting of large volumes of waste in less time. This way, the startup addresses plastic recycling challenges that arise due to the difficulty in categorizing plastic waste.
6. Big Data & Analytics
Waste management is a multifarious process where the implementation of big data and waste analytics advances operational efficiencies. The data from the smart bin sensors provides insights into the frequency of bin emptying based on the location. This allows waste-collecting companies to identify the type of waste based on specific locations and ensure timely waste collection.
Further, big data allows companies to calculate and manage their carbon emissions from their existing waste management practices.
GEPP provides a Waste Management Information Platform
Thai startup GEPP makes a cloud-based digital waste management information platform. It analyzes waste data of companies to track if materials are recycled or not. The platform calculates greenhouse gas emissions to enable a data-driven reduction approach.
The startup also offers training on how to properly dispose of internal waste or waste due to organizational events. This way, the startup ensures proper waste disposal and recycling, diverting garbage away from landfills.
Wastelink aids Food Waste Upcycling
Indian startup Wastelink converts food waste from manufacturers and retailers into animal feed. The startup purchases food surplus and rejects from harvest, sales returns, pre-production, baking, and more. This waste is then converted into feed ingredients for animals and livestock.
Its food waste management platform also offers end-to-end tracking of food waste processing to improve transparency. The startup's upcycling solution thus eliminates food waste and reduces the carbon footprint of manufacturers and retailers.
7. Decomposition Technologies
Decomposition technologies utilize natural mechanisms to break down organic materials into useful products. Controlled decomposition or composting breaks down organic waste into simpler forms using bacteria or fungi. The resulting compost enriches the soil with beneficial nutrients and prevents soil erosion. Startups deploy composting to reduce the amount of food being thrown away.
There is also a shift to compostable bio-based plastics to reduce plastic pollution. Additionally, several innovative compostable materials have come up that lead to zero waste. This ensures organic matter reuse, thereby reducing the amount of solid waste ending up in landfills.
Envirobe advances PET Recycling
US-based startup Envirobe creates plastic-degrading microorganisms. They break down PET plastic commonly found in packaging, water bottles, and other waste. The PET waste decomposes into constituent monomers, ethylene glycol, and terephthalic acid that find use in plastic remanufacturing.
This way, the startup ensures circularity in plastic production and consumption.
Monty Compost enables Compost Monitoring
Australian startup Monty Compost develops Monty Monitor, a compost monitoring device. It features environmental sensors that continuously trace the decomposition data like soil temperature, humidity, and volatile organic compounds.
This startup's mobile app then analyses this data to track compost health and offer insights on how to improve the decomposing process.
8. Blockchain
Blockchain enables responsible waste management by bringing transparency and traceability to the value chain. Waste tracking also enables compatibility with environmental regulations. This allows waste management facilities to divert more waste away from landfills.
Moreover, blockchain verifies waste management information at each step. For example, a company delivering waste to a carrier puts all the information in a digital document validated by the carrier. It makes it easier for the final waste recipient to confirm they have received the waste and ensures the security of transactions.
Greenback Recycling Technologies provides Plastics Traceability
UK-based startup Greenback Recycling Technologies recycles post-consumer plastic waste into food-grade packaging. Its platform, eco2Veritas, uses blockchain to trace the origin of plastic packaging waste. The platform looks for evidence in the form of camera images, waste analysis, smart contracts, and more to certify the composition of the plastic.
The startup then deploys microwave-based chemical recycling to produce feedstock that converts qualified plastic waste into new food-grade packaging. Besides circularity, the startup ensures transparency and quality in plastic waste treatment.
Recereum offers Recycling Incentives
UK-based startup Recereum develops a blockchain-based platform that converts waste into real value via discount coins. Users earn Recereum coins for disposing of glass, plastic, aluminum bottles, or old batteries and for waste sorting.
Using these coins, consumers avail of discounts on electricity bills, gas, and consumer goods, among others. This encourages users to sort waste properly, ensuring more waste is recycled.
Discover all Waste Management Trends, Technologies & Startups
Waste management is significant for curbing climate change as it reduces greenhouse emissions from landfills. Automation and circular economy represent the future of waste management. Robotic sorting, AI, ML, and IoT-powered waste collection or disposal are gaining prominence due to speed and efficiency. With progressing monitoring systems, more and more waste data is available for analysis. Further, businesses are inclined toward turning waste into energy and other usable products or raw materials to ensure circularity and sustainability.
The modern waste management technologies & startups outlined in this report only scratch the surface of trends that we identified during our data-driven innovation and startup scouting process. Among others, landfill monitoring, compostable packaging, and the internet of waste will transform the sector as we know it today. Identifying new opportunities and emerging technologies to implement into your business goes a long way in gaining a competitive advantage. Get in touch to easily and exhaustively scout startups, technologies & trends that matter to you!
Looking for emerging waste management startups & technologies?
✕