Lightweighting has gained significant attention in various industries such as automotive, aerospace, healthcare, and consumer electronics to optimize product weight and performance. By reducing the weight of a product, manufacturers achieve improved fuel efficiency, increased payload capacity, and enhanced sustainability. Technologies like advanced materials, 3D printing, and sustainable production techniques allow the manufacturing of lightweight, stronger, and recyclable products. This data-driven research discovers the top 10 lightweighting trends from additive manufacturing to shape memory alloys and multi-material structuring. Read more to explore each trend and how it impacts your business.
Innovation Map outlines the Top 10 Trends in Lightweighting & 1008 Promising Startups
For this in-depth research on the Top Lightweighting Trends & Startups, we analyzed a sample of 1008 global startups & scaleups. This data-driven research provides innovation intelligence that helps you improve strategic decision-making by giving you an overview of emerging technologies in the engineering industry. In the Lightweighting Innovation Map, you get a comprehensive overview of the innovation trends & startups that impact your company.
These insights are derived by working with our Big Data & Artificial Intelligence-powered StartUs Insights Discovery Platform, covering 3 790 000+ startups & scaleups globally. As the world's largest resource for data on emerging companies, the SaaS platform enables you to identify relevant technologies and industry trends quickly & exhaustively.
Tree Map reveals the Impact of the Top 10 Lightweighting Trends in 2023
Based on the Lightweighting Innovation Map, the TreeMap below illustrates the impact of the Top 10 Lightweighting Trends. Startups and scaleups are developing technologies and solutions to bring advances in lightweighting. Optimizing production with sustainable manufacturing and choosing advanced materials allows manufacturers to produce high-performance cost-effective products. Additive manufacturing, miniaturization, and integrated design eliminate product waste and provide accurate manufacturing of lighter components and parts. Additionally, hybrid or multi-material structuring and shape memory alloys enable industries to produce stronger and lightweight hybrid structures with adaptive properties.
Top 10 Trends in Lightweighting (2023)
Global Startup Heat Map covers 1008 Lightweighting Startups & Scaleups
The Global Startup Heat Map below highlights the global distribution of the 1008 exemplary startups & scaleups that we analyzed for this research. Created through the StartUs Insights Discovery Platform, the Heat Map reveals high startup activity in the USA and Europe, followed by India. Below, you get to meet 20 out of these 1008 promising startups & scaleups as well as the solutions they develop. These lightwieghting startups are hand-picked based on criteria such as founding year, location, funding raised, & more. Depending on your specific needs, your top picks might look entirely different.
Interested to explore all 1000+ lightweighting startups & scaleups?
Top 10 Lightweighting Innovation Trends (2023)
1. Sustainable Manufacturing
Sustainable manufacturing plays a crucial role in lightweighting through the development and production of lighter, eco-friendly materials and products. It involves the use of composites, biomaterials, and lightweight recycled alloys to deliver a balance between weight reduction and environmental benefits. The trend majorly caters to the automotive, aerospace, and healthcare industries to manufacture more potent, lighter, and durable products. Overall, sustainable manufacturing provides a holistic approach to reducing the environmental impact of manufacturing while simultaneously promoting lightweighting.
Fibraworks enables Sustainable Lightweight Construction
German startup Fibraworks produces multi-layered, multi-directional semi-finished fiber products for sustainable lightweight construction solutions. The startup uses a patented winding process based on its Fibraforce Technology that permits large-scale production of fiber with a thermoplastic matrix. Fibraworks manufactures multi-axial organo-coils from natural, glass, and carbon fibers wounding into multiple layers to achieve lightweight potential and cost efficiency. It caters to the construction, HVAC, healthcare, and tube industries by offering a sustainable alternative to traditional manufacturing.
Jigsaw Structures develops Advanced Composite Materials
Jigsaw Structures is a UK-based startup that manufactures lightweight structures using advanced composite materials. It optimizes structural design and material combinations to balance the performance and strength of components for higher efficiency and sustainability. The startup offers Smart-Tube, low-cost, lightweight, and high-strength engineering tubes. The composite tubes feature better strength and stiffness than metals and offer performance gains over traditional tubes in compression and flexure. This enables Jigsaw Structures to provide sustainable lightweight solutions to satellites, aircraft, bridges, buildings, and process plants.
2. Advanced Materials
In order to achieve lightweight properties, materials are of major importance and impact. Advanced materials such as carbon fiber composites, fiberglass, bio-based materials, and advanced polymers provide higher strength-to-weight ratios compared to traditional materials like steel. By optimizing the composition, structure, and manufacturing processes, materials exhibit high stiffness, superior impact resistance, and excellent fatigue properties. Additionally, advanced materials offer flexibility that enables manufacturers to optimize product geometry, reduce material usage, and achieve weight savings.
Armory Technologies offers Origami Composites
US-based startup Armory Technologies use origami structuring to unlock the potential of metals, polymers, and advanced composites. The startup offers Origami Composites that use patented geometric structures to provide lighter, stronger, more flexible, and impact-absorbing products. Its ArmorONE Panels are lightweight and high-strength sandwich panels based on Origami Composite MetaCORE. The technology reduces carbon emissions across the entire product lifecycle to help organizations meet environmental regulations and sustainability goals. This allows Armory Technologies to reshape material performance for semi-trailer or box truck paneling, garage doors, wall partitions, and marine components.
Muz Motion manufactures a Filed Modulation Motor
Muz Motion is a US-based startup that makes an ultra-light and intelligent electric motor. It provides a modular and double-stator permanent magnet motor with a 3D magnetic pathway to offer lightweight multi-mode performance electric motors. The motors are made of renewable non-metallic composite materials that offer a lighter and cost-effective alternative to conventional motors. Muz Motion caters to aerospace, aviation, robotics, automation, automotive, and biomedical applications by providing cheaper and renewable motors.
3. Wireless Electronics
Wireless electronics eliminate the need for physical connectors, cables, and bulky components to reduce weight and increase mobility. Technologies like Bluetooth, Wi-Fi, and near-field communication (NFC) enable faster power transmission and allow the devices to be lightweight and more streamlined. Wireless electronic devices thus enhance mobility and offer great flexibility for users to move freely without cables. Without the need for complex wiring and physical connections, it simplifies installation and maintenance while reducing the overall system weight and complexity.
Galanto Innovations provides Smart Hand Rehabilitation
Indian startup Galanto Innovations develops solutions for smart hand rehabilitation for neurological disabilities such as stroke, cerebral palsy, and orthopedic injuries. It enables patients suffering from hand disabilities to regain mobility with the help of lightweight, smart glove technology. RehabRelive Gloves are sensor-based hand gloves that run on a virtual reality (VR)-based assessment system to monitor tiny hand movements of fine joints. The startup also offers a platform for logging daily hand activities and suggests gamified virtual exercises to train movements. Galanto Innovations' dashboard allows patients to track progress, consult doctors online, and self-assess finger and joint progress.
SEAVO makes Water Scooters
Egyptian startup SEAVO manufactures all-electric water scooters for water mobility and adventure sports. It offers ORCA Water Scooter, a lightweight, portable, and robust watercraft that features stability and optimal handling to provide safer rides. The scooter features a compact design, smart tracking, wireless control, and fast charging for continuous mobility. The startup implements AI to enhance power efficiency and battery lifetime by learning about user profiles. SEAVO caters to the marine industry by providing advanced lightweight water mobility solutions for tourist attractions and water sports.
4. Vehicle Lightweighting
Vehicle lightweighting refers to reducing the weight of vehicles while maintaining or improving their performance, safety, and fuel efficiency. Such efforts rely on material selection and optimization to reduce vehicle weight and ensure structural integrity. By redesigning the components like seats, suspension components, and brake systems, manufacturers offer safer and lighter vehicles. This trend caters to the automobile, aerospace, and transportation industries, allowing them to manufacture fuel-efficient and cost-effective mobility options.
RKS Off-road produces Overland Trailers
RKS Off-Road is a US-based startup that manufactures recreational vehicles such as overland trailers and toy haulers for family ventures. It packs a self-sustaining power management system for connecting electronics, appliances, and toys with an intelligent balance of space and storage. Lightweight design and strong structural integrity allow drivers to take the trailers off-road with confidence. The trailers feature a SkyDeck rooftop and a marine-grade macerator toilet with off-grid power and water for ease of traveling. RKS Off-Road's trailers for families and group adventures increase durability, function, and safety while decreasing weight and waste.
Composite Service provides Lightweight Automotive Fixtures
Swedish startup Composite Service provides lightweight, stiff, and high-accuracy carbon grippers for roofs, side panels, and batteries. It manufactures body-in-white (BIW) to reduce the number of parts in car manufacturing and increase the strength of final products. The startup also manufactures battery grippers from carbon fiber for electric vehicles (EVs) to reduce battery weight and offer a longer range. This enables Composite Service to help automotive, aerospace, and medical industries to transform designs into lighter and stiffer products.
5. Additive Manufacturing
3D printing or additive manufacturing technology contributes to lightweighting by enabling design freedom and improving material efficiency. It allows for intricate and complex geometries that are difficult to produce using traditional subtractive manufacturing methods. 3D printing utilizes materials more efficiently by adding the material layer by layer only where it is needed. This minimizes material waste and enables the production of lightweight components with optimized or customized internal structures. Consequently, 3d printing allows multiple industries to optimize their manufacturing processes and topology by enabling designers to leverage rapid prototyping.
Go Additive delivers On-Demand Digital Manufacturing
Italian startup Go Additive provides design optimization and on-demand digital manufacturing solutions to create high-performance and cost-effective products. Its AI-driven lattice optimization technology offers thermal and structural optimization to maximize energy efficiency and enhance product performance. The platform works by uploading a computer-aided design (CAD) file and defining the optimization objectives to achieve optimized results with detailed insights. Go Additive enables automotive and medical tooling, and aerospace prototyping with a lightweight and sustainable alternative to product manufacturing.
Alloy Enterprises offers Aluminum Additive Solutions
US-based startup Alloy Enterprises develops aluminum additive manufacturing systems for fully-dense parts production. It provides powder-less laminated object manufacturing with selective diffusion bonding using aluminum sheets to build parts layer-by-layer without adhesives. The technology features precision cutting and support strategy to give engineers freedom of design and create complex geometries. Alloy Enterprises allow aluminum fabricators to build lightweight components and parts without compromising on strength and durability.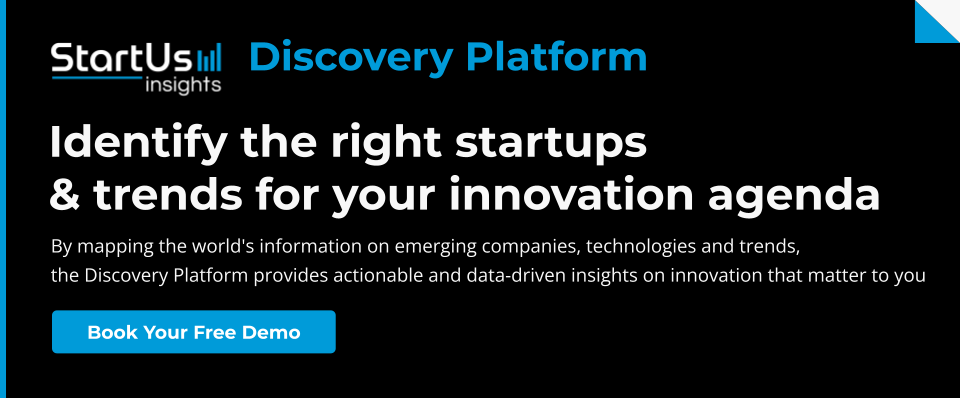 6. Miniaturization
Miniaturization reduces the size and weight of components and systems while maintaining and improving their strength and functionality. By reducing size, less material is required and this results in weight reduction as well as aids material waste management. Miniaturization helps engineers to optimize the layout and configuration of components which leads to more efficient use of space and improved weight distribution. It finds major adoption in consumer electronics, medical devices, and wearable technology to improve mobility and flexibility.
BioPro Scientific provides Miniaturized Internet of Things (IoT) Solutions
BioPro Scientific is a startup from Taiwan that makes wireless, lightweight, and IoT-based solutions for electrochemistry, material science, and neuroscience researchers. The startup's Elite EDC is a digital miniaturized lightweight recorder to measure electrical properties that displays the data on smartphones and tablets. Additionally, BioPro Scientific offers NeuLive, an autopilot, smartphone-like brain recording, and stimulation IoT system for brainwave researchers that allow precise neuromodulation in animals.
Commonlads creates an Embedded Vision System
Commonlads is a US-based startup that offers cost-effective lenses and related accessories for aerial and mobile robotics. It combines a lens parameter measurement machine, resolution projection tester, spectrometer, and automated lens holder assembly for accurate lens production. The startup offers computer vision, teleconferencing, and wide-angle camera lenses to enhance vision systems with high-resolution and low distortions. Commonlads caters to the IoT, smart retail, factory automation, medical, and VR industries by providing lightweight lens solutions.
7. Multi-Material Structures
Multi-material structuring involves the combination of materials with different properties, like metals, composites, and polymers, to optimize weight and maintain strength and functionality. By strategically selecting and integrating other materials, manufacturers focus on improving the strength-to-weight ratio, stiffness, and impact resistance. This allows manufacturers to achieve multifunctional designs while minimizing the overall weight of products. Multi-material structuring majorly caters to automobile and construction industries to extend the lifespan of the structures.
Antefil makes Micro-engineered Hybrid Fibers
Antefil is a Swiss startup that manufactures micro-engineered hybrid fibers for lightweighting structures. It offers glass-reinforced fibers individually coated with meltable and recyclable plastic for the production of efficient lightweight products. The fibers eliminate the curing and impregnation process to offer shorter cycle times, reduced energy demands, and high mechanical performance. Antefil helps the automotive, hydrogen mobility, and wind power sectors to offer lightweight performance products by optimizing the material inputs.
Intellight advances Multi-Material Lightweight Design
German Startup Intellight provides expertise, engineering, and implementation of multi-material lightweight designs. It offers a systematic potential analysis to identify attributes of existing components for advantageous replacement with hybrid lightweight solutions. The startup deploys digitization for an intelligent multi-material lightweight design with sensor integration due to layered composition. Intellight caters to mechanical, civil, and medical engineering and the energy sector by providing AI in lightweight designing for component manufacturing.
8. Integrated Design Optimization
Integrated design optimization is a multidisciplinary approach that combines design, analysis, and optimization techniques for lightweighting products. It works by considering multiple factors such as structural integrity, performance, cost, and weight during the design process. This approach leverages advanced computational tools, such as finite element analysis (FEA), computational fluid dynamics (CFD), and parametric modeling. These tools enable product managers to assess the impact of material and design changes on weight and performance. Integrated design optimization allows for progressive refinement and convergence towards an optimal lightweight design of components.
Vertiq develops Servomotor Propulsion for Aerial Vehicles
US-based startup Vertiq offers a servomotor propulsion solution for aerial vehicles. Its core design consists of a lightweight and integrated motor with an embedded position sensor to offer a performance advantage. The startup provides a platform for motor calibration and controls to improve propulsion efficiency, power output, speed control, and propeller positioning capabilities. This enables Vertiq to allow commercial and defense drone companies to manufacture lightweight propulsion systems.
Herone offers Ultra-Light Thermoplastic Composite Profiles
German Startup Herone develops and manufactures ultra-light thermoplastic composite profiles to transfer loads, movements, and fluids across industries. It produces motion and load transfer solutions with integral elements and fluid transport and storage for chemical resistance. The startup combines automated textile performance with efficient press molding for the production of thermoplastic composite components. Heroine caters to manufacturing industries by providing complete production solutions from first article inspection to serial part production.
9. Shape Memory Lightweighting
Adaptive materials like shape memory alloys, piezoelectric materials, and active liquids reduce the weight of various products and structures while enhancing performance. Such materials alter their properties in response to external factors such as temperature, pressure, or electric fields. Incorporating smart materials into lightweight designs, engineers create intelligent structures that dynamically adapt to changing conditions, optimizing their efficiency and functionality. In the automotive industry, adaptive materials help develop lightweight components that change their stiffness or shape in real-time, improving fuel efficiency and vehicle handling.
Petit Pli creates Stretchable Fabrics
UK-based startup Petit Pli manufactures stretchable fabrics from recycled materials for kids' garments. The startup offers Fluid TX-TILE, Ripstop TX-TILE, and Extreme TX-TILE fabrics for indoor, outdoor, and versatile applications. The clothing features a lightweight design, weather protection, and durability for all-season activities. Petit Pli invents and applies material technologies to solve individual and business problems in the textile value chain.
Kinitics Automation deploys Shape Memory Alloy Technology
Canadian startup Kinitics Automation uses shape memory alloy technology for manufacturing linear actuators and piston pumps. It helps in eliminating methane emissions by replacing methane-venting pneumatic devices with electric valve actuators. The startup offers KVA Valve Actuators, KLA Linear Actuators, and KPP Piston Pumps to provide process control. Kinitics Automation allows the advanced manufacturing, aerospace, and process control industries by providing electrically powered lightweight automation and control solutions.
10. Manufacturing Process Optimization
Manufacturing optimization refers to finetuning and improving the production process to achieve lightweighting without compromising the structural integrity of the final product. These optimizations enable manufacturers to identify and respond to process inefficiencies and material waste, resulting in lighter and more efficient components. Advanced processes like stamping, thermal forming, injection molding, and prepreg layup allow aerospace, defense, and automobile industries to achieve desired strength-to-weight ratios. Streamlining and optimizing the manufacturing process allow engineers to develop intricate lightweight and cost-effective structures.
Unilite provides Green Building Materials
Taiwanese startup Unilite creates reusable waste materials and shock-resistant green building materials. Its waste remake light particle technology transforms waste into resources and reproduces sustainable lightweight pallets. The pallets replace gravel and sand in concrete mixes to offer light unit weight, thermal insulation, and shock and corrosion resistance. Unilite provides a sustainable alternative to natural sandstone for housing construction, bridge engineering, and drilling oil platforms.
iCOMAT develops Transformational Lightweighting Solutions
UK-based Startup iCOMAT designs and manufactures lightweighting solutions for aerospace and automotive structures. It offers a platform for optimizing components and structures with an end-to-end workflow. Material characterization and testing as well as virtual and physical prototyping allow fully automated flexible manufacturing that ensures the rate, quality, and repeatability of the process. iCOMAT's patented Rapid Tow Shearing (RTS) process allows manufacturers to achieve lighter, more sustainable, and lower-cost structures.
Discover all Lightweighting Trends, Technologies & Startups
The future of lightweighting is set for advancements with the integration of modern technologies like wireless electronics, additive manufacturing, and miniaturization. By using sustainable techniques and recycled raw materials, industries embrace an eco-friendly manufacturing process to reduce carbon emissions. Further, automobile, aerospace, defense, and other manufacturers strive to achieve lightweight, highly efficient, and enhanced product quality. The Lightweighting Trends & Startups outlined in this report only scratch the surface of trends that we identified during our data-driven innovation & startup scouting process. Identifying new opportunities & emerging technologies to implement into your business goes a long way in gaining a competitive advantage.
Looking for lightweighting startups & technologies?
✕