Technological advances in green construction improve environmental protection, resource efficiency, and building quality. For example, 3D printing and construction robots use digital models and automation to create complex structures and reduce waste. Sustainable construction materials and offsite construction, on the other hand, enhance building performance and durability while reducing emissions and transportation costs. Circular construction and immersive construction use smart design and digital tools to optimize the life cycle and user experience of buildings. This industry report provides you with the top 10 sustainable construction trends based on our research of 3405 startups and scaleups. They range from integrated environmental assessments (IEAs) and energy-efficient architecture to zero-waste construction and biophilic architecture. Discover the latest sustainable developments in the construction industry in this data-driven report.
Innovation Map outlines the Top 10 Sustainable Construction Trends & 20 Promising Startups
For this in-depth research on the Top Sustainable Construction Trends & Startups, we analyzed a sample of 3405 global startups & scaleups. This data-driven research provides innovation intelligence that helps you improve strategic decision-making by giving you an overview of emerging technologies in the construction industry. In the Sustainable Construction Innovation Map, you get a comprehensive overview of the innovation trends & startups that impact your company.
These insights are derived by working with our Big Data & Artificial Intelligence-powered StartUs Insights Discovery Platform, covering 3 790 000+ startups & scaleups globally. As the world's largest resource for data on emerging companies, the SaaS platform enables you to identify relevant technologies and industry trends quickly & exhaustively.
Tree Map reveals the Impact of the Top 10 Sustainable Construction Trends
Based on the Sustainable Construction Innovation Map, the Tree Map below illustrates the impact of the Top 10 Sustainable Construction Trends in 2023. Startups and scaleups are developing solutions for reducing environmental impact and enhancing building performance. 3D Printing, the most prevalent trend, offers design flexibility and reduces production time. Construction robots allow builders to automate tasks and improve safety and efficiency. Energy-efficient architecture and biophilic architecture, as well as IEA, enable the design of buildings that optimize natural resources and human well-being. Sustainable construction materials, circular construction, and zero-waste construction lead to better waste management and a lower carbon footprint. Offsite construction also allows for a consistent and faster production process. Lastly, immersive construction enables the use of virtual and augmented reality (AR and VR) to visualize and simulate projects before construction.
Top 10 Sustainable Construction Trends in 2023
Global Startup Heat Map covers 3405 Sustainable Construction Startups & Scaleups
The Global Startup Heat Map below highlights the global distribution of the 3405 exemplary startups & scaleups that we analyzed for this research. Created through the StartUs Insights Discovery Platform, the Heat Map reveals high startup activity in Western Europe, followed by the US and India. Below, you get to meet 20 out of these 3405 promising startups & scaleups as well as the solutions they develop. These sustainable construction startups are hand-picked based on criteria such as founding year, location, funding raised, & more. Depending on your specific needs, your top picks might look entirely different.
Interested to explore all 3000+ sustainable construction startups & scaleups?
Top 10 Sustainable Construction Trends in 2023
1. 3D Printing
In the construction industry, 3D printing reduces material waste, accelerates production times, and enhances design flexibility. Startups and scaleups are using this technology to provide innovative solutions for green building practices. They include concrete printing and additive manufacturing to create eco-friendly construction materials. Additionally, it includes the development of larger 3D printers capable of printing entire building structures. Further, it enables on-site printing of building components and the creation of complex shapes and designs. 3D printers also construct buildings out of locally sourced materials, such as sand and clay, while some printers use self-healing materials that repair the damage.
Black Buffalo 3D provides 3D-Printed Infrastructure
US-based startup Black Buffalo 3D develops NEXCON construction printers for the commercial and housing sector. The startup's printers utilize proprietary concrete ink to produce sustainable infrastructure on demand. Its built-in controls enable easy installation of electrical, plumbing, and other necessary openings. The printers and concrete ink produce structures that exceed the strength, durability, and safety of conventional mortars. Black Buffalo 3D thus offers cost savings and sustainability to builders, contractors, and developers through waste elimination.
Mobbot digitizes 3D Concrete Spraying
Swiss startup Mabbot develops a platform for digitizing shotcrete processes. The startup's internet of things (IoT) solution connects to spraying machines and gather data from the machine sensors and displays it on the dashboard. The cloud-based dashboard provides real-time visibility of shotcrete operations. It connects to the spraying machine via a controller area network (CAN) bus port. During spraying operations, it collects data on time sessions and concrete consumption as well as evaluates operator performance. Mabbot optimizes the shotcrete process and quality as well as enables companies to improve safety and productivity while also reducing concrete use and CO2 emissions.
2. Integrated Environmental Assessments
IEAs allow for evaluating and reducing the environmental impacts of buildings throughout their life cycle. Building information modeling (BIM) facilitates comprehensive visualization of the building and its systems. Life cycle assessment (LCA) assesses the environmental impact of the materials and processes involved in construction. The startups are using IEA to design and implement digital tools for data collection and analysis. These evaluations primarily focus on the environmental impact of construction materials, energy consumption during the building process, and the effects on surrounding ecosystems and communities. Additionally, designers use these assessments to compare various design alternatives and optimize building environmental performance.
Cercula develops Construction Carbon Metrics
UK-based startup Cercula creates life cycle assessment software for building projects. It aids construction decision-making through the generation of carbon metrics and reports. The software provides a quick and simple workflow, allowing for instant carbon metrics from cost plans and bills of quantities. It offers additional features including portfolio organization, analysis, and compliance with regulations. Cercula enables property developers, contractors, designers, architects, and sustainability professionals to deliver efficient projects and meet climate targets.
Hloov makes a Digital Twin-based Decision Intelligence Platform
UAE-based startup Hloov develops Tagwaye, a human-centric AI-led living digital twins platform. It empowers people in the built environment with decision intelligence to make complex and critical decisions confidently. It enables asset management, providing an integrated view of all assets throughout the project lifecycle, optimizing operational performance, reliability, and safety. Hloov helps businesses minimize waste and achieve their goals while lowering the adverse environmental effects of the built environment.
3. Construction Robots
Robots enhance sustainability and efficiency in the construction industry. It performs various tasks such as site inspection and demolition. Robots and drones conduct site inspections and collect data to monitor progress, safety, and quality. Demolition robots break down structures and materials with precision and speed, minimizing noise and dust. Several startups are developing innovative technologies for construction robots, such as AI, computer vision, and wireless communication. These solutions reduce construction waste significantly while improving efficiency. Further, the sustainability benefits of construction robots also result in economic benefits.
Curvecrete offers Curved Concrete Paneling
Australian startup Curvecrete offers curved concrete paneling using low-carbon concrete and robotic forming technology. The startup's casting method uses an adjustable and reusable single mold that allows customization of the curvature and texture of the panels. Its low-carbon geopolymer concrete reduces emissions and waste while creating curved architecture. The panels are installed both indoors and outdoors and are fire-rated and sealed. Curvecrete allows architects, contractors, and developers to integrate sustainable and aesthetically pleasing design elements into their projects.
ROBOSURF builds Surface Finishing Robots
Italian startup ROBOSURF manufactures autonomous mobile robots (AMRs) for surface finishing and paint applications in construction. Its robot technology utilizes AI and other industry 4.0 technologies to automate tasks and processes for sanding, spray-painting, and more. The startup also provides multiple app usage for the robot, enabling flexible and safe work in harsh and ever-changing conditions. This way, ROBOSURF improves efficiency, flexibility, and safety at construction sites.
4. Energy-Efficient Architecture
Energy-efficient architecture reduces the environmental impact of buildings and optimizes their performance. One of the strategies to achieve this goal is a passive design, which uses natural elements such as sunlight, wind, and vegetation to regulate the indoor temperature and lighting of buildings. Passive design elements also incorporate green roofs and walls that provide insulation, stormwater management, and biodiversity. Another aspect of energy-efficient architecture is the use of efficient heating, ventilation, and air conditioning (HVAC) systems, which reduce energy consumption and greenhouse gas (GHG) emissions. Additionally, startups are developing smart sensors and energy management systems to improve the health, comfort, and well-being of the occupants.
Eden Arc promotes Energy-Efficient Construction
UK-based startup Eden Arc creates solutions for stakeholders to design immersive outdoor experiences using eco-friendly materials, green construction, and assembly techniques. Its range of products includes buildings with low-impact footings, sedum grass roofs, and cladding options sourced from sustainable materials. Additionally, the startup offers an optional off-grid power supply package featuring solar and battery storage. The startup's structural insulated panels (SIPs) modular construction method permits a diverse mix of room types with customizable finishes and specifications.
Thermosphr optimizes Building Thermal Management
German startup Thermosphr develops software solutions to enhance thermal efficiency in buildings. For this, it utilizes thermal modeling technology and real-time building communication. Its services include SaaS for real-time HVAC control, predictive maintenance, and equipment performance monitoring. The startup customizes its model for each building to predict indoor temperature variations, model HVAC equipment efficiency, and calculate optimized HVAC settings. It anticipates demand and adjusts HVAC settings remotely with its predictive control technology. Additionally, its SaaS solution leverages existing building management system (BMS) data and onboards a thermal digital twin technology to deliver insights on building performance. Thermosphr, in turn, ensures maximum energy efficiency by automating HVAC management.
5. Sustainable Construction Materials
Sustainable construction materials focus on utilizing eco-friendly and renewable resources, reducing the environmental impact of buildings and infrastructure. Some of the sustainable construction materials include recycled and reclaimed materials, such as steel, wood, glass, and plastic, that reduce waste and replace virgin raw materials. Further, it includes bio-based materials, such as bamboo, hemp, and straw, that are renewable and biodegradable. It also includes low-carbon concrete that uses less cement and incorporates additives that lower GHG emissions. Startups are creating more efficient, durable, and affordable green construction materials, supporting eco-friendly construction practices.
EcoBricks produces Eco-friendly Concrete
Hong Kong-based startup EcoBricks converts plastic waste into sustainable concrete. Its solution accepts all types of plastic, ranging from type 1-7, including mixed plastics. The process is entirely cold, with no emissions or pollutants. The startup's eco-friendly concrete bricks have a lower carbon footprint than conventional ones. EcoBricks offer a locally-sourced and fully circular solution to the plastic waste crisis that reduces the carbon footprint of the construction industry.
Aisti manufactures Sustainable Acoustic Tiles
Finnish startup Aisti creates sustainable acoustic solutions using natural and carbon-negative materials. Its product, Teno Acoustic Tile, is made from wood fiber and is entirely recyclable. These tiles have a negative carbon footprint due to their energy-efficient production process. The startup also employs foam-forming technology to create low-density tiles that are free from synthetic binders, allergens, and plastic. As a result, Aisti enables construction companies to make green choices and reduce their carbon footprint with its eco-friendly products.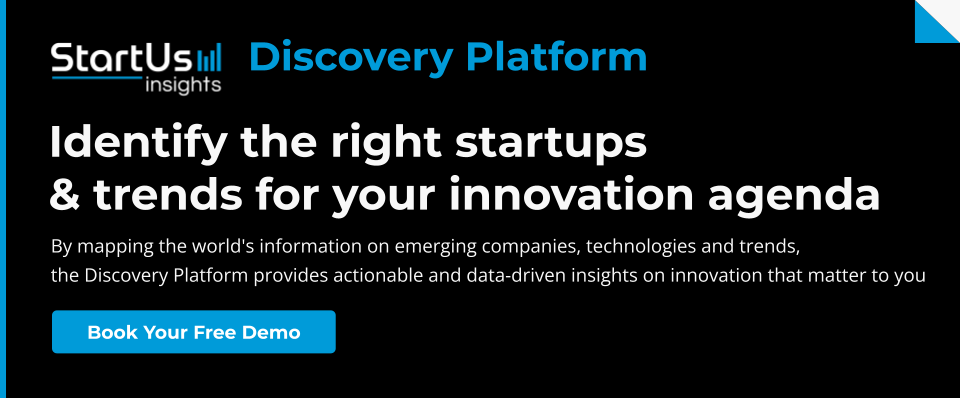 6. Offsite Construction
Offsite construction involves the manufacturing of building components in a controlled environment before transportation to the construction site. This ensures consistent production and higher quality standards compared to on-site construction, which is often subject to weather conditions. Prefabrication and modular construction techniques minimize waste, enhance quality control, and shorten construction time. Further, digital technologies improve efficiency, reduce waste, and improve accuracy in offsite construction. Startups are developing off-site construction solutions that are both efficient and eco-friendly, benefiting the environment and the construction industry.
Sweelco enables Off-Site Building Design
French startup Sweelco advances offsite construction of sustainable buildings. Its solutions involve modular construction, where the startup integrates digital designs of buildings with automated prefabrication of elements and onsite assembly. Sweelco leverages a light steel frame to offer a faster, more efficient, and more sustainable process. This way, the startup offers offsite construction to contractors and construction companies with optimal quality while reducing waste and material usage.
Offsight facilitates Off-Site Project Management
US-based startup Offsight develops manufacturing project management software for the offsite construction and building industry. The startup's software solves the production, quality, traceability, and communication challenges of offsite and project-based manufacturing. Its live production dashboard allows managers to track production progress and quality in real-time. The software also detects assembly errors, minimizes costly factory rework, and delegates tasks. Moreover, it features robust reporting capabilities that allow personnel to track non-conformance and production progress. Offsight helps optimize the factory's operations and increase efficiency.
7. Zero Waste Construction
Zero waste construction focuses on eliminating or minimizing construction and demolition waste throughout the building lifecycle. This involves using non-toxic and biodegradable materials, optimizing material usage, and integrating design and construction processes to reduce waste. Further, recovering and downcycling construction waste materials, such as concrete, bricks, and asphalt, is one way to reduce waste. Zero waste construction also includes deriving energy from waste by using it as fuel for electricity. This lowers environmental impacts, reduces costs, improves quality, and enhances social value.
Adaptis facilitates Building Decarbonization
Canadian startup Adaptis develops software to combine data-driven evaluation, reuse planning, and design for decarbonizing cities. Its algorithm leverages material salvage value and reuse calculation, deconstruction planning, and adaptation design feasibility. The software then optimizes and automates adaptation planning for environmental and economic factors. Adaptis improves existing condition assessments and building adaptation planning to reduce the carbon footprint of buildings.
Upcycling Forum provides Upcycled Construction Materials
Danish startup Upcycling Forum creates a digital platform that aids upcycling for businesses and enables the measurement of CO2 effects, savings, and other metrics. It converts discarded materials and products, which would otherwise be deemed as waste, into new items that have a greater value than the original product. Upcycling Forum's platform provides project packages and a project tool. Additionally, the startup's app allows stakeholders to buy and sell new materials. The startup helps producers and construction businesses reduce waste and CO2 emissions while optimizing reuse and deconstruction planning.
8. Circular Construction
Circular construction eliminates waste and regenerates nature by designing, producing, and circularly consuming goods. This involves the use of renewable energy sources, design for disassembly, and emphasis on lifecycle thinking to reduce the environmental impact. Startups are providing circular construction solutions such as modular building systems, circular bridges, as well as sustainable paints and coatings. These technologies enable the reuse and recycling of materials, extend product lifecycles, and improve energy efficiency.
Our Ecolution provides Circular Building Materials
Swedish startup Our Ecolution converts agricultural waste into eco-friendly, affordable building systems. It develops OSE Boards that have a very high strength-to-weight ratio, thermal and acoustic insulation properties, and fire resistance. These boards are used in various buildings and construction sites. Our Ecolution provides sustainable building materials to reduce greenhouse gas emissions, waste, and pollution in the building and construction industry.
FenX designs Recyclable Insulation Materials
Swiss startup FenX converts mineral waste into sustainable and high-performance insulation for the construction industry. It designs recyclable insulation foams using mineral waste, which generates minimal CO2 emissions during manufacturing. The startup offers a product line of bricks, panels, and customized parts, with insulation, temperature resistance, and an adjustable degree of porosity. FenX advances circular economy while delivering eco-friendly and secure insulation solutions.
9. Biophilic Architecture
Biophilic architecture connects people with nature in the built environment. It enhances the well-being of the occupants and reduces the environmental impact of the buildings. One of its key features is the use of natural materials like wood, stone, and bamboo. Another important aspect is the incorporation of green spaces, such as gardens, terraces, and green roofs. Further, it maximizes natural light through large windows, skylights, and solar tubes. Startups are contributing to this trend by developing biometric sensors, smart lighting, and ventilation systems. Biophilic architecture is thus creating healthy and resilient spaces for the future.
Advanced Autoponics enables Intelligent Building Plant Management
US-based startup Advanced Autoponics develops a modular hydroponic and aeroponic system that simplifies plant growing in biophilic and commercial markets. Its technology utilizes cutting-edge modules that enable developers, designers, and architects to place plants anywhere without soil limitations. The startup's solution creates the optimal root environment for plants to flourish while using less water and space. This technology also provides real-time monitoring from any location in the world. Advanced Autoponics enables designers to integrate plants into the architecture while optimizing indoor foliage health and minimizing hands-on maintenance.
Natura offers Urban Plantscaping
Indian startup Natura provides plantscaping solutions to create biophilic environments. It offers a comprehensive range of services, from design, manufacturing, and installation to maintenance programs. The startup's plant features bring the natural beauty of greenery and blooms to outdoor compounds, building facades, and indoor spaces. This help businesses combat the adverse effects of climate change while transforming the urban landscape from dull gray to vibrant green. By improving air quality and aesthetics, Natura enhances occupant well-being and productivity.
10. Immersive Construction
Immersive construction enhances the sustainability of the construction industry by using digital technologies to facilitate collaboration, prototyping, visualization, and training. It creates virtual environments that simulate real-world scenarios. This enables stakeholders to communicate and coordinate more effectively — test and optimize designs before building. Further, it allows visualizing and exploring projects in real-time, and training workers in interactive and safe ways. Immersive construction leverages technologies like VR, AR, mixed reality (MR), 3D modeling, cloud computing, and AI. Further, startups are developing platforms for remote collaboration, digital twin creation, and management. This results in a better judgment of work scope and the detection of design errors in construction projects.
GenieVision enables AR-based Work Site Management
Belgian startup GenieVision provides an AR solution for the construction industry. Its AR technology allows engineers and other construction professionals to compare on-site reality to 3D BIM. This way, they detect, correct, and fix construction flaws before they become major failures. The solution's user-friendly interface enables fast on-site visualization of any 3D model. GenieVision thus streamlines the field process, facilitating direct communication between the field and management, and relaying georeferenced information to the team for better planning.
Virtual Building provides VR-based Construction Designs
Estonian startup Virtual Building develops VR-based solutions for the construction industry. Its VR technology allows 3D visualization of infrastructure and real estate. Clients or partners utilize VR headsets to experience future premises while the startup's AR technology simplifies construction progress monitoring. The startup's platform also enables the design of construction sites, including thermal, gas, electrical, ventilation, and other units inside real estate. This system is particularly useful for projects such as tunnels, roads with all communications, squares, parking lots, and other structures, improving project planning and execution.
Discover all Sustainable Construction Trends, Technologies & Startups
The construction industry is experiencing a significant transformation by integrating cutting-edge technologies like biomimetics and smart retrofitting. They address the increasing demand for eco-friendly buildings and social responsibility. These technologies are inspiring architects and engineers to create more efficient and durable structures. Through these efforts, the construction industry is minimizing its carbon footprint while simultaneously enhancing its overall performance. The Sustainable Construction Trends & Startups outlined in this report only scratch the surface of trends that we identified during our data-driven innovation & startup scouting process. Identifying new opportunities & emerging technologies to implement into your business goes a long way in gaining a competitive advantage.
Looking for sustainable construction startups & technologies?
✕