The importance of sustainability leads to technological advances in the packaging industry. Smart packaging delivers real-time data and improves quality assurance. Startups are developing smart packaging solutions to combat excessive waste, prevent counterfeiting, sustain product quality, monitor freshness, and extend product shelf life. For this, they leverage innovations in circuit miniaturization, radio frequency identification (RFID), and the internet of things (IoT) to monitor product life. This research provides an overview of the top 10 global smart packaging trends, including nanotechnology, artificial intelligence (AI), and blockchain. Read more to discover the latest developments in smart or connected packaging and discover how they impact your business.
Innovation Map outlines the Top 10 Smart Packaging Trends & 20 Promising Startups
For this in-depth research on the Top Smart Packaging Trends & Startups, we analyzed a sample of 595 global startups & scaleups. The result of this research is data-driven innovation intelligence that improves strategic decision-making by giving you an overview of emerging technologies & startups in the packaging industry. These insights are derived by working with our Big Data & Artificial Intelligence-powered StartUs Insights Discovery Platform, covering 3 790 000+ startups & scaleups globally. As the world's largest resource for data on emerging companies, the SaaS platform enables you to identify relevant startups, emerging technologies & future industry trends quickly & exhaustively.
In the Innovation Map below, you get an overview of the Top 10 Smart Packaging Trends & Innovations that impact 595 companies worldwide. Moreover, the Smart Packaging Innovation Map reveals 20 hand-picked startups, all working on emerging technologies that advance their field.
Top 10 Smart Packaging Trends in 2023
Tree Map reveals the Impact of the Top 10 Smart Packaging Trends
Based on the Smart Packaging Innovation Map, the Tree Map below illustrates the impact of the Top 10 Smart Packaging Trends in 2023. Startups leverage QR codes, 2D matrix codes, and near-field communication (NFC) tags to make packaging smart, connected, and interactive. Food spoilage detection sensors prevent food waste and counterfeiting issues. Nanotechnology is another growing trend impacting the packaging industry, addressing food safety concerns. Additionally, 3D printing allows brands to personalize package designs. AI, blockchain, and immersive technologies in the packaging sector enhance customer engagement. Lastly, advances in robotics increase productivity and reduce human errors in packaging processes. For example, robotic arms and grippers pick and package even highly delicate products at high throughput.
Global Startup Heat Map covers 595 Smart Packaging Startups & Scaleups
The Global Startup Heat Map below highlights the global distribution of the 595 exemplary startups & scaleups that we analyzed for this research. Created through the StartUs Insights Discovery Platform, the Heat Map reveals that the UK and the US see the most startup activity.
Below, you get to meet 20 out of these 595 promising startups & scaleups as well as the solutions they develop. These smart packaging startups are hand-picked based on criteria such as founding year, location, funding raised, & more. Depending on your specific needs, your top picks might look entirely different.
Interested to explore all 590+ smart packaging startups & scaleups?
Top 10 Smart Packaging Trends in 2023
1. Smart Packaging Codes
Smart packaging incorporates technologies such as smart labels, QR Codes, RFID, and NFC chips to integrate authorization and connectivity into product packaging. Hence, such solutions turn packages into data carriers and digital tools. Startups use 2D and QR data matrix codes on products to provide unique digital identities. Incorporating smart QR codes also enables brands to improve package traceability and simplifies product authentication using consumer scan data, preventing counterfeiting. Finally, smart packaging engages consumers and the use of smart codes delivers highly relevant data points to businesses for improving brand awareness and customer retention.
FoodCODE provides Intelligent QR Codes
Italian startup FoodCODE develops a proprietary cloud-based application that utilizes intelligent QR codes combined with a database. The startup incorporates nutritional information into meal packaging, enabling customers to scan QR codes with their smartphones. Consumers retrieve information about ingredients, production and expiry dates, and nutritional values. This solution connects consumers with up-to-date information and keeps them aware of the products, improving food safety.
Safer develops E-Smart Labels
Safer is a Canadian startup that provides e-smart labels to detect and signal food freshness. They attach to meat, fish, and milk packaging and change color according to degradation levels due to reagents and chemicals. Distinct food categories such as chicken, seafood, and milk have different reference colors for food spoilage. This prevents food from going bad, minimizes food waste, and mitigates food safety issues.
2. Packaging Sensors
The major challenges associated with packaging are sustainability, transparency, and quality control, especially in the pharmaceuticals, food, and beverage industries. Smart packaging extends product shelf life by incorporating sensors to determine the freshness or quality of the product. Sensors (biosensors, gas sensors), indicators (temperature, freshness), and data carriers (barcode, RFID) are three major types of smart packaging technologies. They monitor product conditions to improve the quality and safety of food and pharma products. Packaging materials also vary depending on the temperature and humidity outside and inside the package. Some materials even detect spoilage or degradation in food items and notify customers through color changes.
LAMAR IoT offers Biodegradable Printed Sensors
US-based startup LAMAR specializes in biodegradable printed sensors, which are integrated into the packaging for precision location, temperature, and humidity tracking. A mobile gateway provides a secure connection and transmission of data from the printed sensors to the cloud network. This packaging solution is environmentally friendly as it utilizes more sustainable materials with less toxic plastics, thus reducing the carbon footprint of packaging. The startup's system inside the packaging allows for more granular tracking, increases transparency, and provides real-time insights on product and package conditions.
ColorSensing develops a Smart Label
Spanish startup ColorSensing offers an automatic, quantitative, and cost-effective smart label. The startup's patented algorithm creates ad-hoc color patterns based on QR codes. The patterns are recognizable by any camera and the algorithm processes the images containing the pattern. This allows tracking and indicating the freshness of packaged food items by scanning QR codes. As a result, the startup's solution allows food manufacturers and retailers to reduce food waste and ensure product quality.
3. Nanotechnology
Nanotechnology in the packaging industry improves product safety, authentication, sustainability, tracking, and anti-counterfeiting in various stages of the packaging supply chain. For example, bio-nano composites replace petroleum-based plastics to reduce packaging waste. Combined with polymer chains, nanoparticles improve the barrier and tensile strength of packages. The use of nanocoatings with polymer chains further protects products from dust, dirt, and stains. Additionally, nanotechnology plays a significant role in the food packaging industry since it addresses increasing food safety challenges. For this, startups develop nanosensors that monitor food freshness and quickly detect chemical changes.
Krosslinker offers Insulating Nanomaterial Packaging
Krosslinker is a Singaporean startup that makes insulating nanomaterial packaging to protect temperature-sensitive pharmaceuticals. The startup's patented nanomaterial aerogel maintains the temperature range up to 96 hours to reduce the risk of temperature breaches during shipping. Its nano-porous structure and high-performance thermal insulation make this solution safe, compact, and sustainable. The startup's technology thus provides reusable insulation for pharma cold chain management.
Peak Nano specializes in Nanolayered Films
US-based startup Peak Nano uses nanolayered films for various applications in the food, medical, and cosmetics markets. The startup's nanolayer process enhances film performance properties such as moisture barriers and adhesion while reducing film thickness. Peak Nano's solution improves barrier performance by selecting the right polymer and optimizing the nanolayer thickness. This technology increases the packaging film design freedom and maximizes both water and oxygen barriers.
4. Packaging Software
Modernization and automation of IT processes enable packaging companies to manage the entire workflows digitally. In this evolving environment, customer engagement and data-driven product innovation are crucial. By using packaging design software, brands create a digital version of the product packaging. Further, startups offer technologies such as electronic article surveillance and RFID systems to protect against retail merchandise theft. Moreover, the use of quality control software helps businesses ensure that the products meet quality standards and analyze product defects. This approach centralizes data management for packaging companies, thereby mitigating data silos inside enterprise infrastructures.
Digimind develops a Cloud-based Package Design Platform
German startup Digimind builds a cloud platform to ensure design-driven sustainability and circularity in packaging. It supports every step of packaging development from conceptualization and design to engineering and design finalization. Brands or packaging companies import the 2D or 3D packaging design into the cloud platform. It then immediately red flags regulatory flaws and implements an optimized model based on a specific design. The Digimind AI-powered platform assists brand owners to explore more sustainable and cost-effective plastic packaging designs without compromising safety.
MYPACKBRAIN makes a Packaging Artwork Automation Platform
UK-based startup MYPACKBRAIN offers a packaging artwork automation platform that allows retailers to build, modify and manage print-ready artworks over the web. Additionally, brand owners generate a wide range of barcodes for retail, logistics, pallets, and small items using this platform. This allows them to reduce branding costs, increase speed to market, and streamline package design workflows.
5. 3D Printing
3D printing, or additive manufacturing, is an emerging trend in the packaging industry that accelerates early-stage product development through rapid prototyping. Conventional packaging designs are costly, time-consuming, and produce material waste. On the other hand, 3D printing mitigates these issues while reducing production time and accelerating product revisions. Additive manufacturing enables businesses to make customized packaging on request while avoiding expensive tooling costs. This provides packaging designers with more engineering freedom and aids in developing high-quality products.
What The Future offers 3D Thermoform Injection (3DTI)
What The Future is a Dutch startup that offers a 3DTI solution that transforms conventional thermoforming machines into high-speed production lines. For this, the startup uses air-cooled 3D-printed molds. This way, it speeds up production while maintaining lower costs compared to traditional mass production methods. The 3DTI production lines also change shapes as a result of the use of 3D-printed molds. This technology enables circular production by using reusable materials on demand and reduces the amount of waste generated.
Nefilatek specializes in Recycled 3D Printer Filaments
Canadian startup Nefilatek manufactures recycled 3D printer filaments out of plastic. Most 3D printers are created with virgin thermoplastic, which has a negative impact on the environment. On the other hand, Nefilatek's solution reconditions used plastic into useful products. The startup primarily focuses on high-impact polystyrene (HIPS) recycled from electronic waste that are reusable.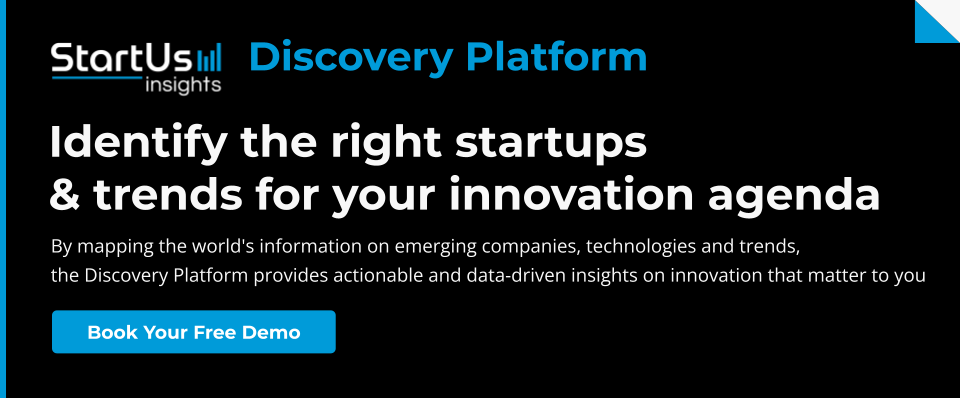 6. Artificial Intelligence
Through automation, processes become more agile, and faster. Startups are incorporating AI and machine learning to analyze data collected from smart packages and sensors to mitigate inefficiencies. AI-powered machine vision systems perform smarter quality inspection and real-time tracking while minimizing human errors. For instance, some solutions track package data to monitor inventory levels and improve stock management. Another use case of AI in smart packaging is to create smart labels that track product location and conditions in real-time to prevent theft or damage during shipping. Lastly, brands and packaging companies apply AI algorithms to analyze customer-generated data from smart packages and personalize their offerings.
NeuroTags makes an AI-powered Package Anti-Counterfeiting Solution
NeuroTags is a US-based startup that develops an AI-powered cloud solution for package anti-counterfeiting. The startup equips each product with a unique, secure, and traceable ID. This serialization technology detects clones and renders them invalid as they surface. Each code applied to the product is also monitored by the startup's AI-powered cloud, allowing businesses to quickly eliminate counterfeits from the market.
Viroteq aids Material Handling
Viroteq is a Dutch startup that offers AI-powered software that optimizes stacking and packaging processes. It leverages camera scans of new products and determines a processing activity based on real-time information. Viroteq's solution packages any product within robotic automation solutions without any prior knowledge. Moreover, it determines the most convenient way to package natural products so that they remain undamaged.
7. Blockchain
Blockchain enables immutable data storage that empowers the packaging industry to improve product safety, authentication, and traceability. This technology is used to counter food fraud, resolve food safety issues, and provide consumers with product-related information. Moreover, the fool-proof data storage feature of blockchain automatically reduces the chances of counterfeiting by increasing data integrity across the supply chain. This also provides generalized consumer data that businesses use to drive promotions, increase consumer engagement, and run blockchain B2B campaigns.
Oxyn offers a Blockchain-based Package Recycling App
US-based startup Oxyn makes a blockchain-based app that enhances package recycling efforts. Its blockchain ecosystem allows users to send packages back for reuse and receive crypto coins. For this, the system generates unique IDs which store data about each package, improving traceability and connectivity throughout the package lifecycle.
Pufin ID specializes in Digital Hash Codes
Danish startup Pufin ID provides digital hash codes using physical unclonable functions (PUFs) for fraud protection. The startup provides solutions for anti-counterfeiting, product security, and traceability. A unique digital twin is assigned to each package that allows for low-cost product testing and authentication using a smart device. Through its PUF technology, brands and packaging companies get a notification for any attempt to scan a fake or stolen product, thus preventing counterfeiting. The startup also leverages blockchain-based distributed ledgers to generate links to the PUFs encoding for product verification.
8. Immersive Technologies
The field of immersive technologies is expanding in the packaging industry. With AR integration into packages, it is possible to quickly merge the virtual and physical worlds with computer-generated sensory input such as sound, video, or graphics. Videos or animations offer a virtual world while AR overlays additional information to the field of view. Companies use AR packaging for better engagement with customers for delivering product information, voucher codes, and video instructions.
Aircards specializes in Web-based MR
Aircards is a UK-based startup that creates a web-based mixed reality (MR) product packaging solution to increase brand engagement. It enables users to access immersive content through mobile web browsers. This allows brands to enhance the customer experience by transforming the packaging using images, 3D avatars, and animations. Additionally, its analytics dashboard tracks, monitors, and optimizes how the users interact with the product.
Vossle provides a WebAR platform
Indian company Vossle develops a webAR platform that allows users to create, launch, and manage AR experiences. The startup targets small businesses that seek to turn the packaging into an interactive customer experience. Moreover, the WebAR games feature enables businesses to set up interactive web-based AR games for fun and engaging experiences. This solution combines detailed 3D graphics, animation, and sound effects to improve customer engagement.
9. NFC
Wireless NFC connectivity integrates into smart packaging to improve customer interaction and satisfaction while providing customer and product information. Brands use this technology to ensure high-quality control, spoilage prevention, as well as efficient and easier inventory tracking. NFC is included in packages in the form of a tiny chip, which enables easy, secure, and rapid communication between various devices. Brands and manufacturers access vital information about the packages and customers in real-time, allowing them to target their customers better. Moreover, NFC provides a higher level of security as the hardware chips are difficult to clone or breach.
GoodsTag builds a Smart Product Services Platform (SPSP)
German startup GoodsTag provides a smart product services platform for brands, manufacturers, and retailers. Through the platform, users manage the secure imprint and encoding processes of smart product tags such as NFC, RFID, and QR on packages. The startup's solution leads to a more effective supply chain, protects against counterfeits, and fosters sustainability through controllable product and recycling processes.
Proqure makes NFC tags
Australian startup Proqure uses NFC to turn packaging into smart products. The startup designs tamper-proof NFC tags that provide a secure and convenient way to store and access valuable information. Moreover, its cloud-based platform enables businesses to create, manage, and track their tags as well as collect insights into customer engagement. Lastly, the startup's NFC tags are seamlessly integrated into packaging and create a virtual presence for physical objects.
10. Advanced Robotics
With the need to increase productivity, accuracy, and quality control within the packaging industry, advanced robotics is becoming a main trend in the industry. Robotics in smart packaging improves sustainability by reducing the amount of waste generated. Moreover, robots are programmed to sort and recycle packaging materials. Robotic arms and grippers are adept at performing repetitive and error-prone tasks. Startups also develop robotic systems for handling, trimming, selecting, and packaging exceedingly delicate products. Lastly, AI-powered vision-assisted robots automate processes such as item sorting, quality assurance, and inspection.
NEURA Robotics manufactures AI Cognitive Robots
NEURA Robotics is a German startup that designs cognitive robots with integrated AI to automate repetitive and exhaustive tasks in production schedules. The startup's solution utilizes sensors and AI to ensure safe human-robot collaboration. This reduces food waste due to high-precision processing. The startup's cognitive robots, equipped with AI, accurately identify, select, and relocate any item in the inventory, regardless of product size, shape, or color.
Ubiros offers Soft Robotic Grippers
US-based startup Ubiros produces electrically actuated soft grippers compatible with cobots for handling and packaging. They easily handle fragile products with non-standard shapes and sizes while avoiding damage. Due to its high precision and fast movement, the startup's solution reduces bacteria spread due to in-movement drops when processing wet items. This allows for a safer environment, reduces cleaning costs, and increases production efficiency.
Discover all Smart Packaging Trends, Technologies & Startups
The above smart packaging trends drive innovative changes in the packaging industry. Using smart packaging to extend shelf life and improve product traceability have a favorable effect on industry growth. Further, the demand for sustainable packaging and investments in new intelligent packaging will increase further.
The Smart Packaging Trends & Startups outlined in this report only scratch the surface of trends that we identified during our data-driven innovation & startup scouting process. Among others, the internet of things (IoT), tiny AI, and active packaging will transform the sector as we know it today. Identifying new opportunities & emerging technologies to implement into your business goes a long way in gaining a competitive advantage.
Looking for emerging smart packaging startups & technologies?
✕