Today, advances in rehabilitation solutions are driven by new challenges in global healthcare, especially after the COVID-19 pandemic. Rehabilitation technologies range from augmented and virtual reality to telerehabilitation and advanced wearables to make remote therapies accessible. In addition, rehabilitation robotics, personalized pre-rehab therapy, photo- and electro-therapies are enabling faster and better recovery. Startups also customize treatment planning and execution for individual patients using artificial intelligence (AI) and big data. Neurofeedback is emerging as an ideal tool to precisely assess patient conditions and manage pain moderation. Such solutions enhance the workflows of both the staff and patients to provide the next generation of rehabilitation services.
Innovation Map outlines the Top Rehabilitation Technology Trends & 20 Promising Startups
For this in-depth research on the Top Rehabilitation Technology Trends & Startups, we analyzed a sample of 848 global startups & scaleups. The result of this research is data-driven innovation intelligence that improves strategic decision-making by giving you an overview of emerging technologies & startups in the rehab industry. These insights are derived by working with our Big Data & Artificial Intelligence-powered StartUs Insights Discovery Platform, covering 2 500 000+ startups & scaleups globally. As the world's largest resource for data on emerging companies, the SaaS platform enables you to identify relevant startups, emerging technologies & future industry trends quickly & exhaustively.
In the Innovation Map below, you get an overview of the Top 10 Rehabilitation Technology Trends & Innovations that impact healthcare companies & patients worldwide. Moreover, the Rehabilitation Technology Innovation Map reveals 20 hand-picked startups, all working on emerging technologies that advance their field.
Top 10 Rehabilitation Technology Trends
Tree Map reveals the Impact of the Top 10 Rehabilitation Technology Trends
Based on the Rehabilitation Innovation Map, the Tree Map below illustrates the impact of the Top 10 Rehabilitation Trends. Startups developing immersive reality solutions are at the top of the trends for rehabilitation as patients seek therapies that can be taken at their homes instead of being hospitalized. Advanced data analysis further advances the personalization of treatment for patients in need of rehab. Next, telehealth utilizes the results of gathered information and acts as a tool to deliver customized care and medicine enhanced by AI and advanced rehab wearables. Further, rehabilitation robotics, personalized pre-rehab diagnostics, and photo/electro therapies deliver bespoke physical treatments for muscular damage. Physiotherapy also leans on neurofeedback and unweighting or lightweight technologies to reduce the pain level for patients during procedures.
Interested to explore all 800+ rehabilitation startups & scaleups?
Global Startup Heat Map covers 848 Rehabilitation Startups & Scaleups
The Global Startup Heat Map below highlights the global distribution of the 848 exemplary startups & scaleups that we analyzed for this research. Created through the StartUs Insights Discovery Platform, the Heat Map reveals high startup activity in the UK and USA.
Below, you get to meet 20 out of these 848 promising startups & scaleups as well as the solutions they develop. These rehabilitation startups are hand-picked based on criteria such as founding year, location, funding raised, & more. Depending on your specific needs, your top picks might look entirely different.
Top 10 Rehabilitation Innovation Trends for 2023
1. Immersive Technologies
The field of immersive technologies is expanding every year, especially in healthcare. Professionals and patients alike seek solutions that make therapies more engaging. And so, startups provide solutions in virtual and augmented realities (VR/AR) through software and hardware tools, tailored to each therapy. For example, AR/VR therapies include climbing games for people undergoing upper-limb rehabilitation. Moreover, engaging in a virtual space with virtual coaches allow patients to immerse themselves in a therapy session more easily. By breaking the initial barriers to entry, immersive tech is now the most prominent trend in rehabilitation technologies.
Dynamics VR designs Specifically Rehabilitation Environments
Spanish startup DYNAMICS-VR makes physiotherapy accessible by developing special environments for rehabilitation patients and professionals. Their software solution is used with commercially accessible VR sets. This provides their clients with affordable, easy-to-use, and complete technology for successful rehabilitation. The startup's solution aims to reduce kinesiophobia and pain by 37% and 60%, respectively. The solution also extends the rehabilitation sessions, making them more effective for patients in the long run.
Improfit gamifies Rehabilitation
Spanish startup Improfit uses AR to make rehabilitation more interactive and enjoyable. By using its AR program and computer vision technology Improfit gamifies rehabilitation exercises. The program is also capable of providing feedback to each patient by identifying the action and evaluating it in real time. Further, Improfit helps in correcting posture and motion while also tracking the repetitions so as to make physiotherapy a pleasant experience.
2. Telehealth (Telerehabilitation)
The demand for remote therapy drastically increased during and after the COVID-19 pandemic, especially for regular patients and non-urgent complications. This also forced physiotherapy providers to transform their offerings into remote services. Online consultations with physiotherapists about a patient's physiological health status and remote movement therapies assist in the management of disabilities. In addition, telehealth services such as remote physical exercises, telediagnostics, and telepharmacy also see rising demand and interest from both therapists and patients.
Phyt Health develops Online Physiotherapy Software
Indian startup Phyt creates a platform and an app that makes online physiotherapy more convenient for patients. Its solution focuses on at-home rehabilitation, but also at small exercises in office settings. The approach is divided into four stages, which every patient goes through, namely, pain management and protection, stabilization, strengthening, and ongoing prevention. During each stage and session, artificial intelligence algorithms remotely guide patients to achieve planned results efficiently.
Telewecure facilitates eRehabilitation and Networking
Iranian startup Telewecure provides clients with telerehabilitation services as well as a dedicated social networking platform. Telewecure's remote rehabilitation solution allows patients to easily connect with physiotherapy providers via their platform, perform exercises, and receive equipment suggestions. Moreover, they make rehabilitation a more pleasant experience by offering a network that provides an online social media site for patients and professionals. This enables free communication and exchange of experiences in groups and forums that are featured in the Telewecure network.
3. Rehabilitation Wearables
The application of health monitoring wearables and devices in rehabilitation has proven to be an important element in enabling virtual therapies and consultations. Wearables provide greater flexibility in collecting and analyzing patient data that is later utilized by rehabilitation platforms and professionals. Further, the integration of wearables with mobile technologies has led to the growth of downloadable smartphone and tablet applications that provide real time guidance through rehabilitation exercises and plans.
Smart MS3 manufactures EMG Wearable Sensors
US-based startup Smart MS3 manufactures wearable electromyography (EMG) sensors that track patient status at any given time. The wearable EMG and musculoskeletal (MSK) sensors provide precise insights into muscle activation patterns. These sensors are wireless and are fitted to track any muscle group on a patient's body. Currently, Smart MS3 offers applications for knee, lower back, and shoulder rehabilitation.
DENTON creates 3D Movement Tracking
UK-based startup DENTON utilizes wearable 3D tracking devices to monitor patients' exact movement details. The 3D sensors are easily attachable by using straps on main body parts such as limbs, torso, and head. The remote connection between the sensors and their app provides analytical insights into a patient's adherence levels, range of movement, exercise form, and pain intensity throughout the duration of their rehab program.
4. Rehabilitation Robotics
Robotics facilitate numerous solutions for rehabilitation patients. In particular, using robots helps in movement regeneration and faster advancements in rehabilitation plans. For example, robotic exoskeletons enable patients to move on their own, performing daily tasks without pain, while also enabling neural connection rebuilding. Startups are developing lightweight wearable robots to make physical disability less of a burden for people in need of support.
Nureab develops Exoskeleton Hands
Egypt-based startup Nureab creates exoskeleton hands to make rehabilitation and movement easier for patients. Their product is composed of five mechanical fingers with a full range of motion. The device provides active, passive, and resistance rehabilitation programs. In particular, physiotherapists are using resistance to treat conditions such as quadriplegic, hemiplegia, tendonitis, fractures, and injuries. The device's motion tracking is very accurate to 1 degree. In addition, Nureab's solution is lightweight, fittable for different hand sizes, and easy to use.
Fleming MedLab develops Soft Robots
Chinese startup Fleming MedLab targets the current problem of high costs and the difficult operability of conventional rehabilitation robotics with its novel soft robots. The robotic solution is implemented in wearables such as suits or clothing. This allows practitioners to focus on patients and not on operating the device, as well as facilitates use at home. Fleming MedLab is focusing on neuroplasticity in their soft robotic solution to accelerate the active recovery of patients. One of the applications of this technology involves patients suffering strokes or heart attacks.
5. Personalized Pre-rehab Diagnostics
To set a successful rehabilitation plan, the diagnostics of the current health state of the patient need to be performed. In examinations like gait analysis or brain tests, movement and neural connections are usually analyzed. For this purpose, startups specialize in utilizing novel technologies such as sensor-fitted shoe pads and AI-powered CT scanning, among others. These solutions provide accurate real-time measuring and assessment for the needs of individual diagnostics. The solutions also pave the way for highly personalized diagnostics which, in turn, improve patient recovery and outcomes.
LAAF develops Active Testing for Gait
US-based startup LAAF develops a solution for personalized gait testing and root cause analysis of pain. The startup develops smart shoe pads that measure a variety of aspects such as heel strike force, step clearance, pronation, cadence, and foot progression. As a result of the analysis of measured data, LAAF uses its app to produce patient insights and helps them improve their performance and technique.
Voxel AI advances Multimodal Imaging
Canadian startup Voxel AI assesses brain structure, function, and physiology in patients with neurological injury or disease to guide patient therapy. It achieves this with the use of advanced neural analysis and multimodal imaging. Voxel provides greater insight into the health of patients' brains with highly personalized, factoring in the small modalities of the brain that differentiate the outcome and required therapy. The solution enables the accurate analysis of brain injuries to make patient recovery easier and faster.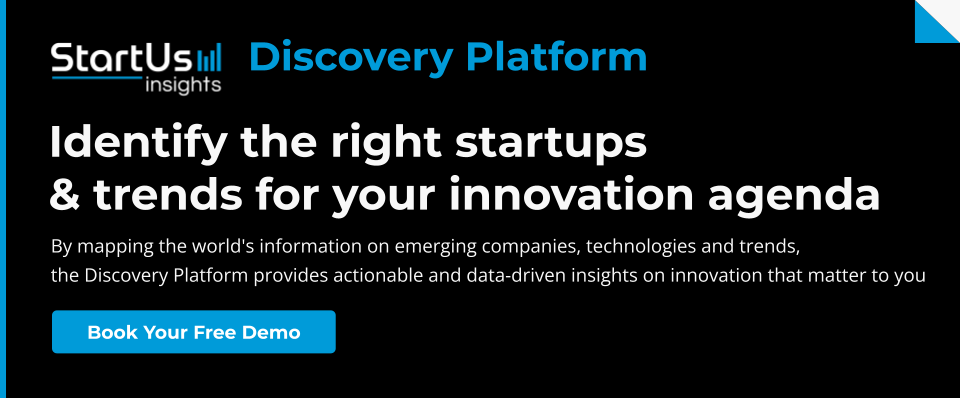 6. Photo- and Electro-Therapy
Light and electric therapy has been utilized in rehabilitation treatment for a long time, but recent advancements in technology enable this therapy to be more affordable and convenient for those in need. Electric and light therapies help in muscle regeneration and blood flow stimulation. For example, startups utilize red light and electrode-fitted suites to streamline recovery and strengthen muscles and reduce the time required for rehabilitation.
NEURO20 creates Suits for Muscle Recovery
US-based startup NEURO20 creates a suit equipped with electrodes that enhances the muscle force of the patient. NEURO 20 advances electrotherapy by equipping patients with form-fitting Lycra suits. These suits provide electrical muscle stimulation and gather information using biosensors. This data is then available through a remote platform. In particular, twenty stimulating electrodes are embedded into the suit, located over large muscles covering motor points and creating involuntary contractions. This brings pain relief and boosts muscle recovery for users.
LUMINOSRED advances Red Light Therapy
Austrian startup LUMINOSRED develops novel solutions for rehabilitation using red light. During the manufacturing of its specialized treatment lamp, LUMINOSRED developed an FDA-approved method, with low-EMF and anti-flicker technology. This therapy enables streamlined blood flow and supports the regeneration of muscles. It specifically develops lamps for at-home care at high intensity (100w/cm²) and different wavelengths (660nm + 850nm).
7. Artificial Intelligence
Patients that reside in the care of rehabilitation experts generally benefit from the implementation of AI in rehabilitation. In recent years, the uptake of startups working on computer vision and machine learning solutions has risen exponentially. AI is now able to provide real-time and valuable insights to improve the exercise's performance quality and future physiatric plan development. AI-powered platforms offer personalized & remote monitoring, as well as offer suggestions for further improvement. Machine learning-powered devices further support patients at every step during rehabilitation procedures.
Breathment enables AI-based Remote Patient Management
German startup Breathment builds an AI-powered program to assist professionals in tracking the performance of their patients remotely. This is customizable for every rehabilitation expert, by implementing any of their own exercises. Breathment develops a way to make any exercise plan remote, personalized, and with data-driven feedback for patients.
Rootally develops AI-driven Rehabilitation Solutions
Singaporean startup Rootally is making home rehabilitation more convenient and inexpensive. Its product, AllyCare, is an AI-powered solution utilizing mobile devices for therapy. By showing an AI-generated model of any exercise and simultaneous tracking of the patient's movement, therapy becomes easily accessible. Tracking and analysis of rehabilitation sessions provide insights into patients' progression. The solution does not need any sensors attached to the patient's body which makes AllyCare more user-friendly.
8. Neurofeedback
Neurofeedback is one of the emerging trends in the rehabilitation industry. The human brain is working on electrical signals which are being analyzed by emerging startups to make rehabilitation easier and non-invasive. In particular, it includes using wearable sensors and electro-stimulation devices for patients after stroke, concussion rehabilitation, or pain management. Such solutions also hold the potential for improving the brain and neural performance of people suffering from long-term neurological disorders.
Divergence Neuro creates Remote Neurofeedback Solutions
Canadian startup Divergence Neuro brings neurofeedback to online therapy. Its solution provides real time neurofeedback of patients' brain functions and pain levels. The wearable headset device fits any user and works in combination with the startup's platform and mobile app. The platform serves therapists in designing treatment sessions that include a variety of quantitative and qualitative assessments in line with predefined or custom treatment protocols. The mobile app allows patients to access the treatment programs that professionals assigned to them. Besides, it guides patients through the neurofeedback or neuro-meditation protocols therapists have asked them to complete.
Exsurgo develops a Neurostimulation Headset
New Zealand-based startup Exsurgo develops a novel wearable device for pain and rehabilitation management. The AXON is a product that tracks brain activity data by using electroencephalography (EEG) and AI, as well as displaying information on a user's mobile device. With real-time visual feedback, the user learns to modulate the pain by recognizing it and modifying their response, resulting in a significant decrease in pain levels. AXON empowers patients to proceed with their treatment from the comfort of their homes.
9. Lightweighting/Unweighting Technology
During the convalescence period, therapy requires a gradual introduction of body weight to the limbs during exercise to become effective. To unweight the body, a couple of technologies are being used such as water, vacuum, and supporting devices that redirect the forces to non-damaged body parts. This way, startups are creating vacuum treadmills that lower the pressure on anterior limbs or utilizing walkers as a supportive measure during rehabilitation.
MEBSTER builds a Lightweight Passive Exoskeleton
Czechia-based startup MEBSTER develops an unweighting device for lower limbs. The startup's UNILEXA is a non-robotic exoskeleton equipped with multiple sensors. This device helps patients reduce the stress on their lower limbs and help them move easier. The startup aims to build affordable and useful home assistive devices that enable people to walk again. UNILEXA is already being used in healthcare centers to track patient conditions and rehabilitation progress.
Boost Treadmills develops Microgravity Treadmills
US-based startup Boost Treadmills provides a vacuum-powered unweighting treadmill to support lower limb recovery. Boost 1 provides an adjustable amount of force that has to be borne by the patient's legs and lower back, which highly influences the rehabilitation time and endured pain. Boost's solution creates a vacuum chamber, therefore reducing gravitational force which is a practical way to support the experience of physiotherapy. It is currently developing Boost 2, which simplifies controls, gait analysis, and pre-programmed workout management.
10. Big Data & Analytics
Medical and physiotherapy data holds the potential to impact various decisions throughout a patient's lifetime. Big data, gathered with the help of machine learning algorithms, inform experts of patient progress through various procedures, over time and under differing conditions. The information extracted from this data pack is also used to drive precision medicine and the sale of therapy-assistive devices such as exoskeletons and crutches. Startups in this field tackle the challenge of big data management by offering innovative health platforms to make data more accessible while also ensuring security.
Precise4Q creates an Interdisciplinary Dataset
German startup Precise4Q develops a dataset to battle stroke. They create multi-dimensional data-driven predictive simulation models enabling personalized stroke treatment. The startup addresses patients' needs in four stages: prevention, acute treatment, rehabilitation, and reintegration. The data comes mainly from multidisciplinary sources such as genomics, microbiomics, biochemistry, and imaging. PRECISE4Q also aims to generate significant reductions in direct and indirect healthcare costs in the form of personalized prevention, treatment, and rehabilitation programs.
Forhealth offers Rehab Data-as-a-Service
Indian startup Forhealth is gathering data to offer a multidimensional dataset for rehabilitation companies and patients. The current process involves gathering data for its SaaS platform from a multitude of sources such as hospitals, gyms, and old age homes while simultaneously providing feedback for them. Later, this data will be fed into ML algorithms to develop predictive models to improve treatment recommendations.
Discover all Rehabilitation Technology Trends & Startups
Rehabilitation plays an important role in the future of healthcare. The vast number of people requiring physiotherapy after injuries, accidents, or because of other problems is rising every year. Immersive technologies are making it easier to battle rehabilitation together with telehealth and rehab wearables.
The Rehabilitation Technology Trends & Startups outlined in this report only scratch the surface of trends that we identified during our data-driven innovation & startup scouting process. Among others, lightweight technologies, immersive tech, and novel therapies will transform the sector as we know it today. Identifying new opportunities & emerging technologies to implement into your business goes a long way in gaining a competitive advantage. Get in touch to quickly & exhaustively scout startups, technologies & trends that matter to you!
Looking for specific rehabilitation startups & technologies?
✕