Growing concerns around energy sourcing and demand for secondary raw materials are forcing recyclers to increase recycling efficiency. We give you a comprehensive view of global recycling technology trends so that you can follow the latest developments in the industry. For example, you will discover how chemical and advanced mechanical recycling technologies attract investments to increase the value of waste and wastewater streams. At the same time, recycling facilities are integrating artificial intelligence (AI) and the Internet of Things (IoT) to improve operational efficiency. Read more to explore the top trends impacting the recycling sector. This article was published in July 2022 and updated in August 2023.
Innovation Map outlines the Top 8 Recycling Technology Trends & 16 Promising Startups
For this in-depth research on the top global recycling technology trends and startups, we analyzed a sample of 1862 global startups & scaleups. This data-driven research provides innovation intelligence that helps you improve strategic decision-making by giving you an overview of emerging technologies and trends in the recycling technology industry. In the Recycling Technology Innovation Map, you get a comprehensive overview of the innovation trends & startups that impact your company.
Top 8 Recycling Technology Trends in 2024
These insights are derived by working with our Big Data & Artificial Intelligence-powered StartUs Insights Discovery Platform, covering 3 790 000+ startups & scaleups globally. As the world's largest resource for data on emerging companies, the SaaS platform enables you to identify relevant technologies and industry trends quickly & exhaustively.
Tree Map reveals the Impact of the Top 8 Recycling Technology Trends
Based on the Recycling Technology Innovation Map, the Tree Map below illustrates the impact of the Top 8 Recycling Technology Trends in 2024. IoT increases visibility into recycling workflows and improves quality control of waste streams. This is crucial to improve the performance of the recycling sector, making IoT the top recycling trend. Chemical recycling and recycling robots are the other major trends after IoT and they improve recycling efficiency.
The recycling industry further innovates in waste valorization, green waste management, and material life cycle extension. This generates value for recyclers and diverts a significant amount of solid and organic waste away from landfills and incinerators. Finally, recycling facilities leverage big data, analytics, and AI to optimize classification, sorting, and picking at recycling facilities as well as streamline waste logistics.
Global Startup Heat Map covers 1862 Startups & Scaleups
The Global Startup Heat Map below highlights the global distribution of the 1862 exemplary startups & scaleups that we analyzed for this research. Created through the StartUs Insights Discovery Platform, the Heat Map reveals that Western Europe sees the most startup activity, followed by the US.
Below, you get to meet 16 out of these 1862 promising startups & scaleups as well as the solutions they develop. These recycling technology startups are hand-picked based on criteria such as founding year, location, funding raised, and more. Depending on your specific needs, your top picks might look entirely different.
Interested to explore all 1800+ recycling technology startups & scaleups?
Top 8 Recycling Technology Trends for 2024
1. Internet of Waste
IoT-enabled waste management and recycling significantly reduce the inefficiencies in waste logistics. From fill-level sensors to smart bins and material quality assessing sensors, the recycling industry is leveraging the internet of waste to streamline operations. For example, monitoring fill levels in garbage containers allows collection facilities to ensure timely pickup.
This enables recyclers to move from periodical workflows to waste generation-based task schedules. Additionally, integrating IoT into recycling processes generates digital points. Startups combine this data and advanced analytics to further optimize waste collection and operational efficiency.
Bintel offers Waste Fill Level Sensors
Bintel is a Swedish startup that develops fill-level sensors for trash bins, containers, and recycling stations. The startup's sensors utilize low-power wide area networking (LoRaWAN) or narrowband IoT (NB-IoT) based on range requirements.
These sensors allow waste collectors and recyclers to increase visibility into container status without incurring massive capital expenses. Moreover, the sensors enable recyclers to optimize emptying frequency and waste logistics.
Smartbin.io makes Smart Bins
Smartbin.io is a US-based startup that creates smart bins for commercial spaces. The startup's bin combines various sensors to track fill levels and notifies collectors when the bins are almost full. Smartbin.io also offers insights into the types of waste generated. This allows businesses, retail outlets, and other commercial spaces to better manage waste and recycling indoors.
2. Chemical Recycling
Sustainable development goals (SDG) and customer preferences are driving the demand for secondary raw materials. That is why the industry is adopting chemical waste recycling methods. Chemical recycling plants leverage pyrolysis, gasification, and solvolysis, among other techniques, to recover materials without degrading their quality.
Unlike conventional methods, chemical recycling results in intermediates and petrochemical alternatives suitable for high-value applications. As a result, chemical recycling-based secondary materials replace virgin raw materials from the manufacturing supply chain and reduce carbon emissions. This, in turn, expands the market for secondary raw materials.
Refiberd advances Textile Chemical Recycling
US-based startup Refiberd specializes in the chemical recycling of post-consumer textile waste. The startup combines AI, robotics, and its proprietary green chemical recycling technology to convert used and discarded textiles into new, reusable threads. Refiberd offers recycled polyester and cellulose thread kits. This approach diverts significant amounts of waste from landfills and reduces the need for virgin materials in textile manufacturing.
Plastic Back specializes in Plastic Chemical Oxidation
Plastic Back is an Israeli startup that leverages chemical oxidation for plastic recycling. The startup's proprietary process breaks down plastic polymers into oils, waxes, and other chemicals. Additionally, Plastic Back develops conversion units based on its process with a small footprint, enabling decentralized plastic recycling. This allows waste generators and recyclers to treat waste on-site as well as process mixed and contaminated plastic wastes.
3. Recycling Robots
While chemical recycling solutions offer better conversion efficiency, mechanical recycling is the most profitable means to recover materials. However, waste contamination and lack of workforce affect mechanical recycling operations. To tackle this, startups develop recycling robots to automate and augment sorting lines with AI-powered classification and sorting systems.
Additionally, such robots increase the picking speed, minimize errors, and improve picking efficiency. As a result, materials recovery facilities (MRFs) reduce their operational expenses, optimize waste stream quality control, and increase visibility into waste flows.
2B0 enables Robotic Waste Sorting & Processing
2B0 is a US-based startup that develops waste sorting and processing robots. The startup's patented recycling unit combines IoT, robotics, and AI to identify co-mingled waste materials and assess their recycling potential. It then grinds the waste to create high-value materials. This allows offices and retail stores to recycle waste on the premise and reduce waste management costs, in turn, lowering their carbon footprint.
Ursa Robotics offers Autonomous Waste Collection Vehicles
UK-based startup Ursa Robotics makes autonomous waste collection vehicles. The startup replaces communal bins and garbage trucks with its automated containers. Once a container gets filled, another automated container replaces it. This allows recycling facilities to automate, scale, and optimize waste logistics.
4. Waste Valorization
Waste recovery companies leverage biological and chemical means to upcycle their waste streams. Unlike conventional recycling, waste valorization solutions recover materials without quality loss or repurpose waste into new products. This generates more value than the original raw materials or products.
Startups are developing novel recycling technologies to convert solid and organic waste into energy and other chemicals. For example, some startups offer anaerobic digesters that use bacteria to treat organic waste and generate biogas. Such solutions allow recycling facilities to divert waste from landfills and create more revenue.
Moreover, the growing demand for clean energy is generating high interest in waste-to-energy (WTE) solutions. For instance, plastic-to-fuel conversion technologies address plastic waste and augment the energy supply.
Spouted Bed Solutions (SBS) Thermal Technologies provides Waste Heat Valorization Solutions
SBS Thermal Technologies is a Spanish startup that develops a patented waste heat valorization technique. The startup uses high-efficiency contact (HECO) technology to achieve optimized conditions for mass and energy transfer for increased waste conversion efficiency.
Its process supports various wastes and materials such as organic waste, industrial sludge and minerals, and forestry products. Therefore, recycling facilities use this technology to enhance chemical recycling efficiency and recover clean energy, biofuels, and raw materials faster.
Avris Environment Technologies develops a Food Waste Treatment System
Avris Environment Technologies is an Indian startup that offers Chugg, a food waste treatment system. It leverages anaerobic digestion to convert food waste into biogas. Chugg features a modular design and requires minimal intervention for operations. This allows restaurants and hotels to deploy biogas plants on site and reduce dependence on liquified petroleum gas (LPG), reducing energy costs.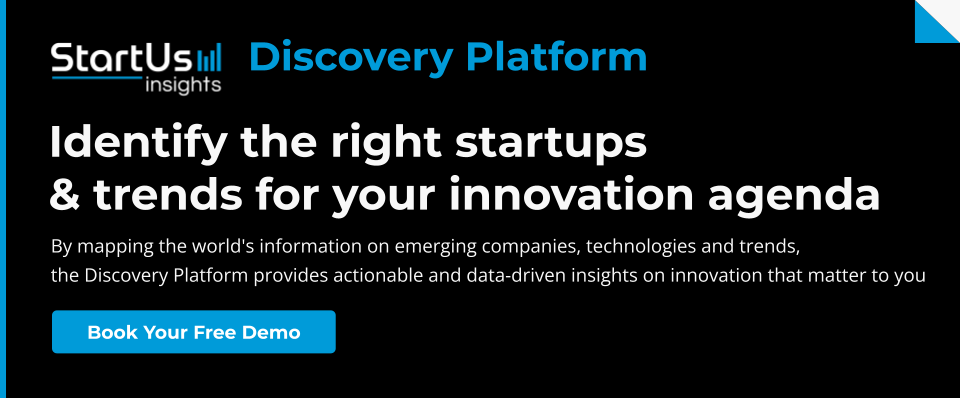 5. Artificial Intelligence
AI allows plastic recycling facilities to automate material analysis, sorting, and picking tasks. It also improves worker safety by reducing human exposure to hazardous waste streams. To integrate AI into workflows, startups utilize machine learning and computer vision, among others to capture unique characteristics in mixed waste streams and improve quality control.
The technology also allows recyclers to optimize waste collection routes and pickup schedules in waste logistics. This, in turn, enables them to improve recycling performance and recover more value from waste.
Sortera Alloys provides an Automated Metal Sorting System
Sortera Alloys is a US-based startup that offers an automated metal sorting system for scrap metal recycling and reuse industries. The sorting system combines AI, data analytics, and sensors to classify and sort waste streams. It also upgrades feedstock streams and removes unwanted contaminants.
The startup's high-throughput sorter enables recyclers to increase material recovery efficiency, create low-cost, high-quality metal alloys, and enable local supply chains.
BANQloop offers Smart Waste Management
BANQloop is a US-based startup that develops an eponymous smart waste management platform. The startup deploys its smart trash units, banQx1, or its heavy-duty variant, banQx1.HD, at waste generation sites. They use AI-driven robotics to sort wastes at the source. The startup's mobile smart trash unit, banQx1.HDm, also provides household waste pick-up services.
BANQloop's intelligence platform, loopiQ, then provides material analysis data, pick-up notifications, and green scores. Government institutions and businesses leverage these solutions to increase recycling rates and optimize waste logistics.
6. Green Waste Management
Food waste contributes to about 8% of anthropogenic greenhouse gas (GHG) emissions. Diverting it away from landfills enables recyclers to reduce emissions while also recovering high-value materials. Therefore, green waste management startups develop solutions to upcycle organic waste into stabilized organic compounds, carbon dioxide, and methane.
This includes compost facilities that convert green waste into biofuel or fertilizers. Besides, the growing market penetration of biopolymers enables a newer market for materials sourced from biomass waste.
BicyCompost offers Bio-Waste Valorization
BicyCompost is a French startup that provides bio-waste valorization. The startup collects organic waste using electric bikes and naturally composts it. BicyCompost then distributes the compost, free of charge, to its partner farmers, promoting local agriculture. This allows food businesses to ensure sustainable management of the waste they generate.
Biovert Protein advances Food Waste to Resource
Biovert Protein is a Thailand-based startup that uses black soldier flies (BSF) for bioconversion of food waste into high-protein animal feed, high-fat oil, and fertilizers. Waste management facilities use this solution to divert organic waste away from landfills while it also reduces the pressure on clogged agri supply chains due to animal feed demand.
7. Material Life Cycle Extension
Recycling technologies play a significant role in extending material life cycles. Closed-loop recycling and chemical recycling techniques have a great impact on material life cycle extension. However, a few challenges in achieving infinite recyclability include the quality of waste and recycling methods involved. For example, recycling metals and glass without degrading their quality is relatively easier compared to recycling plastics.
To overcome these challenges, startups develop advanced recycling solutions based on depolymerization, chemical treatment, and tech-driven mechanical recycling, among others. They enable recycling facilities to produce high-quality secondary materials and extend the lifetime of materials infinitely, reducing dependence on virgin raw materials.
Ever Resource facilitates Lead-Acid Battery (LAB) Recycling
UK-based startup Ever Resource advances LAB recycling. The startup's hydrometallurgical process, REGENERATE, leverages mechanical separation, mixing, filtration, crystallization, and calcination. It generates high-quality lead oxide that replaces virgin lead oxide required to create LABs. The startup's process, thus, ensures a continuous material flow between LAB manufacturers and recyclers, eliminating the use of virgin lead in batteries.
Fili Pari offers Marble-based Clothes
Fili Pari is a Spanish startup that makes marble-based clothes. The startup combines its patented marble-based material, natural materials, and recycled fabric from textile deadstock to create its products. Fili Pari repurposes marble otherwise sent to landfills into coats, raincoats, and other accessories. Additionally, it leverages process optimization and compostable packaging to enhance product sustainability.
8. Big Data & Analytics
The recycling industry utilizes data points generated by the connected waste management ecosystem through big data and advanced analytics. They allow recyclers to identify process inefficiencies and facilitate flow management. Further, big data and analytics enable advanced data processing techniques such as machine learning and deep learning for process automation.
Workflow digitization powered by analytics also drives transparency in operations and decision-making. For instance, some startups develop solutions that predict waste generation trends and identify communities or businesses that produce more waste, enabling targeted services.
Waste Labs aids Waste Logistics Optimization
Waste Labs is a Singaporean startup that develops a waste logistics optimization platform. It combines data fusion and an AI-based optimization engine to collect and analyze waste collection route data. The platform then detects inefficiencies and identifies optimal routing opportunities. Waste haulers and recyclers utilize the platform to map out waste generation flows, streamline service costs, and identify prospective waste producers.
Recyda facilitates Packaging Recyclability Assessment
Recyda is a German startup that aids packaging recyclability assessment. The startup's software allows users to manually enter or import package-sourcing data. It then analyzes this data to identify missing attributes and packaging non-compliance risks. This allows packaging manufacturers to ensure recyclability at sales and developmental stages. Besides, the increased visibility into package life cycles increases recycling efficiency at waste management facilities.
Discover all Recycling Technology Trends, Technologies & Startups
Advanced recycling technologies have the potential to significantly reduce the global demand for virgin raw materials – from plastics to energy. Recent developments include ultra-fast pyrolysis and on-site recycling systems, as well as using bacteria to tackle plastic waste. Additionally, startups are making recycling technologies affordable and scalable to address the already unsustainable waste management problem.
The Recycling Technology Trends & Startups outlined in this report only scratch the surface of trends that we identified during our data-driven innovation and startup scouting process. Among others, molecular recycling, biological depolymerization, and advanced data analytics will transform the sector and shape the future of recycling technology.
Identifying new opportunities and emerging technologies to implement into your business goes a long way in gaining a competitive advantage. Get in touch to easily and exhaustively scout startups, technologies & trends that matter to you!
Looking for innovative recycling technologies & startups?
✕