Global Startup Heat Map highlights 10 Real World Evidence (RWE) Startups to Watch in 2023
Through the Big Data & Artificial Intelligence (AI)-powered StartUs Insights Discovery Platform, covering over 3 790 000+ startups & scaleups globally, we identified 187 real-world evidence startups. The Global Startup Heat Map below highlights the 10 real-world evidence startups you should watch in 2023 as well as the geo-distribution of all 187 startups & scaleups we analyzed for this research. Based on the heat map, we see high startup activity in the US and the UK, followed by the rest of Western Europe. These real-world evidence startups work on solutions ranging from healthcare research data networks to health analytics and electronic medical record (EMR) data to evidence-based medicine.
Interested to explore all 180+ real-world evidence startups?
As the world's largest resource for data on emerging companies, the SaaS platform enables you to identify relevant technologies and industry trends quickly & exhaustively. Based on the data from the platform, the Top 5 Real-World Evidence Startup Hubs are in New York City, London, San Francisco, Boston & Berlin. The 10 hand-picked startups highlighted in this report are chosen from all over the world and develop solutions for improved medical data access, real-world data as a service, medical informatics, and real-time data surveillance.
10 Top Real World Evidence Startups to Watch in 2023
Real-world evidence has been gaining traction as a valuable tool for healthcare organizations to make informed clinical decisions and improve patient outcomes. One of the most significant developments in RWE is the adoption of advanced analytics and machine learning for data processing. These innovative approaches enable better data collection and analysis, allowing healthcare organizations to gain valuable insights into patient care. Regulatory decisions and policy-making are also informed by real-world evidence. The increased availability of RWE sources, such as electronic health records (EMRs) and wearable devices, continues to increase the potential for innovation in this area. Moreover, RWE drives the development of personalized medicine. By analyzing real-world data, healthcare providers gain insights into the effectiveness of treatments and interventions for different patient subgroups.
Aceso RWE builds a Health Data Research Network
Aceso RWE is a Turkish startup that provides a proprietary health data research network. The startup's disease-specific data models are built compliant to preserve patient privacy. Hospitals that need to access this data first require to organize and restructure their data. The startup's data engine, which is installable on-premise or on the cloud, then matches the internal data lake of hospitals with ongoing studies open for data collection. This anonymized patient data, along with machine learning and predictive analytics, enable data-driven decision-making in clinical research and improve patient outcomes.
3Aware simplifies Post-Market Clinical Follow-Up
3Aware is a US-based startup that simplifies PMCF for medical device manufacturers. The startup's platform, aiSurveillance, allows medtech manufacturers to access real-world data and independently to analyze patients, encounters, and devices. This facilitates PMCF reporting and enables them to feasibly fulfill post-approval studies, advancing post-market surveillance. Moreover, patient-level and device-specific evidence allows medical device manufacturers to ensure the safety and effectiveness of medical products.
Health Compiler provides RWE-driven Health Analytics
Health Compiler is a US-based startup that delivers RWE-driven health analytics. The startup's application programming interface (API) integrates with health wearables and care systems like electronic health records (EHRs) and revenue cycle management (RCM). Its health analytics solution provides a master patient index that combines administrative, financial, clinical, and wearable data for accurate analytics. Further, it offers access to patient demographics data based on patient consent and improves clinical point-of-care decisions. The startup's solution thus simplifies access to health plan data, advances digital health services, and improves the patient experience.
OmicsChart delivers Precision Oncology Datasets
OmicsChart is a German startup that provides precision oncology datasets for clinical research. The startup's precision oncology data marketplace and biomarker discovery platform, Preon, allows researchers to find specific data and perform analysis effectively. It aids the exploration of clinical information, such as diagnosis, treatments, and outcomes, as well as genomic, transcriptomic, and complex molecular biomarkers. The startup's other web-based platform, IO, further integrates multiple sources of molecular and clinical data and compares findings to public and proprietary datasets. OmicsChart's platform allows researchers to explore mutation and expression data, estimate infiltration by immune cells in solid tumors, and correlate the data.
syndena enables Personalized Care
Austrian startup syndena provides personalized care using RWD and electronics patient-reported outcomes. The startup's clinical registries enable data-driven outcomes with longitudinal RWD to generate RWE for scientific research and evidence-based medicine. syndena also leverages real-world evidence and electronic patient-reported outcome measurements (ePROMs) to advance digital symptom monitoring. This improves overall patient survival rates and quality of life. Consequently, the startup's solution helps scientists and research institutions to gain regulatory approval, understand treatment safety or value, and enable personalized care.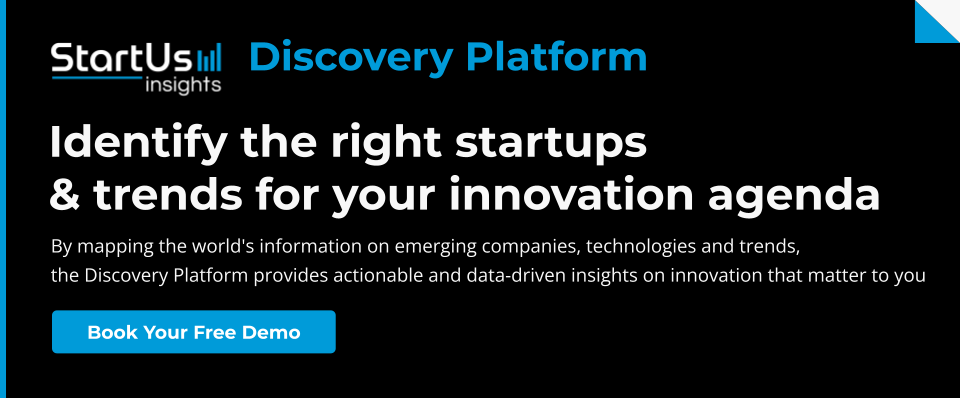 AllRe aids EMR Data Management
AllRe is a South Korean startup that facilitates EMR data management. The startup's solution leverages EMR data to enable high-level clinical research while simplifying medical data inquiry and extraction. It also features tools for visualization and statistical analysis, enhancing research efficiency. AllRe also converts the EMR data into a general-purpose database to simplify data analysis. Its universal database benefits hospitals in providing data on all diseases while the specialized database allows enterprises to advance research on specific diseases.
ImagineIfHealth provides RWE as a Service
ImagineIfHealth is an Australian startup that provides real-world evidence as a service. The startup's medicines access program (MAP) management platform allows pharma companies to integrate The Gibbs Labs RWD from Walter and Elize Hall Institute of Medical Research. The platform then triggers pharma company emails for doctor participation at the right time of treatment to input required patient information. This cost-effective oncology and hematology data allows researchers to describe real-world clinical and tumor characteristics of patients. Additionally, the platform allows them to determine progression-free survival and overall survival rates as well as the natural disease trajectory post disease progression.
Atropos Health enables Evidence-based Medicine
Atropos Health is a US-based startup that advances evidence-based medicine. The startup utilizes anonymized patient records to provide an evidence network. It functions as a marketplace for the generation and exchange of clinical insights. Using the startup's solution, members are able to submit clinical questions and receive answers as reports across one or many ranked datasets within 48 hours. This cloud-based data sharing allows healthcare organizations to get actionable insights from their EHR data and clinicians to access patient insights on demand. It also enables researchers to accelerate studies and data holders to share their data securely.
Wemedoo advances Medical Informatics
Wemedoo is a Swiss startup that offers real-world data for medical informatics solutions. The startup's validated RWD connects treatment data to patient outcomes as well as provides direct patient access for a broad and diverse population. It also delivers custom genetic analysis, general OMICS, and interpretation of medical imaging. This accessibility to machine-readable medical data allows healthcare institutions to better understand patients and treatment performance. The startup also accelerates drug development, ensures timely medical interventions, improves safety assessments, and expands coverage of rare health conditions.
Comsentimento offers Real-World Oncology Data
Comsentimento is a Brazilian startup that maintains a real-world oncology data platform. It collates clinical data from hospitals and clinics using an open-source standard. Using this data, the platform extracts relevant data from EMRs and diagnostic reports using natural language processing (NLP). This provides pharma companies with accurate data and results obtained for different lines of treatment. The startup also improves patient engagement with prospective follow-up and education to improve enrolment. This eliminates silos associated with clinical data and advances medical research for breast, lung, and colon cancers.
Discover All Emerging Healthcare Startups
The healthcare startups showcased in this report are only a small sample of all startups we identified through our data-driven startup scouting approach. Download our free Healthcare Innovation Report for a broad overview of the industry or get in touch for quick & exhaustive research on the latest technologies & emerging solutions that will impact your company in 2023!
Looking for real-world evidence startups & technologies?
✕
Get your free Healthcare Innovation Report
We'll deliver it straight to your inbox!
✕