The global demand for cleaner grids drives developments in renewable energy. Businesses and industries are shifting towards solar energy to reduce emissions and energy costs. In recent years, photovoltaics (PV) has become a fast-growing segment globally. Photovoltaic startups develop smart solutions to enhance asset effectiveness, prevent power loss, monitor faults, and extend product life. This industry report provides an overview of the 10 global photovoltaic trends in 2023 based on our analysis of 1580 startups working in the photovoltaics spectrum. They include artificial intelligence (AI), advanced robotics, novel PV materials, and more. Read more to explore all trends and discover how they improve asset maintenance, performance, and sustainability.
Innovation Map outlines the Top 10 Photovoltaic Trends & 20 Promising Startups
For this in-depth research on the Top Photovoltaic Trends & Startups, we analyzed a sample of 1580 global startups & scaleups. This data-driven research provides innovation intelligence that helps you improve strategic decision-making by giving you an overview of emerging technologies in the photovoltaics industry. In the Photovoltaic Innovation Map below, you get a comprehensive overview of the innovation trends & startups that impact your company.
These insights are derived by working with our Big Data & Artificial Intelligence-powered StartUs Insights Discovery Platform, covering 3 790 000+ startups & scaleups globally. As the world's largest resource for data on emerging companies, the SaaS platform enables you to identify relevant technologies and industry trends quickly & exhaustively.
Tree Map reveals the Impact of the Top 10 Photovoltaic Trends
Based on the Photovoltaic Innovation Map, the Tree Map below illustrates the impact of the Top 10 Photovoltaic Trends in 2023. Startups and scaleups develop advanced photovoltaic solutions that focus on technologies that provide higher energy efficiency. These include high-performance materials, thermophotovoltaics, and sustainable photovoltaics. Novel photovoltaics engineering and solar resource assessment enable higher power yields and bring bigger profits to photovoltaic power plants. Additionally, robotics and AI automate workflows and processes in the PV sector. Energy management systems (EMS), blockchain, and solar-as-a-service further distribute solar energy with flexibility and assurance. These technologies make photovoltaic energy more reliable, sustainable, and profitable.
Top 10 Photovoltaic Trends in 2023
Global Startup Heat Map covers 1580 Photovoltaic Startups & Scaleups
The Global Startup Heat Map below highlights the global distribution of the 1580 exemplary startups & scaleups that we analyzed for this research. Created through the StartUs Insights Discovery Platform, the Heat Map reveals high startup activity in the US, followed by Belgium and Netherlands. Below, you get to meet 20 out of these 1580 promising startups & scaleups as well as the solutions they develop. These photovoltaic startups are hand-picked based on criteria such as founding year, location, funding raised, & more. Depending on your specific needs, your top picks might look entirely different.
Interested to explore all 1500+ photovoltaic startups & scaleups?
Top 10 Photovoltaic Trends in 2023
1. High-Performance Photovoltaics Materials
Photovoltaics cell and panel manufacturers are now leveraging high-performance materials such as perovskite, graphene, and biogenic materials. These materials feature better efficiency and are easier to work with than conventional PV materials. For instance, perovskite-on-silicon has a higher conversion efficiency compared to silicon collar cells. Research in graphene solar cells further ensures higher yield. This is the primary reason why HPPM is the biggest trend in the photovoltaics sector in 2023. Such materials expand the application of PV, including mobility and industrial sectors, while also reducing production costs.
Taiwan Perovskite Solar Corp. makes Perovskite Solar Cells
Taiwanese startup Taiwan Perovskite Solar Corp. creates perovskite solar cells with an ultra-low toxicity component manufacturing process. The startup uses a mix of high-stability inorganic and organic materials. The resulting perovskite cells are scalable, stable, and customizable for various applications. This provides photovoltaic manufacturers with higher power generation efficiency and lower production cost than silicon-based cells.
CubicPV develops Monocrystalline Wafers
US-based startup CubicPV manufactures monocrystalline wafers. The startup offers p-type and n-type wafer products for various cell shapes and applications. Its wafer design ensures a stronger and more durable PV material. Moreover, the startup's direct wafer technology ensures precision through direct casting. CubicPV's solution improves the scalability and reduces the production time of PV wafers, allowing power plants to replace panels quickly after damage.
2. Solar Resource Assessment
Accurate yield prediction data is crucial to ensure the optimal performance of photovoltaic power plants. Solar electricity-producing plants rely on solar nowcast and forecast data to gather information on cloud coverage, soiling, storms, and other natural impacts. To enhance the accuracy of these yield predictions, PV startups make solutions based on machine learning, statistical algorithms, and physics-based models. For example, machine learning-integrated cameras continuously analyze data on temperature, humidity, and cloud movement. This data is then analyzed using advanced statistical models to determine the future power generation capacity of solar panels. With these precise yield predictions, photovoltaic power plants are able to increase uptime.
CRCL Solutions provides Solar Energy Production Forecasts
US-based startup CRCL Solutions enables farm, regional, and system-wide solar power production forecasts for real-time and day-ahead power traders. The startup's solution utilizes AI and physics-based models to deliver solar farm forecasts. It also monitors solar energy output down to the single farm level and offers reliable insights. Solar power production facilities use the startup's solution to benefit from the precise prediction of generated power.
WattCloud offers Cloud Coverage Assessments
Australian startup WattCloud develops cloud forecasting technology to enhance renewable energy integration. The startup's solution combines machine learning cameras, vector modeling, and statistics. It monitors and foresees the effects of cloud cover by gathering climate data. The solution then provides insights into the concentration of photons in the troposphere. This allows power plants to improve power output prediction and better plan operations.
3. Artificial Intelligence
AI in PV enables efficient energy management, solar forecasting, and quality control. AI algorithms detect solar panel defects, such as cracks or hotspots, that reduce energy harvesting efficiency. This improves the reliability and longevity of PV systems. Some AI-powered solutions assess solar irradiance for specific locations and times. This information aids PV project developers in choosing the right sites and optimizes the operation of solar energy systems. Moreover, artificial intelligence streamlines the operation of PV systems by predicting energy demand and adapting production accordingly. Consequently, such solutions allow energy management and solar energy companies to harvest power more efficiently.
Meson Labs delivers AI-based Solar Power Forecasts
Indian startup Meson Labs predicts PV power production using AI. The startup's forecasting solution uses computer vision and deep learning to extract solar data. Mason Labs' product, Sunflower, then predicts the exact percentage of total cloud cover over a solar farm. This cloud cover analysis enables PV plant operators to optimize the operation of solar energy systems.
SmartHelio enables Real-time PV Fault Detection
Swiss startup SmartHelio automates PV plants using pattern recognition for smart solar asset management. The startup's product, HelioCloud, features autonomous defect detection, prediction, and action recommendation. It provides precise insights about solar assets, localizes underperforming solar panels, and recommends actions in real time. HelioCloud offers solar power plants with fault detection alerts and therefore reduces maintenance costs.
4. Robotics
Manual management of repairs, cleaning, and positioning is cost and resource-intensive in massive PV power plant sites. To overcome this challenge, startups provide robotic systems that inspect solar cells and panels for defects and provide real-time diagnostics. Further, automated inspection systems equipped with drones and sensors identify defects like cracks, scratches, or warping, allowing for quicker issue detection and resolution. For large-scale installations where the terrain is challenging or hazardous for humans, installation robots replace humans to save time and improve worker safety. Lastly, some startups offer autonomous robots for solar panel cleaning and positioning. These robots allow PV plant owners to increase efficiency, minimize downtime, and reduce labor costs.
Solar Drone advances Solar Panel Automation
Israeli startup Solar Drones automates solar panels. The startup's solution utilizes autonomous drones and machine learning for real-time decision-making. It allows power plants to plan, monitor, maintain, and secure solar panels of any shape and in any topography. The drones collect real-time data to improve panel maintenance efforts.
sun-X manufactures a PV Soiling Cleaning System
German startup sun-X develops a cleaning robot for large and small-scale power plants. The startup's robot features a motorized quick coupling system and intelligent carrier arms, allowing for fast and easy attachment and modularity. The carrier arms also enable quick changes of cleaning brushes. The robot operates at up to 25 degrees of inclination and crosses module gaps. It also features a protective layer of lacquer that provides high resistance to impact and scratches, increasing its durability. Sun-X's cleaning robot delivers adaptable and unmanned cleaning solutions for solar power plants, reducing the need for manual labor and enhancing cleaning efficiency.
5. Advanced Photovoltaics Engineering
Novel PV engineering approaches focus on improving the efficiency, performance, and reliability of solar cells and photovoltaic systems. For instance, engineers now integrate new materials that absorb more sunlight and feature high conversion efficiency than traditional silicon-based solar cells. Ink solar cells use organic dyes, like perovskite, instead of traditional semiconductors to absorb light. They utilize low-cost materials and processes as well as support a variety of colors. This makes them ideal for large-scale solar energy production. Novel PV designs also include smaller and transportable solar panels for small-scale energy generation.
Solaires Enterprises manufactures Perovskite Ink
Canadian startup Solaires creates perovskite ink. It allows the fabrication of perovskite film with high energy conversion efficiency and stability. The ink also attaches to rigid and flexible substrates as well as is layered by different methods such as coating and inkjet printing. The advantages of using the startup's ink are high power conversion efficiency, high stability, and the ability to process in an ambient environment. Solaires thus provides photovoltaic manufacturers with a material that allows them to create solar panels on any substrate.
Levante creates Portable Solar Panels
Italian startup Levante develops portable solar panels made of monocrystalline solar cells. They power multiple household electronics for hours and minimize space limitations based on the startup's patented technology. It features a self-supporting structure and a compact design, is lightweight, and is quickly deployable. The solution enables electricity generation in remote areas and on a small scale.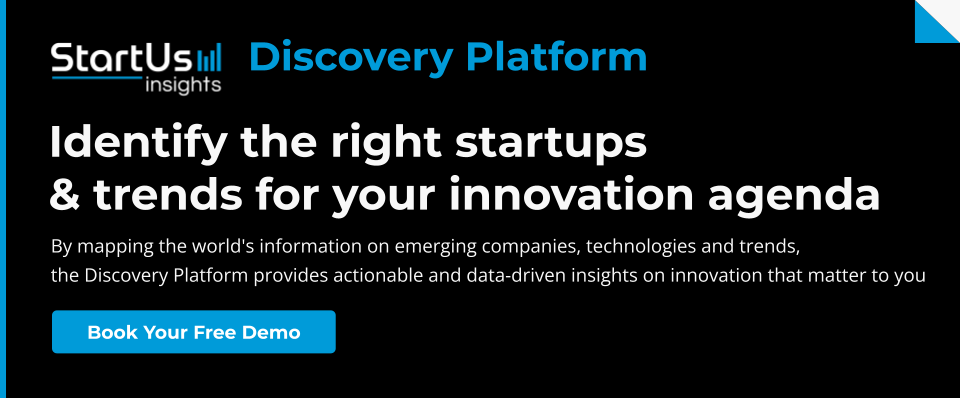 6. Solar Thermophotovoltaics
STPVs are solar-driven heat engines that extract electrical power from thermal radiation. They leverage specialized absorbers that heat up when exposed to sunlight or thermal radiation. Solar thermophotovoltaics are highly scalable, durable, and efficient as well as act as ecological energy storage. It thus improves the feasibility of renewable energy generation and integration. Because solar photovoltaics produce electricity from various heat sources, STPVs also find large interest in high heat-emitting industries like steel and chemical sectors.
Thermophoton advances Power-to-Heat Conversion
Spanish startup Thermophoton develops a power-to-heat-to-power energy storage technology. The startup melts silicon alloys at temperatures above 1000 degrees Celsius and employs thermophotovoltaics to convert this heat into electric energy. This technology creates a system that is inexpensive, scalable, safe, and silent. It allows PV power distributors to ensure constant power delivery.
Solaxer manufactures Photovoltaic Coatings
Swiss startup Solaxer makes high-performance solar absorber coatings for industrial heat harvesting. The startup's patented heat treatment solution consists of a receiver that reaches a high solar absorptance and better thermal emittance. This method of heat harvesting mitigates reliance on fossil fuels and enables high optical performance and endurance at high temperatures.
7. PV Energy Management
Photovoltaic energy management plays a crucial role in simplifying the planning and optimization of PV systems to maximize energy production. Such solutions improve PV design, sizing, monitoring, and control. The design and sizing aspect considers various factors such as the location and orientation of PV panels, solar irradiance, and site energy consumption. By implementing energy management platforms, PV projects are able to better monitor and control these parameters to ensure optimal operations. This translates to cost-effective and reliable operations. Energy management systems are also beneficial for identifying and addressing issues such as underperformance. Further, the data from such EMS solutions enable accurate production forecasting to better plan operations.
Apollo Energy Analytics develops Solar PV Digital Twins
US-based startup Apollo Energy Analytics utilizes patented digital twin technology for solar plant assessment. It leverages an electrical replica of a solar PV plant for yield predictions. The digital twin also calculates the optimum active power that the power plant needs to generate for given conditions. This allows users to promptly identify underperforming assets. Apollo Energy Analytics thus provides solar energy manufacturers with actionable insights reports and configurations to ensure optimal operations.
NXT Grid creates a Solar Mini-Grid Platform
Dutch startup NXT Grid powers remote regions through a knowledge based-platform. It provides customers with insights into solar mini-grid construction to speed up the adoption of solar power. The platform automates load control and other operational processes, such as maintenance scheduling and solar power yield assessment. This increases electricity production and non-engineers to run a local plant and be profitable.
8. Solar-as-a-Service
Solar-as-a-service enables customers to access solar energy without purchasing or installing solar PV systems. Instead, energy companies install and own the energy generation systems but sell the energy to customers under a long-term contract. This mitigates problems in energy delivery between large-scale production plants and consumers. Solar-as-a-service, as a result, cuts down installation costs and makes solar energy more accessible and decentralized to customers. Moreover, it accelerates the deployment of solar PV systems.
Switch Electric makes Smart Meters for Decentralized Deployments
Nigerian startup Switch Electric develops smart meters for decentralized energy projects. The startup's solution utilizes analytics to deliver diagnostics of solar panels and generated power. The meter design integrates into solar panel systems and connects to the startup's platform to deliver real-time insights. This includes info on generated energy, consumed energy, and payments. This helps energy companies to diversify and decentralize world energy infrastructure.
VAR.energy offers PV Virtual Inertia
Dutch startup VAR.energy closes the gap in solar electricity delivery using virtual power inertia. The startup's proprietary hardware ensures power quality and provides real-time grid support. It also stimulates the dynamic response properties of generators for photovoltaic power plants. This allows photovoltaic developers to ensure reliable and sustainable solar electricity generation.
9. Sustainable Photovoltaics
Advances in sustainable PV minimize the environmental impact of solar panels. For instance, startups develop novel solutions that improve panel recyclability, decommissioning, or disassembly. This involves the collection, sorting, dismantling, shredding, separation, and purification of solar panels. Recycling solutions also reduce the need for virgin raw materials, reducing the carbon footprint. PPV manufacturers are also integrating low-carbon and sustainable means to create new products by leveraging novel materials and reducing the use of harmful chemicals. Further, the decentralization of PV installations mitigates the need for massive distribution infrastructure, which reduces costs and minimizes ecosystem disruption.
Biosphere Solar provides a Circular Solar Module
Dutch startup Biosphere Solar develops a circular photovoltaic module. It is a frameless glass-on-glass module suited for a wide range of solar applications. Compared to traditional PV panels, the startup's module does not have lamination to encapsulate the cells. This makes the module easier to assemble and disassemble as well as reduces its degradation rate since there is no ethylene-vinyl acetate (EVA) yellowing. As a result, the startup's frameless PV module provides a recyclable solution for solar panel manufacturing and energy providers.
Solar Materials advances Solar Panel Recycling
German startup Solar Materials recycles photovoltaic modules cleanly and economically. The startup closes the raw material cycle, resource effectiveness, and CO2 balance in photovoltaics manufacturing. For this, it uses mechanical processes that avoid the use of unsustainable chemicals. Solar Materials' solution saves money and simplifies material recovery for panel manufacturers.
10. Blockchain
Integrating blockchain into PV systems enables peer-to-peer (P2P) transactions and smart contracts as well as improves security and management. For example, blockchain-powered systems create a transparent and secure ecosystem for tracking the production and distribution of solar energy as well as PV components and products. It also facilitates P2P energy trading between households, businesses, and communities through secure and decentralized infrastructures. Further, smart contracts automate energy sales and purchases. This, in turn, optimizes the management and distribution of energy and PV assets.
Peer2Panel provides Solar Panel-backed Tokens
Swiss startup Peer2Panel allows investors to securely invest in blockchain tokens backed by physical solar panels. The startup certifies the existence and quality of all solar panels on its platform and secures them on the blockchain. Peer2Panel works mainly with solar farms and utility companies to source panels. This allows energy providers and PV plants to improve transparency and gather more capital.
Inergio develops a Solar Blockchain-based Platform
Indian startup Inergio makes a blockchain-based platform for photovoltaics. The startup's product, iSolarSight, is built on open-source technologies and features analytics and AI. This aids in portfolio monitoring, operations, and decision-making. Additionally, all customer data is backed and stored on the startup's private blockchain, ensuring high data security and integrity. Solar farm management companies utilize the platform to improve infrastructure resilience against cyber attacks.
Discover all Photovoltaic Trends, Technologies & Startups
The PV industry is making renewable energy more cost-effective. Technologies, such as novel PV materials and advanced robotics, are making solar power an effective substitute for fossil fuels. In the future, solar energy will become more modular and decentralized. Among others, modular PV plants, decentralized energy generation, and assisted maintenance will transform the sector as we know it today. The Photovoltaic Trends & Startups outlined in this report only scratch the surface of trends that we identified during our data-driven innovation & startup scouting process. Identifying new opportunities & emerging technologies to implement into your business goes a long way in gaining a competitive advantage.
Looking for photovoltaic startups & technologies?
✕