Global Startup Heat Map highlights 10 Navigation Software Startups to Watch in 2023
Through the Big Data & Artificial Intelligence (AI)-powered StartUs Insights Discovery Platform, which covers 3 790 000+ startups & scaleups globally, we identified 149 navigation software startups. The Global Startup Heat Map below highlights the 10 navigation software startups you should watch in 2023 as well as the geo-distribution of all 149 navigation software startups & scaleups we analyzed for this research. Based on the heat map, we see high startup activity in Europe and USA, followed by India. These navigation software startups work on solutions to improve accuracy, convenience, and user experience, while making it easier and more efficient to navigate through cities and reach destinations.
Interested to explore all 140+ navigation software startups?
As the world's largest resource for data on emerging companies, the SaaS platform enables you to identify relevant technologies and industry trends quickly & exhaustively. Based on the data from the platform, the Top 5 Navigation Software Startup Hubs are in London, Bangalore, New York City, Gurgaon & Pune. The 10 hand-picked startups highlighted in this report are chosen from all over the world and develop navigation technology solutions for vehicles, SpaceTech, visually-impaired persons, and enabling solutions.
10 Top Navigation Software Startups to Watch in 2023
Innovations in navigation software change the way we navigate and explore the world. Significant advancements include the integration of real-time traffic data and predictive analytics to allow for more accurate and efficient navigation. Mobile apps now provide up-to-date information on traffic congestion, accidents, and road closures, helping users navigate around potential delays. The integration of AR into navigation software further provides users with visual overlays of directions and points of interest. The integration of voice recognition and natural language processing (NLP) makes navigation more intuitive and user-friendly. For example, by allowing users to interact with the software through voice commands. Additionally, wearables and smart devices greatly expand the accessibility and convenience of navigation services.
OceanGNS provides Glider Navigation Systems
Canadian startup OceanGNS develops glider navigation systems for autonomous underwater vehicle (AUV) mission planning and control. Its platform offers route planning, vehicle navigation, and insights into ocean conditions. The platform provides a digital view to visualize ocean models and observations to improve navigation range and speed. It also tracks and records the data to simulate gliders and other AUVs before trips, as well as features project management tools. OceanGNS caters to the scientific, defense, and industrial sectors by providing support for marine navigation.
CyberBee develops Small Cost-Effective Modules
CyberBee is an Israeli startup that provides small, cost-effective modules for spatial artificial intelligence. It uses lightweight sensors and vision-based algorithms for mapping, localization, and navigation in GPS-denied environments. The startup provides AI-powered solutions for autonomous mini-agents in non-GPS locations to enhance capabilities in indoor activities. CyberBee thus enables the military, agriculture, and security sectors to improve autonomous robotic activity in secured spaces.
SpacePNT makes GNSS Receivers
Swiss startup SpacePNT manufactures GNSS receivers for space satellite navigation. It supports decimeter-level real-time positioning, navigation, and timing accuracy to enable high signal reception sensitivity for long-range missions. The startup's NaviLEO and NaviMoon are advanced autonomous GNSS platforms for space markets and moon missions. It also offers NaviGEO and SimORBIT, orbital modeling software for low earth orbit (LEO) satellite simulations. SpacePNT allows satellite owners and data collectors to improve earth observation capabilities in low orbits and space debris removal.
ClearWater AR offers Marine Camera Systems
ClearWater AR is a US-based startup that provides marine camera systems for enhancing vision and safety in marine navigation. It offers Lookout, an AI-vision camera system to spot marine hazards like debris, buoys, and marks that radar and automatic identification system (AIS) does not identify. The platform collects data from charts, computer vision, and the cloud to present a 3D augmented reality (AR) view. It utilizes existing boat displays to connect with cameras and display routes even in low visibility and darkness with infrared vision. ClearWater AR provides a panoramic camera system for the maritime industry to enhance boat safety and optimal navigation.
Orca provides Accurate Marine Charts
Orca is a Norwegian startup that offers custom marine charts for route planning in boat navigation. It features autopilot control, real-time and upcoming weather updates, and route proposals for an autonomous experience. The startup offers Orca Display 2, a navigation display with wireless charging, cellular connectivity, and marine ruggedness. Its Orca Core is a smart navigation hub that turns smartphones and tablets into chartplotter and wireless autopilot. This enables Orca to enhance navigation features and operational safety for boaters, day cruisers, and sailboats.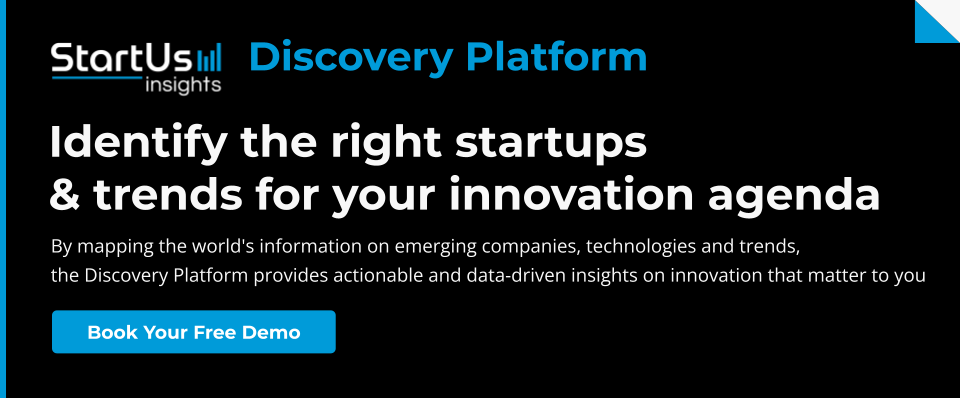 BENVision transforms Landscapes into Soundscapes
BENVision is a US-based startup that develops solutions to transform landscapes into soundscapes for visually impaired persons. It leverages machine learning algorithms and AR to immerse users in safe navigating environments. The startup features an object detection model to adapt to outdoor environments with changing lights and other affecting variables. With the use of real-time algorithms, BENVision converts stationary objects into sounds and provides haptic interactive indications to users, enabling safer navigation.
flygge simplifies Motorhome Navigation
German startup flygge provides camper and campsite management solutions. It offers an app for smart planning and control of navigation, electronic devices in caravans, and viewpoints for smooth operations. The startup uses live traffic data for special route guidance, for example, to avoid tight corners, that enable safer mobility. flygge enables smartphone-based and safe recreational vehicle (RV) navigation tools for campers to manage their travel.
TrustPoint develops Next-Generation Commercial GNSS
US-based startup TrustPoint makes commercial GNSS systems for automated and augmented navigation. The startup's solution improves the performance, security, and reliability of GPS users. It offers better accuracy, anti-spoof and anti-jam capabilities, as well as faster repair time to enable commercial applications like drone delivery and urban air mobility. TrustPoint helps commercial and government sectors deploy autonomous navigation for national security, aviation, and automotive applications.
MACH enables Site and Task Automation
MACH is a US-based startup that creates and commercializes solutions for autonomous machines and equipment. It leverages machine learning-based perception, obstacle detection and avoidance, and visual guidance with onboard navigation. The startup offers MACH OPS and MACH NEXUS, a comprehensive interface for machines to aid site management, operation planning, route generation, and fleet management. The solutions enable path planning, tracking, and machine-to-machine (M2M) communication in GPS-denied environments, such as automated greenhouses or remote sites. MACH caters to agricultural and government sectors by providing them with control of the machines and carrying out custom autonomous operations.
AstraNav provides Positioning and Navigation Services
US-based startup AstraNav provides hyper-reliable positioning and navigation technology. It utilizes the earth's magnetic field in its M-GPS platform. The solution harnesses multiple components of the magnetic field and provides stable, accurate, and ubiquitous navigational data. It features persistent location data with on-device processing capabilities without the use of any connectivity requirements. AstraNav provides indoor, underwater, and underground navigational data to smartphones, aircraft, submarines, and industrial robots to navigate in mission-critical scenarios.
Discover All Emerging Industry 4.0 Startups
The Industry 4.0 startups showcased in this report are only a small sample of all startups we identified through our data-driven startup scouting approach. Download our free Industry 4.0 Innovation Report for a broad overview of the industry or get in touch for quick & exhaustive research on the latest technologies & emerging solutions that will impact your company in 2023!
Looking for navigation tech startups & solutions?
✕
Get your free Industry 4.0 Innovation Report
We'll deliver it straight to your inbox!
✕