Global Startup Heat Map highlights 10 Top Media Startups to Watch in 2023
Through the Big Data & Artificial Intelligence (AI)-powered StartUs Insights Discovery Platform, covering over 3 790 000+ startups & scaleups globally, we identified 3699 media startups. The Global Startup Heat Map below highlights the 10 media startups you should watch in 2023 as well as the geo-distribution of all 3500+ startups & scaleups we analyzed for this research. Based on the heat map, we see high startup activity in the US, Europe, and India. These media startups work on solutions ranging from social commerce and social media analytics to augmented reality (AR) marketing and audience engagement.
Interested to explore all 3500+ media startups?
As the world's largest resource for data on emerging companies, the SaaS platform enables you to identify relevant technologies and industry trends quickly & exhaustively. Based on the data from the platform, the Top 5 Media Startup Hubs are located in London, New York City, Los Angeles, Istanbul & Berlin. The 10 hand-picked startups highlighted in this report are chosen from all over the world and develop solutions for moderated social media, advanced analytics, social commerce, and audience engagement.
10 Top Media Startups to Watch in 2023
The media industry faces several challenges, including declining revenue streams due to the rise of digital media and changing consumer habits. Traditional print media is struggling to maintain readership and advertising revenue, while broadcast media is facing increased competition from streaming services. Additionally, the spread of misinformation and fake news is eroding public trust in the media. To counter these challenges and more, startups are working on novel social media platforms and AR-based marketing, as well as solutions that help media companies reach new customers and create new media experiences.
bhapi offers an AI-moderated Social Media Platform
US-based startup bhapi runs an eponymous social media platform built for family use. It uses security algorithms and AI to review and moderate content, ensuring a "G" rated environment. The platform also provides users with tools to report and manage toxic content and create a more collaborative moderation experience. Further, it features a non-fungible token (NFT) marketplace and wallet, allowing users to create and trade digital assets. bhapi's platform provides companies with social media support to target families and raise brand awareness as well as lets users engage without compromising their data or mental health.
Glide develops a Digital News Aggregator Platform
Glide is a UK-based news and storytelling platform that focuses on global issues from independent creators. It enables users to discover, read, and subscribe to local journalists and storytellers. The platform covers topics spanning the environment, social justice, the global economy, and technology. Glide also enables creators to build their audience, as well as publish and monetize their content through subscriptions. This provides users with a deep dive to explore all angles of a topic through curated articles, while the burst mode keeps them up to date with the hot topics at a glance. Glide's impact-driven social media platform shifts from the noise of negative headlines and doom-scrolling to allow dynamic engagement with journalists.
Nikxs builds Immersive Experience Platforms
Mexican startup Nikxs creates immersive and game-style experience platforms for traditional businesses. The startup utilizes AR, virtual reality (VR), and mixed reality (MR) to enhance the experience that fans have with brands. The platforms support multiplayer audio, chat, and in-game interactions between users, as well as real-time and massive simultaneous interactions with thousands of users. Nikxs's platforms allow companies to explore new ways of engaging with their fans and customers in an immersive and gamified, increasing brand loyalty.
StreamAlive enhances Audience Engagement
US-based startup StreamAlive provides an online audience engagement platform. It helps companies host live sessions as well as plan, track, increase, and analyze audience engagement. The platform works with most third-party platforms such as Zoom, YouTube Live, or MS Teams, as well as in-person events. StreamAlive also offers chat features to enhance visual interactions, such as maps, polls, word clouds, and more, that increase audience inclusion and entertainment. The platform allows media companies, entertainers, and presenters to make their live sessions more interactive and receive valuable audience engagement data.
Listen2It provides an AI-based Voice Generator
Listen2It is an Indian startup that develops an online text-to-speech (TTS) AI voice generator. The service, accessible through the website or an application programming interface (API), allows media companies to create realistic and human-sounding voiceovers in many languages. Using AI algorithms, Listen2It analyzes the text input and provides natural voices with various emotional queues and pauses. The startup's website also features a visual audio editor that allows users to fine-tune voices, add background audio, customize pronunciation, and generate subtitles. Listen2It's voice generator helps companies create engaging audio content for advertising, e-learning, podcasts, customer support, and social media in any language to increase their reach.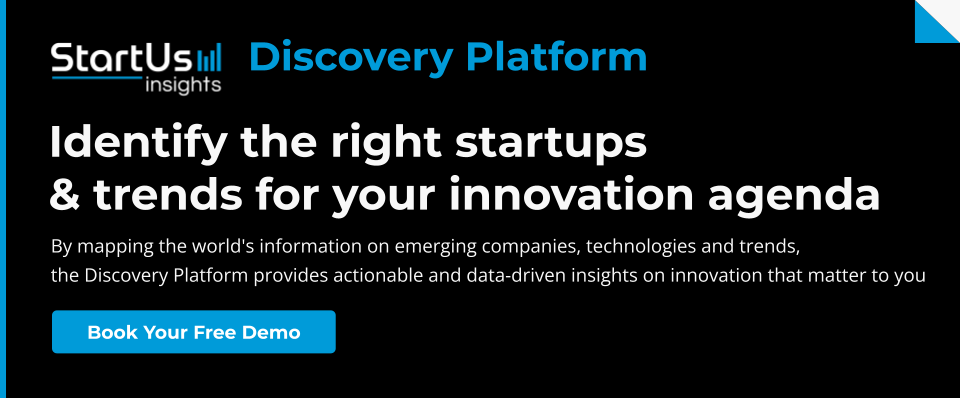 Denkimedia develops Interactive Digital PDFs
French startup Denkimedia enables businesses to digitize their print media and turn their PDF documents into interactive web solutions. Using AI, web analytics, and SEO, Denkimedia enables businesses to measure their audience, increase engagement and gain online visibility. The startup's interactive PDFs are easy to share and access and also emphasize the legibility of text to provide quick-to-load, easy-to-navigate high-definition texts. Denkimedia's interactive media solution enables media companies to convert age-old print content into engaging online content.
URLinks creates a Social Commerce Platform
URLinks is a Portuguese startup that makes a social commerce platform. It allows users to create and sell digital content in a collaborative and social environment. Users create their own profiles with links, playlists, files, and videos and sell them directly to their followers or customers. The platform allows creators to import playlists from other platforms such as Spotify to use already available content for marketing. URLinks also provides content management tools, such as layout customization, secure payment methods, and social dashboard features, to ensure a secure and interactive experience for viewers.
Lomavis facilitates Social Media Management
German startup Lomavis develops an eponymous social media management tool for collaboration and content distribution for businesses and organizations. It allows users to manage multiple social media profiles and customize social media templates. The tool also enables easier communication with team members and partners to measure the performance of their social media campaigns. With Lomavis' tool, agencies easily share content with their network, get feedback and approval, and access analytics. It is available as a website and as an app as well as works as a one-stop tool for social media marketing for agencies.
Signapse AI develops a Sign Language Translation Tool
Signapse AI is a UK-based startup that specializes in AI-based sign language translation and interpretation software. This technology provides access to sign language translation for broadcast media, announcements in public spaces, and websites. The software thus enables organizations to provide media access for the hearing impaired. Signapse AI bases its synthetic signers on actual video footage of translators, and it works in real-time to translate audio, text, and video. Additionally, the startup offers an automatic sign language video anonymization tool for clients who prefer privacy. Signapse's translation technology provides access to hearing-impaired audiences and reduces production costs.
Livshows provides AR Media Marketing Platform
Canadian startup Livshows provides a DIY AR platform that allows businesses to enhance their marketing campaigns. The platform allows companies to create custom WebAR experiences with pre-made 3D assets in a variety of file formats like FBX, OBJ, GLB, or GLTF. Alternatively, the platform features a collection of templates in its 3D library which users customize to their liking. Livshows allows users to easily design engaging and interactive AR worlds custom-built for their target audience without requiring any 3D design experience. the startup also lets companies collect viewer analytics data to improve their marketing strategies.
Discover All Emerging Media Startups
The media startups showcased in this report are only a small sample of all startups we identified through our data-driven startup scouting approach. Download our free Media Innovation Report for a broad overview of the industry or get in touch for quick & exhaustive research on the latest technologies & emerging solutions that will impact your company in 2023!
Looking for media startups & technologies?
✕
Get your free Media Innovation Report
We'll deliver it straight to your inbox!
✕