Global Startup Heat Map highlights 10 LiDAR Startups to Watch in 2023
Through the Big Data & Artificial Intelligence (AI)-powered StartUs Insights Discovery Platform, covering over 3 790 000+ startups & scaleups globally, we identified 138 LiDAR startups. The Global Startup Heat Map below highlights the 10 LiDAR startups you should watch in 2023 as well as the geo-distribution of all 138 startups & scaleups we analyzed for this research. Based on the heat map, we see high startup activity in the US, followed by the UK and India. These LiDAR startups work on solutions ranging from 3D laser scanning and photogrammetry data processing to geospatial mapping and high-fidelity 3D models.
Interested to explore all 130+ LiDAR startups?
As the world's largest resource for data on emerging companies, the SaaS platform enables you to identify relevant technologies and industry trends quickly & exhaustively. Based on the data from the platform, the top LiDAR innovation hub is located in New York City, followed by London and Sao Paolo. Asian tech hubs Singapore & Bangalore rounds up the top 5 LiDAR hubs. The 10 hand-picked startups highlighted in this report are chosen from all over the world and develop solutions for building information modeling (BIM), asset monitoring, and geospatial mapping.
10 LiDAR Startups to Watch in 2023
LiDAR (light detection and ranging) technology utilizes lasers to measure distances and create precise 3D maps of environments, offering numerous benefits across various industries. Its high accuracy and ability to generate detailed data quickly and efficiently have made it an invaluable tool for fields such as autonomous vehicles, agriculture, construction, and archaeology. LiDAR's ability to capture detailed information about the environment helps with improved planning and decision-making, increased safety, and reduced costs. Additionally, LiDAR's ability to generate real-time data enables timely responses to changing situations, making it a crucial technology for industries that rely on accurate and up-to-date information.
iScano provides 3D Laser Scanning
Canadian startup iScano offers LiDAR and 3D laser scanning data in as-built virtual formats, like CAD. The startup's platform produces point cloud data millimetrically and converts it into virtual 2D drawings, 3D BIM models, and on-site information. It utilizes a multi-disciplinary approach to use datasets and helps industrial, architecture, and construction sectors with reverse engineering and deviation analysis. This enables iScano to help engineers leverage the data in construction and civil engineering projects to reduce operational costs and improve the return on investment (ROI).
SiteScape uses Mobile LiDAR Scanning
SiteScape is a US-based startup that utilizes real-time LiDAR for architecture, engineering, and construction projects. The startup's solution provides site documentation and exports industry-standard files to CAD or BIM software. It allows site owners to connect designs with existing conditions for modeling accurate output and allows project managers to share and view across multiple devices. SiteScape's solution is also compatible with LiDAR-equipped iPhones and iPads to scan buildings, rooms, and spaces and deliver point cloud data.
AMI Systems advances Aeriel & Ground LiDAR
Polish startup AMI Systems leverages multivehicle LiDAR systems for aerial and ground surveying. The startup offers a UAV LiDAR system to fly and capture survey-grade measurements faster than traditional surveying techniques. It features simultaneous localization and mapping (SLAM) algorithms to enable 360 degrees scanning of low global navigation satellite system (GNSS) signal-based locations. Additionally, the startup offers mobile LiDAR systems that support road administration in roadways and nearby infrastructure monitoring. AMI Systems thus allows urban planners, civil engineers, archeologists, and utility providers to perform accurate scans and provide relevant insights.
Sky Powerlines offers Aerial Inspections
Portuguese startup Sky Powerlines provides drone and LiDAR-based inspection services and 3D mapping of transmission and distribution lines. The startup's drones utilize direct georeferencing and aero-photogrammetry for a detailed analysis of accident-prone areas. It is compliant with European Aviation Safety Agency (EASA) standards as well as offers efficiency and efficacy in drone aerial photogrammetry. Sky Powerlines' software-as-a-service (SaaS) platform collects the images and delivers the 3D map to energy companies for inspections.
SmartDrone delivers LiDAR-powered Drone Surveys
SmartDrone is a US-based startup that uses laser-based drones to collect aerial data. They deliver accurate, efficient aerial data collection and processing to land surveyors, civil engineers, and earth workers. The startup's industrial drone, Discovery 2, is equipped with an ortho mosaic mapping processor to collect precise RGB data and import final deliverables into CAD. SmartDrone also integrates high-powered sensors in a fully integrated platform to increase capabilities and collect accurate data.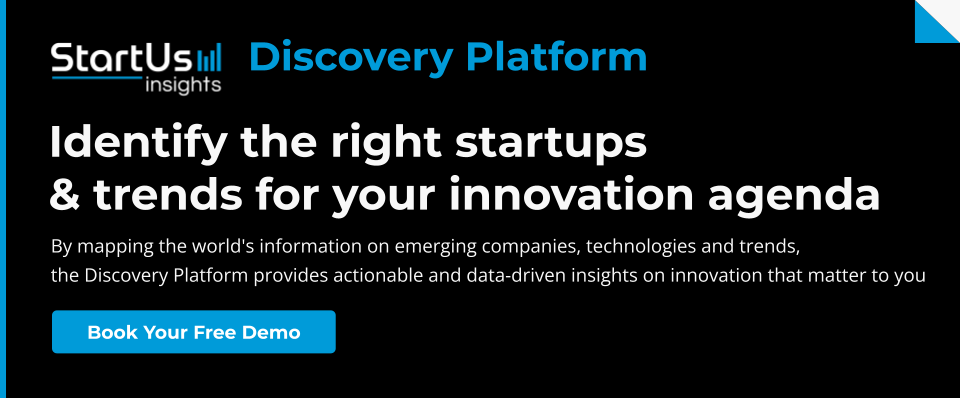 GeForest aids Topographic Management
Spanish startup GeForest leverages LiDAR for environmental monitoring and topographic management. It simplifies forest inventory and hunting management as well as offers carbon footprint calculations that enable a circular economy and reduction of CO2 emissions. For topographic management, the startup provides a digital terrain model (DTM) to study orientation, slope, and contour lines for roads and mine scanning. GeForest thus caters to the engineering, architecture, and industrial construction sectors with BIM, precise data collection, and volume calculations.
GeovertX facilitates Geospatial Mapping
Indian startup GeovertX provides digital 3D modeling, geospatial mapping, and BIM solutions. It uses aerial and mobile LiDAR to capture high-point density data and enhances the output quality for energy and agricultural applications. This allows engineers to effectively plan and maintain their assets while simplifying crop assessment and risk mapping for farmers. GeovertX also supports the land administration, transportation, energy, and forestry sectors with bare earth non-ground classification, vectorization, and feature extraction using LiDAR.
Rock Robotic facilitates Photogrammetry Data Processing
US-based startup Rock Robotic provides hardware and software solutions for photogrammetry data processing. The startup's SLAM-enabled LiDAR solutions, Rock R2A and Rock R360, are equipped with sensors to create accurate point clouds in GPS-denied environments. It also features secure cloud storage to upload the data and produces digital elevation models and delivers insights into ground topography. Rock Robotic thus helps construction engineers and land administrators with aerial surveying.
Metrolla makes Machine Learning-enabled LiDAR Sensors
Metrolla is a US-based startup that uses LiDAR for infrastructure scanning and simplifies sensor management. The startup's a real-time plug-and-play system, Metrolla LiteEdge, for smart cities and safety firms to automate data analysis and create smart ecosystems for existing infrastructure. The product also simplifies computer vision sensor network architecture which helps in an external perception engine or an intelligent traffic system (ITS) to direct traffic flow. The startup's interactive dashboard and distributed data pipeline offer the functionality to visualize LiDAR data. This enables engineers to iterate on live machine learning algorithms and provide solutions to smart city, access management, and edge robotics industries.
Scaniverse builds High-Fidelity 3D Models
Scaniverse is a US-based startup that uses computer vision to build high-fidelity 3D models. The startup's app for LiDAR-equipped iOS devices helps interior designers and construction engineers to convert scans into textured 3D models. It features an edit function to enhance the data detail by adding exposure, contrast, and crop functions, giving a customized experience to designers. Additionally, Scaniverse offers the functionality to view models in AR in actual size and in scaled sizes for more immersive applications in the construction industry.
Discover All Emerging LiDAR Startups
The 10 LiDAR startups showcased in this report are only a small sample of all startups we identified through our data-driven startup scouting approach. Download our free Industry Innovation Reports for a broad overview of the industry or get in touch for quick & exhaustive research on the latest technologies & emerging solutions that will impact your company in 2023!
Looking for LiDAR startups & technologies?
✕