Several emerging trends are reshaping the landscape of inventory management, driven by innovation and technology. The adoption of AI and machine learning is becoming more prevalent, enabling predictive analytics and stock optimization. The use of IoT devices for real-time tracking and RFID technology for instant identification and data capture is also on the rise. Blockchain technology is also being explored for its potential to ensure transparency and traceability in the supply chain.
Automation through robotics is another trend, enhancing efficiency in warehousing operations and reducing human error. Lastly, the integration of cloud-based systems facilitates remote access to inventory data, promoting flexibility and collaboration across different locations. Overall, these innovative ideas for inventory management systems and their respective tools help businesses optimize their operations, increase efficiency, and reduce costs.
Top 10 Inventory Management Trends (2024)
Innovation Map outlines the Latest Inventory Management Trends & 20 Promising Startups
For this in-depth research on the top tech-driven advancements and trends in inventory management, we analyzed a sample of 4559 global startups & scaleups. This data-driven research provides innovation intelligence that helps you improve strategic decision-making by giving you an overview of emerging technologies in the logistics industry. In the Inventory Management Innovation Map below, you get a comprehensive overview of the innovative solutions in the inventory management process, top trends & startups that impact your company.
These insights on new trends in inventory management are derived by working with our Big Data & Artificial Intelligence-powered StartUs Insights Discovery Platform, covering 3 790 000+ startups & scaleups globally. As the world's largest resource for data on emerging companies, the SaaS platform enables you to identify relevant technologies and industry trends quickly & exhaustively.
Tree Map reveals the Impact of Emerging Trends in Inventory Management
Based on the Inventory Management Innovation Map, the tree map below illustrates the impact of the top 10 latest trends in inventory management. Startups and scaleups are leveraging emerging technologies in inventory management to optimize stock management and transportation. Latest trends like autonomous robots, cloud-based systems, and distributed management systems allow businesses to operate cost-effectively and with increased transparency.
Additionally, predictive inventory management, warehouse automation, and IoT-enabled tracking allow operators to keep track of inventory and plan for future deliveries. Omnichannel inventory control, third-party logistics, and reverse logistics systems further help inventory managers reduce errors and costs of waste and rejected stock.
Global Startup Heat Map covers 4559 Inventory Management Startups
The Global Startup Heat Map below highlights the global distribution of the 4559 exemplary startups & scaleups that we analyzed for this research. Created through the StartUs Insights Discovery Platform, the Heat Map reveals high startup activity in the US and India.
Below, you get to meet 20 out of these 4500+ promising startups & scaleups as well as the solutions they develop. These inventory management startups are hand-picked based on criteria such as founding year, location, funding raised & more. Depending on your specific needs, your top picks might look entirely different.
Interested to explore all 4500+ inventory management startups & companies?
Top 10 Inventory Management Trends in 2024
1. Omnichannel Inventory Control
Omnichannel inventory control is a top trend that involves managing inventory across multiple sales channels, including brick-and-mortar stores, online marketplaces, and social media platforms. The technology uses a high level of coordination and visibility across all channels, as well as the ability to quickly move inventory between different locations based on demand. It also enables warehouse managers to track inventory levels in real-time and provide accurate data on demand and supply.
Omni-channel inventory control improves customer satisfaction, reduces the risk of stockouts and overstocking, and increases the efficiency of the warehouses.
Lvled Up enables Multi-Channel Store Management
US-based startup Lvled Up enables multi-channel management by developing order, inventory, and product synchronization strategies. The solution helps brand owners increase their online reach by combining search engine optimization (SEO), order, and inventory management. The startup offers an omnichannel tool that enables real-time communication and diversifies market strategies to list products on more online platforms. Lvled Up caters to the e-commerce industry to track inventory and provide real-time and accurate data on market demands.
XStak develops an Omnichannel Operating System for Retailers
XStak is a startup from the US that develops operating systems for retailers looking to perform omnichannel commerce, marketing, and business intelligence. It offers a real-time integrated business intelligence layer that includes storefronts, payments, order and inventory management, warehousing, fulfillment, and marketing support tools.
The startup provides its Omnichannel Engine, an advanced inventory management system, and Omniretain, an AI-enabled loyalty management system to improve customer engagement and retention. XStak allows retail brands to improve their omnichannel commerce, marketing, and payments to ensure real-time, aggregated, and actionable insights into operations and performance.
2. Cloud-based Management
Cloud-based inventory management systems allow businesses to access their inventory data from anywhere, at any time, and on any device with an internet connection. This enables businesses to manage their inventory in real-time, make informed decisions based on up-to-date data, and respond quickly to changing market conditions. Cloud-based inventory management systems are more cost-effective than traditional on-premise solutions since they require less hardware and IT support.
This dominant trend in inventory management caters to businesses of all sizes, including those who do not have the resources to invest in expensive cloud solutions.
Tookstock provides Cloud-Based Inventory Tracking Solutions
US-based startup Tookstock offers cloud-based inventory tracking and management to enable accessing the right inventory, in the right place, at the right time. It offers cloud syncing to store data as backup, and then access the inventory on multiple devices, to see real-time stock alerts. The solutions allow operators to track inventory at numerous locations, from warehouses to shops and trucks.
Tookstock also allows retailers to spot trends from their inventory data and offers real-time and predictive stock alerts. Tookstock helps its customers track inventories, reorder supplies, and reduce costs while improving sales.
Navi develops Restaurant Inventory Management Solutions
Canadian startup Navi offers restaurant inventory management solutions to provide meaningful insights into restaurants. It develops a mobile app to effectively monitor product costs. It provides a barcode scanner and one-touch buttons for liquor and wine counts. The solution helps in costing the menu, establishing target costs, counting inventory, and comparing actual costs with target costs.
All this enables the effective management of perishable inventory. Navi caters to the food and beverage industry by providing stock counting solutions, improving inventory management, and streamlining deliveries.
3. Predictive Inventory
Predictive inventory uses advanced analytics and machine learning algorithms to forecast demand and optimize inventory levels. This technology trend helps inventory managers accurately predict future demand based on historical data and market trends. This reduces the risk of stockouts and overstocking as well as the overall cost of inventory management.
Predictive inventory optimizes the supply chain by providing real-time data to help managers make informed decisions about inventory management and transportation. Overall, predictive inventory increases efficiency, reduces operating costs, and enhances customer satisfaction by ensuring the right products are always available when needed.
Prediko offers Demand Planning Solutions
UK-based startup Prediko offers a platform to help inventory managers plan for demand and inventory levels to prevent understocking. The platform enables companies to plan, report, and order stock to increase revenue and working capital. It allows businesses to plan growth scenarios, review inventory performance in real time, and create purchase orders.
The startup offers a dashboard to review inventory position and health, and view stock out and excess inventory level information. Prediko helps omnichannel brands grow revenue, release working capital, and build custom revenue plans based on real-time insights.
Wherehouse provides a Peer-to-Peer Warehouse Platform
Indian startup Wherehouse develops a peer-to-peer warehousing platform to predict the optimal inventory and where it will be needed. The solution integrates with web stores and activates custom warehouses. The startup's proprietary WMS and hybrid network of hyperlocal and 3PL partners offer complete picking, packing, and delivery services. Wherehouse offers a smart dashboard for visibility and deploys algorithms for inventory planning and demand forecasting to warehouse managers and operators.
4. Reverse Logistics
Reverse logistics involves the management of products returned by customers including products that are defective, damaged, or no longer needed by the customer. This trend becomes increasingly important as customers expect a more seamless and hassle-free returns process. Effective reverse logistics solutions enable a high level of coordination and visibility across the supply chain. It also facilitates businesses' ability to process returns quickly and manage inventory levels.
By implementing effective reverse logistics processes, inventory operators reduce the cost of returns and improve customer satisfaction. In addition, such solutions also reduce the environmental impact of both transportation and recycling or reusing returned products.
Omniful automates Returns Management
Saudi Arabia-based startup Omniful offers advanced returns management by automating the returns process. The platform provides self-service and in-store returns, refund automation with customized policies, and reverse logistics management. By automating the return process, the startup enhances retention and loyalty while improving the overall customer experience. Omniful helps businesses and brands by providing multi-location support with real-time monitoring and tracking of returned inventory.
Supple.ai offers Integrated and Automated Delivery Systems
UK-based startup Supple.ai develops supply chain solutions for integrated and automated deliveries. It offers STEER, a cloud-based delivery platform that uses a guided WMS, built-in business intelligence, and AI capabilities to manage returns. The solution integrates with various ordering channels and automates the workflow to store, pick, pack, and deliver orders directly to end customers. Supple.ai's AI-based reverse logistics systems allow repair, returns, and reallocation of inventory coming from stores back to producers.
5. Third-Party Logistics (3PL)
Third-party logistics is a popular inventory management approach that involves the outsourcing of logistics and supply chain management activities. It includes activities such as warehousing, transportation, and order fulfillment. Increasingly, 3PL providers offer specialized expertise and technology that help e-commerce industries optimize their supply chains and increase efficiency. For example, direct software integrations and connectivity for third-party vendors enable real-time data analytics as well as advanced inventory and transportation management systems.
SBSA Technologies develops EDI Integration Solutions
US-based startup SBSA Technologies develops tools for electronic data interchange (EDI) integration to offer connectivity between 3PL and warehouses. It integrates order processes with different locations to provide convenient warehousing, inventory management, logistics, and fulfillment. This reduces costs, increases warehouse efficiency, and streamlines fulfilling customers' orders. The cloud-based platform offers EDI and application programming interface (API) integrations for small and large parcels to keep track of the inventory. SBSA Technologies helps the supply chain industry by automating various processes while enabling increases in profits.
Hutch Logistics enables Customer-Centric Fulfilment
UK-based startup Hutch Logistics offers fulfillment solutions and a digital platform to 3PL providers for improving post-purchase customer experience. The Hutch app offers total control, from visibility to editing orders, monitoring inventory levels, and customizing shipping rules. The platform delivers quick shipping and offers customization such as marketing inserts, custom packaging, and handwritten notes to increase customer engagement. Hutch Logistics caters to 3PL, brands, and inventory operators by providing timely order fulfillment, aftercare, and optimized workflows.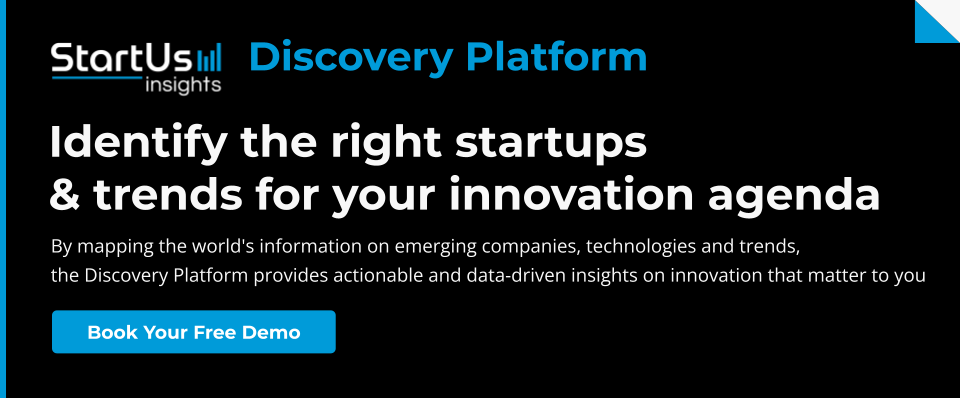 6. IoT-enabled Tracking
IoT has transformed the way businesses manage their inventory by enabling real-time tracking of goods throughout the supply chain. IoT-enabled tracking involves the use of sensors and other connected devices to monitor the location, condition, and movement of inventory. From edge computing devices, NFC, QR codes, barcodes, and small tags, businesses are gaining valuable insights into their supply chains, including transportation time, handling conditions, and storage monitoring. IoT-enabled tracking also allows inventory operators to reduce the risk of theft or loss as they can quickly locate missing products.
ExpoAlert uses IoT Devices to Optimize Inventory Management
Italian startup ExpoAlert develops warehouse systems to reduce theft and optimize inventory management of luxury products. The solution uses IoT devices and mobile apps to track high-value products in luxury warehouses. The sensors recognize and store the physical characteristics of inventory in real-time and help warehouse managers gain insights into their current inventory levels.
The app also notifies managers when inventory is being removed without authorization to alert them of possible theft. ExpoAlert allows inventory managers and luxury store operators to recognize and time-stamp their inventory movement, providing real-time stock-keeping updates on valuable inventory.
Earlivery automates Stock Management
South Korean startup Earlivery automates inventory tracking by using smart sensors to collect field data. It deploys AI and big data to build solutions for food management and demand prediction. The solution automates inventory measurement by weight to derive insights into the type of inventory. It also categorizes them into solid, liquid, or powder inventory. Early's IoT-enabled devices offer wireless operations for real-time tracking of inventory batches and allow food warehouses to automate various processes.
7. Distributed Inventory Management
Distributed inventory management is a new concept in inventory management that involves the use of multiple warehouses or distribution centers to manage inventory. It brings inventory closer to customers, reduces shipping times and costs, and improves overall customer satisfaction. By strategically locating warehouses or distribution centers in different areas, businesses ensure the right products are in the right place at the right time.
Also, distributed inventory management helps businesses reduce the risk of stockouts and overstocking, by quickly moving the inventory between different locations based on demand. Overall, distributed inventory management enables businesses to optimize their supply chain, reduce transportation costs, and improve efficiency.
Flxpoint offers Enterprise Dropship and Marketplace Solutions
US-based startup Flxpoint offers a central hub to manage distributed inventory across warehouses, 3PLs, stores, and dropship partners. The solution enables inventory operators to view near real-time inventory levels and compare item costs, fees, and profit margins across all locations and fulfillment centers.
It also allows for the syncing of inventories between fulfillment stores with pre-built integrations and file-based mapping tools. Flxpoint supports retailers, brands, distributors, and developers with a distributed order and inventory management platform.
Hive Technologies empowers Tailored Fulfillment Solutions
German startup Hive Technologies provides software to integrate sales channels, sync order data, and manage inventory. The platform integrates with leading shops, marketplaces, and ERPs to automate order fulfillment. The startup's solutions allow for forecasting inventory and avoiding stock-outs via virtual bundles and partial fulfillment. Hive Technologies caters to retailers and warehouses by connecting them with e-commerce channels and accelerating deliveries. It also offers pick-and-pack orders in fulfillment centers with flexible warehouse management systems (WMS).
8. Warehouse Automation
The use of technology and robotics to automate various warehouse operations makes warehouse automation a rapidly growing trend in inventory management. It includes automating activities such as picking, packing, and shipping, as well as inventory tracking and management. Automation improves warehouse efficiency, reduces costs of handling, and enhances customer satisfaction by streamlining warehouse operations and minimizing errors.
Also, warehouse automation reduces the risk of workplace injuries and improves safety by automating dangerous or repetitive tasks.
Syncware AI automates Warehouse Data Analysis
Syncware AI is a startup from Singapore that develops warehouse data analysis solutions, an add-on for WMS to give meaningful insights. It connects to WMS to obtain a 3D digital twin of the warehouses. This enables better decision-making about inventory and operations. The solution also forecasts planning for labor and replenishments.
The startup's AI uses slotting optimization algorithms to reduce inventory travel time and allows for wave picking, route optimization, floorplan designing, and worker scheduling. Syncware AI allows warehouses and 3PLs to automate operations and provide effective inventory management.
Planograma provides Cloud-Based Warehouse Management Systems
Romanian startup Planograma provides cloud-based warehouse management systems to scale operations and increase turnover. The platform automates processes and offers real-time inventory management with optimized logistics and faster deliveries. The platform lets managers manage warehouses on any device and visualize real-time information on inventory levels. Planograma caters to e-commerce, logistics, distribution, and retail sectors to automate warehouse management and gain useful insights into the processes.
9. Blockchain
Blockchain technology has been gaining popularity in recent years, and its potential applications in inventory management are becoming increasingly apparent. In inventory management, blockchain creates a tamper-proof record of every transaction that occurs in the supply chain, from manufacturers to end customers.
This helps businesses track the movement of goods in real time while reducing the risk of fraud. This also improves transparency and trust between different parties in the supply chain. Blockchain enables businesses to create smart contracts that automatically execute transactions based on predefined conditions, which further streamlines the inventory management process.
Brandpoint Analytics offers a Software as a Service (SaaS) Platform
US-based startup Brandpoint Analytics offers a SaaS platform for customers and retailers. The solution analyses and uses customers' personal preferences and provides enhanced lifestyle data, sophisticated fashion control, and avoiding perpetual sales. The startup leverages blockchain and AI to drive sales, optimize pricing, and generate behavioral and predictive insights on prospective customers.
This avoids poor inventory management and excessive returns from customers and reduces discounting or disposing of excess inventory. Brandpoint Analytics enables e-commerce brands and retailers to deepen customer engagement, increase transparency, and reduce inventory loss.
GearChain develops a Zero-code Blockchain
GearChain is a startup from the US that develops zero-code applications to connect supply chains with blockchain technology. It solves the last-mile problem by using a decentralized ecosystem across multiple blockchains to prevent data tampering. The startup's inventory and supply chain app builder lets businesses develop applications without coding knowledge to manage inventory. The solution comes with built-in barcode scanning and uses mobile phones as IoT devices and permissionless blockchain with privacy protection and invitation-only permission control. This enables GearChain to provide transparency and address the privacy concerns of businesses while managing inventory.
10. Print On Demand
3D Printing on demand is a modern approach to inventory management that revolutionizes the way businesses manage their inventory. It allows manufacturers to produce only when the demand arises, eliminating the need for maintaining large inventories. Such print-on-demand solutions reduce the time and cost of printing.
Printing on demand also enables a high degree of personalization, helping manufacturers and end customers achieve exactly the products they need. It also avoids hold-ups of inventory in one place and allows for direct delivery after manufacturing. Moreover, print-on-demand reduces waste and minimizes the risk of overstocking or understocking. Startups are working to reduce on-demand production timelines and improve the quality of products produced on-site.
Replique develops a Digital Inventory Platform
German startup Replique offers a digital inventory management platform for on-demand printing to reduce supply chain costs. Integrated with additive manufacturing technology, it optimizes warehouses, logistics, and procurement processes. It allows creators to onboard 3D models and connect with customers and print farms. Such additive services enable sustainable, convenient, and secure inventory management.
The startup's 3D printing platform empowers small, medium, and large businesses to produce products on-demand, at the right place in the desired quality. Replique works with a network of additive manufacturers to scale their production and business by providing on-demand and batch printing services.
PrintNet3D optimizes 3D Printing Workflows
US-based startup PrintNet3D allows for remote control and optimization of additive manufacturing processes. It offers printer management, prototyping, production, and e-commerce services to scale production and works with a distributed network of producers. The platform also enables sales channel integrations and real-time vital notifications for smoother operations.
It allows supply chain managers to track and manage stock, improve lead times, and reduce waste. PrintNet3D caters to all manufacturing businesses, helping them manage their 3D printing inventory workflows. Some examples include providing custom plugins, machine analytics, and business insights.
Discover all Inventory Management Trends, Technologies & Startups
The current trends in industrial inventory management are revolutionizing various processes and industries from retail to e-commerce, and storage. The integration of IoT, AI, and cloud computing continues to revolutionize inventory management, making it efficient, reliable, and cost-effective.
The innovations in inventory management, the trends, and startups outlined in this report only scratch the surface of trends that we identified during our data-driven innovation & startup scouting process. Identifying new opportunities & emerging technologies to implement into your business goes a long way in gaining a competitive advantage.
Looking for inventory management startups & technologies?
✕