Generic analytics platforms offer insights into business processes and operations. Predictive analytics leverage statistical algorithms and machine learning to better utilize this data and predict outcomes like market trends and customer interests. In this data-driven report, we give you innovation insights on the top predictive analytics examples based on our analysis of 1483 predictive analytics startups & technologies so that you do not miss out on emerging solutions. They allow companies to optimize product and service offerings as well as streamline marketing efforts. Read more to explore the impact of predictive analytics on 10 industries and how they advance your business.
Tree Map reveals the 10 Top Examples of Predictive Analytics across Industries
Based on the Innovation Map, the Tree Map below illustrates the emerging predictive analytics use cases in 2023 and 2024. Predictive analytics-driven workflows aid risk management and customer profiling for insurance and finance companies. While it enables media businesses to forecast content performance, predictive analytics allows sports businesses to better evaluate players. Further, energy, transportation, and manufacturing companies leverage the technology to enable predictive asset maintenance and resource planning.
On the other hand, predictive analytics provide decision support for patient diagnosis and monitoring as well as speed up biotechnology pipelines. Lastly, businesses across industries leverage it to improve customer interactions and personalize marketing.
Global Startup Heat Map covers 1483 Predictive Analytics Startups & Scaleups
The Global Startup Heat Map below highlights the global distribution of the 1483 exemplary startups & scaleups that we analyzed for this research. Created through the StartUs Insights Discovery Platform that covers 2 500 000+ startups & scaleups globally, the Heat Map reveals that the US has a high concentration of predictive analytics startups, followed by UK.
Below, you get to meet 10 out of these 1483 promising startups & scaleups as well as the solutions they develop. These predictive analytics startups are hand-picked based on criteria such as founding year, location, funding raised, & more. Depending on your specific needs, your top picks might look entirely different.
Interested to explore all 1400+ predictive analytics startups & scaleups?
Top Predictive Analytics Applications across 10 Industries
1. Insurance
Insurance companies conventionally rely on inefficient mathematical models to assess risks and set service rates. This leads to the loss of high-value leads and increases the chances of fraud. To tackle this, startups offer predictive analytics solutions tailored for the insurance sector.
Such solutions leverage cloud analytics and AI to offer insights into customer profiles and allow businesses to promptly detect financial risks. Further, predictive analytics in underwriting enables insurers to customize policy plans based on granular customer data, increasing conversion. Startups also develop solutions to aid insurance claim management and improve customer engagement.
Optimalex aids Claim Litigation Management
Optimalex is a US-based startup that facilitates claim litigation management. The startup's predictive analytics software leverages natural language processing (NLP), machine learning (ML), and AI to analyze legal data.
Optimalex also employs lawyers to continuously analyze new cases to improve prediction models. This allows insurance companies to reduce risks, evaluate win rates for individual cases, and improve dispute resolution.
2. Media
The digitization of media workflows and the growth of digital media provide businesses with massive amounts of customer-specific information. Using this, they are able to better predict the fondness of news stories among consumers and forecast consumer trends. Therefore, startups provide AI and ML-driven predictive analytics solutions for media companies.
They mitigate in-house app development and accelerate production workflows. Predictive media monitoring also offers decision support for professionals during crises or time-sensitive opportunities while some platforms provide alerts upon forecasting a topic or trend, improving content planning.
nVenue improves Sports Fan Engagement
nVenue is a US-based startup that develops a predictive media feed that enhances sports fan engagement. The startup's application programming interface (API), NextPlayMedia, uses AI and ML-powered real-time predictive analytics to generate probabilities for every outcome of a play in baseball and football games.
It also integrates broadcasts and brand applications to deliver additional context to fans and viewers. This allows sports betting officers to utilize new micro-markets and enable media businesses to deliver entertaining content.
3. Marketing
Advanced analytics solutions offer marketers granular insights into customer behavior and interests. With predictive analytics, they are able to better predict market trends and customer preferences. This allows advertising companies to brands to optimize marketing efforts and ensure maximum conversion.
Forecasting customer trends allows businesses to better target their communication and personalize services. AI and machine learning further advance the performance of predictive marketing and improve omnichannel marketing opportunities. Other uses of predictive analytics in marketing include automated sales forecasts, dynamic pricing, and real-time personalization
Forwrd.ai simplifies Customer Acquisition
Forwrd.ai is an Israeli startup that aids customer acquisition. The startup's product combines various business apps to integrate all customer data in a single point. It also continuously monitors the data to mitigate data integrity issues and data silos.
The product then allows demand generation teams to predict which dormant leads have the most potential to become qualified leads, improving operational efficiency and profits.
4. Healthcare
Digitization of patient records through electronic health record (EHR) systems provides hospitals and doctors with patient-specific information. Startups create predictive analytics solutions that integrate with existing EHR systems and provide insights into patient behavior. For instance, physicians are able to predict treatment effectiveness without imaging scans.
At the same time, it allows hospitals to quickly identify at-risk patients. Healthcare organizations leverage predictive analytics to predict disease outbreaks and, in turn, improve population health management. Data from connected wearable devices and predictive analytics also enhance patient monitoring efforts, improving care delivery.
MUUTAA offers Healthcare Supply Chain Decision Support
MUUTAA is a Canadian startup that develops DemandAMP+, a decision support system (DSS) platform for healthcare supply chains. It combines data from internal and external sources, such as inventory details and public health data, to improve operational visibility.
The platform then uses AI and machine learning to assess consumption patterns and precisely forecast supply and demand. Further, it simulates various hypothetical scenarios with real-time feedback to optimize sourcing, purchasing, and logistics for healthcare institutions.
5. Finance
Financial companies traditionally use statistical and computational means to predict market activities and growth. AI or ML-driven predictive analytics allows them to further improve market analysis and maximize daily as well as long-term returns. Apart from improving investment management, predictive analytics identifies discrepancies in transaction data and identity fraud.
It also allows banks and non-banking financial companies (NBFCs) to leverage alternate credit scoring and reduce risks associated with loan approvals. For businesses, predictive analytics enables finance teams to streamline budgeting, planning, and resource allocations aligned for return on investment (ROI).
Quantifi provides Personalized Loans
Quantifi is a Canadian startup that offers personalized loans for car buyers. The startup's system uses applicant accounts to verify their income and establish candidacy. It then applies predictive analytics and machine learning to dictate the terms and rates as well as automate loan approvals.
The startup thus aids financial companies in transitioning to an alternative credit scoring system that increases potential customer pool and sales.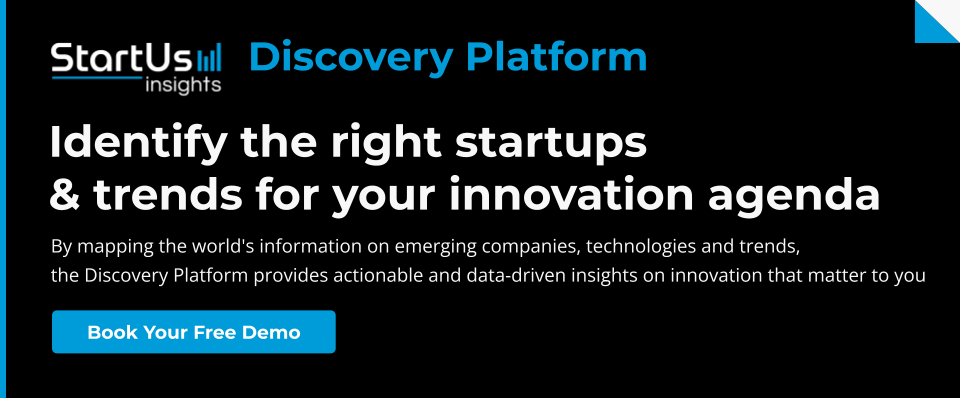 6. Sports
Predictive analytics allows sports institutions and team managers to analyze player performance. This provides a broader perspective on individual players and the team as a whole. Predictive sports analytics also offers decision support for player trading and selection. Additionally, injury predictions and player valuations are other use cases of the technology.
Towards revenue generation, startups provide predictive analytics solutions that monitor fan activities through direct channels and social media. This allows businesses and sports teams to improve customer retention, leverage dynamic ticket pricing, and improve betting decisions.
Gemini Sports Analytics enhances Athlete Management
Gemini Sports Analytics is a US-based startup that aids athlete management. The startup's cloud-based solution utilizes machine learning to collect all athlete information and train various models from the cloud.
Using these models, the solution provides non-technical stakeholders with sports and athlete-specific insights and predictions that improve player performance and optimize tactics.
7. Energy
The growing number of electric vehicles (EVs) on the road causes higher grid loads that may lead to downtimes. Further, the intermittency of renewable energy generation affects demand-side management. Predictive analytics thus enables more efficient load forecasting means compared to conventional prediction methods.
This allows energy companies and grid operators to optimize vehicle-to-grid (V2G) activities as well as predict consumption patterns. Furthermore, applying predictive analytics on past weather conditions and vehicle accidents aids infrastructure planning while it enables predictive maintenance for energy assets.
EnerSmart Storage builds a Reliable Electric Grid
EnerSmart Storage is a US-based startup that develops solutions to improve electric grid reliability. The startup provides on-demand utility-scale energy storage at points where supply and demand imbalances occur regularly.
Further, the startup combines big data and predictive analytics to forecast grid energy demands and improve demand-side management. This allows grid operators and energy companies to mitigate the intermittency of power in renewable energy generation and transition to a cleaner grid.
8. Manufacturing
Machine downtime due to inefficient maintenance tasks and asset monitoring leads to massive amounts of capital loss. Startups utilize machine data, maintenance logs, and other enterprise data to offer insights into machine conditions. Such predictive analytics solutions also predict the likelihood of breakdowns. This allows plant operators to better plan maintenance shutdowns to minimize production downtimes.
Further, manufacturers leverage predictive analytics to assess cost fluctuations and predict material costs to minimize price margins and improve procurement strategies. Lastly, it allows them to forecast consumer demands and supply chain seasonalities to optimize production runs and enable just-in-time (JIT) manufacturing.
LexaTexer aids in Predictive Process Optimization
LexaTexer is a German startup that optimizes manufacturing processes for automotive companies and tier-1 suppliers. The startup's predictive optimization and automation workbench, LXTXR Production, uses machine learning to analyze manufacturing, inspection, and maintenance data.
Using the insights from the analysis, the workbench predicts failures in production lines and vehicles. It also enables predictive production, maintenance, and scheduling as well as optimizes overall equipment effectiveness (OEE).
9. Transportation
The transport industry deals with inefficiencies and delays due to unprecedented situations like extreme weather or supply chain disruptions. To tackle this, startups provide predictive analytics solutions that factor in these dynamic parameters to better plan resource and volume planning. For instance, predictive analytics in transportation management allows businesses to promptly detect potential package delays, preventing service failures.
Further, predicting shipping rates using such solutions allows them to avail transportation services at fair prices and optimize costs. For transportation companies, predictive analytics enable fleet managers to better plan routes, optimize labor, and maximize asset utilization.
D3EIF optimizes Transport Planning
D3EIF is an Austrian startup that improves transport planning. The startup's platform integrates all forwarder, carrier, and telematics data into a single point. It then utilizes machine learning and predictive analytics to offer accurate delivery time forecasts and, thus, improve transport planning.
The platform also integrates with existing enterprise resource planning (ERP) systems, simplifying real-time monitoring, documentation, and reporting.
10. Biotechnology
Pharmaceutical biotechnology utilizes predictive analytics to assess the massive number of molecules and identify potential ones. It also enables pharma researchers to better predict novel targets and accelerate drug discovery pipelines. This significantly reduces the time and money required to bring drugs to the market.
AI and machine learning also drive the performance of such predictive analytics solutions. Further, predictive analytics aids gene sequencing workflows in animal and plant biotechnology to ensure desired gene propagation and improve yield.
mytide therapeutics makes High-Purity Peptides
mytide therapeutics is a US-based startup that creates high-purity peptides to build computational models of biological systems. The startup's cloud-based platform, RAC4E, uses predictive analytics, machine learning, and microfluidic technologies.
Using these, the startup introduces reagents with high-quality coupling within the growing peptide. RAC4E-powered computational biology models enable high-speed lead molecule identification and selection as well as high-throughput screening and library generation. This allows researchers and pharma companies to accelerate therapeutic pipelines and offer personalized care.
Discover All Predictive Analytics Startups
The wider adoption of the Internet of Things (IoT) and Industry 4.0 will provide companies with granular-level data on assets and processes. Therefore, businesses will integrate predictive analytics to better utilize this data and make operations planning more data-driven. Advances in edge IoT, high-performance computing (HPC), and artificial intelligence of things (AIoT) will also accelerate the adoption of predictive analytics while bringing it closer to the data source. Get in touch to identify specific predictive analysis examples & solutions that advance your business!
Looking for specific predictive analytics startups & technologies?
✕