Global Startup Heat Map highlights 10 Green Packaging Startups to Watch in 2023
Through the Big Data & Artificial Intelligence (AI)-powered StartUs Insights Discovery Platform, covering over 3 790 000+ startups & scaleups globally, we identified 10 green packaging startups. The Global Startup Heat Map below highlights the 10 Green Packaging startups you should watch in 2023 as well as the geo-distribution of all 681 startups & scaleups we analyzed for this research. Based on the heat map, we see high startup activity in the UK and the US, followed by India. These green packaging startups work on solutions ranging from bioplastics and packaging materials sourced from waste to sustainable packaging marketplace and recyclable coating.
Interested to explore all 680+ green packaging startups?
As the world's largest resource for data on emerging companies, the SaaS platform enables you to identify relevant technologies and industry trends quickly & exhaustively. Based on the data from the platform, the Top 5 Green Packaging Startup Hubs are in London, New York City, Berlin, Amsterdam, & Los Angeles. The 10 hand-picked startups highlighted in this report are chosen from all over the world and develop solutions for bio-based packages, recyclable packaging, and biodegradable materials.
10 Top Green Packaging Startups to Watch in 2023
Innovations in green packaging include the use of biodegradable materials such as plant-based plastics, recycled materials, and compostable packaging. Other advances include the development of edible packaging made from seaweed, mushroom-based packaging, and the use of nanotechnology to improve the shelf life of food products without the need for preservatives. Additionally, smart packaging provides real-time information on product freshness and quality as well as is becoming increasingly popular. These innovations aim to reduce the environmental impact of packaging waste while also improving the sustainability of the packaging industry.
Source Green develops Planet-Friendly Packaging
Source Green is a Hong Kong-based startup that offers a sustainable packaging platform. It connects brands with bio-based packaging solutions and also helps brands calculate and reduce their plastic footprint. By using Source Green's platform, brands gain insights into their environmental impacts, health impacts, natural extraction, and microplastic generation from their packaging. The platform also lets brands create a plastic-free roadmap and track their progress with monthly reports. It notifies brands about personalized product recommendations based on their product and use-cases to switch to sustainable packaging. This enables a cost-effective plan to switch to plastic-free packaging.
Parcel Health offers Mineral-coated Paper Packaging
US-based startup Parcel Health develops mineral-coated paper packaging for the pharmaceutical industry. The startup's Phill Box is a fully recyclable and compostable medication packaging that replaces orange pill bottles. Its mineral coating on the paper package makes it water and grease resistant. Moreover, the package integrates seamlessly into existing pharmacy workflows and enhances the medication-taking experience for patients. Phill Box has a three-step lock that keeps the contents safe from children but remains easy to open for older adults. Parcel Health's packaging solution reduces environmental impacts, improves patient satisfaction and adherence, and saves costs on shipping and storage.
kelpi offers Kelp-based Packaging
UK-based startup kelpi replaces plastic packaging with bioplastics made from seaweed. The startup's kelp-based bioplastic adapts to various applications, such as poly bags for fashion, hot food trays, and thin-film solutions. As seaweed is biodegradable, the packaging breaks down without any damaging consequences once they reach landfills or water bodies. Kelp-based bioplastics feature an oxygen barrier and desiccant functions that outperform fossil fuel plastics. kelpi's bioplastic thus offers a sustainable and environmentally friendly alternative to single-use plastics by using seaweed, which is abundant.
WEGE COMPANY makes Banana Waste-based Poly Bags
WEGE COMPANY is a Burundi-based startup that provides eco-friendly packaging. The startup collects banana trash from farmers after harvesting and transforms it into a biodegradable and compostable packaging alternative, NDIHOSE PACKAGE. the startup's packaging is an alternative to plastic bags, which pollute the environment and harm marine life. It comes in different colors and is available in two types, one with and one without a handle on its top. WEGE COMPANY thus provides inexpensive, reusable, and eco-friendly packaging that contributes to environmental protection and sustainable development.
Circulate offers an Eco-Friendly Packaging Marketplace
Swedish startup Circulate offers an online marketplace for sustainable packaging. It helps businesses find packaging solutions that pass through the startup's strict sustainability criteria. The startup offers products an overall sustainability score and labels them to describe their key characteristics, making buying decisions easier for businesses. Circulate also connects customers with verified suppliers that deliver packages that meet high environmental standards. The startup's website also provides businesses with a tool to check the sustainability of their current packaging for better decision support. By using Circulate, businesses save time and money, reduce their environmental impacts, and create a positive customer experience.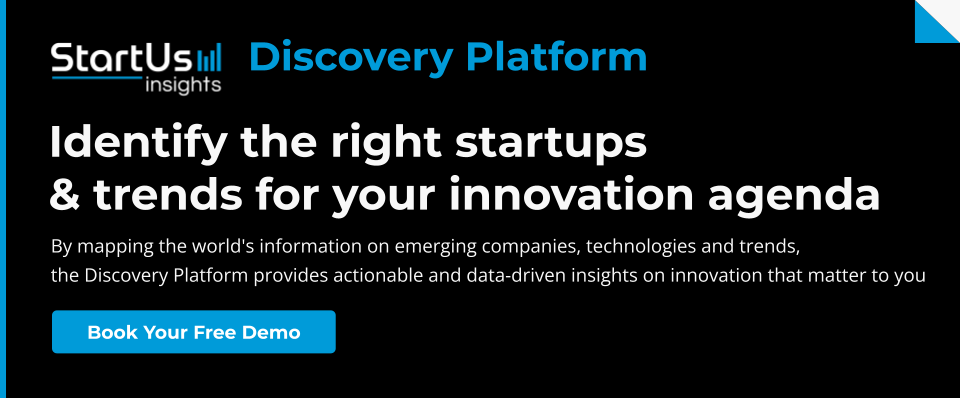 Low imPACK makes Packaging from Textile Waste
Low imPACK is an Estonian startup that offers reusable packaging made from recycled textile waste. The startup's packages feature a rigid protective structure and a moisture-repellent surface that businesses customize with their proprietary branding. The textile-based packaging also has higher tear resistance, making it suitable for longer use or reuse. Low imPACK's production process for textile waste-based packaging has a lower carbon footprint than cardboard-based packages. Consumers return the packages by scanning the QR code and dropping it off at a nearby return box. This system makes it easy for businesses to encourage sustainable behavior among their customers while also building their brand image and promoting sustainability.
IonKraft develops Recyclable Plasma-coated Packaging
IonKraft is a German startup that makes and coats plastic packaging with a chemically resistant barrier using plasma technology. It uses plasma-enhanced chemical vapor deposition (PECVD) to deposit the coating onto the plastic packaging. This technology enables plastic packaging to be recyclable and replace multi-material containers that are difficult to recycle. The startup also applies the coating system to a wide range of packaging types and designs, making it suitable for the food, pharma, cosmetics, household chemical, and industrial chemical industries. The startup's coating chemically bonds to the inner surface of the packaging and is non-reactive and chemically inert. This makes it an effective and widely applicable sustainable packaging solution.
Perflute provides Fiber-based Packaging
Australian startup Perflute develops eco-friendly packaging materials to replace plastic bubble wrap products. The startup utilizes a patented fiber-based material that is recyclable, compostable, biodegradable, and made from post-consumer recycled (PCR) feedstocks. This material offers superior impact protection and thermal insulation for various applications. It is also available as pre-cut sheets and rolls, padded mailers, and cold chain insulation. As it is made from fibers, it is cost-competitive, making it a commercially viable option for businesses. Perflute's packaging thus allows businesses and consumers to reduce their reliance on virgin materials and mitigate associated environmental impact.
BIOLO manufactures Bioplastic Packaging
Biolo is a US-based startup that offers a sustainable bioplastic packaging solution. The startup uses Nodax polyhydroxyalkanoate (PHA), a biopolymer made from plants, to make its packages. It biodegrades in microbial catalysts with soil, water, and compost, but not in water alone. This ensures that the packaging and the product within are never soggy, regardless of exposure to wet surfaces. Biolo produces home compostable bags, mailers, straws, and more to replace single-use plastic packages. The startup's PHA-based packaging provides businesses with eco-friendly alternatives to petroleum-based plastics that are convenient, affordable, as well as heat and water-resistant.
Impackt advances Package Recycling
Impackt is a Dutch startup that provides a packaging recycling platform for businesses. By setting up collection points outside retail stores, consumers return used plastic packaging and Impackt recycles it and provides exclusive store discounts. The platform helps retailers and brands increase customer loyalty and brand awareness by incentivizing consumers to recycle their plastic packaging. It also increases sales turnover in the store due to the in-app discounts, creating more footfall in the store. Moreover, the platform helps businesses achieve their recycling goals by delivering insights into consumption, recycling, and marketing through a dashboard. As a result, Impackt's recycling platform helps businesses become more sustainable while also providing benefits for consumers.
Discover All Emerging Packaging Startups
The packaging startups showcased in this report are only a small sample of all startups we identified through our data-driven startup scouting approach. Download our free Packaging Innovation Report for a broad overview of the industry or get in touch for quick & exhaustive research on the latest technologies & emerging solutions that will impact your company in 2023!
Looking for sustainable packaging startups & technologies?
✕
Get your free Packaging Innovation Report
We'll deliver it straight to your inbox!
✕