Manufacturers and suppliers conventionally rely on virgin materials to address the growing supply chain demands. This accelerates carbon emissions due to materials processing and increases their carbon footprint. To tackle this, startups develop green materials that leverage second-life materials or sustainable production methods. This article provides you with innovation insights based on our analysis of 1 353 green material startups & technologies and their impact on 10 industries. They range from fashion and packaging to retail and automotive industries, among other sectors. Read more to explore the impact of sustainable materials on 10 industries and how they advance your business.
Tree Map reveals the Impact of Green Materials on 10 Industries
Based on the Innovation Map, the Tree Map below illustrates the impact of Green Materials on 10 industries in 2023. Startups and scaleups developing sustainable materials significantly reduce negative environmental impacts, slowing down climate change. Fashion, food, beverage, retail, and packaging companies greatly integrate green materials to address customer concerns. They are also able to reduce their carbon footprint. Further, the energy industry sources virgin materials to processing plants and recovers value through second-life materials. Chemical manufacturers reduce the toxicity of commodity and household chemicals. Lastly, construction companies are moving to green concretes while automotive manufacturers integrate low-carbon materials into vehicle interiors.
Interested to explore all 1 300+ green material startups & scaleups?
Global Startup Heat Map covers 1 353 Green Material Startups & Scaleups
The Global Startup Heat Map below highlights the global distribution of the 1 353 exemplary startups & scaleups that we analyzed for this research. Created through the StartUs Insights Discovery Platform that covers 2 500 000+ startups & scaleups globally, the Heat Map reveals that Western Europe has a high concentration of green material startups, followed by the US.
Below, you get to meet 10 out of these 1 353 promising startups & scaleups as well as the solutions they develop. These green material startups are hand-picked based on criteria such as founding year, location, funding raised, & more. Depending on your specific needs, your top picks might look entirely different.
Impact of Green Materials on 10 Industries
1. Environment & Climate
The use of sustainable or low-carbon materials allows manufacturers to reduce their carbon footprint. Moreover, they reduce the integration of toxic chemicals to reduce the impact on the environment. Startups offer eco-friendly materials sourced from natural and renewable resources to address the growing market demands while minimizing their effects on climate change. Some startups develop bio-based materials made of agricultural side streams or bamboo. These innovations allow businesses across industries to reduce their dependence on carbon-intensive virgin materials without compromising material properties.
LD Carbon makes Green Carbon Black
LD Carbon is a South Korean startup that develops green carbon black. The startup uses waste tires as a raw material to produce new tires, replace coal or coke, and make tire pyrolysis oil. This allows tire manufacturers and recyclers to avoid the burning of end-of-life tires and upcycle them into high-value products. Consequently, the startup significantly removes the carbon emissions due to tire disposal.
2. Fashion
Fast fashion has a significant impact on the global textile and apparel industries. Consequently, they generate massive amounts of material waste. To tackle this, startups create materials sourced from renewable and natural resources. For instance, vegan leather substitutes animal and petroleum-based leather in clothing, and footwear. Some fashion brands now develop eco-friendly fabric made from recycled plastic bottles. Meanwhile, other businesses recycle pre-consumer and post-consumer cotton waste to produce new clothes. Such efforts reinsert high-impact, high-value materials back into the supply chain, reducing environmental deterioration and enabling a circular economy.
ACBC creates Sustainable Footwear
ACBC is an Italian direct-to-consumer (D2C) startup that creates sustainable footwear. The startup's family of leather alternative material technologies, FreeBio, leverages recycled polymers along with bio-based and mineral fillers. Its other leather alternative, Cactus base, utilizes starch and organic waste powder derived from cactus mixed with polyurethane (PU) and laid on fabric bases. The startup also makes materials derived from apple food waste, corn starch, and recycled plastic bottles. ACBC's products allow consumers to transition to sustainable fashion while the startup also sells these materials to other fashion brands.
3. Packaging
Packaging is one of the growing waste types globally, of which plastic packages constitute a significant part. They end up in landfills, grounds, and open oceans, degrading the environment. That is why startups develop eco-friendly packages from sustainable materials to tackle packaging waste. The packaging sector is transitioning to recyclable, biodegradable, and compostable packaging solutions. This greatly allows end-users to control the disposal of packages at their end-of-life. Moreover, home-compostable and biodegradable packaging solutions remove packaging from landfills. Startups further maintain efficient material processing centers to ensure efficient reverse logistics and recycling of packages made of recyclable materials.
Mixcycling advances Fiber Recovery
Mixcycling is an Italian startup that recovers organic fibers and production scraps. The startup selects certain agro-industrial byproducts based on sustainability criteria. It then grinds, sieves, and separates dust and granules by their varying granulometry. The startup's proprietary process, Non-Thermal Plasma, then recovers fibers and uses a patented mixing process to blend them in polymer bases. They are available as pellets, free of odors and volatile compounds, for use in food and cosmetic packaging.
4. Energy
As the energy industry transitions to renewable and decentralized energy generation, it needs huge amounts of raw materials for component production. Therefore, the integration of green materials is necessary for energy companies to reduce their carbon footprint and ensure sustainable operations. To aid this, sustainable material startups provide production-ready raw materials for solar panels, wind turbines, and more. Battery recycling is another major segment in the industry due to the rise in electrification activities. Such solutions ensure minimal or zero environmental impacts at their end-of-life. Further, the energy industry leverages ethically and sustainably-sourced biomass fuel. This allows businesses to reduce reliance on fossil fuels.
Alionyx Energy Systems offers Organic Electrodes
Alionyx Energy Systems is a US-based startup that develops organic electrodes. The startup's redox active polymers are drop-in replacements for metal electrodes in existing batteries. This includes alloys in nickel metal hydride systems, metal oxides in lithium-ion batteries, cathodes in zinc ion batteries, and lead in lead acid batteries. Through this solution, the startup ensures high cycle life and fast charge capability while being safer and non-hazardous.
5. Food & Beverage
The food industry primarily uses sustainable materials to replace plastic packaging. Since food and beverage packaging forms a significant portion of global plastic waste, eco-friendly food packaging lowers its growth. For this, startups leverage materials sourced from renewable resources like bamboo or seaweed. Agricultural sidestreams are also a critical source of bio-based food packaging materials as they are compliant for food-grade applications. Further, food chains replace plastic straws, takeaway packages, and menu cards with cost-effective and low-carbon materials.
Aegis Packaging provides Recyclable Food Packaging
Aegis Packaging is a Singaporean startup that makes O₂X, a recyclable food packaging. It is a mono-material package that combines similar substrate layers to increase recyclability. O₂X also features a high oxygen barrier to protect against pH, redox potential, atmospheric gases, and relative humidity, among others. Food brands leverage the startup's solution to reduce their carbon footprint.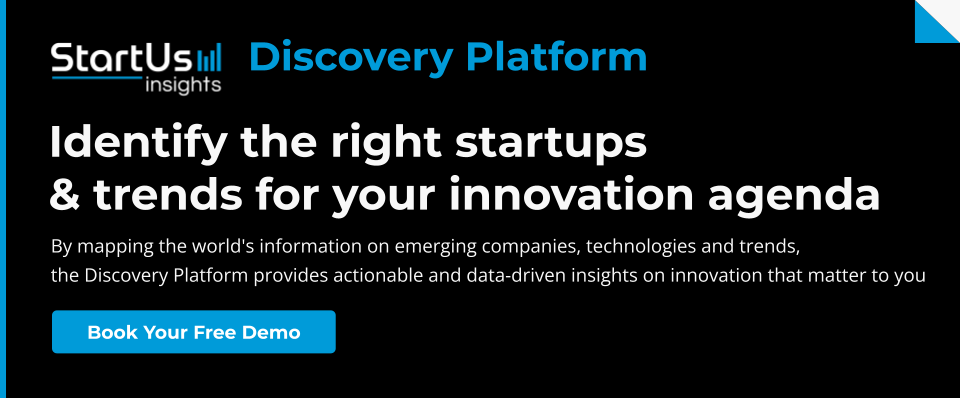 6. Chemicals
Stringent regulations keep in check the environmental and health impacts of the chemicals industry. Additionally, growing public awareness around sustainability and climate change force manufacturers to utilize greener alternative to conventional chemicals. That is why startups develop low-carbon industrial and household chemicals. They leverage sustainable manufacturing methods as well as sustainably-sourced raw materials. Such green chemistry applications impact processes and products across industries, reducing their carbon footprint. Moreover, sustainable chemicals ensure safe disposal at their end-of-life.
C1 Green Chemicals makes Green Methanol
C1 Green Chemicals is a German startup that manufactures green methanol. The startup's ultra-efficient catalysis process enables mass production of high-purity methanol using decentralized, non-fossil feedstock, low pressures, and low temperatures. This powers sustainable operations in various industries like plastic, paint, and car part manufacturing, among others.
7. Construction
Concrete is a carbon-intensive material and constitutes a significant part of the construction carbon emissions. To mitigate this, startups manufacture low-carbon alternatives like hempcrete or timbercrete. Further, construction companies utilize reclaimed wood and recycled steel, saving costs and mitigating the need for virgin raw materials. Recycling of construction and demolition waste also extends the life of building materials at the end life of buildings. Material processing centers use them to create recycled aggregates, which are low in carbon and feature high mechanical properties. Other sustainable building materials include bamboo, cork, straw bales, and recycled plastic.
STRAWCTURE ECO manufactures Eco-Friendly Building Materials
STRAWCTURE ECO is an Indian startup that makes eco-friendly building materials. The startup commercially viable panels, AgriBioPanels, use straw from wheat, rice, sugarcane, and coconut production for use in drywalls, false ceilings, doors, and more. They feature fire heating for more than two hours, 40 dB sound insulation, moisture-proof, and more. AgriBioPanels thus replaces conventional wood panels and improves building sustainability.
8. Retail
Similar to food companies, retailers also generate massive amounts of packaging waste. Hence, green materials primarily replace plastic product packaging. To aid this, startups offer eco-friendly packaging-as-a-service that allows brands to mitigate upfront costs and in-house package development. Further, retailers accommodate products, such as in-store displays and decor, made of refurbished or recycled materials. Integrating green materials in retail also positively impacts brand image due to the growing concerns around climate change, increasing sales.
V Cycle offers Recycled Polyester Products
V Cycle is a Hong Kong-based startup that makes recycled and recyclable plastic products. The startup offers recycling services to recover plastic and other materials to create handcrafted products, especially from recycled polyester. Its products include bags, wind jackets, umbrellas, and casual wear. This removes plastic from reaching landfills and oceans while providing sustainable fashion for customers.
9. Automotive
Automotive manufacturers rely on a range of raw materials to make vehicle interiors and exteriors like steel, plastics, and aluminum. Sustainable aluminum and steel manufacturing reduces the carbon footprint associated with vehicle structures. At the same time, startups are replacing plastic parts and leather fabric in vehicle interiors with biocomposites and sustainable leather. This greatly reduces the carbon footprint of vehicles without affecting customer experience. Further, the growing interest in electric vehicles (EVs) drives innovations in EV battery recycling, especially Lithium-ion batteries.
Fairmat provides Recycled Carbon Fiber Composites
Fairmat is a French startup that offers recycled carbon fiber composites for vehicle panels. The startup's composites feature a higher flexural strength over the density value, ensuring high performance and versatility. They are also available in matte, satin, and glossy textures. Fairmat's recycled carbon fiber composite panels thus find use in automotive manufacturers.
10. Aerospace
Bio-based materials enable aerospace manufacturers to reduce aircraft weight without compromising mechanical strength. This improves the fuel efficiency of aerospace operations and their environmental impact. Further, manufacturers are relying more on recycled aluminum and titanium to reduce their dependence on virgin materials and improve the sustainability of aircraft production. The aerospace industry also replaces fossil fuels with biofuels to reduce its carbon footprint. Lastly, startups are developing 3D printable materials to facilitate the integration of sustainable materials into aerospace manufacturing.
Midwest Composites makes Aerospace Biocomposites
Midwest Composites is a Malaysian startup that develops aerospace composites. The startup applies vacuum-assisted resin transfer modeling (VARTM) to create natural fiber composites using kenaf, hemp, flax, and more. Additionally, they are eco-friendly and feature improved mechanical properties, such as tensile and flexural modulus, while being recyclable and biodegradable. The startup uses its biocomposites to create unmanned aerial vehicle (UAV) body parts. This allows aerospace companies to reduce weight, increase the strength-to-weight ratio, improve fatigue or corrosion resistance, and save fuel costs.
Discover All Green Material Startups
More than being replacements for carbon-intensive materials, green materials extend the functionality of their applications. Biomaterials and chemical recycling technologies will expand the use cases of sustainable materials. Additionally, businesses are moving to sustainable materials management to reduce their carbon footprint and be compliant with corporate social responsibility (CSR) regulations. Get in touch to identify specific green material startups & solutions that advance your business!
Looking for emerging green material startups & technologies?
✕