Employee engagement has gained increasing importance among organizations due to decreased productivity, higher turnover rates, and a lack of innovation. To address them as well as the new challenges brought by remote working, startups are introducing solutions designed to boost morale, foster a sense of belonging, and ensure employees feel valued and heard.
The top emerging employee engagement trends cover employee analytics, gamified apps, diversity, inclusivity, and more, making work more enjoyable and productive. These innovations assist industries, like healthcare and finance, where staff morale directly impacts patient care and client relations.
What are the latest trends in employee engagement?
Innovation Map outlines the 10 Current Trends in Employee Engagement & 20 Promising Startups
For this in-depth research on the Top Employee Engagement Trends and startups, we analyzed a sample of 1978 global startups & scaleups. This data-driven research provides innovation intelligence that helps you improve strategic decision-making by giving you an overview of emerging technologies in the HR industry. In the Employee Engagement Innovation Map below, you get a comprehensive overview of the innovation trends & startups that impact your company.
These insights are derived by working with our Big Data & Artificial Intelligence-powered StartUs Insights Discovery Platform, covering 3 790 000+ startups & scaleups globally. As the world's largest resource for data on emerging companies, the SaaS platform enables you to identify relevant technologies and industry trends quickly & exhaustively.
Tree Map reveals the Impact of the Top 10 Trends in Employee Engagement in 2024
Based on the Employee Engagement Innovation Map, the Tree Map below illustrates the impact of the Top Employee Engagement Technology Trends in 2024. Recognition and rewards platforms offer tailored incentives that correspond with individual preferences and also provide employees with a sense of accomplishment. Employee surveys have become a continuous process to capture real-time worker sentiments.
Remote work management tools enable organizations to adapt to the shift toward flexible work environments. Learning management systems further ensure skill development is not confined to physical classrooms and provide the workforce with valuable upskilling and training opportunities.
Employee and sentiment analytics enables businesses to better analyze employee satisfaction, leading to more informed decision-making. New onboarding tools are optimizing the induction experience, making it simpler, more proactive, and more engaging. Feedback management platforms are fostering open dialogues and placing emphasis on employee ideas and grievances, while businesses improve diversity and inclusion with tech-driven insights.
Global Startup Heat Map covers 1978 Employee Engagement Startups & Scaleups
The Global Startup Heat Map below highlights the global distribution of the 1978 exemplary startups & scaleups that we analyzed for this research. Created through the StartUs Insights Discovery Platform, the Heat Map reveals high startup activity in the US and the UK, followed by India.
Below, you get to meet 20 out of these 1978 promising startups & scaleups as well as the solutions they develop. These employee engagement startups are hand-picked based on criteria such as founding year, location, funding raised & more. Depending on your specific needs, your top picks might look entirely different.
Interested to explore all 1900+ employee engagement companies & solutions?
10 New Trends in Employee Engagement in 2024
1. Recognition & Rewards Platforms
Employee engagement remains a concern for many organizations with issues such as a lack of recognition, limited feedback, and outdated reward systems. This leads to decreased morale and productivity among workers. Innovations in recognition and rewards platforms are addressing these challenges by providing personalized recognition and gamifying the reward process to boost participation.
Additionally, these platforms integrate real-time feedback loops to ensure employees feel valued and heard. Such platforms foster a culture of appreciation and also harness data analytics to adapt and offer relevant incentives continuously. This ensures sustained employee engagement and alignment with organizational goals.
Nextround creates an On-the-spot Recognition Platform
Australian startup Nextround enhances workplace recognition through an inclusive, connected, and instant platform that emphasizes on-the-spot gratitude and celebrations. The platform ensures that all employees, regardless of their position, receive acknowledgment. It also features integrated tools that allow seamless incorporation of recognition into daily work routines.
The digital app facilitates instant team recognition, offering various reward options like coffee or event tickets. Moreover, Nextround provides data-driven insights on employee engagement, aiding businesses in making informed decisions.
HiThrive advances Peer-to-Peer Recognition
US-based startup HiThrive improves workplace experiences through modern rewards and recognition programs. The startup's platform encourages peer-to-peer recognition, ensuring employees feel valued in various work environments. It automates and promotes celebrations for work anniversaries, birthdays, and new hires, ensuring that milestones receive due acknowledgment.
HiThrive's rewards system offers travel experiences, dining, and virtual events to further enrich the reward options. The platform's integration capabilities extend to popular communication tools, ensuring high engagement levels.
2. Employee Surveys
Traditional methods of gauging employee engagement fall short with issues like survey fatigue, lack of real-time insights, and generic questionnaires. This reduces the efficacy of feedback collection. Therefore, novel survey tools employ adaptive questioning to ensure relevance to the respondent and utilize AI-driven analytics to derive actionable insights from the feedback.
Further, pulse surveys offer frequent, smaller opportunities for feedback, capturing the evolving sentiments of employees in real-time. By making surveys more intuitive, personalized, and timely, organizations are better equipped to address engagement challenges promptly and effectively.
WorkFeel creates Employee Pulse Surveys
US-based startup WorkFeel provides insights into organizational culture through daily employee pulse surveys. These surveys allow employees to score their feelings about a particular workday, offering a continuous measure of satisfaction. It enables employees to provide additional context through tags and comments to their daily scores, explaining their chosen ratings.
The startup's platform emphasizes the importance of consistent data collection over time, rather than isolated periods with a dashboard for administrators to gain insights. WorkFeel's engagement software simplifies the process, focusing on essential features to avoid overwhelming users. By analyzing daily feedback, organizations gain actionable insights to foster a positive work environment.
CultureMonkey offers Custom Employee Engagement Surveys
Indian startup CultureMonkey builds tools to enhance and measure employee engagement through surveys. The startup's platform enables organizations to create custom surveys that meet the specific needs of the workforce. Additionally, CultureMonkey provides a library of over 50 pre-built survey templates, catering to various engagement drivers.
The platform also features regular pulse surveys that allow for quick feedback collection and timely issue identification of trends and remedial actions. Its auto-pilot feature automates surveys across different employee life cycles and segments. By analyzing these surveys, organizations gain insights into engagement metrics, such as e-NPS and driver-specific scores.
3. Remote Work Management
The shift to remote work has introduced unique challenges to employee engagement, including feelings of isolation, blurred work-life boundaries, and difficulties in team collaboration. Remote work management tools address these issues by offering virtual office environments that simulate physical workspaces, offering a sense of community and belonging.
Integrated time-tracking and productivity analytics enable businesses to maintain a balanced work schedule. Additionally, advanced collaboration tools, such as virtual whiteboards and breakout rooms, facilitate seamless teamwork. By creating a more connected and structured remote work experience, these innovations ensure that employees remain engaged and integrated.
All Set Workplace enhances Remote Workstation Management
Irish startup All Set Workplace specializes in workstation management for remote and hybrid companies. The startup's platform emphasizes ergonomic training and digital screen equipment (DSE) risk assessments for distributed teams. This ensures safe and compliant work environments.
The platform automates follow-ups to reduce the need for manual reminders and ensure timely responses. Besides, its reporting tools allow for easy tracking and management updates. All Set Workplaces's web-based platform offers a cost-effective solution to ensure that remote work remains both productive and safe.
Flexspace offers On-Demand Workspaces
US-based startup Flexspace provides on-demand access to workspaces through a platform where employees can book day passes and meeting rooms based on their needs. The platform integrates with tools, like Google Calendar, to allow employees to choose and secure desired workspaces.
The platform's features also include security integration with a single-sign-on (SSO) provider, insights driven by real-time data, and efficient spend management. Through this platform, organizations ensure that their remote teams have the flexibility and resources they need to work efficiently.
4. Learning Management Systems
Organizations require their employees to constantly evolve their skills and avoid knowledge silos, as well as upskill their diverse workforce to adapt to changing business landscapes. To overcome these challenges, startups are developing solutions such as cloud-based LMS platforms. Such platforms also harness AI to curate personalized learning paths.
They integrate microlearning modules for smaller on-the-go training and facilitate collaborative learning through peer interactions. Additionally, learning management systems provide real-time analytics to track progress and identify skill gaps, enabling organizations to proactively address training needs.
Groundwork1 simplifies Employee Training
US-based startup Groundwork1 develops a platform that provides employee training through email-based lessons. The startup's platform delivers training materials directly to employees' inboxes, ensuring easy access and completion. The materials also include interactive modules, videos, quizzes, and more to enhance the learning experience.
Moreover, employees engage with content on branded landing pages without the need for passwords, streamlining the process. Besides, the lesson designer tool allows training managers to customize the content, aligning it with learners' needs. Managers are also able to monitor team progress, track completed training, and identify areas for improvement.
myAko aids Employee Training & Development
UK-based startup myAko builds an e-learning platform that enables learners to easily access courses and track compliance. The platform offers real-time reporting, activity monitoring, and a color-coded status system for easy comprehension. Events management within myAko facilitates scheduling and managing both virtual and face-to-face events.
Its hierarchy builder simplifies the representation of an organization, allowing easy imports from HR or payroll systems. The startup's library feature also simplifies the publishing and management of policies, procedures, and video content. Further, its mobile app provides on-the-go access to e-learning, library documents, and organizational news.
5. Employee & Sentiment Analytics
Organizations often struggle to address employee dissatisfaction and have a general lack of engagement, which leads to high turnover rates and associated costs. Moreover, this subsequently causes overlooked issues like burnout, team conflicts, or misalignment with company values. Employee and sentiment analytics solutions leverage natural language processing, AI, and more to analyze communication, detect distress or disengagement, and offer predictive insights.
By capturing and interpreting these subtle patterns from daily interactions, these tools enable organizations to proactively address concerns. They also foster a healthier work environment and ensure alignment with organizational objectives.
State of Mind AI enables Micro-Sentiment Capture
Indian startup State of Mind AI offers a platform that continuously listens to employees to capture their micro-sentiments. The platform understands the sentiments and needs of staff by leveraging advanced analytics, aiding in decision-making processes.
Moreover, the platform promotes team culture analytics, manager effectiveness, employee attrition prediction, and more. Besides, the insights are trends and patterns aggregated and anonymized to protect employee privacy. This emphasis on sentiment analytics allows HR and company leadership to ensure timely intervention and overall employee engagement.
HR Signal delivers Individual Employee Analytics
US-based startup HR Signal utilizes a proactive approach to employee retention using predictive AI. The startup's product, Proactive Retention, generates a Retention Risk score for each employee, predicting the likelihood of them seeking a new position. This score considers various factors, including peer career path data, public data, and market trends.
HR Signal's Workforce Insights Engine also processes billions of data points to provide insights into workforce trends, job position analytics, and career paths. Further, the platform offers company HR analytics, including employee tenure trends and historical turnover analysis. These solutions allow businesses to better understand why employees leave and proactively address these concerns to reduce voluntary turnover.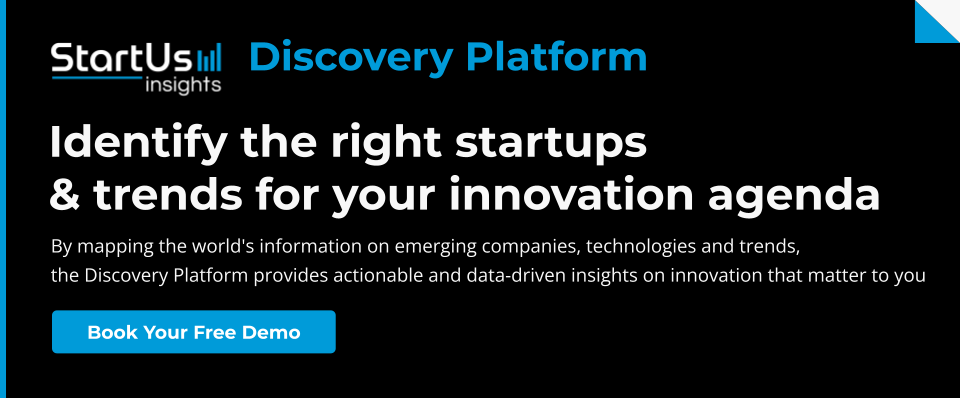 6. New Onboarding Tools
The transition to remote work has introduced new challenges in integrating new hires into company culture. This slows knowledge transfer and limits the development of connections due to limited face-to-face interactions. New onboarding tools are addressing this through immersive virtual onboarding experiences, using augmented reality (AR) and virtual reality (VR). They simulate office tours and hands-on training.
Additionally, these tools incorporate mentor-matching algorithms to connect newcomers with seasoned employees and interactive modules to instill company values and expectations. By leveraging technology to recreate and enhance traditional onboarding processes, these innovations ensure that new hires feel welcomed, informed, and integrated.
Sora specializes in Onboarding Workflows
Sora is a US-based startup that streamlines the onboarding process through a platform that offers customizable onboarding templates, improving the experience for new hires. Its templates cover various aspects, from preboarding to training, facilitating a smooth transition for employees. Sora's onboarding solution sends timely reminders and tracks employee progress.
The platform also integrates with various HR tools to ensure smooth data flow and efficient task management. Beyond onboarding, Sora provides solutions for offboarding, leaves of absence, training, and company events. This approach ensures that employees remain engaged and informed throughout their tenure.
iFlare enhances Digital Onboarding Experience
iFlare is an Indian startup that develops onboarding software to reduce manual HR tasks and increase onboarding efficiency. It eliminates the need for paperwork and streamlines the onboarding process. The platform allows for the easy management of payroll and HR compliance, ensuring that regulatory standards are met.
iFlare's onboarding system easily integrates and connects with existing HR, payroll, and applicant tracking tools as well as allows businesses to brand the onboarding experience. By automating many of the onboarding tasks, the platform ensures that employee data is accurately captured, resulting in a better experience for hiring managers and new employees.
7. Feedback Management Platforms
Businesses need to collect timely, actionable feedback from employees while avoiding feedback overload. To improve this, modern feedback management platforms are integrating advanced algorithms with personalized dashboards to prioritize and categorize feedback. This ensures that urgent matters receive immediate attention.
They also employ smart filtering mechanisms to reduce redundancy and offer visual dashboards that present feedback trends and patterns at a glance. By streamlining the feedback collection and analysis process, these platforms enable organizations to respond swiftly and effectively while making their employee's feedback feel meaningful.
The People Experience Hub ensures Flexible Employee Feedback
The People Experience Hub is a UK-based startup that develops a flexible employee feedback platform. Its onboarding joiner surveys create a positive start for new employees, capturing their initial impressions and areas for improvement. Wellbeing surveys target initiatives to maximize the benefits from a company's well-being budget while employee engagement surveys provide a comprehensive view of the workforce's sentiment.
Besides, the platform contains pulse, lifecycle, and candidate surveys along with stay and exit interviews. Its flexibility allows for customization, ensuring that feedback collection aligns with organizational goals. Through these tools, businesses gain insights by collecting and analyzing employee feedback which also attracts and retains talent.
Evalflow creates an AI-powered Feedback System
Evalflow is a Canadian startup that makes a user-friendly and cost-efficient platform to deliver actionable insights from employee feedback. Its AI-powered feedback system simplifies the creation of employee feedback programs with the platform emphasizing employee recognition and the sharing of achievements. Evalflow also leverages OpenAI's ChatGPT technology to provide impactful results and insights.
Besides, the mobile app facilitates feedback creation on the go and promotes team recognition across multiple locations. Evalflow promotes a positive work culture with tools that celebrate team achievements and encourages a balanced work-life by allowing team members to share both professional and personal accomplishments.
8. Diversity & Inclusion
A significant percentage of workers face discrimination in the workplace based on age, race, gender, or identity. This affects employee performance and prevents employees from being true to themselves at work, hindering innovation, creativity, and teamwork. Advanced software solutions avoid this by auditing company communications and practices for unintentional biases.
Some platforms also leverage data analytics to measure diversity metrics and track inclusion progress in real-time. Additionally, VR modules are employed for empathy training, allowing employees to experience scenarios from diverse perspectives. Through these solutions, organizations are ensuring compliance with diversity standards and also cultivating richer, more inclusive cultures.
Paymenow Group improves Financial Wellness and Inclusion
Paymenow is a South African startup that offers a financial wellness and inclusion platform while emphasizing earned wage access (EWA). The company partners with various sectors and reaches low-income, salaried individuals to address the need for liquidity. The platform integrates financial education through gamification, encouraging employees to undertake a journey towards financial wellness and inclusion.
Paymenow's service is Basic Conditions of Employment Act (BECA) and Protection of Personal Information Act (POPIA) compliant and provides advances on behalf of employers. Moreover, its free web-based app for employers enables them to manage employee data as well as view key performance metrics (KPIs) and trends through a dashboard. The startup's offerings enhance employee engagement while reducing employee attrition and stress-related absenteeism.
Culturora advances Conversation Automation
Culturora is a US-based startup that provides a platform to facilitate connections among employees and promotes conversations through task-based experiences. This engagement leads to a deeper connection to the company culture and reduces attrition. Culturora's platform offers value to HR leaders by fostering a stronger company culture, identifying potential talent, and highlighting areas of employee disengagement.
For employees, the platform provides higher engagement and a sense of belonging through collaborations. It also utilizes existing data to create employee accounts, recommend pairs, and schedule experiences. Culturora's data-driven approach assists companies in understanding and nurturing work-from-anywhere workforce culture.
9. Gamification
Maintaining employee motivation, engagement, and continuous skill development is an ongoing challenge due to digital distractions and rapidly changing job roles. Gamification addresses this by introducing game-like elements into non-gaming contexts and allowing companies to enhance training programs. This makes learning and tasks more interactive and engaging.
Leaderboards, badges, and point systems are being integrated into daily tasks and learning modules, driving competition and fostering a sense of achievement. Moreover, scenario-based gaming simulations enable employees to tackle real-world challenges in a risk-free environment. Through gamification, organizations are enhancing productivity and ensuring continuous learning and adaptability.
LemonadeLXP provides Game-based Microlearning
LemonadeLXP is a Canadian startup that creates a gamification platform to make engaging game-based microlearning experiences for financial institutions. It empowers frontline staff, turning them into digital experts by enhancing their knowledge and confidence in promoting technology. LemonadeLXP's solution combines game-based learning, technology walkthroughs, and role-play scenarios.
The platform also features a high frontline digital fluency rate and reduces training costs. Additionally, it offers a digital academy to support staff in their daily tasks, ensuring they remain updated and competent. The startup's emphasis on gamification ensures continuous engagement, making learning both fun and effective. The content is designed to be easily digestible, ensuring that employees grasp and retain the information presented.
Wondder offers Training in Virtual Reality
Wondder is a German startup that utilizes VR for its diversity and inclusion training. In immersive VR settings, participants adopt different personas even with a different gender or skin color. The hands-on approach in VR allows learners to practice real-world situations, enhancing soft skills, reducing biases, and fostering a positive workplace culture.
The training's impact is measurable and tailored to client-specific KPIs and objectives. Further, Wondder provides comprehensive support, including VR equipment, training concepts, and continuous assistance for quick implementation.
10. HR Automation
Modern organizations, especially those scaling rapidly, struggle with efficiently managing HR tasks such as recruitment, onboarding, and payroll processing. Therefore, startups are developing advanced HR platforms that feature AI, NLP, and machine learning to screen resumes and rank candidates based on fit.
Some platforms also automate leave approvals and benefits enrollment as well as use chatbots to answer frequent queries. By automating these traditionally time-consuming tasks, organizations ensure consistent, error-free HR processes while freeing up human resources. As a result, they focus on more strategic, value-added activities, enhancing the overall employee lifecycle.
Ultra HR creates HR Management & Automation Software
UK-based startup Ultra HR offers a cloud-based solution focusing on comprehensive HR management. The startup provides tools for employee management, including onboarding, offboarding, performance reviews, time and attendance, shift management, as well as overtime management.
The platform also focuses on tools for performance and well-being, with features like training, goals, and benefits management. It automates recruitment processes using applicant tracking and CV keyword scanners to streamline hiring processes. The platform thus enhances employee performance and streamlines HR processes within organizations.
PayrollPro.PH enables Payroll Automation
Philippines-based startup PayrollPro.PH optimizes HR essentials like payroll, attendance, workforce management, etc. while centralizing organizational processes and documents. It develops an advanced timekeeping platform that ensures accurate management of employee attendance.
The platform simplifies complex computations like overtime, night differential, and premium pay, catering to various industries. This systematic reporting process enhances control and transparency while the leave management module adapts to diverse company settings. The platform also offers loan monitoring to support various payout types and generate bank files for payroll crediting.
Discover all Employee Engagement Trends, Technologies & Startups
Collaborative virtual workspaces are improving team interactions, enabling real-time collaboration irrespective of location. While AI-based assistants are simplifying administrative tasks, increased adoption of ChatGPT-like chatbots is expected. Lastly, advanced data analysis and predictive modeling in HR are leading to hyper-personalized engagement strategies.
The Recent Trends in Employee Engagement outlined in this report only scratch the surface of trends that we identified during our data-driven innovation & startup scouting process. Identifying new opportunities & emerging technologies to implement into your business goes a long way in gaining a competitive advantage.
Interested to explore all 1900+ employee engagement companies & solutions?
Looking for employee engagement solutions?
✕