Improper maintenance planning leads to unwanted downtimes due to asset failure and incurs massive capital losses. This includes losses caused by planned maintenance, setups, adjustments, and reworks. That is why we give you insights on the top predictive maintenance examples based on our analysis of 670+ predictive maintenance (PdM) startups & technologies that increase overall equipment effectiveness (OEE). The industries leveraging PdM include manufacturing, energy, logistics, aerospace, and more. Read more to explore the impact of predictive maintenance on 10 industries and how they advance your business.
Tree Map reveals the Predictive Maintenance Applications across 10 Industries
Based on the Innovation Map, the Tree Map below illustrates the Predictive Maintenance Use Cases across 10 industries in 2023 and 2024. Predictive maintenance mainly impacts the manufacturing sector. With it, businesses are able to optimize production runs and increase profits. That is why the automotive, oil and gas, chemical, and aerospace industries also leverage predictive maintenance.
Unlike factories, energy, logistics, city utility, construction, and telecom companies utilize PdM to increase the life of their infrastructures and remote assets. Additionally, predictive maintenance solutions provide a better estimation of asset lives and hence improve worker safety across industries.
Global Startup Heat Map covers 672 Predictive Maintenance Startups & Scaleups
The Global Startup Heat Map below highlights the global distribution of the 672 exemplary startups & scaleups that we analyzed for this research. Created through the StartUs Insights Discovery Platform that covers 2 500 000+ startups & scaleups globally, the Heat Map reveals that Western Europe has a high concentration of predictive maintenance startups, followed by the US.
Below, you get to meet 10 out of these 672 promising startups & scaleups as well as the solutions they develop. These predictive maintenance startups are hand-picked based on criteria such as founding year, location, funding raised, & more. Depending on your specific needs, your top picks might look entirely different.
Interested to explore all 600+ predictive maintenance startups & scaleups?
Impact of Predictive Maintenance on 10 Industries
1. Manufacturing
Process digitization and industrial automation, powered by industry 4.0, provide manufacturers with massive amounts of data and real-time monitoring capabilities. With real-time internet of things (IoT) data and advanced analytics, startups develop PdM solutions that seamlessly integrate into manufacturing execution systems (MES) and other production software.
As a result, floor managers are able to evaluate production machine performance and quickly identify deviations. This reduces factory inefficiencies and enables improved maintenance planning. Moreover, PdM plans maintenance activities during non-working hours and significantly lowers planned maintenance losses.
Vedrai offers IoT-powered PdM
Vedrai is an Italian startup that provides IoT-powered predictive maintenance. The startup combines IoT, data mining, modeling, and AI to predict breakdowns.
Verdai also uses an electric card from Motive, DOCTOR 4.0, to read the environmental values of machinery. This allows manufacturers to optimize maintenance strategies and prevent sudden malfunctions.
2. Energy
The energy sector conventionally relies on time-based preventive maintenance to look after its assets. This leads to static maintenance routines that are highly prone to errors and delays. On the other hand, AI or machine learning (ML)-driven PdM solutions enable intelligence-based maintenance. This allows energy companies to leverage both historical and real-time data to accurately forecast asset and infrastructure conditions.
The low form factor of IoT devices also makes the process and asset monitoring easier, thereby delivering highly relevant maintenance data. As a result, PdM enables asset-centric maintenance for nuclear reactors, energy grids, solar panels, turbines, transmission lines, and more to increase asset time and safety.
Kavaken aids Asset Failure Prevention
Kavaken is a Turkish startup that prevents asset failure using predictive maintenance. The startup's solution analyzes vibration and SCADA data utilizing AI to offer advance warnings.
It also includes modules for production forecasting and asset management. This allows renewable energy asset owners to maximize asset value and improve sales.
3. Automotive
Automotive manufacturers leverage condition-based maintenance in factories and after-sales vehicles. In production plants, PdM solutions combine data across operations to provide insights into asset lifetime and suggest maintenance activities. This greatly reduces planning delays and improves maintenance planning to reduce unwanted downtimes. Additionally, accurate prediction of asset faults allows floor managers to avoid safety incidents and ensure workplace safety.
At the same time, after-sales vehicles now integrate PdM to identify vehicle issues in real-time and avoid vehicle breakdowns. Innovations in autonomous vehicles and other vehicle control systems already simplify the execution of predictive maintenance in after-sales vehicles. This improves customer experience and safety while aiding vehicle service.
Praemo improves Maintenance Planning
Praemo is a Canadian startup that simplifies maintenance planning for automotive manufacturers. The startup's cloud-based industrial data science engine, Razor, connects to multiple data sources.
It then leverages ML-driven predictive analytics to identify abnormal equipment and process behavior to predict breakdowns. This enables predictive maintenance on factory floors, thereby mitigating unwanted downtimes.
4. Logistics
Unlike other industries, the logistics sector constitutes a large number of distributed assets, like transport vehicles and distribution centers, at remote locations. This makes asset health monitoring and maintenance difficult. However, integrating PdM and IoT across logistics assets allows businesses to better manage their warehouses, fleets, and material handling systems.
For example, PdM-powered maintenance planning reduces the downtimes of material handling systems in the logistics value chain. Additionally, it aids fleet operators in promptly identifying vehicle issues and better planning vehicle maintenance. This allows drivers to plan their maintenance stops instead of looking for service shops after the vehicles break down.
Groundup.ai delivers Asset Breakdown Prediction
Groundup.ai is a Singaporean startup that develops a predictive maintenance solution for logistics companies. The startup uses automated sound data analysis to detect asset fatigue and degradation.
It then applies predictive analytics to forecast potential failures to optimize maintenance schedules and improve operational efficiency.
5. Smart City
City authorities need to annually address massive amounts of sewer, water tank, and energy grid breakdowns, among others. The conventional reactive maintenance approach is inefficient and causes unwanted delays before the asset comes back online, disrupting public life. Predictive maintenance solutions leverage data from IoT-enabled devices across city infrastructures to model and predict potential asset health issues.
This enables maintenance teams to better plan their activities, increase asset lifetime, and improve the quality of life in cities. Moreover, using PdM to identify potential failures in traffic infrastructures, like traffic lights and induction loops, is crucial in improving road safety and reducing autonomous vehicle failures.
WaveScan advances Predictive Infrastructure Maintenance
WaveScan is a Singaporean startup that enables predictive maintenance for critical city infrastructure. The startup uses its microwave and millimeter-wave wireless sensors for high-resolution sensing for infrastructures.
It then leverages an AI-enabled analytics solution to predict defect lifecycles, replacing conventional non-destructive testing (NDT) processes. This enables safer, more resilient, and sustainable cities.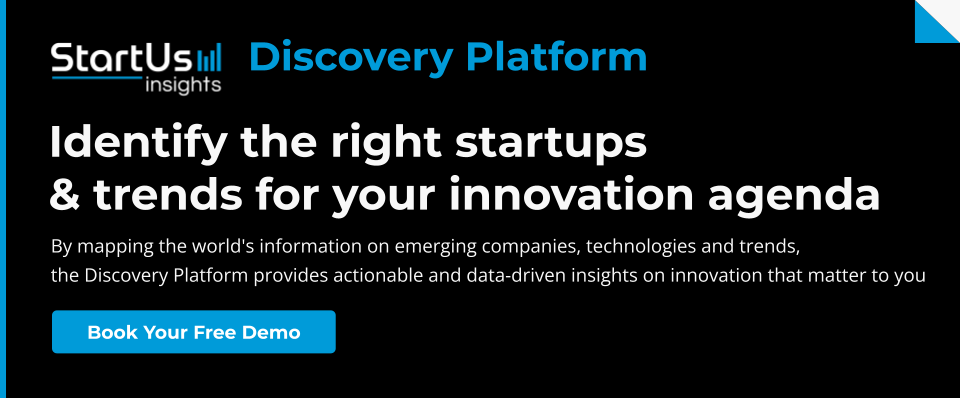 6. Construction
Construction operations comprise highly expensive heavy machinery and materials manufacturing. Therefore, asset or production downtime leads to massive capital loss and delays project completion. PdM eliminates this by continuously monitoring construction plant parameters, such as vibration and temperature, to diagnose faults.
This provides project managers with necessary decision support for making other arrangements or better planning maintenance activities to avoid downtimes. Further, cement manufacturers and prefab makers leverage PdM to increase the lifetime of their assets inside production plants.
Blockbax makes an IoT-enabled PdM Platform
Blockbax is a Dutch startup that develops an IoT-enabled predictive maintenance platform. Its rule-based engine and advanced analytics enable real-time tracking of construction equipment and assets. IoT devices also sense mechanical parameters, like vibration and noise, to monitor the conditions of assets such as tunnels, bridges, and railway tracks.
The platform then predicts failure scenarios and allows builders to track infrastructure degradation in real time, enabling condition-based maintenance.
7. Oil & Gas
The highly hazardous nature of oil and gas production plants forces the complete shutdown of operations for planned and unplanned maintenance. Moreover, unidentified faults lead to massive resource leakage that causes safety risks and capital loss. To tackle this, startups develop predictive maintenance platforms that use AI, ML, and predictive analytics to quickly identify asset anomalies.
This enables O&G plant operators to detect deviations in pumps, vessels, pipelines, tanks, and drills to better plan maintenance activities, reducing downtimes. Further, PdM mitigates the need for continuous manual inspection of critical infrastructures, saving labor hours and improving productivity.
PipeIn enhances O&G Pipeline Operations & Maintenance
PipeIn is an Italian startup that offers Shark4, an automated pipeline health monitoring device. Maintenance teams insert it inside pipelines and Shark4's sensors gather asset inspection data. The startup's software platform, SeeHorse, then analyzes the collected data using AI-driven predictive algorithms to estimate the remaining useful life and risk of failure of pipelines.
This allows oil and gas companies to mitigate pipeline leaks and, in turn, the associated environmental damage and energy wastage.
8. Chemicals
Chemical manufacturers invests in cost-intensive machinery like large tanks, agitators, fluid transfer systems, and more. Inefficient planning of their maintenance may lead to corrosion, leakages, and failures. To mitigate these issues, the chemicals industry leverages predictive maintenance.
By continuously analyzing and predicting the health of factory assets through IoT data, chemical companies are able to mitigate production downtimes and safety accidents due to failures. Moreover, PdM ensures the timely delivery of output quotas and improves overall resource utilization.
Bren provides a Steam Energy Efficiency Monitoring System
Bren is a Turkish startup that creates a steam energy-efficiency monitoring system. It uses battery-free sensor technology and offers real-time steam trap analysis. This allows chemical manufacturing plants to quickly identify unnoticeable steam leakages and system failures.
Moreover, analyzing this data provides insights into equipment lifecycles, enabling predictive maintenance. As a result, chemical plants are able to reduce energy costs and eliminate damage to adjacent machinery due to steam leaks.
9. Aerospace & Aviation
Aerospace manufacturing businesses utilize predictive maintenance to integrate a condition-based approach in asset maintenance planning. This way, they eliminate costly production downtimes and unwanted stoppages. Moving maintenance operations around worker schedules also reduces plant downtimes.
Further, aircraft use PdM to promptly identify systems and component anomalies and accelerate fault diagnosis. This allows airlines to avoid flight failures and ensure passenger safety. Moreover, predictive maintenance provides insights into the lifetime of assets and thus allows aircraft businesses to maximize the usage of aircraft and aircraft components.
Scoutcam offers Predictive Aircraft Maintenance
Scoutcam is an Israeli startup that offers camera-as-a-sensor technology. It comprises small-diameter video heads and visualization platforms to identify faults in bearings, crankshafts, pistons, and shock absorbers through visual inspection.
Additionally, the startup's platform uses AI to track faults from birth and provide predictions on breakdown points. This enables aircraft manufacturers to mitigate disassemblies due to inspection and maintenance inefficiencies, thereby increasing safety and minimizing part replacement costs.
10. Telecom
The telecommunication sector deploys assets in remote locations with restricted accessibility to deliver its services. This makes frequent manual inspections and maintenance impossible. Therefore, telecom companies utilize IoT and predictive maintenance to enable remote asset monitoring and proactive maintenance planning.
Infrastructure health data from antennas, telecom towers, and data centers provide insights into potential faults. PdM solutions combine historic and real-time asset data to predict outages. This allows telecoms to replace network infrastructure components before their end-of-life to ensure reliable connectivity.
Faradai delivers Energy & Sustainability Intelligence
Faradai is a UK-based startup that provides energy and sustainability intelligence for telecom companies. The startup's suite of software modules simplifies energy demand, consumption, and emission monitoring, analysis, management, and reporting.
This allows data centers and telecom companies to detect energy outages and optimize asset temperature and humidity. Additionally, this data enables predictive maintenance for telecom and data center assets.
Discover All Applications of Predictive Maintenance
Businesses are leveraging predictive maintenance to mitigate unnecessary downtime and improve plant efficiency. Advances in AI, digital twins, ML, predictive analytics, and high-performance computing (HPC) will improve the performance of PdM solutions. Additionally, cloud-based PdM solutions are growing rapidly as they eliminate in-house product development and deployment, making predictive maintenance more cost-effective. Get in touch to identify specific predictive maintenance startups & solutions that advance your business!
Looking for emerging predictive maintenance startups & technologies?
✕