Technological advances in eCommerce enhance customer experience and satisfaction, as well as business efficiency and profitability. For example, digital retail automation solutions integrate robotics to streamline online order fulfillment and reduce operational costs. On-site personalization and immersive retailing increase customer engagement and loyalty while flexible payment options and same-day delivery improve convenience and accessibility. This research provides you with the top 10 eCommerce trends, ranging from social and voice-assisted shopping to headless and hybrid commerce. Discover the latest developments in the eCommerce industry in this data-driven report and how they advance your business.
Innovation Map outlines the Top 10 eCommerce Trends & 2994 Promising Startups
For this in-depth research on the Top eCommerce Trends & Startups, we analyzed a sample of 2994 global startups & scaleups. This data-driven research provides innovation intelligence that helps you improve strategic decision-making by giving you an overview of emerging technologies in the eCommerce industry. In the eCommerce Innovation Map, you get a comprehensive overview of the innovation trends & startups that impact your company.
These insights are derived by working with our Big Data & Artificial Intelligence-powered StartUs Insights Discovery Platform, covering 3 790 000+ startups & scaleups globally. As the world's largest resource for data on emerging companies, the SaaS platform enables you to identify relevant technologies and industry trends quickly & exhaustively.
Tree Map reveals the Impact of the Top 10 eCommerce Trends
Based on the eCommerce Innovation Map, the Tree Map below illustrates the impact of the Top eCommerce Trends in 2023. Startups and scaleups develop solutions for enhancing customer experience and increasing loyalty. On-site personalization, the most prevalent trend, allows retailers to tailor their offerings and recommendations to each customer. Social shopping and headless commerce also enable customers to shop across different channels and platforms. Sustainable e-tailing and flexible payment options appeal to environmentally conscious and budget-savvy customers. Further, same-day delivery and immersive retailing provide convenience and engagement for online shoppers. Hybrid commerce integrates online and offline shopping modes for a seamless experience. Lastly, voice-assisted shopping and robotic process automation (RPA) open up new business opportunities.
Top 10 eCommerce Trends in 2023
Global Startup Heat Map covers 2994 eCommerce Startups & Scaleups
The Global Startup Heat Map below highlights the global distribution of the 2994 exemplary startups & scaleups that we analyzed for this research. Created through the StartUs Insights Discovery Platform, the Heat Map reveals high startup activity in the US and India, followed by the UK. Below, you get to meet 20 out of these 2994 promising startups & scaleups as well as the solutions they develop. These eCommerce startups are hand-picked based on criteria such as founding year, location, funding raised, & more. Depending on your specific needs, your top picks might look entirely different.
Interested to explore all 2900+ eCommerce startups & scaleups?
Top 10 eCommerce Trends in 2023
1. On-site Personalization
On-site personalization delivers relevant and engaging experiences to customers based on their preferences, needs, and behaviors. Mobile personalization tailors the content and layout of the website to the device and location of the user. Subscription personalization offers customized plans and benefits to subscribers based on their interests and loyalty. Additionally, psychographic profiling segments customers based on their personality traits, values, and attitudes. Shopping behavior analysis tracks and predicts the actions and intentions of customers on the website. These techniques help eCommerce businesses increase conversions, retention, and satisfaction. The startups are also leveraging natural language processing (NLP), computer vision, and chatbots to deliver personalized shopping experiences.
Cooee ensures Personalized User Engagement
UK-based startup Cooee develops a personalization platform for eCommerce businesses. It combines generative AI and first-party data to create and deliver custom images and creatives for customers based on their intent, preferences, and previous purchases. The platform also allows businesses to display products based on location and preference to optimize their shopping experiences. Further, it sends discounts and notifications to customers based on their previous interactions, increasing customer retention. Additionally, the platform offers a drag-and-drop design editor and a dashboard to track key metrics. Cooee thus helps eCommerce brands increase conversions, retention, and revenue without reducing margins.
Boffin AI delivers AI-based Personalization
US-based startup Boffin AI creates a cloud platform that helps small and medium businesses accelerate their e-commerce with personalized recommendations and analytics. It utilizes deep learning to analyze existing sales and inventory data, as well as user behavior and preferences. This way, the platform shows the most relevant products to shoppers. It also provides real-time insights into trends, conversions, and cart abandonment rates. Through these insights, Boffin AI increases sales and customer satisfaction for e-commerce businesses.
2. Social Shopping
Social commerce leverages the power of social media and influencer marketing to create engaging shopping experiences. It allows customers to discover new products, interact with brands and other shoppers, and make purchases directly from their social media platforms. Influencer marketing solutions enable brands to work with well-known social media users to promote products to their followers. Further, live-streaming showcases products in real time and allows viewers to ask questions and make purchases instantly. Group buying is another social commerce model that offers discounts or rewards for customers who buy products together with their friends or family. Startups further develop solutions such as AI-powered chatbots, social media integration, and interactive product visualization to enhance the social shopping experience.
YASO promotes Social Commerce
UK-based startup YASO offers a social commerce solution that enables brands to sell directly to Gen Z consumers in China. It leverages social media platforms to design, build, and integrate storefronts that create engaging and interactive shopping experiences for customers. The solution also features an order management system (OMS) and enterprise resource planning (ERP) integrations to bring transparency to business growth management. Further, it provides data analytics and marketing services, such as campaigns and influencer partnerships, to help brands optimize their sales and growth strategies.
Drop builds a Social Commerce Platform
US-based startup Drop provides a social commerce platform that helps brands convert their Instagram audience into customers. It enables brands to sell directly through Instagram direct messages using automated and personalized campaigns. This increases customer engagement, conversion, and retention. Further, the platform provides insights into social performance, customer behavior, and product preferences. As a result, Drop helps eCommerce businesses of all sizes to optimize their social media marketing and sales.
3. Headless Commerce
Headless commerce separates the front-end presentation layer from the back-end eCommerce functionality. This allows businesses to deliver personalized and engaging shopping experiences across multiple channels, such as websites, mobile apps, and wearable devices. By using APIs, progressive web apps (PWAs), and microservices architecture, headless commerce enables faster and more flexible business development and deployment. Startups are adopting headless commerce to offer businesses more control, scalability, and innovation in their e-commerce operations. BigCommerce, WooCommerce, WordPress, Drupal, and BloomReach Content are some of the solutions that businesses leverage to enable headless commerce. These solutions facilitate faster time-to-market and streamlined integration with other systems and technologies.
Instant Commerce provides a Headless Storefront Builder
Dutch startup Instant Commerce provides headless commerce solutions for Shopify merchants. It allows them to customize and optimize their online storefronts while maintaining speed, security, and scalability. The plug-and-play integrations also enable marketers to build and optimize web pages. Instant Commerce allows businesses to create engaging and personalized shopping journeys for their customers across multiple channels and devices.
Rierino Software offers a Data-first Headless Solution
Turkish startup Rierino Software develops a data-based headless commerce platform that enables eCommerce businesses to scale up quickly. The platform features microservices that integrate with any technology stack and digital touchpoint, facilitating omnichannel and social selling. It also leverages built-in machine learning and real-time business intelligence (BI) to personalize interactions, optimize processes, and monitor activities. Rierino Software provides businesses with intuitive no-code flows, convenient APIs, and unlimited customization options to control their e-commerce operations.
4. Sustainable E-tailing
Sustainable eCommerce minimizes the environmental impact of online shopping through carbon-neutral shipping, digital footprint, and more. This balances or reduces the greenhouse gas emissions associated with eCommerce operations and transporting goods. Demand-shaping solutions optimize inventory and delivery based on customer behavior and preferences. Further, ethical sourcing ensures fair and responsible product production and procurement. Startups are developing solutions such as reusable packaging, AI-driven package consolidation, and green methanol-powered vessels to further drive eCommerce sustainability. These technologies protect the planet and also create value for customers and businesses while reducing costs and improving operational efficiency.
Sumus advances Sustainable Commerce
UK-based startup Sumus develops an eCommerce app for customers to connect with brands that share their sustainable values. It leverages web3 and blockchain to enable customers to understand, control, and monetize their data while supporting sustainable consumption. It allows users to create and share content, earn and tip with proprietary crypto coins, and track their impact on the UN Sustainable Development Goals (SDGs). Further, the app provides brands with data-driven insights into conscious consumers and Sumus Approved badges for their Environmental, Social, and Governance (ESG) performance. The startup helps brands and buyers participate in sustainable e-commerce production and consumption by reducing their environmental impact.
VOIDS enables Intelligent Demand-Shaping
German startup VOIDS provides demand-shaping solutions for direct-to-consumer (D2C) e-commerce brands. This enables proactive management of future revenue growth and profitability by optimizing supply and demand, marketing, and pricing strategies. The startup combines AI, machine learning, and data science to deliver accurate demand forecasts and actionable insights. It also offers automated countermeasures for e-commerce challenges such as overstocking, revenue gaps, and competition impacts. Consequently, VOIDS allows e-commerce brands to reduce costs, increase revenues, and achieve sustainable growth.
5. Flexible Payment Options
With flexible payment options, eCommerce businesses offer customers more convenience and choice when shopping online. Some of the popular payment methods include buy now, pay later (BNPL), digital wallets as well as rewards and points-based payment systems. These methods allow customers to split the cost of their purchases over time. They also enable customers to redeem their loyalty points for discounts or free items. Flexible payment options help eCommerce businesses boost their sales, reduce cart abandonment, and increase customer loyalty. Further, startups are leveraging technologies such as AI, blockchain, biometrics, and cloud computing to create secure and seamless payment experiences for online shoppers.
Optty offers eCommerce BNPL
Singaporean startup Optty provides a cloud-based platform for integrating and managing alternative payment methods and buy now pay later (BNPL) solutions. The platform connects retailers to BNPL providers via API integration. This allows them to offer more choice and flexibility to the customers. The startup also enables retailers to customize their user experience, monitor performance, and compare fees and conversions across different BNPL providers. Optty, in turn, helps retailers lend responsibly and increases customer loyalty for online retailers.
UCanPay designs a Mobile E-Wallet
Canadian startup UCanPay develops a digital e-wallet app for online and offline purchases. It allows users to recharge, withdraw, and transfer Canadian dollars through its app. For this, customers scan a code and pay touch-free using QRs. The app's chat also allows staying connected with contacts within the app. The transfer functionality simplifies sending funds and also offers discounts and cashback features through its merchant store partners. UCanPay delivers modern retail payment experiences that are quick and safe for both merchants and consumers.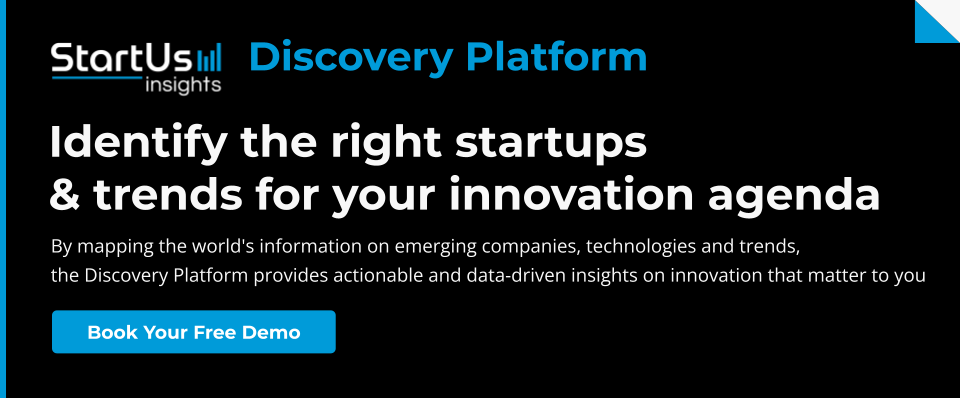 6. Same-Day Delivery
With same-day delivery, customers receive their orders within hours. To accelerate this, eCommerce businesses are adopting micro-fulfillment centers that leverage robots and software to optimize order picking, packing, and dispatching. This helps in reducing labor costs and increases efficiency while improving customer convenience. Some of the solutions that startups are developing to enable same-day delivery are solutions for on-demand delivery, autonomous systems, and route optimization. On-demand delivery connects customers with local couriers, who then deliver orders within minutes. Autonomous delivery systems utilize drones or self-driving vehicles to transport goods without the need for human involvement. Additionally, delivery route optimization solutions use algorithms to find the best delivery routes and schedules. These technologies help eCommerce businesses reduce last-mile delivery costs and improve customer satisfaction.
ORKID offers a Same-Day Delivery Drone
Colombian startup ORKID provides last-mile drone delivery solutions for e-commerce businesses. The startup's drones, Genesis and Octo, are autonomous, electric, and fast. They deliver packages in less than 30 minutes with reduced costs and environmental impact. This enables e-commerce platforms to build a delivery model that adapts to customers' schedules and preferences.
Upper Route Planner aids Delivery Route Optimization
Canadian startup Upper Route Planner develops delivery route optimization software that helps e-commerce businesses plan efficient routes for same-day and scheduled deliveries. It uses algorithms to create optimized route schedules with multiple stops and drivers. The software also provides features such as proof of delivery, customer notification, estimated time of arrival, and real-time alerts. This enhances communication and visibility throughout the delivery process. Upper Route Planner saves time and money on route planning, reduces failed deliveries, and improves customer satisfaction.
7. Immersive Retailing
eCommerce businesses are leveraging immersive retailing to provide customers with realistic and engaging digital previews of products before purchase. Virtual showrooms allow customers to browse and interact with 3D models of products in a virtual environment. Augmented reality (AR) try-on lets customers see how products would look on them or in their surroundings using their smartphone cameras. Further, gamification adds fun and rewards to the shopping experience by using elements such as points, badges, leaderboards, and challenges. Virtual events create a sense of community and excitement by hosting live or recorded sessions with influencers, experts, or celebrities. Startups are developing these immersive retailing solutions to help e-commerce businesses increase customer satisfaction, loyalty, and sales by offering more information, personalization, and entertainment.
VideoTours360 develops a Virtual Tour Builder
US-based startup VideoTours360 builds a virtual tour platform that allows e-commerce businesses to create immersive and interactive 360-degree tours. It features live video chat, an eCommerce store, gamification, AI optimization, and lead generation. This enables businesses to engage and convert their prospects. Further, the platform allows creating tours within minutes by uploading regular photos. VideoTours360 helps retailers to better showcase their products and services, thereby boosting sales and profits.
Habits facilitates AR-based Try Ons
Maltese startup Habits offers an immersive retailing app for fashion products using AR. It allows customers to discover and try on products such as sunglasses, hats, sneakers, and jewelry from their own devices. This eliminates the need to visit physical stores. The startup also uses blockchain to create a transparent and secure platform for transactions and data management. This way, Habits provides brands and retailers with an innovative way to reach and engage their customers.
8. Hybrid Commerce
Hybrid commerce integrates online and offline shopping experiences. This way, customers enjoy the convenience of digital platforms and the immediacy of physical stores. Some of the hybrid commerce solutions are click-and-collect, curbside pickups, and scan-and-go. These methods enable shoppers to order, pay, and collect their purchases without having to wait in queues or interact with staff. Further, zero shipping charges incentivize customers and boost hybrid commerce. Startups are leveraging QR codes, radio frequency identification (RFID) tags, and smart lockers to create seamless hybrid commerce solutions. With the adoption of hybrid commerce, e-commerce companies offer more flexibility, efficiency, and safety to their customers.
Valuelenz supports Phygital Shopping
Greek startup Valuelenz provides a cloud-based hybrid commerce platform that combines offline and online shopping. It enables customers to shop in four different contexts – unassisted or assisted in-store, and unassisted or assisted remotely. Customers use their mobile phones to browse, pay, and check out products in-store. Additionally, they request live video assistance from a real person in-store or in e-shops. By leveraging hybrid commerce, Valuelenz allows e-commerce businesses to provide a frictionless shopping experience to their customers.
TNG Shopper facilitates Hybrid Retailing
Israeli startup TNG Shopper develops a retail platform to convert brick-and-mortar stores into hybrid shops. It utilizes a peer-to-peer (P2P) SaaS platform that allows retailers to scan their products' barcodes and upload them online. This enables customers to find and purchase the products locally. The platform leverages AI and machine learning to optimize SEO and enhance online and in-store experiences. TNG Shopper merges physical and digital retail to help e-commerce businesses create an online presence and increase their reach and customer loyalty.
9. Voice-assisted Shopping
Voice-enabled commerce allows customers to interact with e-commerce businesses using their voice, instead of typing or clicking. These interactions take place through voice assistants like smart speakers, smartphones, and wearables. They help customers in finding products, getting offer recommendations, and completing transactions. Voice-assisted shopping also integrates with smart home devices for customers to have hands-free shopping experiences. Further, voice-enabled payments allow customers to pay for their purchases using voice biometrics or commands. For developing such solutions, startups are leveraging NLP and machine learning.
VOICEplug advances Voice-enabled Ordering
US-based startup VOICEplug makes a voice commerce solution that integrates with existing web and mobile applications. This allows e-commerce businesses to enable their customers to place orders using natural language voice conversations. The startup also uses proprietary AI algorithms to configure and deploy dialog flows that integrate with the apps, content, and transaction flows. VOICEplug helps e-commerce businesses to upsell and cross-sell products while relieving staff to focus on high-value activities.
Conversell enables Voice Shopping
French startup Conversell builds a voice commerce solution that enables retailers to build voice assistants on smart speakers and screens. It leverages AI to facilitate conversational commerce across multiple channels, such as Amazon Alexa and Google Assistant. The solution also features automated customer assistance, voice shopping journey, product recommendation, order tracking, and re-ordering. This helps e-commerce businesses to serve, engage, and sell to their customers using voice. Conversell provides a seamless and convenient shopping experience for customers while increasing customer lifetime value (CLV) for retailers.
10. RPA in eCommerce
Robotic process automation optimizes and streamlines various aspects of eCommerce. It leverages AI, machine learning, cloud computing, blockchain, and more. Using these technologies, businesses are able to automate and enhance order management, inventory management, pricing optimization, and fraud detection. Startups are also developing platforms for automating data entry and verification tasks. This reduces human errors in invoices and other document checks. Further, they develop solutions for automating custom packaging design and ordering. RPA helps eCommerce businesses automate repetitive and time-consuming tasks, improve accuracy, and provide quicker customer resolution.
Hangzhou Weisi Technology builds an E-Commerce RPA Robot
Chinese startup Hangzhou Weisi Technology provides digital retail automation solutions for e-commerce businesses. The startup's UiFox RPA robot suite helps businesses improve productivity, quality, and compliance by automating repetitive and rule-based tasks. It also runs automation workflows in attended or unattended mode. Hangzhou Weisi Technology enables retailers to reduce operational costs, increase sales efficiency, and enhance customer experience.
OpenBots aids Invoice Processing Automation
OpenBots is a US-based startup that automates invoice processing using intelligent automation. The startup's digital bot automates rule-based manual tasks like order fulfillment. It also leverages data from disparate databases to mitigate silos and create tailored workflow automation. This allows eCommerce businesses to streamline otherwise time-intensive tasks and better utilize resources.
Discover all eCommerce Trends, Technologies & Startups
eCommerce is undergoing significant changes to incorporate technologies to transform the way people shop, sell, and interact online. Mobile commerce, omnichannel retail strategies, 5G, and blockchain are a few examples of these technologies. These advances create new opportunities and challenges for businesses, such as reaching new markets, enhancing customer loyalty, and optimizing operations. The eCommerce Trends & Startups outlined in this report only scratch the surface of trends that we identified during our data-driven innovation & startup scouting process. Identifying new opportunities & emerging technologies to implement into your business goes a long way in gaining a competitive advantage.
Looking for eCommerce startups & technologies?
✕