Digital twins utilize historic and real-time data to visualize critical assets and processes, mitigating data silos and improving transparency. Consequently, they find applications across industries from construction and manufacturing to financial services and oil and gas (O&G). In this data-driven report, we give you innovation insights based on our analysis of 741 startups & technologies so that you do not miss out on emerging examples of digital twins. These digital twin solutions allow you to model real-time processes and leverage data-driven decision-making. Read more to explore the impact of digital twins on 10 industries and how they advance your business.
Tree Map reveals the Top Applications of Digital Twin Technology across 10 Industries
Based on the Innovation Map, the Tree Map below illustrates the Top 10 Digital Twins Technology Examples across industries in 2023 and 2024. Process and asset optimization are the primary use cases of digital twins across industries. This includes the construction, manufacturing, energy, O&G, automotive, and aerospace sectors. Automotive and aerospace manufacturers additionally leverage digital twins for engineering decision support.
At the same time, transportation companies utilize digital twins to improve logistics planning while healthcare institutions use them to personalize care delivery. Climate change modeling and carbon offsetting project tracking also leverage the technology. Lastly, the finance industry applies digital twins to mitigate financial fraud and improve cyber risk management.
Global Startup Heat Map covers 741 Digital Twin Startups & Scaleups
The Global Startup Heat Map below highlights the global distribution of the 741 exemplary startups & scaleups that we analyzed for this research. Created through the StartUs Insights Discovery Platform that covers 2 500 000+ startups & scaleups globally, the Heat Map reveals that Western Europe has a high concentration of digital twin startups, followed by the US.
Below, you get to meet 10 out of these 741 promising startups & scaleups as well as the digital twins applications they develop. These 10 startups are hand-picked based on criteria such as founding year, location, funding raised, & more. Depending on your specific needs, your top picks might look entirely different.
Interested to explore all 700+ digital twin startups & scaleups?
Top 10 Digital Twin Examples in 2023 & 2024
1. Construction
Even though construction businesses conventionally use building information modeling (BIM) systems to accelerate designing and better track projects, they lack real-time operational response. On the other hand, digital twins of construction sites provide real-time information on the status of ongoing projects and build subsystems. Moreover, digital construction twins focus on the interaction of people and space utilization instead of buildings. This improves building design and project planning.
Digital twinning also allows developers to proactively simulate what-if scenarios for safety subsystems and emergency action plans. Further, digital twins allow them to optimize asset performance, reduce material wastage, and improve collaboration.
Sensat simplifies Built Environment Analysis
Sensat is a UK-based startup that develops digital twin software for built environment analysis. It combines and visualizes various data sources from construction sites to eliminate data silos. This allows construction companies to constantly track and monitor their highway, rail, energy, and real estate projects.
The software also enables project managers to better coordinate tasks with workers and engineers to leverage data-driven decision-making.
2. Manufacturing
Combining digital twins into manufacturing workflows is now much easier due to the rapid integration of the industrial internet of things (IIoT) and automation. Digital twins of entire factories and production lines as well as individual assets provide manufacturers with increased visibility across operations. This enables them to quickly identify process inefficiencies and improve maintenance planning.
Further, the real-time visualization asset and process data through digital twins improve collaboration across all stakeholders, speeding up decision-making. Towards product development, digital twins allow engineers to simulate various situations and finalize designs much quicker, also reducing development costs.
Quick Algorithm simplifies Maintenance Management
Quick Algorithm is an Italian startup that makes an AI-based computerized maintenance management system (CMMS). It aggregates manufacturing data to create digital twins of production line assets. The CMMS then uses AI to spot anomalies and identify trends such as energy consumption patterns.
Quick Algorithm further provides a plug-and-play Internet of Things (IoT) solution to facilitate data acquisition. Through these solutions, the startup optimizes plant management as well as reduces energy consumption and operational costs.
3. Energy
The energy industry primarily leverages digital twins to stress-test and monitor its assets and infrastructure. At the same time, energy companies visualize power demand fluctuations to improve planning. Unlike generic mathematical models, the data from smart grid sensors, combined with artificial intelligence (AI) or machine learning (ML), provides granular insights into energy consumption.
This data is critical for energy companies to ensure grid performance due to the transition to a cleaner grid. By using renewable energy resources to power electric grids, energy companies and utilities need to improve demand-side management. Digital twins also enable virtual power plants (VPPs) that advance renewable energy integration.
SEKAI automates Wind Turbine Testing
SEKAI is a Swiss startup that creates Spin Doctor, digital twin software for wind turbines. It collates end-to-end turbine information using phantom sensors. The software then applies a proprietary knowledge graph across asset fleets to simulate environmental sensors in turbines.
Since the startup's solution collects data on all internal networks, it allows wind farm managers to detect sensor outages and enable predictive maintenance.
4. Transportation
Transportation companies deal with massive delivery delays due to siloed routes and traffic data. By combining real-time transportation data in mission control, digital enables them to better plan routes and mitigate inefficiencies. Digital twins of fleets and transport infrastructures also offer visibility into asset health, improving maintenance planning. Further, such intelligent transport systems enhance safety and optimize the utilization of transportation infrastructure.
On the other hand, freight forwarders leverage digital twins to increase the traceability of their containers, packages, and transport fleets. Consequently, this allows operators to quickly identify discrepancies and avoid cost-intensive returns. It also enables them to better predict market volatility and improve logistics planning.
Swarm Logistics automates Transport Fleet Control
Swarm Logistics is a German startup that simplifies transport fleet control. The startup's AI-powered digital twin solution, AUTO-DISPATCHER, orchestrates manned and unmanned trucks, taxis, buses, and other ground transportation systems.
It carries out daily dispatching, planning, and scheduling for entire fleets as well as reduces transport planning costs and time while increasing delivery efficiency.
5. Automotive
Similar to the manufacturing sector, auto companies utilize digital twins to improve maintenance planning as well as for real-time process and asset visibility. Digital twins mainly power automotive engineering in this sector, from modeling energy consumption and better management systems to wheel pressure efficiency and vehicle aesthetics.
Computational fluid dynamics (CFD)-driven digital twins also have a huge impact on the automotive sector. Further, recent interest in autonomous driving vehicles pushes the use of digital twins to improve the performance of such driving systems. This is crucial to ensure the safety of autonomous vehicles. Lastly, digital twins allow automotive manufacturers to simulate supply chains to optimize sourcing costs.
Fabrik enables Live Manufacturing Data Streaming
Fabrik is an Indian startup that offers live manufacturing data streaming for automotive companies. The startup's operational digital twin solution collects plant data and errors in real-time to enable a centralized knowledge management system.
This allows floor operators to integrate information with minimal cognitive processing and improve overall equipment effectiveness (OEE) by improving maintenance planning. Additionally, the startup's other digital twin solutions aid fault resolution and quality management.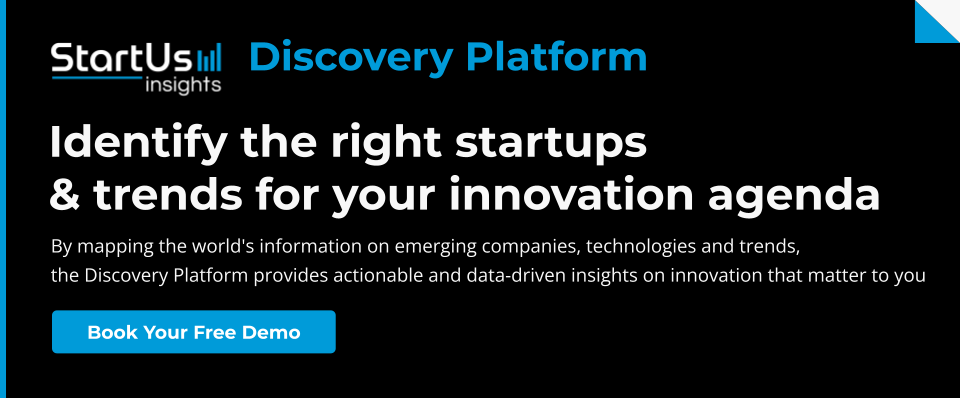 6. Healthcare
While remote visibility of assets is one of the major benefits of using digital twins, it also enables healthcare institutions to leverage predictive and personalized healthcare. With electronic health records and patient data from wearables and other medical devices, startups provide real-time insights into patient conditions.
Patient digital twins thus allow care providers to ensure timely and effective healthcare delivery to avoid life-threatening situations. Further, visualizing organ functions allows physicians and surgeons to better plan surgical interventions to improve success rates. The healthcare sector also utilizes digital twins to train new doctors in simulated environments to improve their confidence.
Verto Health offers Healthcare Digital Twins
Verto Health is a Canadian startup that creates a digital twin orchestration platform for clinics, labs, hospitals, and other healthcare institutions. It integrates with existing healthcare operating systems to provide critical patient and process data in a single platform.
This allows clinics and labs to easily track patients and improve appointment planning while enabling hospitals to enhance patient outcomes and offer hyper-personalized patient journeys.
7. Aerospace
Aerospace manufacturing comprises expensive production equipment and intricate processes. Digital twins thus visualize end-to-end production processes from engineering and design to part finishing and assembly. This allows aircraft manufacturers to quickly identify quality issues and mitigate costly reworks.
In aerospace engineering, digital twins leverage historical and real-time information to model various flight scenarios and optimize design decisions. This enables companies to improve aircraft energy efficiency and reduce prototyping costs while accelerating design finalization. Further, aerospace manufacturers use factory digital twins to enable predictive maintenance.
Miura Simulation provides Real-time Simulation Digital Twins
Miura Simulation is a French startup that creates real-time simulation twins for aircraft manufacturing. The startup's solution simulates metal forming processes involved in fuselage panels and aerostructure manufacturing.
It allows machine operators to predict manufacturing behavior and quality. This, in turn, enables aerospace manufacturers to reduce material costs and production time while offering insights into material performance.
8. Environment & Climate
High-performance climate models are necessary for researchers to accurately predict the impact of anthropogenic activities on climate change. They are also critical in tracking environmental conditions and carbon mitigation strategies. That is why businesses utilize digital twins to model climate change and environments.
Based on historical data and real-time feedback, such interactive models accurately predict how infrastructure planning, industrial activities, and agriculture affect the quality of life. With this data, governments are able to enforce climate-positive regulations and enable companies to minimize their carbon footprint. For companies that use carbon offsetting services, digital twins of their projects allow them to ensure net-zero operations and compliance.
ClimaTwin delivers Climate Risk Intelligence
ClimaTwin is a US-based startup that offers climate risk intelligence for infrastructure development. The startup's solution combines infrastructure datasets and climate models to simulate building designs and identify vulnerabilities to weather conditions.
This allows private and public infrastructure developers to mitigate siloed data, climate hazards, and asset destruction. Consequently, the startup's solution improves public safety and the quality of their lives.
9. Finance
Digital finance twins combine data from public and proprietary sources to simulate customer profiles, enterprise operations, and more. For example, using digital twins and predictive analytics to asses customer activities allow banks and financial services to identify fake transactions. Likewise, digital twins allow finance businesses to improve security, risk management, customer acquisition, and investment management.
Since digital twins leverage both historical and real-time financial and world data, they allow businesses to personalize their product offerings and increase sales. Combining this data with AI or ML, they are further able to improve compliance and cyber risk management.
TODAQ enables Peer-to-Peer (P2P) Trading
TODAQ is a Canadian startup that offers P2P trading using decentralized digital twin agents. The startup binds its digital twin agents into software systems, avatars, and networked machines. This enables identity management and embedded finance required to power P2P transactions.
As a result, businesses are able to integrate P2P digital asset trade into any software product without in-house product development, saving time and costs.
10. Oil & Gas
Oil and gas businesses deploy assets in remote and diverse locations, making manual inspections and monitoring expensive. With IIoT and process digitization, O&G businesses are able to integrate digital twins to overcome this issue and enable data-driven decision-making. This includes early detection of equipment failure, modeling equipment designs, and the evaluation of asset conditions.
Since digital twins enable remote site monitoring, they eliminate the need for the full-time presence of expert personnel on site. Further, the improved management of assets, particularly oil and gas pipelines, allows businesses to avoid leakages and associated incidents. This saves massive capital loss and improves on-site worker safety.
Dinur Soft simplifies Oil & Gas Well Management
Dinur Soft is a UK-based startup that improves oil and gas well management. The startup leverages machine learning, predictive analytics, and digital twins to detect anomalies, predict events, and provide recommendations to mitigate oil and gas well downtimes.
This way, the company allows oil and gas companies to maximize production and optimize operational costs. It also reduces production and lifting losses to avoid well shutdowns and excess carbon emissions.
Discover All Digital Twin Applications and Startups
Near-instant data delivery, high-performance computing (HPC), and high-throughput data processing are critical for efficient digital twin simulations. Therefore, advances in 5G, quantum computing, and AI will improve the performance of digital twin solutions. Startups are also creating cross-platform solutions to simplify the integration of digital twins into existing systems, reducing capital expenses for businesses. Get in touch to identify specific digital twin startups & solutions that advance your business!
Looking for emerging digital twin startups & technologies?
✕