Recent advances in diabetes care include transdermal and optical glucose monitoring, as well as insulin delivery. Such solutions enhance the efficiency and effectiveness of diabetes management. Wearable glucose monitors and adhesive patches further enable painless and precise continuous blood sugar level monitoring while novel insulin delivery devices allow for discreet application in public places. This research outlines the top 10 global diabetes care trends, as well as highlights 20 innovative startups focused on artificial pancreas development, telediabetic care, and more. Read more to explore these 20 diabetes care startups and find out how they advance care delivery.
Innovation Map outlines the Top Diabetes Care Trends & 20 Promising Startups
For this in-depth research on the Top Diabetes Care Trends & Startups, we analyzed a sample of 1598 global startups and scaleups. This data-driven research provides innovation intelligence that helps you improve strategic decision-making by giving you an overview of emerging technologies in the diabetes care industry. In the Diabetes Care Innovation Map below, you get a comprehensive overview of the innovation trends & startups that impact your healthcare business.
These insights are derived by working with our Big Data & Artificial Intelligence-powered StartUs Insights Discovery Platform, covering 3 790 000+ startups & scaleups globally. As the world's largest resource for data on emerging companies, the SaaS platform enables you to identify relevant technologies and industry trends quickly & exhaustively.
Tree Map reveals the Impact of the Top 10 Diabetes Care Trends
The treemap below illustrates the impact of the Top 10 Diabetes Care Trends in 2023. The diabetes industry is experiencing rapid innovation with new monitoring and insulin delivery devices in development. Transdermal monitors offer real-time blood glucose level tracking, improving patients' ability to manage their condition. Optical glucose monitoring (OGM) provides a non-invasive method for glucose measurement while startups work on insulin delivery options such as pens, pumps, and inhalable insulin. Additionally, there is a growing interest in artificial pancreas solutions that mimics natural pancreatic functions. Digital diabetes management (DDM) further provides patients with crucial information for effective diabetes control and improved quality of life. A preventive care model for prediabetic individuals enables prediabetic risk assessment while telediabetic care offers virtual coaching for those diagnosed with diabetes.
Top 10 Diabetes Care Trends in 2023
Global Startup Heat Map covers 1598 Diabetes Care Startups & Scaleups
The Global Startup Heat Map below highlights the global distribution of the 1598 exemplary startups & scaleups that we analyzed for this research. Created through the StartUs Insights Discovery Platform, the Heat Map reveals high startup activity in the USA, followed by India and Europe. Below, you get to meet 20 out of these 1598 promising startups & scaleups as well as the solutions they develop. These 20 startups are hand-picked based on criteria such as founding year, location, funding raised, & more. Depending on your specific needs, your top picks might look entirely different.
Interested to explore all 1500+ diabetes care technologies & startups?
Top 10 Diabetes Care Trends
1. Transdermal Glucose Monitoring
Transdermal monitoring devices offer real-time monitoring of blood glucose levels. These devices also alert patients whenever their glucose levels deviate from the optimal range, helping to manage their condition more effectively. Among the devices used for subcutaneous monitoring are micro-needles and skin patches. Micro-needles affixed to adhesive patches on the skin extract biofluid using capillary force, enabling sensors to easily detect glucose levels. Some skin patches are equipped with nanotechnology-based biosensors that detect glucose in bio substances from subdermal levels. Compared to conventional methods of blood glucose monitoring, these biosensors provide greater accuracy and flexibility, making monitoring more convenient for patients.
Gluco Vibe provides a Glucose Monitoring Wearable
Spanish startup GlucoVibes provides continuous blood glucose monitoring solutions to track the glucose level of diabetic patients. The startup's wearable armband features an embedded sensor that allows patients and fitness enthusiasts to monitor blood glucose levels continuously for up to 14 days. The sensor connects to the startup's app, MyGlucoVibes, which relays all sensor data and nutrition information to the user. MyGlucoVibes also provides nutritionists with tailored nutrition plans and diets for patients and health enthusiasts. GlucoVibes thus provides a more efficient, affordable, and painless way to monitor and manage diabetes.
Transdermal Diagnostics enables Needle-Free Glucose Monitoring
UK-based startup Transdermal Diagnostics offers a needle-free glucose monitoring device for diabetic and prediabetic people. The startup's wearable contains a disposable adhesive skin patch and a rechargeable transmitter that easily adheres to the skin. It determines glucose levels by extracting biological substances from individual hair follicles. The patch syncs with the startup's mobile application and communicates the monitored data wirelessly to the app. This needle-free glucose monitoring device offers a convenient and non-invasive way for glucose monitoring, improving the quality of life for diabetic patients.
2. Optical Glucose Monitoring
OGM provides a non-invasive means for measuring glucose levels in diabetes patients. Startups are working on glucometers that use laser monitoring, infrared absorption spectroscopy, and Raman spectroscopy, as well as catalytic and affinity biosensing. These methods are especially useful for the management of type 1 diabetes in children. OGM helps parents and caregivers closely monitor glucose levels in children without the need for frequent fingersticks, which are painful and uncomfortable for children. Startups are also developing incident light sensors for real-time monitoring of glucose levels and adjustment of insulin doses for diabetes patients who engage in high-intensity exercises. Overall, OGM improves diabetes management by providing accurate, convenient, and non-invasive glucose monitoring.
ViiT Health builds a Non-Invasive Glucometer
US-based startup ViiT Health delivers non-invasive glucose measurements for diabetics. The startup's glucometer uses near-infrared spectroscopy (NIR) and computer vision to identify glucose levels from a person's finger. When a patient places a finger in the device, light passes through and interacts with the tissue. The optical system then processes the absorption and scattering of light and measures its spectral response. Additionally, the glucometer utilizes AI algorithms to create a predictive model to compare it with the person's metabolic response and identify glucose levels. The device is easy to use and connects to a companion mobile application that shares the glucose measurement results with their physician of choice. This way, ViiT Health ensures that people with diabetes require minimum preparation to measure their glucose levels.
Occuity develops an Optical Lens-based Glucometer
UK-based startup Occuity is a medical device startup that makes non-invasive and pain-free glucose monitoring solutions for diabetics. The startup's optical glucometer, Occuity Indigo, leverages a protected optical lens to take multiple scans and measurements of the eye. This provides a clear glucose reading in just a few seconds while the device's pen-sized design makes it easily portable. Consequently, this makes it convenient for patients to test their glucose levels anytime without the need for consumables or finger-prick testing. The device is particularly useful for children, seniors, and others who have difficulty self-administering existing options for blood glucose tests.
3. Insulin Delivery Devices
Startups are creating innovative insulin delivery devices, such as insulin pens and pumps, that offer numerous advantages over traditional delivery methods. Insulin pens are more convenient, accurate, and flexible in dosing than vials and syringes. They also lower the risk of needle prick injuries and require less training to use correctly. On the other hand, insulin pumps offer continuous and customized insulin delivery that imitates the body's natural insulin release. These devices allow for precise dosing adjustments, making them useful for individuals with fluctuating insulin needs. Smart insulin pens and pumps are being developed by startups to integrate with digital health platforms, providing personalized, data-driven diabetes management. Other startups are working on inhalable insulin, which can be absorbed through the lungs and eliminate the need for injections.
Luna Diabetes enables Automated Insulin Delivery
Luna Diabetes, a US-based company makes Luna, a device to simplify insulin delivery for people with diabetes. This smart insulin pen provides automated insulin injections and overnight insulin delivery. With Luna, patients receive insulin delivery during the night to target their glucose levels within range every morning, which improves their health outcomes and quality of life. It is currently undergoing clinical trials. This novel automation technique helps alleviate the discomfort caused by invasive insulin delivery methods commonly used by diabetic patients.
My Invu designs a Compact Insulin Injector
UK-based startup My Invu designs invü, an insulin injector for people with diabetes. The battery-operated, compact device is capable of monitoring and relaying blood glucose levels to the user from a glucose monitoring patch. It then doses the amount of insulin required and is injected by pressing it against the arm, stomach, or thigh within a couple of seconds. The injector device, in turn, enables diabetic patients to seamlessly inject the required insulin dose even during traveling and in public places.
4. Artificial Pancreas
The artificial pancreas mimics the functions of the natural pancreas of the human body. It automatically delivers customized levels of insulin dosage to diabetic individuals. The artificial pancreas generally comprises of a continuous glucose monitor (CGM), an automated insulin pump, and a control algorithm. The automated insulin delivery system works as an artificial pancreas from outside of the body. This closed-loop system utilizes data from glucose sensors to deliver the optimum amount of insulin to the body. These self-sufficient systems, both bionic and artificial, minimize the elimination of user input and dynamically produces the optimum blood glucose levels.
Invitreo Biosciences develops Bio-Artificial Pancreas
Danish startup Invitreo Biosciences makes artificial pancreas for type 1 diabetic patients. Its Bioartificial Pancreas (BAP) contains pancreatic islets within a synthetic semipermeable membrane. The startup implants a Polysulfone (Psf)/TPGS composite hollow fiber membrane as immune-competent nanocapsules, containing a biocompatible sheet of encapsulated islets. It is capable of fully mimicking the behavior and function of a healthy pancreas. The inner side membrane has pores responsible for the selective separation of insulin and the rest of the membrane provides structural support. When liquid passes through it, the wall selectively retains certain constituents and allows others to pass through. The startup's technology ensures safe and effective pancreatic transplants and life-saving properties for diabetics.
XOStem offers Exosome Diabetes Treatment
US-based startup XOStem develops treatment for type I diabetes using 1exosomes. The startup performs transplantation of single islet encapsulations in biocompatible alginate to incorporate insulin-producing cells. This enables encapsulated islets to stay in the peritoneal cavity for a great period of time. The encapsulated islets induce insulin production when exposed to elevated glucose levels. The startup also designs insulin-producing cells to act independently with immunologic protection. XOStem's encapsulation allows insulin-producing cells to act independently without additional treatments, potentially prolonging its usefulness for many years.
5. Digital Diabetes Management
DDM encompasses insulin delivery management, dietary planning, health-related exercises, and personalized care for diabetics. Continuous glucose monitoring platforms enable real-time tracking of blood glucose levels and alert patients when their levels are too high or low. This helps patients make informed decisions about food intake, insulin dosage, and exercise routines. Mobile apps also allow patients to record their blood glucose levels, food intake, and exercise routines. Startups are making electronic health records (EHR) more accessible, including real-time sharing of patients' vitals. These records generate a vast amount of data used to develop and recommend optimal diabetes management strategies. DDM tools thus offer patients the necessary information and support for effective diabetes management, enhancing their quality of life.
OneTwo Diabetes provides a Diabetes Management App
Swedish startup OneTwo Diabetes creates an eponymous diabetes management application for smartphones. On uploading blood glucose data from a CGM sensor, the app analyzes the data automatically and provides proposals on improving diabetes control. The app is tailored for diabetic patients and caregivers with CGM sensors to monitor the fluctuations of blood glucose levels. It also measures the effect of meals on glucose levels and the effectivity of delivered insulin in regulating blood glucose levels. The startup's solution enables diabetic patients to make informed decisions and improves self-care based on glucose data.
Dally develops a Diabetes Management Tool
Italian startup Dally offers a data-driven diabetes management tool primarily for type I diabetes. It helps diabetic patients manage their condition on a daily basis. The app features a bolus calculator that provides personalized insulin dosage suggestions and a digital diary to record meals, exercise, and insulin intake. The app also provides smart reports based on uploaded data to provide insights into how to manage diabetes. It also provides educational resources to help new patients learn more about their condition. This way, the app promotes well-being and reduces the risk of complications.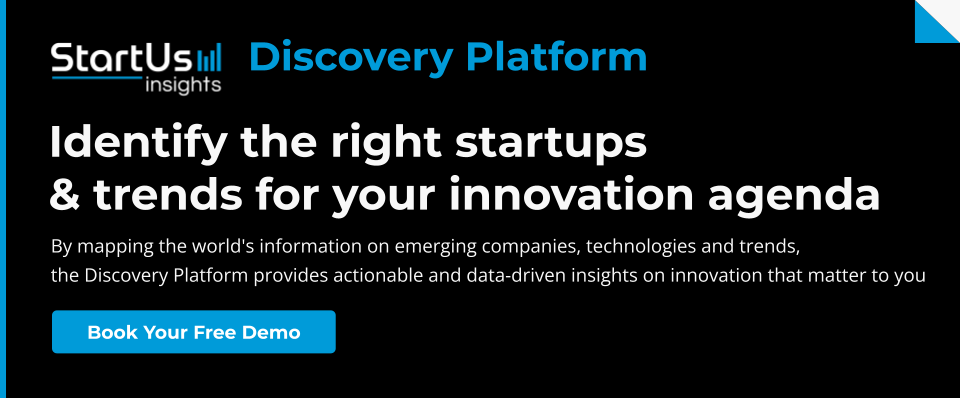 6. Prediabetic Risk Assessment
Prediabetic risk assessment offers a futuristic preventive care model for people at risk of developing diabetes. The key outcomes of these assessments include glucose trend detection, diabetes forecasting, and diabetes detection. Such systems collect wearable and glucose monitoring data for input and output values. One of the most significant use cases is identifying individuals at high risk of developing type 2 diabetes. This enables healthcare providers to intervene early with lifestyle recommendations, such as diet and exercise, to prevent the onset of the disease. Startups are developing digital health platforms, wearables, and AI-driven applications that predict the onset of type 1 and 2 diabetes based on blood glucose data and offer personalized assistance.
Lundoch Diagnostics offers a Diabetes Detection Test
Swedish startup Lundoch Diagnostics provides an early-risk diabetes detection test. It consists of LDcoder, its AI-machine learning software, and a blood biomarker analysis kit. The software takes blood biomarker measurements as input and predicts type II diabetes along with risk assessment. The test detects the precise risk of developing type 2 diabetes within four years of any adult individual at the time of the testing. The data inputs incorporated are genetics, lifestyle factors, and physiological conditions. This test allows potential diabetic patients to take precautionary steps to address their condition before critical conditions arise. As the test uses CE-marked medical devices, it is easily implemented in any clinical laboratory or centralized labs.
Stapgen provides a Diabetes Assessment Test
US-based startup Stapgen develops STAP Test, a diabetes assessment test for potential diabetics. The test measures intestinal alkaline phosphatase (IAP) levels in the person's stool, intercepting the pathogenesis process. IAP is an important enzyme related to type 2 diabetes, a constant deficiency that causes type 2 diabetes in about five years. The startup is working on both lab and home-based tests for easier diabetes detection. Intercepting diabetes risk before the rise of blood sugar offers patients the possibility of treatment without medication.
7. Telediabetic Care
Telediabetic care enables virtual coaching and telemedicine for diabetic people. Virtual one-on-one coaching allows patients to interact with diabetologists and receive clinical care over the phone, eliminating regular outpatient clinic visits. This reduces transportation costs and waiting times for physical appointments. Telediabetic care also guarantees social distancing and terminates high levels of infection prevalent in hospitals and clinics. One specific use case is remote patient monitoring, which allows healthcare professionals to monitor patients' blood glucose levels, medication adherence, and other vital signs through digital devices. This approach enables healthcare professionals to provide timely and individualized care to patients, leading to better disease management. Startups are working on tele-diabetology solutions including doctor-patient video calls, mobile applications, and virtual diabetes coaches. These solutions are easy to implement in remote geographical locations and for patients with disabilities.
OneCare delivers Remote Diabetes Care
Indian startup OneCare offers telemedicine services for individuals with type 2 diabetes. It provides personalized care plans for full-spectrum diabetes care through virtual consultations with health experts. The team of experts includes health coaches, nutritionists, fitness trainers, and behavioral therapists who work with patients week-on-week, both virtually and in person. OneCare also provides a continuous glucose monitoring sensor patch, MetaSense, and a health-tracking app to help individuals monitor their progress and make adjustments to their nutrition and lifestyle. OneCare's telemedicine services for diabetes care provide customized, long-term care for diabetics to achieve better health outcomes.
Stability Health creates Long-Term Diabetes Care Plans
US-based startup Stability Health makes long-term diabetes care plans for both clinicians and patients. The startup's team of professionals, including endocrinologists, diabetes researchers, health coaches, and nutritionists, work together to provide customized and sustainable care plans. It also provides digital tools such as video calling and telemedicine services to help patients manage their diabetes and gain control over their health. For clinicians, the startup offers expert guidance, peer education, and training that supports patients between appointments. The solutions provided by Stability Health help lower the total cost of diabetes care, reduce hospital readmission rates, and improve patient outcomes.
8. Diabetes Clinical Decision Support
Diabetes clinical decision support systems (CDSS) leverage evidence-based knowledge and patient-specific information to assist clinicians in making informed decisions, including evaluation and diagnosis, at the point of care. By analyzing past health data, ML algorithms provide insights that enable diabetologists to recommend advice for the prevention and management of diabetes. CDSS performs various tasks, such as medication management, diagnosis, risk assessment, and treatment planning. By providing timely and relevant information, CDSS improves the quality and safety of patient care, reduces medical errors, and increases healthcare efficiency. Startups are leveraging patient-specific data from EHRs, wearables, and sensors to deliver these real-time insights and personalized recommendations. This enables clinicians to make more informed decisions and offer tailored treatment plans for managing diabetes.
Glucostratus provides a Remote Health Monitoring Solution
Finnish startup Glucostratus offers GS Balance, a remote health monitoring service for patients with chronic conditions, particularly diabetes. It transforms the monitoring of chronic conditions from paper records to up-to-date digital data. The startup's easy-to-use mobile application allows patients to log their blood glucose readings, insulin doses, and other important health metrics. This data is then wirelessly transferred to a cloud-based system where healthcare professionals access it in real time. It also facilitates virtual appointments to improve the accessibility and cost-effectiveness of healthcare services. By providing clinicians with access to real-time patient data and facilitating remote care, Glucostratus reduces medical errors and increases the efficiency of healthcare service delivery.
Mocero Health develops Diabetes Care Platforms
Indian startup Mocero Health makes ursugar and Curola, dedicated platforms for diabetes care for both patients and doctors. The ursugar platform provides daily notifications to help diabetics adhere to prescribed medication, diet, and fitness regimes. It also monitors health progress and blood sugar levels in a gamified way and provides a convenient way to schedule appointments and update health records. Curola is a doctor-only app that simplifies medical practice by enabling doctors to digitize patient records. It allows doctors to add new patients or update existing profiles, manage appointment schedules, and view and manage patient health information. The doctor-only app also enables the prescription of medications and lab tests.
9. Personalized Cell Therapy
Personalized cell therapy develops new ways, including cell regeneration and replacement therapies, to produce insulin from natural cells in the pancreas. It advocates the use of stem cells to regenerate damaged beta cells in the pancreas, which improves insulin production in patients with diabetes. As the pancreas has been found to have partially regenerative capabilities, these therapies also include repairing the dysfunction of diseased tissues in the pancreas. Startups are working on islet cell transplantation, which takes healthy islet cells from a donor pancreas and transplants them into the recipient. The transplanted cells produce insulin and regulate the recipient's blood sugar levels and are genetically modified to provide protection from the immune system. Personalized cell therapy is a promising area of research in diabetes care to provide long-term cures for patients with both type 1 and type 2 diabetes.
Mogrify creates a Regenerative Medicine Platform
Mogrify is a UK-based biotechnology startup that offers MOGRIFY, a regenerative medicine platform for diabetes treatment. It uses bioinformatic algorithms to identify the optimal combination of transcription factors for direct cell reprogramming. This offers a more efficient and cost-effective way to generate mature beta cells for transplantation in the treatment of type 1 diabetes. The platform uses RNA sequencing to build local transcriptomic regulatory networks and predict the optimal combination of transcription factors to convert source cells into mature beta cells. This enables insulin production and provides a source of functional beta cells for transplantation in individuals with type 1 diabetes. This off-the-shelf cell therapy provides long-term therapeutic benefits to diabetics, improving their ability to regulate blood sugar levels and reducing the need for exogenous insulin injections.
healiva offers a Diabetic Wound Care Therapy
Swiss startup healiva makes affordable wound care solutions for chronic wounds, including diabetic foot ulcers. The startup's wound care solution, healiva 002/004, combines enzyme technology, cell therapies, and medical devices to address the entire wound-care process, from wound bed preparation to completion of closure. The startup manufactures a lineup of medical devices including epidermal patches, allogenic cell sprays, and enzymatic debrider sprays for wound closure. Its allogeneic cell sprays promote the complete closure of chronic wounds by utilizing the patient's own cells. It works as a scalable treatment for diabetic leg ulcers that do not respond to standard care. By leveraging cell therapy, healiva reduces healthcare care costs and healing times for diabetics suffering from foot ulcers.
10. Curative Therapies
Recent technological advances in the field of diabetes treatment have led to the development of curative therapies that naturally reverse metabolic dysfunctions. Innovative procedures such as bariatric surgery, nutrition therapy, and nitric oxide therapy promote weight loss, which alleviates strain on the pancreas and allows pancreatic cells to function gradually over time. Additionally, non-invasive techniques, such as focused ultrasound, stimulate specific neural pathways associated with diabetes. These therapies relieve diabetic patients from extensive medication and painful insulin delivery procedures. However, it is important to note that proper care and precautions are still necessary post-reversal. Several startups are working on virtual diabetes reversal clinics that provide patients with personalized nutrition therapy and coaching.
Otida offers a Diabetes Reversal Program
Otida is an Egyptian startup that provides a diabetes reversal program. The startup's program analyzes patient data that they upload to create a tailored treatment plan. It then provides insights to help diabetics manage their sugar levels and reduce medication. The program includes continuous remote training on diabetes management and clinician-guided nutrition therapy, catering to each patient's unique needs. The startup's program reduces cumulative sugar levels and weight for diabetics.
Cellebration Life Sciences develops a Curative Stem Cell Therapy
Cellebration Life Sciences is a US-based startup that offers curative treatment for type 2 diabetes. It uses stem cell-based treatment to negate the limitations of pharmaceutical medicines. The startup's research differentiates stem cells into insulin-secreting cells, which provides a long-lasting therapeutic alternative to drug therapies. It isolates mesenchymal stem cells (MSCs) from the visceral fatty tissues of adults. After exposure to interferon-gamma (IFN-γ), MSCs become a source of anti-inflammatory cytokines, enabling insulin-producing cells to be generated. These stem cells improve pancreatic function, prevent cell death, decrease systemic oxidative stress, and reduce insulin resistance. The startup's approach provides a lasting cure for type 2 diabetes without the harmful side effects of conventional drugs.
Discover all Diabetes Care Trends, Technologies & Startups
The diabetes industry is undergoing rapid innovations with the adoption of new technologies. For example, CGM systems enable real-time glucose monitoring and eliminate the need for frequent fingerstick testing. In addition, startups are developing implantable insulin pumps that eliminate the need for external devices and provide more discreet and continuous insulin delivery. These innovations aim to build a more efficient and patient-friendly industry, which also ensures a better quality of life for diabetics in the future. The diabetes care trends & startups outlined in this report only scratch the surface of trends that we identified during our data-driven innovation & startup scouting process. Identifying new opportunities & emerging technologies to implement into your business goes a long way in gaining a competitive advantage.
Looking for Diabetes Care startups & technologies?
✕