Customer concerns around accelerated global warming are causing companies to reduce their greenhouse gas (GHG) footprint and adopt climate-positive operations. United Nations' Sustainable Development Goals (SDGs) and the environmental, social, and corporate governance (ESG) goals further promote active efforts to tackle climate change. That is why we give you a comprehensive view of global climate innovation trends for 2024 and beyond in this article.
Since a significant amount of carbon emissions come from energy consumption, a great number of climate tech companies work around clean energy solutions to replace fossil fuels. Climate-smart agriculture, sustainable mobility, and heavy industries are also developing innovative solutions to achieve net-zero goals. Lastly, emerging climate technology trends also include carbon capture, circular economy, and sustainable natural resource utilization.
This article was published in May 2022 and updated in August 2023.
Innovation Map outlines the Top 10 Trends in Climate Tech & 20 Promising Startups
For this in-depth research on the Top Climate Tech Trends & Startups, we analyzed a sample of 3198 global startups & scaleups. This data-driven research provides innovation intelligence that helps you improve strategic decision-making by giving you an overview of emerging technologies in the climate tech industry. In the Climate Technology Innovation Map, you get a comprehensive overview of the innovation trends & startups that impact your company.
Top 10 Climate Tech Trends in 2024
These insights are derived by working with our Big Data & Artificial Intelligence-powered StartUs Insights Discovery Platform, covering 3 790 000+ startups & scaleups globally. As the world's largest resource for data on emerging companies, the SaaS platform enables you to identify relevant technologies and industry trends quickly & exhaustively.
Tree Map reveals the Impact of the Top 10 Climate Tech Trends
The Tree Map below illustrates the impact of the top 10 climate innovation trends in 2024. The close dependence of global warming on fossil fuels makes it the top challenge for climate tech startups to make a positive impact. Innovations in this sector include solar, wind, and nuclear energy as well as novel energy storage systems and clean grid applications. The agriculture sector is optimizing resource utilization through precision farming, agricultural robotics, and vertical farms.
Sustainable mobility is also gaining popularity to mitigate dependence on fossil fuels. To decarbonize the mobility sector, companies are transitioning to electric vehicles (EVs) and micromobility. Circular economy and low-carbon manufacturing follow sustainable mobility and maximize material usage. Sustainable land and water management, carbon data and analytics, carbon capture, utilization, and storage (CCUS), and green construction are the other trends in the climate innovation ecosystem.
Global Startup Heat Map covers 3198 Climate Tech Startups & Scaleups
The Global Startup Heat Map below highlights the global distribution of the 3198 exemplary startups & scaleups that we analyzed for this research. Created through the StartUs Insights Discovery Platform, the Heat Map reveals high startup activity in Western Europe, followed by the US. Below, you get to meet 20 out of these 3198 promising startups & scaleups as well as the solutions they develop. These climate tech companies are hand-picked based on criteria such as founding year, location, funding raised & more. Depending on your specific needs, your top picks might look entirely different.
Interested to explore all 3100+ climate tech startups & scaleups?
Top 10 Climate Tech Trends & Innovations in 2024
1. Clean Energy
The climate innovation ecosystem largely sees investments in the energy sector to reduce dependence on fossil fuels and make progress toward net-zero goals. Consequently, there is growth in solar and wind power generation. Renewable energy developers are also integrating other sources, such as biofuels and geothermal energy to aid the transition to clean energy. To further aid this, various clean energy startups develop off-grid energy solutions that allow individual households and remote communities to generate electricity.
At the same time, energy distribution companies are expanding their renewable energy portfolio to decarbonize the grid. Advances in hydrogen and nuclear energy also promote the transition to a carbon-free energy economy. Major companies and startups are working to make these technologies more cost-effective and scalable.
Marvel Fusion advances Quantum-enhanced Nuclear Fusion
German startup Marvel Fusion offers clean energy through quantum-enhanced nuclear fusion. The startup's proprietary technology leverages interaction between ultrashort laser pulses and nanostructure fuel pallets to initiate fusion. It uses rapid deposition of laser energy at the nuclei before the target structure disintegrates, confining the particles using their inertia.
Thereafter, an injector forwards a new pallet synchronously to the target chamber for constant power generation. This enables the scaling of nuclear fusion and, thereby, facilitates zero-emission energy generation.
Reel facilitates Sustainable Electricity Procurement
Reel is a Danish startup that enables sustainable electricity procurement. The startup connects each client's energy consumption to a specific solar or wind park by partnering with renewable energy developers. Besides, the companies are connected to the grid and renewables, thereby ensuring continuous power for operations.
The startup supplies an equivalent amount of clean energy to the grid for every unit of energy used from the grid. It automates sustainability reporting and allows businesses to attain net zero without capital expenses while leveraging renewable energy at fixed prices.
2. Climate Smart Agriculture
Food production, including animal husbandry, produces a massive amount of carbon emissions. These emissions will continue to rise due to increasing population and food demands. However, there is a growing interest among consumers and food brands to support low-GHG farming practices, including precision agriculture and smart farming. Startups now also offer automated farming systems that utilize much less land and water than conventional farming while ensuring profits.
These solutions include urban farming systems, such as vertical farms and aquaponics, as well as greenhouses. Similarly, some food startups innovate with plant-based meat products that readily replace animal products and integrate with existing production lines. Such climate-positive food production methods are crucial to cutting down GHG emissions from the sector while addressing global food demands.
Klim advances Regenerative Agriculture
Klim is a German startup that builds a regenerative agriculture ecosystem. The startup provides farmers with access to its knowledge platform, facilitating the exchange of ideas between farmers. Moreover, farmers receive financial support based on their regenerative agricultural methods and the amount of CO2 sequestered in the soil.
The funds come from individuals and companies that want to reduce their carbon footprint, allowing farmers to ensure profits.
Meat.The End advances Plant-based Meat Production
Israeli startup Meat.The End produces plant-based meat. Its software platform integrates with existing extrusion lines to develop textured vegetable protein for minced meat analogs. Meat.The End uses its proprietary process to make plant-based burgers for food businesses.
These solutions allow food brands to provide texture-rich and tasty meat alternatives to ensure customer satisfaction while being climate-positive.
3. Sustainable Mobility
Transportation of goods and people consumes massive amounts of fossil fuels. To mitigate this, automotive manufacturers are developing battery-powered and fuel-cell electric vehicles. Governments subsidize EVs to speed up their market penetration and mobility electrification. Likewise, mobility companies offer these EVs on demand for their customers for shared mobility.
Many startups now also offer micromobility solutions such as electric scooters, e-bikes, and bikes, for cities, corporate campuses, and universities. Even though electrification is the key to attaining net-zero in this sector, mobility providers also utilize other means to reduce emissions. For instance, many climate tech startups provide incentives for customers to use cleaner mobility options, encouraging climate-friendly behavior.
GAZAL offers Micromobility
GAZAL is a Saudi startup that provides micromobility solutions for schools, universities, and corporations. The startup's bikes and scooters are available on-demand for users through its smartphone app. This approach maximizes resource utilization and reduces the carbon footprint of the mobility sector.
Moreover, GAZAL's solution complements the public transportation network and enables more affordable ways for travelers to commute inside cities.
Dandera Technologies advances e-Mobility
Indian startup Dandera Technologies makes electric vehicles. The startup's three-wheelers are customized for varying applications such as last-mile delivery and passenger transport. They feature driver-focused ergonomics, reduced aerodynamic drag, and a 150 km range per charge, among others.
Dandera Technologies' vehicles allow logistics companies and passengers to leverage low-carbon mobility without upfront costs, facilitating electrification.
4. Circular Economy
Linear economy demands continuous and increasing new material processing. This leads to more and more consumption of raw materials and, in turn, other resources such as energy and land mining. As a result, it creates a compounding effect that accelerates GHG emissions and climate change. On the other hand, the circular economy brings back low-value, end-of-life products and materials into circulation.
To achieve this, climate tech startups leverage transparent reverse logistics platforms. Additionally, stringent methods at waste management facilities maximize material recovery, reusing, recycling, and upcycling, thereby, reducing carbon footprint. This generates an additional revenue source for waste management facilities by creating a market for recovered materials.
Seenons supports Circular Value Chains
Seenons is a Dutch startup that builds a reverse logistics platform. It connects waste chain stakeholders to facilitate waste flow. Its app allows businesses to arrange waste pick-up, which Seenons' logistics partners forward to local processors.
The local processors then identify high-value materials from the waste for recycling or upcycling while residual wastes are burned. This allows cities and municipalities to significantly reduce residual waste ending up in landfills.
TripleE enables Circular Battery Use
Dutch startup TripleE develops a decentralized, web-based data platform for circular battery use. Its platform combines quantum ledger, machine learning (ML), and decision science for data aggregation and track-and-trace.
It allows EV battery and electric car manufacturers to analyze various parameters, such as life expectancy and environmental impact, of batteries and track them. This, in turn, generates a more transparent overview of the batteries in circulation. Moreover, it allows manufacturers to ensure a second life for wasted batteries, reducing their carbon footprint.
5. Low-Carbon Manufacturing
Manufacturing units generally have resource-intensive operations and, in turn, contribute heavily to GHG emissions. Fortunately, recent advancements in low-carbon manufacturing methods, including sustainable materials and energy-efficient integrations, enable manufacturers to reduce their climate impact. For example, climate tech startups develop heat recovery systems that convert waste heat from industrial plants into electricity.
Likewise, manufacturing companies also utilize decarbonization efforts in supply chains and waste management to reduce their emissions. Many manufacturing companies now partner with EV fleet providers to outsource their logistics operations, including last-mile delivery. These efforts, together, reduce the carbon footprint of the industrial sector and advance progress towards net-zero goals.
Holy Technologies offers Circular Carbon Fiber
Holy Technologies is a German startup that manufactures recyclable carbon fiber. The startup combines simulations and fiber replacement technology to make its components. These components are recyclable and feature high-end performance. Consequently, the startup's technology finds use in the energy, automotive, and aerospace industries.
Heaten develops an Industrial Heat Recovery System
Heaten is a Norwegian startup that makes HeatBooster, an industrial heat recovery system. It is a high-temperature heat pump with a proprietary piston machine to recover heat wasted during fossil fuel combustion.
This allows manufacturers in chemical, automotive, metal, and textile industries to reduce energy costs involved in heating processes like compression, drying, and bleaching. By recycling energy, it lowers the dependence on non-renewable energy from the grid, thereby decarbonizing industrial processes.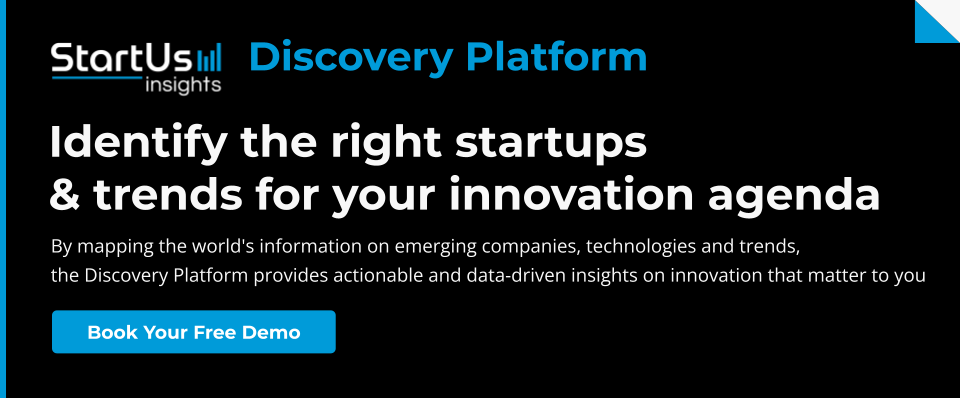 6. Sustainable Land & Water Management
Deforestation due to agriculture and housing lowers the earth's carbon-capturing ability. While government policies encourage deforestation, reforestation initiatives are a must to reverse global warming. Beyond reforestation, climate tech startups are tackling pollution of land and water bodies due to industrial effluents.
To tackle these issues, startups offer land restoration solutions, including wetland regeneration, for efficient chemical hold-off. Climate tech startups are also developing innovative water purification solutions for wastewater management and desalination. The latter allows local communities to extract drinking water from seawater and tackle the growing water needs.
Reclaimed Spaces provides Land Reclamation
Australian startup Reclaimed Spaces offers land reclamation services for wetlands, reserves, and residential landscapes. The startup utilizes locally sourced, native plants and sustainable materials to develop artificial ecosystems.
It also offers large-scale planting services, ideal for industrial site reclamations. Reclaimed Spaces' services allow cities, property owners, and industrial units to optimize land use, capture carbon, and promote terrestrial ecosystems.
Ecoflow develops Sustainable Water Technology
Ecoflow is a Singaporean startup that builds sustainable water technology. The startup's IoT solution monitors water systems in real time using a transmitter near the water meter. It sends the data through LTE, NB-IoT, or Sigfox 0G.
The data is stored in the cloud and provides insights into water consumption to save water costs and increase infrastructure efficiency. The IoT solution finds applications in monitoring water meters, tank fill levels, water pump conditions, and leakages.
7. Building Management
Buildings consume a huge amount of produced energy as well as contribute to a significant part of carbon emissions. Much of it is from cooling and heating systems in residential and commercial buildings. Climate innovation startups are developing energy consumption monitoring and reduction solutions to improve energy efficiency in built environments.
These building management systems (BMSs) allow building managers to optimize power consumption and save costs. Startups also offer grid-independent clean energy generation systems to reduce energy consumption from the grid.
Caeli Energie develops Low-Carbon Air Conditioners (ACs)
Caeli Energie is a French startup that manufactures low-carbon ACs. The startup utilizes Maisotsenko's cycle, an evaporative thermodynamic cycle, and a high-performance heat and mass exchanger to develop energy-efficient AC systems.
Moreover, Caeli Energie's solution does not use any refrigerants or outdoor units, eliminating refrigerant leaks and improving convenience. This allows property owners and managers to replace conventional air conditioners with low-cost and sustainable alternatives.
learnd offers Unified Building Management
British startup learnd offers a unified BMS. It integrates with existing BMS and other building systems to leverage energy consumption data and identify inefficiencies, such as poor functioning heating systems, of individual buildings and estates.
Along with the startup's BMS platform, learnd partners with component providers to upgrade, maintain, and monitor building systems. This approach enables building performance-as-a-service for property owners while reducing building carbon emissions and energy costs.
8. Carbon Data & Analytics
As is often said, what you cannot measure, you cannot improve. Tackling climate change requires collecting and analyzing climate and earth data. To this end, startups use the Internet of Things (IoT) sensors and satellites to develop more accurate climate models and improve climate action planning. Additionally, startups provide carbon accounting and reporting platforms for businesses to analyze carbon projects.
This allows companies to ensure the effectiveness of their impact investments and avoid low-performing projects, which benefits the companies and aids in combating climate change. This also improves their brand value and positively impacts sales as more and more customers now prefer climate-friendly products.
Sylvera provides Data-driven Carbon Intelligence
UK-based startup Sylvera offers data-driven intelligence for carbon projects. The startup's platform combines geospatial data and ML to generate credit ratings based on carbon performance, additionality, and permanence.
This provides improved visibility into carbon projects and allows quick evaluation and comparison of project quality. Consequently, Sylvera's solution enables corporate sustainability teams to ensure investments in the right carbon projects and monitor project performance.
Green Project Technologies facilitates Environmental, Social, and Governance (ESG) Reporting
US-based startup Green Project Technologies provides an ESG data collection and reporting platform. It integrates with existing systems like utility and financial accounting software to collect relevant data. It then regularly pulls data from these systems as well as handles data cleaning and processing.
Finally, the platform streamlines the ESG reporting process and enables purchasing and procurement teams to increase visibility into vendor and supplier performance. Similarly, the platform allows internal ESG teams to measure and market their ESG data and enables investment firms to generate portfolio-wide ESG reports.
9. Carbon Capture, Utilization, and Storage
Fossil fuels will keep contributing to the climate crisis until the energy sector completely integrates its renewables into the grid. Meanwhile, developments in GHG capture and sequestration technologies are crucial to stabilizing the climate. This is why companies are developing large-scale carbon capture units. However, scalability and capital expenditure are the main concerns in CCUS projects.
To tackle this, startups utilize natural carbon sequestration methods as well as innovate in more affordable, simpler carbon capture systems. For example, readily deployable carbon capture units allow residential areas to switch to solar energy while sequestering carbon. Such solutions increase the adoption of CCUS solutions in both industrial and residential settings.
Planboo advances Soil Carbon Sequestration
Planboo is a Swedish startup that furthers soil carbon sequestration. The startup maintains large-scale verified bamboo carbon sinks to capture atmospheric carbon. It also makes biochar from bamboo and other plant wastes to generate high-quality carbon credits.
This solution allows companies to remove their carbon emissions while repairing damaged soils and facilitating ecosystem restoration, accelerating net zero.
Holy Grail advances Direct Air Capture (DAC)
US-based startup Holy Grail develops direct air capture units for industrial settings. The startup's modular device takes in atmospheric air flows through a positively charged cathode. It ionizes CO2 molecules, which are then transported to the anode.
The startup's solution eliminates the need for complex systems like compressors and calciners in conventional DAC systems, making the technology cost-effective and scalable.
10. Green Construction
Construction relies on resource-intensive operations, from raw material production and land usage to energy consumption. Cement production alone accounts for 3% of the total GHG emissions. Startups offer green construction solutions such as sustainable concrete alternatives and large-scale energy storage devices to reduce the carbon footprint of the industry. In addition, material recovery from demolition sites and reverse logistics solutions are creating a market for recovered materials.
Since construction raw material production is a very carbon-intensive step, these solutions significantly reduce the carbon footprint of construction processes. Other startups use prefabrication and additive manufacturing to develop buildings with minimal material wastage while lowering costs.
MAA'VA develops Eco-Concrete
US-based startup MAA'VA offers eco-concrete for carbon-negative construction. The startup recycles plastic and non-plastic waste into eco-friendly materials to replace sand. Turning fossil-based plastics into long-lasting constructions advances carbon sequestering as well.
MAA'VA also leverages 3D printing to construct low-cost, sustainable dwellings. This allows communities and cities to optimize land usage for living as well as reduce construction costs and waste.
Green Life Manufacturing offers Eco-friendly Wall Panels
Green Life Manufacturing is a UK-based startup that manufactures eco-friendly wall panels. It consists of a spatial steel lattice enclosing a core of expanded polystyrene as well as support on-site in-situ casting. The single SIP panel is used as a supporting structure in walls, curtain walls, floors, and roofing of buildings.
Discover all Climate Tech Trends, Technologies & Startups
Innovations in climate technology improve the scalability and affordability of climate-positive solutions, including renewable energy sources and CCUS solutions. However, the climate sector primarily focuses on reducing dependence on fossil fuels and transitioning to cleaner fuels. This step is vital in achieving net-zero and leverages mobility electrification and clean grids. Interest in climate-smart agriculture also keeps in check the sustainable use of land and water, further reducing climate change.
At the same time, CCUS, circular economy, and building management reduce the impact of human activities and create a net-zero future. The Climate Technology Trends & Startups outlined in this report only scratch the surface of trends that we identified during our data-driven innovation & startup scouting process. Identifying new opportunities & emerging technologies to implement into your business goes a long way in gaining a competitive advantage.
Interested to explore all 3100+ climate tech startups & scaleups?
✕
Looking for emerging climate tech startups & technologies?
✕
Interested to explore all climate tech trends?
✕