Thousands of new startups are founded every year — emerging companies with the potential to disrupt cities. To give you a head-start on emerging technologies & startups that will impact waste management in 2023, we analyzed a total of 396 global city waste management startups & scaleups. Meet 10 of the most promising startups to watch!
Global Startup Heat Map highlights 10 City Waste Management Startups to Watch in 2023
Out of 396, the 10 waste management startups to watch are chosen through the Big Data & Artificial Intelligence (AI)-powered StartUs Insights Discovery Platform, covering over 3 790 000+ startups & scaleups globally. As the world's largest resource for data on emerging companies, the SaaS platform enables you to scout relevant startups, emerging technologies & future industry trends quickly & exhaustively.
The Global Startup Heat Map below highlights the 10 waste management startups you should watch in 2023 as well as the geo-distribution of the other 386 startups & scaleups we analyzed for this research. We hand-picked the 10 highlighted city waste management startups based on our data-driven startup scouting approach, taking into account factors such as location, founding year, the relevance of technology, & funding, among others.
Interested to explore all 350+ city waste management startups?
WasteLocker enables AI-driven Waste Mapping
Estonian startup WasteLocker uses AI to gather and analyze waste data. The startup's software analyzes photos of deposited waste and applies machine learning algorithms to detect the wrong waste type and fill level in trash containers. It then uses the data to provide insights into waste volume, type, and contamination levels. Additionally, the software customizes information to customers' needs and presents a waste quality audit to optimize waste management processes. This approach improves transparency, verifiability, and efficiency while revealing insights into waste generation, sorting, and consumption patterns. By eliminating empty garbage truck runs, improving logistics and sorting, and educating residents, WasteLocker promotes responsible waste disposal.
REPOD builds a Waste Sorting Household Appliance
Italian startup REPOD develops an automated waste-sorting household appliance for optimizing +waste collection. This smart internet of things (IoT) appliance integrates into the kitchen and uses optical readers to recognize and separate waste materials. Then, it shreds and seals the waste inside compostable capsules that are marked with quick response (QR) codes. An optical reader at the recycling center reads the QR codes to sort the waste instantly and automatically. REPOD's solution thus improves waste traceability through encapsulation, QR code marking, and data collection and sharing. This eliminates the need for bags and saves kitchen space for consumers.
DIWAMA makes Waste Analysis Software
Lebanese startup DIWAMA develops VITRON, an AI-based image recognition technology that automates the detection and auditing of recyclables in conveyor belts. This enables material recovery facilities (MRFs) and waste management companies to monitor the material composition and quality at various stages of the recovery process. The startup's monitoring unit comprises a camera and processor to detect recyclable categories and analyze waste streams. The startup's platform also displays valuable insights and data analytics on its dashboard. This way, DIWAMA enhances manual sorting, increases operational efficiency, and maximizes resource recovery.
DaIO Systems optimizes Waste Route Management
US-based startup DaIO Systems develops a waste management platform that streamlines waste operations. It facilitates the management of operational processes, while QR codes and global positioning system (GPS) tagging enable customer identification and route tracking. The platform provides real-time visibility into fleet progress, allowing for efficient planning and assignment of routes, and monitoring of route progress. Additionally, it enables operators to assign unique QR codes to each customer for smooth communication with operators, home offices, and customers. DaIO Systems' platform thus makes waste management more efficient, with its waste and recycling monitoring capabilities and coordination of waste activities.
Nadeera develops a Solid Waste Management Platform
Lebanese startup Nadeera makes a solid waste management platform that allows municipalities to design and implement citizen-centric waste management plans. It uses technology-based behavioral interventions to make waste sorting easy and fun for communities. The startup also provides a companion app, Yalla Return, and an engagement toolkit to verify and reward recycling efforts through an IoT-enabled process. Nadeera leverages technology to create engaging experiences and solve waste mismanagement issues.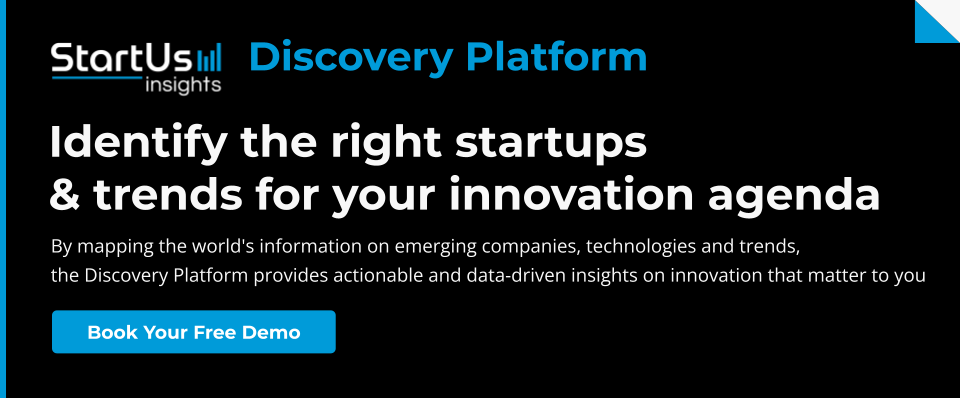 Ratna manufactures Waste Bin Sensors
Finnish startup Ratna builds KONU, a sensor that uses a low-power wide area networking (LoRaWAN) module to detect bin statuses. It tracks the fullness, flame risk, and inclination of bins to send this data to a gateway and an application server. This enables remote monitoring and optimization of work and route plans. Further, the waste bin sensor collects data on dumpster filling levels, temperature, and vibration to manage fire alarms and reduce collection frequency. The startup's waste management solution thus saves costs and reduces CO2 emissions and pollution.
Trashnet advances Decentralized Waste Management
Indian startup Trashnet provides a decentralized waste management solution. It leverages blockchain to track key performance indicators (KPIs) of operations. This promotes transparency, segregation at the source, and streamlines waste management processes. The startup's smart vision sensors monitor the waste inflow from the collection point and validate segregation. Its data analytics automates fleet monitoring and route optimization. Trashnet, in turn, revamps waste management infrastructure, maximizing resource recovery from bulk trash.
Pixies makes Waste Collection Robots
Italian startup Pixies develops a smart bench equipped with robots. It provides autonomous cleaning services in dynamic urban environments. The robot navigates autonomously, recognizes waste, and collects it separately. Solar energy powers the smart bench and robots, making them sustainable and self-sufficient. The startup also develops a neural network to sort plastic waste for recycling, reducing environmental impact. Pixies leverages robotics, AI, and IoT for enabling greener cities.
Cercle X digitizes E-Waste Management
Indian startup Cercle X offers a digital ecosystem of smart waste management solutions leveraging Web3 and blockchain. Its ecosystem connects consumers, ragpickers, aggregators, recyclers, and citizens to improve efficiency, transparency, and sustainability. The startup recycles various scraps, including e-waste. Also, it offers city-wise waste insights, supports real-time vehicle tracking, and provides detailed historical and real-time reporting. As a result, Cercle X brings provides a streamlined waste management experience for all stakeholders in waste management.
Smart City provides a Smart Waste Bin
New Zealand-based startup Smart City develops SmartWaste, a solar-powered, compact, intelligent waste management system. It features intelligent waste monitoring and rubbish compacting to manage waste efficiently. The system's solar panels are angled optimally to capture sunlight while the 24/7 light-emitting diode (LED) lighting ensures visibility in the dark. The smart bin also utilizes a sound module that broadcast personalized messages to the public. Unlike regular bins, it does not emit polluting smells or overflow. The startup's bin reduces rubbish collection costs, leading to a reduction in litter and pollution.
Discover All Emerging Waste Management Startups for Cities
The 10 city waste management startups showcased in this report are only a small sample of all startups we identified through our data-driven startup scouting approach. Download our free Industry Innovation Reports for a broad overview of the industry or get in touch for quick & exhaustive research on the latest technologies & emerging solutions that will impact your company in 2023!
Looking for emerging city waste management startups & technologies?
✕