Artificial intelligence (AI) in the healthcare industry reduces the workload of healthcare providers, enables faster diagnosis, and brings efficiency to therapeutics and management. Healthcare analytics, diagnostics, medical robotics, and telehealth are the top areas where AI adoption is prominent. AI further accelerates clinical trials and public health management. This report explores the top 10 AI trends in healthcare. Read more to explore how they impact your business.
Innovation Map outlines the Top 10 AI Trends in Healthcare & 20 Promising Startups
For this in-depth research on the Top AI Trends & Startups in Healthcare, we analyzed a sample of 3 103 global startups & scaleups. The result of this research is data-driven innovation intelligence that improves strategic decision-making by giving you an overview of emerging technologies & startups in the healthcare industry. These insights are derived by working with our Big Data & Artificial Intelligence-powered StartUs Insights Discovery Platform, covering 3 790 000+ startups & scaleups globally. As the world's largest resource for data on emerging companies, the SaaS platform enables you to identify relevant startups, emerging technologies & future industry trends quickly & exhaustively.
In the Innovation Map below, you get an overview of the Top 10 Trends & Innovations in Healthcare that impact 3 103 companies worldwide. Moreover, the AI in Healthcare Innovation Map reveals 20 hand-picked startups, all working on emerging technologies that advance their field.
Top 10 AI Trends in Healthcare
Tree Map reveals the Impact of the Top 10 AI Trends in Healthcare
Based on the AI in Healthcare Innovation Map, the Tree Map below illustrates the impact of the Top 10 AI Trends in Healthcare in 2023. AI-powered big data and predictive health analytics enable early disease detection while machine learning (ML)-based health diagnostics reduce human errors. Startups increasingly utilize AI in remote patient monitoring, telehealth services, and population health risk prediction. Further, AI-powered robots assist surgeons in performing complex procedures and improve hospital maintenance, safety, and hygiene. Clinicians increasingly leverage ML and natural language processing (NLP) to expedite clinical decision-making, drug trials, and medical triage management. NLP also assimilates data from electronic health records (EHRs), genetic testing, and research to enhance personalized healthcare. Lastly, AI strengthens cybersecurity by improving threat detection and fraud prevention that arise from healthcare digitalization.
Global Startup Heat Map covers 3 103 AI Startups & Scaleups in Healthcare
The Global Startup Heat Map below highlights the global distribution of the 3 103 exemplary startups & scaleups that we analyzed for this research. Created through the StartUs Insights Discovery Platform, the Heat Map reveals that the US sees the most startup activity, followed by India and UK.
Below, you get to meet 20 out of these 3 103 promising startups & scaleups as well as the solutions they develop. These healthcare AI startups are hand-picked based on criteria such as founding year, location, funding raised, & more. Depending on your specific needs, your top picks might look entirely different.
Interested to explore all 3 000+ AI startups & scaleups in healthcare?
Top 10 AI Trends in Healthcare in 2023
1. Healthcare Analytics
Healthcare data analytics utilize ML algorithms to rapidly discern relevant information from large amounts of medical data. This enables early disease detection and timely intervention by analyzing data from EHRs, medical devices, and wearables. Startups develop predictive models to analyze patient datasets for the prevention of stroke, cardiovascular disease (CVD), neurodegeneration, and other complications among at-risk populations. Further, it forecasts hospitalization risks for chronic and critical patients to lower readmission rates. AI-powered big data further improves the overall accuracy and quality of care while speeding up drug discovery and development.
MedaPlus enables Respiratory Sound Analysis
German startup MedaPlus develops an AI-assisted software platform for the analysis of respiratory and heart acoustic data. The startup's stethoscope digitizer converts an analog stethoscope into a digital device that collects auscultation data. MedaPlus' AI then analyzes the collected data and ECG readings to detect any abnormalities. Physicians and healthcare practitioners use the startup's platform to offer data-driven predictive diagnostics, scale up their practice, and train respiratory specialists.
Konplik Health facilitates NLP-based Medical Data Processing
US-based startup Konplik Health makes proprietary software and medical data analysis tools for the healthcare sector. The startup's platform leverages NLP algorithms to transform unstructured data from EHRs, social networks, and scientific literature into machine-readable formats. It then uses AI-driven predictive analytics to generate insights on medical treatments, hospital operations, and pharmacovigilance. Clinics and hospitals utilize it to improve efficiency and provide unbiased outcomes of clinical trials and drug development.
2. Medical Diagnostics
AI improves patient outcomes by providing faster diagnoses to support clinical decisions and reduce the risks of human error. Startups use a range of data processing methods, like ML and deep learning, to increase the capacity and streamline the workflows of radiologists. Examples include medical analysis of computed tomography (CT) scans and retinal images as well as electrocardiogram (ECG) waveforms and genetic testing. AI flags abnormalities and assists in the early diagnosis of rare medical conditions such as cancer and neurodegeneration. Moreover, it minimizes the need for unnecessary tests and procedures, consequently decreasing the burden on the healthcare infrastructure.
Hevi AI improves Stroke Triaging
Hevi AI is a Turkish startup that provides hStroke, a plug-and-play AI-powered stroke triage solution. It examines brain imaging scans utilizing deep learning algorithms to locate brain ischemia and hemorrhage for early stroke diagnosis. This reduces the time to identify acute stroke cases and it also sends alerts to physicians for starting treatments. That is why hospitals and radiologists apply it to automate stroke triage, reduce delays, and prevent patient disability.
Sierra Medical aids Early Cancer Detection
Sierra Medical is a UK-based startup that makes patented software for early cancer diagnostics. The startup's cloud-based software uses deep learning algorithms to detect pre-cancerous and cancerous cells in standard biopsies as well as generate tailored diagnostic reports. This allows diagnostic laboratories and healthcare providers to increase precision and reduce diagnosis time and costs.
3. Telehealth
Routine patient health and recovery monitoring allow medical professionals to focus on complex cases and emergencies. AI-driven virtual consultations and remote patient monitoring enable them to assist patients worldwide and provide data-driven care. E-health or mobile health (m-health) platforms range from simple recommendation engines and refer to specialist solutions to platforms that track and analyze patient health. Such solutions collect data from heterogeneous sources including electronic medical records (EMRs), medical images, wearables, medical devices, and smartphones. AI ingests this data to provide recommendations and alerts based on medical history, symptoms, and other concerns. Similarly, NLP-powered virtual health assistants and chatbots automate disease diagnosis, health monitoring, and triaging.
Smilo advances Teledentistry
Australian startup Smilo enables teledentistry by providing virtual consultations with dentists. The startup utilizes AI and smartphones to identify and remotely monitor oral health diseases. This allows physicians to build a patient-dentist relationship using two-way communication. It thus reduces healthcare costs by enabling early intervention for oral problems.
Kelvin Health provides a Mobile Imaging Platform
Bulgarian startup Kelvin Health develops a mobile thermal imaging platform to detect vascular, inflammatory, and oncological abnormalities. It combines a thermo-camera to capture body heat images and thermography AI for segmentation and image analysis. The platform's ML models analyze the images to detect different anomalies and alert medical specialists for preventive treatment. It also enables a portable, non-invasive, and self-application remote patient monitoring (RPM) and telemedicine solution for healthcare providers and clinicians.
4. Medical Robots
Startups develop medical robots to provide healthcare facilities in remote areas or perform complex procedures with higher precision. Surgical robots assist surgeons in reducing the risk of complications and increasing the success rate of surgeries. Likewise, ML-based rehabilitation robots facilitate physical therapy for patients recovering from injuries or surgeries. Telepresence robots also utilize AI algorithms to simulate physical presence and provide care to patients in underserved areas. This improves patient monitoring for patients with infectious diseases and prescribed contact isolation. Lastly, startups use AI routing in medical transport robots and drones for the autonomous delivery of medical supplies and equipment.
RIF Robotics makes a Surgical Robot
US-based startup RIF Robotics offers an autonomous surgical tray assembler robot. It utilizes image segmentation and object classification ML models to identify, track, and assemble surgical tools. This way, the robot reduces the time for sterile processing and eliminates operating room delays dues to disinfection errors. The robot also automates medical equipment cleaning and infection tracking in hospitals.
Oma Fertility provides Robotic Single-Cell Fertility Treatment
US-based startup Oma Robotics enables robotics-powered single-cell fertility treatments. The startup's AI sperm microscope technology facilitates the identification of the most suitable sperm cells during sperm selection. This increases the chances of pregnancy from intracytoplasmic sperm injection (ICSI), thus increasing the efficacy of in-vitro fertilization (IVF). Fertility service clinics and embryologists use the startup's technology to enhance patient outcomes and reduce treatment costs.
5. Hospital Management
In hospitals, AI automates routine administrative tasks such as appointment scheduling, insurance claim processing, and medical inventory optimization. AI automation further tackles worker shortage and staff allocation while handling large patient volumes and keeping consistency in the quality of care. Additionally, startups utilize AI-based predictive modeling and patient flow management to optimize resource utilization and hospital operations. AI-driven hospital management and supply chain optimization software also offer targeted interventions and policies to improve the quality of care.
MediCodio develops Medical Coding Software
US-based startup MediCodio makes an eponymous medical coding as a service (MCaaS) software solution. It automates repetitive tasks such as data entry, patient EHRs logging, and patient chart retrieval. The software also collects patient information from EHRs and physician charts to suggest suitable medical codes for review and billing. Additionally, it integrates with existing workflows and improves the efficiency of medical coders, enabling faster medical and hospital software development.
Dyad facilitates Patient Care Pathway Optimization
UK-based startup Dyad provides a universal translator platform to streamline and improve visibility in hospital operations. It utilizes graph ML and semantic AI to centralize and standardize healthcare data from different departments at scale. The platform also features patient flow management, predictive purchasing, and revenue cycle optimization as well as curates a knowledge base for clinical research. This reduces resource wastage and operational costs while facilitating integrated primary and secondary care coordination in hospitals and clinics.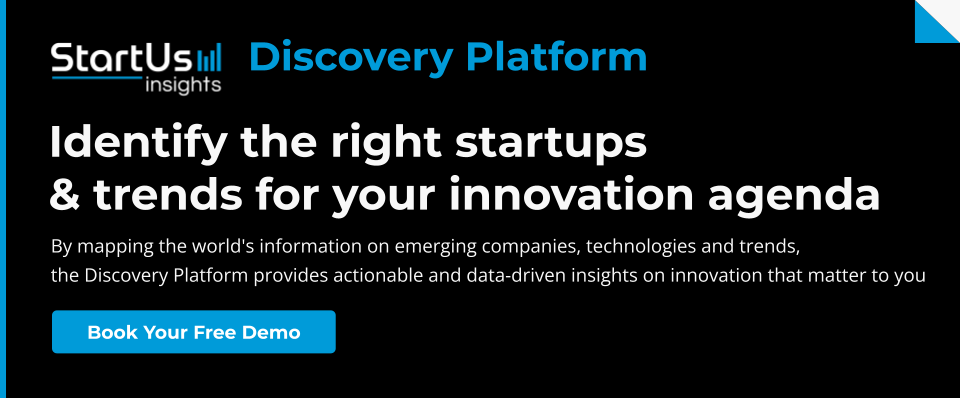 6. Clinical Decision Support
AI-based clinical decision support systems (CDSS) minimize the time to identify high-risk patients and predict the possibility of diseases. This enables healthcare providers to take preventative actions at an earlier stage for disease management and improve patient outcomes. AI algorithms also provide diagnostic decision support and test recommendations using evidence-based guidelines. Startups leverage NLP to analyze patient data from EHRs and other clinical data sources for treatment recommendations. This assists physicians in providing patient-specific care and advances personalized medicine. It also allows healthcare institutions to identify patterns of drug interactions and support clinical trials and drug development.
Synaptiq simplifies Radiation Treatment Planning
US-based startup Synaptiq develops Mediq, a cloud-based contouring software application for radiation treatment planning. It uses deep learning models to identify cancerous tumors from CT and MRI scans and demarcates at-risk organs for radiotherapy. Moreover, the centralized platform improves communication between radiation oncologists and technicians. AI-based contouring thus significantly saves time and resources.
Dectrocel advances Disease Management
Indian startup Dectrocel builds a medical decision support system for respiratory abnormalities. Its AI algorithm, DecX, is trained on datasets from chest X-ray (CXR) machines, patient demographics, and clinical trials for precise image analysis. This enables computer-aided screening and triage for multiple complexities such as chest X-ray pathologies, tuberculosis, pediatric pneumonia, and heart attack. It provides automated clinical insights for personalized diagnostics and removes pressure from hospitals and diagnostic service providers.
7. Clinical Trials
Clinical trials require processing large amounts of medical data from various sources, often compiled as manual records. AI increases the efficiency of clinical trials by evaluating this data and predicting outcomes such as treatment efficacy, device safety, etc. It further aids researchers in optimizing clinical trial designing and identifying promising interventions and drugs. Additionally, startups use NLP to evaluate the data to generate a comprehensive view of patient health. AI thus enables researchers to promptly identify patterns and adverse events that allow them to minimize risks to participants and stratify potential candidates.
Clinials improves Clinical Trial Recruitment
Australian startup Clinials provides a clinical trial participant recruitment and management platform. It allows clinics to create multiple trial-specific customizable landing pages, AI-generated protocol synopsis, and AI pre-screening eligibility questionnaires. Moreover, the platform enhances visibility into the patient journey and engagement as well as delivers trial reports and insights to make informed decisions. As a result, pharmaceuticals and clinical research organizations (CROs) control costs and accelerate time to market for drug trials by automating participant management.
Sentient Med provides Clinical Trial Insights
Israeli startup Sentient Med creates synthetic images for the development of healthcare AI. The startup uses machine learning to generate medical imaging datasets that are unbiased, verifiable, and free of privacy concerns. These ML algorithms enable de novo synthesis of tissue images with multiscale modeling and in various modalities such as MRI, CT, and ultrasound. These datasets offer clinical insights to improve patient screening for early clinical trials.
8. Public Health Management
Disease surveillance, management, and outbreak prediction are the primary use cases of AI in population health management. For instance, startups develop AI models that evaluate data from heterogeneous sources, including social media, to monitor trends and infectious disease spread. This information is further utilized to develop targeted interventions and policies to protect public health. Additionally, AI forecasts particular environmental factors that contribute to health risks and enables public health officials to take preventative actions. Moreover, ML and NLP models enable better utilization of public health data. In case of public health emergencies, AI-based chatbots reduce the workload of human responders and public healthcare infrastructure. Startups develop wellness programs with in-built AI that tailors these programs to individual populations.
MyHelse aids Population Health Risk Identification
US-based startup MyHelse makes a platform-as-a-service to identify population health risks and provide wellness plans. Its mobile application for AI-based predictive analytics and data-driven employee wellness tracking recommends customized lifestyle changes and nutrition advice. The app also tracks activities and sends reminders to employees while enabling progress tracking. This enables employers to introduce wellness initiatives and ensure good employee health and wellness. The app further provides care coordination plans for clinics, hospitals, independent delivery networks, payers, and insurers.
EVYD facilitates Public Health Monitoring
Bruneian startup EVYD develops EVYDENCE, an AI-based population health management platform. It leverages proprietary ML models to convert raw, unstructured data into standardized and legible data to derive public health insights. Its public health solution includes EVYDSurveillance and EVYDResponse modules for tracking infectious disease spread and improving epidemic management. Health authorities, policymakers, regulators, hospital administrators, doctors, and researchers use EVYDENCE for real-time health data analysis, outbreak prevention, and policy making.
9. Cybersecurity
Digitization of healthcare puts sensitive patient medical and private information at risk. Therefore, startups offer AI solutions for anomaly prediction and fraud detection to keep health tech networks running. Artificial intelligence in cybersecurity analyzes network traffic to predict patterns that may indicate the presence of cyber threats. This provides insights to prevent malicious attacks by discovering the origin of attacks, accurate threat detection, and continuous threat monitoring. Similarly, AI accelerates risk assessment and modeling by simulating cyberattacks. This assists in identifying system vulnerabilities and enables the development of risk mitigation policies. Furthermore, startups build AI-powered access control to monitor and mitigate unauthorized access to healthcare data and systems.
Partex enables Patient Data Licensing
Swiss startup Partex develops Amrit, an AI-graph platform that simplifies real-world-data (RWD) licensing by incentivizing patients. It utilizes blockchain and AI to encrypt patient data and provides a marketplace for licensing consented data to healthcare organizations and pharmaceuticals. This RWD thus accelerates drug discovery pipelines.
XetaX facilitates Patient Data Encryption
German startup XetaX increases patient data privacy through its encryption technology and medical network hub. The startup's self-controlled healthcare data records, XHR Records, apply multiple encryption layers on EHRs to enable homomorphic encryption and enhance security. Its AI-powered applications, XETAX Pro and XETAX App, for healthcare providers and patients improve patient management security and remote surgical planning.
10. Personalized Healthcare
AI enables faster and more effective utilization of data collected from genetic testing, health records, medical facilities, clinical trials, and research. Startups develop ML and deep learning models to extract insights such as differences in genetic makeup, lifestyle, and medical history. This enables healthcare institutions to deliver targeted and personalized care. Startups also provide testing and diagnostics platforms for early detection and risk prediction of diseases as well as to determine treatment efficacy. AI in personalized healthcare further aids in faster and more targeted drug discovery. This reduces patient-specific complications and facilitates treatment development for rare diseases. Moreover, AI algorithms utilize data from wearables, implants, and, other medical devices to identify patterns that are relevant to an individual's overall health and wellness.
Varico makes Personalized Treatment Plans
Canadian startup Varico provides AI-powered personalized treatment plans for varicocele and male infertility through its smartphone application. The startup's AI assesses patient conditions and suggests tailored treatment plans based on various identified causes. Varico's solution also features disease assessment, patient tracking, and data-driven treatment optimization to enhance care at home. Physicians and fertility clinics use this for remote patient monitoring and offering personalized medicine.
Smartomica provides Evidence-based Care Pathways
Latvian startup Smartomica builds a software platform to provide personalized evidence-based care pathways and clinical decision support. The startup's tool, Smartomica Bioinformatics, generates patient-specific datasets by processing and analyzing multi-omics data from the patients' health data, medical images, and diagnostics. The Smartomica Explorer tool uses this dataset to recreate patient journeys and predict diagnosis outcomes. Finally, the startup's other solution, Smartomica Scientific Reader, utilizes NLP to mine scientific information relevant to patient conditions. Medical practitioners and physicians use this to provide personalized healthcare at scale for conditions such as infertility, cancer, and autoimmune and metabolic diseases.
Discover all AI Trends, Technologies & Startups in Healthcare
AI application in healthcare is evolving through continuous training with RWD and medical experts, adding value to complex tasks. Startups are automating administration tasks and patient interactions to provide relief during emergencies and improve care delivery. Innovations in AI are increasingly cutting down research time to find optimal interventions and therapies as well as discover new cures. In essence, AI is supplementing the healthcare industry by making it less prone to errors and more efficient.
The AI Trends in Healthcare outlined in this report only scratch the surface of trends that we identified during our data-driven innovation & startup scouting process. Among others, NLP, disease diagnostics technologies, and medical robots will transform the sector as we know it today. Identifying new opportunities & emerging technologies to implement into your business goes a long way in gaining a competitive advantage. Get in touch to easily & exhaustively scout startups, technologies & trends that matter to you!
Looking for emerging AI startups & technologies in healthcare?
✕