Wearable technologies are electronic devices worn on the body to monitor environmental and body metrics. They advance many industries, from sports and medicine to manufacturing and fintech industries. For example, wearable fitness trackers monitor wearer heart rates and physical activities while industrial wearables monitor workplaces and worker vitals. This article provides you with innovation insights based on our analysis of 8 076 wearable startups & technologies and their impact on 8 industries. Read more to explore the impact of wearables on these industries and how they advance your business.
Tree Map reveals the Impact of Wearables on 8 Industries
Based on the Innovation Map, the Tree Map below illustrates the impact of Wearables on 8 industries in 2023. Wearable startups and scaleups are developing health and activity monitoring devices to improve training planning. Fashion, healthcare, and industrial wearables also monitor vital signs, like blood pressure levels, to promptly identify health issues. Additionally, industrial wearables track environmental factors, such as temperature and air quality, to avoid worker exposure to potential health hazards. Further, financial services enable wearable banking with these solutions while the entertainment industry offers immersive experiences by leveraging them. Lastly, the biotechnology sector improves wearable performance by integrating biosensors.
Interested to explore all 8 000+ wearable startups & scaleups?
Global Startup Heat Map covers 8 076 Wearable Startups & Scaleups
The Global Startup Heat Map below highlights the global distribution of the 8 076 exemplary startups & scaleups that we analyzed for this research. Created through the StartUs Insights Discovery Platform that covers 2 500 000+ startups & scaleups globally, the Heat Map reveals that the US & UK have a high concentration of wearable startups.
Below, you get to meet 8 out of these 8 076 promising startups & scaleups as well as the solutions they develop. These wearable startups are hand-picked based on criteria such as founding year, location, funding raised, & more. Depending on your specific needs, your top picks might look entirely different.
Impact of Wearables on 8 Industries
1. Sports
Sports teams require real-time data and feedback on athlete performance and activity levels to improve training. However, conventional athlete monitoring devices do not offer granular data. On the other hand, wearables, such as smart clothing and sunglasses, use sensors to track and monitor various metrics like heart rate, steps taken, or physical activity levels. This information allows trainers to identify areas for improvement and adjust training and fitness plans accordingly. For example, athletes' heart rate data during workouts enable coaches to adjust training intensity and prevent overtraining or injuries. Wearables also aid athletes to track their progress over time and set goals. Thus, wearables enable athletes and coaches to optimize performance and ensure better results.
PlayerData makes a Sports Vest
PlayerData is a UK-based startup that develops EDGE, a sports vest for football. It uses the global positioning system (GPS) to track player metrics and features cloud syncing. EDGE provides various key metrics, including distance covered, top speed, and sprint distances. This data is offered in the startup's companion app, allowing players and coaches to monitor progress and leverage position heatmaps.
2. Fashion
Wearables enable designers and manufacturers to incorporate technology into clothing and accessories to create fashionable, functional products. They provide real-time feedback and data, such as heart rates, stress levels, menstrual cycles, location, and more, to wearers. Further, wearable technologies create interactive and personalized experiences. For example, some smart jackets change colors or patterns based on the wearer's mood or preferences, providing a unique and personalized fashion experience. In this way, wearables allow customers to express personal styles while improving wearer safety.
B'ZT manufactures Smart Apparel
B'ZT is a US-based startup that offers a bluetooth-enabled smart apparel solution. The startup's machine-washable clothes leverage sensors and location tags to track the wearer's location. Its smartphone app, UndrCovr, allows parents and caretakers to register the location tags, which have unique serial numbers, to track children and patients. If wearers go out of range, the app also sends alarms to parents and caretakers, improving public safety.
3. Healthcare
Continuous, real-time patient monitoring is critical for healthcare professionals to mitigate life-threatening situations. However, this is time and resource-intensive. Healthcare wearables eliminate these issues by tracking and monitoring vital signs and health data. This real-time information enables doctors and caregivers to identify potential health issues and provide timely interventions. For example, heart rate monitoring devices offer heart rate and blood pressure data as well as alert caregivers on potential heart attacks or stroke risks. This also aids telehealth solutions by remotely offering patient-specific data. Additionally, wearables provide valuable insights to doctors and researchers that advances clinical research and therapy development, improving patient outcomes.
Anatomech develops a Bionic Wearable
Anatomech is an Indian startup that creates a bionic wearable. The startup's bionic sleeve, KUE, is battery-operated and features breathable mesh to ensure a snug fit. It also supports graduated, sequential pressure application and pre-calibrated pressure range of 30-70 mmHg. This aids patients in rehabilitation and therapies post injuries or surgeries.
4. Manufacturing
Factories deploy workers in hazardous conditions and that is why worker monitoring is crucial to ensure workplace safety. Wearables improve worker safety and productivity by providing real-time information and alerts on potentially dangerous situations. In the manufacturing industry, they provide real-time information and alerts to workers and supervisors by monitoring surroundings and worker health parameters. For example, some startups develop wearable devices that track worker heart rates and body temperatures to identify heat stroke or exhaustion. Additionally, wearables track worker productivity and efficiency, allowing supervisors to identify areas for improvement and adjust workflows accordingly. Other examples of industrial wearables include smart personal protective equipment (PPE) and exoskeletons.
NIVY Watch provides an Industrial Smartwatch
NIVY Watch is a Slovakian startup that offers an industrial smartwatch. It measures time spent on operating machines, tracks worker location and work pattern procedures, and communicate using simple messages. This allows floor managers to keep workers away from hazardous areas while aiding process optimization. The data from this smartwatch also enables them to reduce employee stress, improving workplace safety.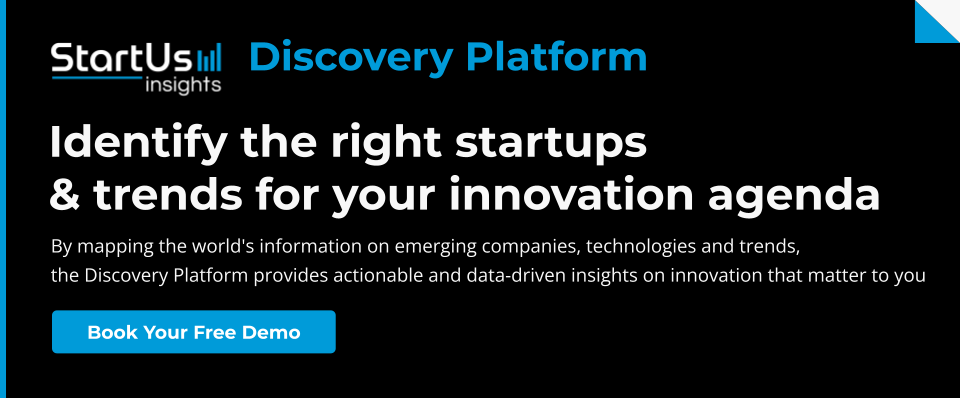 5. Finance
Wearables enable secure, convenient authentication, and access control for financial transactions and sensitive information. They leverage the internet of things (IoT) and sensors to provide secure, convenient authentication for financial transactions and access to sensitive information. For example, smart rings powered by near-field communication (NFC) authenticate transactions at point-of-sales (PoS), enabling wearable banking. This also provides banks and fintechs with customer-specific information to personalize product and service offerings. Additionally, wearables monitor users' physical activities and locations to add additional layers of security and protection against fraud and identity theft. These features improve financial security and transactional convenience for customers.
K Wearables enables Contactless Payments
K Wearables is a UK-based startup that makes K Ring, a smart ring for contactless payments. It is powered by Mastercard and replaces credit cards. Wearers need to keep the ring within four centimeters from contactless readers and should be in the correct position to authenticate transactions. Moreover, K Ring mitigates accidental payments by allowing wearers to enable and disable transactions through a companion app. This improves their convenience in creating credit card transactions and improves satisfaction.
6. Entertainment
Wearable technologies offer immersive means for audiences to experience and interact with live performances, theme parks, and museums. They include virtual reality (VR) and augmented reality (AR) headsets that deliver engaging and interactive experiences. For example, VR headsets find use in theme park attractions to explore and interact with virtual environments and characters. Similarly, AR headsets powers live performances to allow audiences to interact with virtual elements and effects, such as holograms or special lighting. This enhances audience experiences and drives creativity for artists and performers.
MaddCog offers a Game Band
MaddCog is a New Zealand-based startup that creates a game band. Its flexible sensor uses electroencephalography (EEG) and heart rate variability (HRV) to track real-time mental performance. The startup's cloud platform then applies deep learning to this data to identify key mental factors, enable data-driven breaks to avoid fatigue, and track improvements. This, in turn, improves the performance of gamers across games as the game band is compatible with all PC and console games.
7. Biotechnology
Wearable biotech enables bio-digital interfaces noninvasively monitor physiological status, disease states, and toxin or pathogen exposures. These data points find application across industries, especially clinical research. For instance, continuously monitoring biological processes and phenomena provides researchers and scientists with real-time data to develop new treatments and therapies. Wearables also allow them to identify any potential side effects or adverse reactions, enabling precision medicine. Further, wearables that offer insights into environmental conditions, such as air quality, humidity, and temperature, allow researchers to study the effects of these factors on biological systems. Wearables thus improve disease diagnosis and enable novel therapies.
Asen makes a Transcutaneous Oxygen Sensor
Asen is a South Korean startup that creates a wearable transcutaneous oxygen sensor. It combines luminescent gas sensing and soft electronics to diagnose multiple diseases related to peripheral capillaries. Accurate oxygen sensing is crucial for aging patients and those with chronic diseases. The startup's wearable thus enables outpatients and hospitals to promptly identify risk scenarios and ensure timely physician intervention.
8. Worker Safety
Wearables improve safety and prevent accidents on the job by continuously monitoring various workplace safety hazards and potential risks. They also offer real-time information and alerts to workers and supervisors. Some wearable devices monitor air quality in manufacturing plants to alert workers when air quality falls below safety levels. Further, wearables track worker movements and activities, enabling supervisors to improve their safety and efficiency. As a result, wearable technologies provide a cost-effective means to enhance worker safety without affecting industrial workflows.
Lopos develops a Workplace Safety Wearable
Lopos is a Belgian startup that offers LoposAlert, a workplace safety wearable. It leverages ultra-wideband (UWB) radio technology to measure the distance between individual workers and between workers and material handling equipment like forklifts. LoposAlert then provides collision warning alerts to the workers through sound, vibration, or light when workers get closer to machinery. The startup also offers the wearable as belt clips, carabiners, and wristbands. They allow manufacturers and floor operators to improve workplace safety.
Discover All Wearable Startups
Remote patient, athlete, and worker monitoring are the primary use cases of wearables. Militaries are also leveraging wearable technologies to provide soldiers with real-time information and communication capabilities. Further, advances in IoT, 5G, and high-performance computing (HPC) will expand the capability of wearable devices by moving computing closer to the source. Get in touch to identify specific wearable startups & solutions that advance your business!
Looking for emerging wearable startups & technologies?
✕