Open innovation encourages collaboration between organizations, individuals, and other stakeholders to create new ideas, products, and services. Increasingly, corporates seek emerging technology solutions to solve long-standing and complex challenges. In this blog, we will discuss the benefits of open innovation, what are the various types of open innovation, and how you can maximize the potential of your company's open innovation program with one of the best technology and trend intelligence solutions available.
Why Do You Need Open Innovation?
Open innovation is a great way to unlock your potential and tap into the collective creativity of the larger industry and beyond. It allows organizations to benefit from new ideas and technologies that they may not otherwise consider as a solution. By engaging with a larger group of stakeholders, organizations continuously gain access to new perspectives and ideas. So, open innovation has several benefits for organizations. Let's discuss a few of the major ones:
Access to new ideas & technologies — Open innovation provides organizations with access to a large pool of ideas and technologies. This helps them come up with new, innovative products and services that are better suited to the needs of their customers.
Cost savings — Startups usually spend all of their resources to develop specific, high-quality solutions. By leveraging their expertise, corporates increase their profits while gaining a competitive edge in the market.
Collaborative environment — Open innovation encourages collaboration between organizations, individuals, and other stakeholders. This allows organizations to develop a collaborative work environment that is geared toward innovation.
What are the Most Common Types of Open Innovation?
Open innovation comes in different shapes and sizes. Let's take a look at the top six types of open innovation you can use to unlock your company's innovation potential:
1. Innovation Challenges
Corporations typically initiate innovation challenges to collect ideas and find potential solutions. These are either open, external competitions with the opportunity to gather lots of participants or internal with specifically chosen partners. You can use innovation challenges to solve a particular pre-defined problem or cast a wider net and explore what the participants have in store for you.
For example, Unilever's innovation portal seeks solutions related to the packaging, storage, and transportation of food products. Whereas, AT&T's Accelerator Challenge offers a more comprehensive approach, asking for proposals to improve the engineering skills of modern students.
2. Hackathons
Hackathons have been gaining in popularity in recent years. These events are ideal for bringing together people with a wide range of skills, including developers, designers, and entrepreneurs. During hackathons, participants collaborate on projects and develop innovative solutions to various problems. These events are an excellent way to foster creativity and collaboration, as well as provide networking opportunities.
Hackathons are comparable to innovation challenges, however, they delve much more extensively into the project specifics — often reaching the level of the minimum viable product. Also, time is of the essence with hackathons — it is necessary to use creative proficiency and expertise to generate progress in a brief amount of time. Hackathons are also known to promote better communication among their participants.
3. Corporate-Startup Partnerships
Startups and corporations benefit from joining forces. Establishing partnerships between the two results in a number of advantages for both parties. These partnerships enable startups to gain access to new customers, resources, or expertise that they may otherwise lack. Moreover, it provides them the chance to perfect their value offering, interact with prospects, and become familiar with a greater variety of corporates. For a bigger company, the benefit lies in accessing tailor-made solutions without having to allocate internal personnel hours. The upsides of startup-corporate collaboration are making the phenomenon increasingly commonplace. One such example is BMW's Startup Garage.
Read more about collaborating with startups: Your Guide to Successful Corporate-Startup Partnerships
4. Startup Acquisition
Acquiring a startup is a common practice among large companies looking to expand their operations and diversify their portfolios. By combining resources and expertise, both parties can benefit from the collaboration. For a company that has been around for a while and has identified a possible benefit, but lacks the ability, means, or experience to follow through, purchasing a startup may be the way to go. Through this purchase, the business takes advantage of innovation without having to create it from scratch.
5. Intrapreneurship
Intrapreneurship involves recognizing personnel with a business-minded attitude and providing them with the resources they require to address company challenges. Intrapreneurs have the autonomy to discover and pursue innovative ideas and take initiative to develop new products or services. Intrapreneurs are also allowed to take more calculated risks to determine the best way forward. So, why look outside when you can boost innovation from within?
Read more: How Intrapreneurship boosts Corporate Innovation
6. Co-Creation Labs
Co-creation labs are equipped with the tools and resources necessary for teams to come together and develop a project. These labs also provide mentoring and access to knowledge to help people in their pursuits. By working together in a collaborative environment, innovators develop new ideas and solutions to a variety of problems. Co-creation initiatives can be conducted either within the confines of a business or brought together from outside sources with the participation of staff, customers, and other associated partners.
For example, Microsoft recently opened up its first co-creation lab in Redmond, Washington, where it invited customers to participate in the development of new products. Similarly, General Electric has opened up multiple co-creation labs around the world, where engineers work together with customers to develop innovative solutions. These labs allow companies to tap into the creative potential of their stakeholders, gain valuable feedback and insights, and develop products and services that are tailored to the changing needs of their customers.
Maximize Your Open Innovation Potential with StartUs Insights
Planning and managing open innovation programs, especially startup challenges requires a lot of work, including but not limited to the following:
Designing the challenge
Releasing and promoting the challenge
Keeping track of the application process
Answering the queries of the participants
Screening the applications
This is where our Startup Program Service comes in. At StartUs Insights, we manage & promote your innovation program in two ways:
Direct Outreach — Using the StartUs Insights Discovery Platform, our expert analysts shortlist more than 2 000 relevant startups catering to your criteria from a huge database of 2 093 000+ companies and directly reach out to them with your offer and convince them to apply.
Promotional Activities — Our marketing ninjas produce informative SEO-driven articles promoting the program to be published in our blog and super-engaging social media copies posted across our social media channels.
Don't forget to read: Benefits of Virtual Startup Programs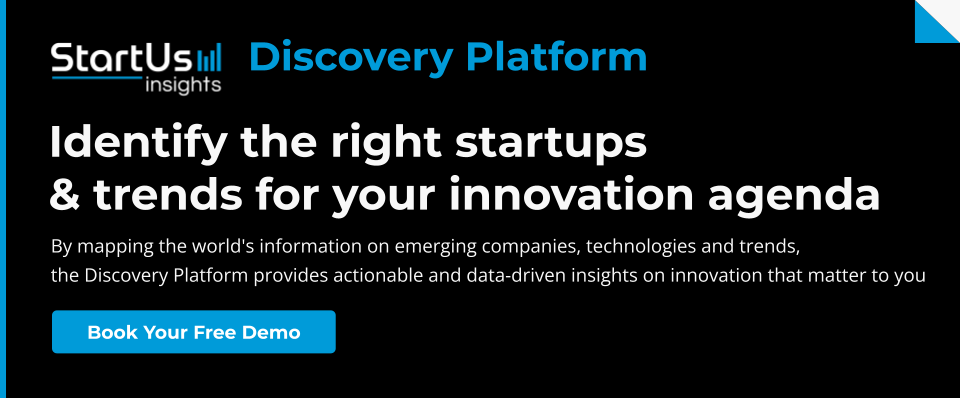 Apart from the core services mentioned above, we also offer:
Setup of Conversion-Optimized Landing Page — Don't have the time or bandwidth to create the web page for your program? Take advantage of our experience with SEO-optimized content to set up the landing page of your startup program and attract the right applications.
Applicant Pre-screening — Received more applicants than you can handle? We got you! Our in-house trained analysts will analyze startup data to pre-screen the applicants with the best potential.
Read this next: Accelerate Open Innovation with Data-driven Startup Programs
Why Should You Partner with StartUs Insights?
Receive High-Quality Applications — Your message needs to travel to thousands so that you have plenty of options to choose the best startups from. Our conversion channels reach hundreds of thousands to make sure the most relevant ones convert to your program.
Optimize the Program Effort — We offer you our experience and knowledge gathered while transforming the largest European startup and innovation community into a global network. This results in a lean and conversion-optimized setup for your startup program.
Build Long-Term Awareness — We understand that with every program cohort, it becomes more and more challenging to reach relevant startups. We make sure to increase the value of our network and reach every day so that you can benefit from it in the long term.
Irrespective of your innovation goals and resources, you have the potential to find the best solutions for your industry challenges through open innovation. Get in touch with us to understand how our platform reduces your workload while providing you with the most relevant results.
Ready to work with us to boost your Startup Program?
✕