Constant innovation and adaptability are key to thriving in an ever-changing market. However, with an overwhelming amount of information available, efficiently tracking and analyzing new industry trends can be a challenge. Fortunately, trend intelligence software solutions like the Discovery Platform simplify the process and make your lives easier.
Let's delve deeper into why tracking industry trends is important, how to do it accurately and effectively, and what our valued customers have to say about the Trend Intelligence platform.
Why Keep a Pulse on New Industry Trends?
#1 Competitive Advantage
Being aware of emerging trends allows you to adapt your strategies and remain competitive. By recognizing new opportunities and addressing changing consumer needs, you gain an edge over your rivals.
#2 Business Growth
Monitoring industry trends allows you to identify potential areas for growth and innovation. By staying ahead of the curve, you know what new develop new products and services you should develop that cater to evolving market demands.
#3 Risk Mitigation
Tracking trends empowers you to identify potential disruptions and risks. By anticipating changes in the industry, you can proactively prepare for challenges and minimize their impact.
Also read – Top 5 Use Cases of the Best Trend Intelligence Software
Stay on Top of New Industry Trends with Trend Intelligence
At StartUs Insights, we develop the Discovery Platform, a powerful startup database that covers more than 3 million startups & scaleups globally. Among other features, our platform provides Trend Intelligence, giving you instant access to over 20,178 emerging trends and technologies. You might need an industry overview, an in-depth understanding, or accurate forecasting of trends. Our robust recommendation system helps you identify the most important up-and-coming trends that matter to you. Let's explore how it works!
Trend Monitoring
Our platform aggregates information from 457M+ verified sources to curate emerging industry trends. You can access reports, articles, and analyses related to your specific interests, thus making sure you are up to date with the latest developments.
Trend Discovery, Clustering, and Analysis are now made easy. With our cutting-edge features, you can look behind 20K+ trends and gain a deep understanding of emerging developments across industries and verticals.
Read this next – The Benefits of Data-driven Trend Monitoring for Innovation Managers
Technology Scouting
The Discovery Platform scans the global startup ecosystem to identify emerging technologies and innovative solutions. This enables you to discover new tools, products, and services with the potential to disrupt your industry.
Startup Tracking
Track startups, scaleups, and emerging companies that are relevant to your industry by leveraging the Discovery Platform. Monitoring these companies gives you valuable data-driven insights into new industry trends, potential competitors, and investment opportunities.
Data Visualization
We provide intuitive data visualization tools, such as charts and graphs, so you can easily understand complex trends and patterns. Visual representations make it simpler to analyze information, draw actionable insights, and drive business growth.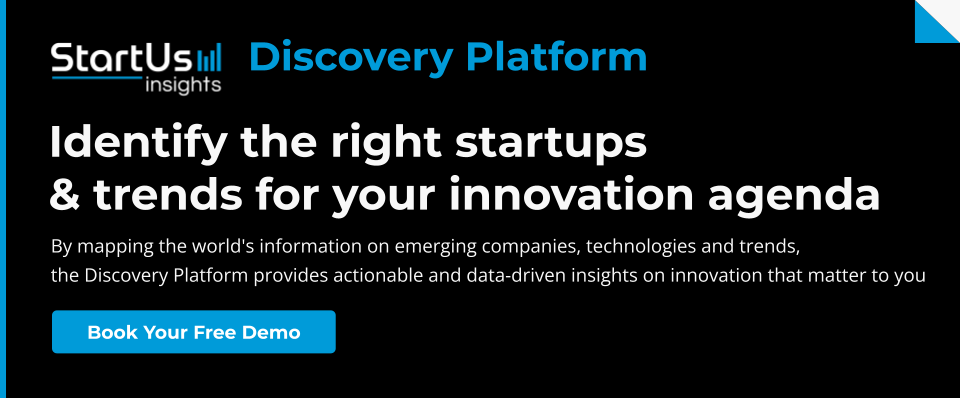 How do Corporates Leverage Trend Intelligence?
Over the past 10 years, we have earned the trust of numerous industry leaders across various sectors. Over 1000+ corporate partners, including Samsung, Nestlé, Lufthansa Cargo, Magna, CAF, Bayer Foundation, and Altair choose the Discovery Platform to drive business growth.
Our reputation for delivering accurate, advanced, and actionable insights makes StartUs Insights a preferred choice among professionals looking to stay ahead of new industry trends and technologies. Their testimonials reflect the impact and value our platform brings to their businesses, propelling them toward success in the ever-evolving market:
1. Danieli Corus: Providing a glimpse into the world of steel and iron-making
Danieli Corus, a leading provider of advanced solutions and technologies in the iron and steel industry, sought to navigate the ever-evolving landscape of steel and ironmaking. With a desire to understand and validate technological advancements in their core interest sectors, they turned to StartUs Insights.
Through our collaboration, Danieli Corus experienced a transformative journey. We empowered them to unravel existing and emerging trends while providing a glimpse into the world of pioneering startups and scaleups driving technological progress in their field.
"By dissecting megatrends and illuminating clear pathways for industry development, StartUs Insights delivers invaluable insights that refine our strategic direction. Their unwavering commitment to deadlines, friendly demeanor, and attentive approach make our partnership truly worthwhile," says Michael Skorianz, Chief Technology Officer.
You might also like – How Data-Driven Trend Intelligence Future-Proofs Your Business
2. Maschinenfabrik Reinhausen: Uncovering transformative trends within the energy industry
Maschinenfabrik Reinhausen (MR), a global leader in high-voltage testing, diagnostic systems, composite insulator manufacturing, and power transformer regulation, embarked on a voyage of exploration with StartUs Insights. Together, we set out to uncover transformative trends within the energy industry.
The outcome was extraordinary. We constructed a meticulously detailed trend map, providing granular insights and showcasing exemplary startups working in the selected fields of interest. Moreover, StartUs Insights crafted a bespoke Continuous Trend Monitoring service, ensuring MR remains at the forefront of emerging developments.
"StartUs Insights equips us with actionable data on startups and emerging trends, surpassing our expectations with exhaustive results that enable us to grasp the bigger picture," says Christina Ipfelkofer, Project Manager.
3. Group IPS: Showcasing the structural trends
Group IPS, an esteemed international project management and engineering office specializing in industrial projects, sought to uncover strategic directions within specific industrial markets. They aimed to classify branches of interest and prioritize vital sub-sectors, igniting their growth potential.
In response to their aspirations, StartUs Insights delivered a comprehensive map showcasing the structural trends impacting Group IPS' focus areas. Additionally, curated summaries of insights on relevant sectors, sub-sectors, and innovations were provided, propelling Group IPS to heightened awareness and understanding.
"StartUs Insights accelerates our awareness and understanding of key industry trends. Their tailor-made approach ensured we received precisely what we needed to propel our success," says Damien Hemmeryckx, International Business Unit Manager.
Ready to unlock the future of your business and gain a deeper understanding of industry trends and technologies? We invite you to experience the transformative potential of our Trend Intelligence platform.
Book a personalized demo today to explore how our Discovery Platform empowers your organization to make informed decisions, adapt to evolving market demands, and stay ahead of the competition. Our team of experts will guide you through the platform's many capabilities and demonstrate how it provides unparalleled insights tailored to your needs.
Ready to explore emerging trends in your industry?
✕