Innovation management can be a daunting and anxiety-inducing task as it involves managing a variety of risks and uncertainties. After all, innovation managers are also human. We understand that at times it becomes too much. Innovation Management Anxiety is real and it is more common than you think. And, of course, you are not alone.
But, with the right strategies and tools in place, it is possible to conquer the fears and concerns. In this blog, we will explore ten common types of innovation management anxiety and provide strategies for combating them.
How to Effectively Manage the Common Types of Innovation Management Anxiety?
1. Uncertainty Anxiety
Innovation projects often involve a high level of uncertainty as there is often a lack of clear direction or established processes. This can lead to feelings of insecurity, which can be particularly stressful for those who prefer a more structured and predictable work environment.
To combat this, establish clear goals and objectives for your innovation project. This will provide a sense of direction and purpose, which will alleviate uncertainty. It is also important to communicate regularly with team members and stakeholders to ensure that everyone is on the same page and working towards a common goal.
2. Risk Anxiety
Innovation seldom happens without risks, which can again be a source of anxiety. The fear of failure or the unknown can be intimidating, and it is natural to feel anxious about the potential consequences of taking risks.
So, carefully assess the potential risks of your innovation project and develop a plan to mitigate them. This will reduce the level of uncertainty and give you a sense of control over the situation. Also, remember that not all risks will pan out as expected, and you have to be flexible and adaptable in the face of change.
Read this next: How You Can Tackle the 4 Most Common Innovation Risks
3. Resource Anxiety
Innovation projects require a significant investment of time, money, and other resources. This can be a source of anxiety for those responsible for managing these resources, as there is the pressure to make the most of them and achieve a positive return on investment.
To avoid getting overwhelmed in such situations, plan and allocate the resources in a way that maximizes their impact. Set clear goals and objectives, prioritize tasks, and track progress to ensure that resources are being used effectively. It is also important to be open to new ideas and approaches — it can help you identify more efficient ways of using the same resources.
4. Collaboration Anxiety
As an innovation leader, you have to work with a diverse group of people. The fear of not being able to effectively collaborate or communicate with others can be intimidating, and it is natural to feel anxious about your ability to contribute to the team.
To combat collaboration anxiety, establish clear roles and responsibilities for team members and communicate regularly to ensure that everyone is on the same page. Also, don't forget to be open to feedback and actively seek out opportunities for collaboration. By fostering a culture of openness and transparency, you can create a more positive and productive work environment.
Read more about this: Build a Culture of Innovation in Your Organization
5. Change Anxiety
What is innovation without change? However, the fear of the unknown and the potential for disruption can be intimidating, and it is natural to feel anxious about the impact of change.
To reduce change anxiety, make sure everyone is informed about the changes taking place. Provide support and resources to help your team members adapt to the changes. By being proactive and transparent about the changes taking place, you can minimize anxiety and create a more positive and supportive work environment.
6. Time Pressure Anxiety
Innovation projects often have strict timelines and a high level of time pressure, as there is often a need to deliver results and achieve success within a specific timeframe. Time pressure anxiety is the perceived or actual pressure to meet all the expectations properly within tight deadlines.
To tackle time pressure anxiety, set realistic timelines for your innovation projects. Prioritize tasks and focus on the most important and urgent tasks first. You can also try breaking larger tasks into smaller, more manageable chunks and to set intermediate deadlines to help keep progress on track.
Effective time management strategies can also be helpful in reducing time pressure anxiety. This may involve setting aside dedicated blocks of time for focused work, using tools and technologies to streamline processes and reduce distractions, and delegating tasks to team members where appropriate.
You might find this helpful: Use These 10 SaaS Tools for Innovation Management
7. Failure Anxiety
Innovation often involves trying new and untested ideas. The fear of failure and the potential consequences are very common — we understand your anxiety about the potential impact of failure on the company.
However, failure is an inevitable part of the innovation process. It is important to view failure as a learning opportunity and to focus on the lessons that can be learned from it. Additionally, establish a culture of experimentation and learning within your organization. This creates a more positive and supportive environment for taking risks and trying new ideas.
Also read: 3 Reasons Why Corporate Innovations Fail
8. Performance Anxiety
Innovation projects involve a high level of performance pressure, as there is often a need to deliver desired results within tight time budgets. This gives rise to the fear of not being able to meet expectations.
To avoid this, establish realistic goals and objectives for your innovation projects. It is also important to foster a supportive and collaborative work environment. This creates a sense of shared responsibility and reduces the burden of individual performance pressure.
9. Imposter Syndrome Anxiety
As an innovation manager, you often take on new and unfamiliar roles and responsibilities. The fear of not being up to the task and being uncertain about your ability to succeed in your new role is very much understandable.
To fight imposter syndrome anxiety, it is important to remember that everyone has their own strengths and weaknesses and that it is normal to feel unsure at times. In such scenarios, seek out support and feedback from trusted colleagues and mentors. This can help you build confidence and improve performance. Also, don't forget to celebrate your successes and accomplishments — it will definitely boost your self-esteem and confidence, even the small wins.
10. Decision-Making Anxiety
Innovation often involves making difficult and complex decisions. The fear of making the wrong decision and the potential consequences can be way too overwhelming. In such situations, it is very common to feel anxious about the impact of your decisions on your organization.
To combat decision-making anxiety, set a clear and structured decision-making process. You can do this by gathering and analyzing relevant data, consulting with experts and stakeholders, and weighing the pros and cons of different options.
Using StartUs Insights' services helps you reduce many of the above-mentioned types of innovation management anxiety. Learn how.
Reduce Innovation Management Anxiety with the StartUs Insights Discovery Platform
The StartUs Insights Discovery Platform helps companies like yours keep a tab on the market — what's new, what's changing, what has the maximum scope, and much more.
Using our big data and AI-powered software, we:
Analyze billions of data points from various startups and technologies
Map the data with AI and expert knowledge
So, what does this mean for you?
Discover Opportunities Before Others — Our proprietary technology enables you to discover relevant startups, technologies, and business cases early on. Hence, you can empower your business units with actionable, data-driven insights.
Detect Pivotal Changes — We continuously monitor the startup ecosystem to detect pivotal changes.
Map the World of Tomorrow — Our advanced data mapping process provides you with a bird's-eye view of the emerging technology landscape. Use our comprehensive Innovation Maps for effective decision-making.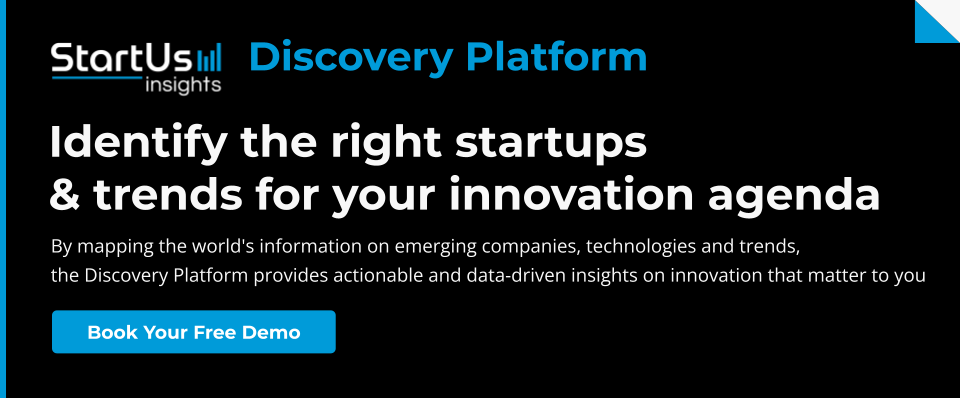 That is not all. We also provide you with a Trend Intelligence solution that gives you access to 29 500+ trends and technologies. This allows you to:
Anticipate Future Trends & Business Opportunities — we deploy advanced analytics to hundreds of thousands of trusted sources on startups, emerging technologies, and industry trends to provide you with accurate insights into trends impacting your industry in a short amount of time.
Stay Up to Date — Monitoring the business ecosystem continuously ensures the identification of emerging technologies, trends, and opportunities. Our service provides you with regular updates on recent developments through Trend Intelligence Reports, Innovation Maps, and Real-time Databases.
Also read: How does Trend Analysis drive Innovation?
All this structured data and granular analysis of the same along with the monitoring of emerging trends and technologies in your industry helps you streamline and improve your company's innovation management process. We ensure that your decision-making process is built on the most recent insights available. That is exactly how our data will reduce your anxiety and enable you to be more confident with your next best steps.
It's time to hear from you — how do you combat innovation management anxiety? Let us support you in your efforts. Schedule a demo session of our product today to learn more about everything that we have in our store for you!
Ready to work with us to boost your company's innovation efforts?
✕