Global Startup Heat Map highlights 10 Blockchain Startups to Watch in 2023
Through the Big Data & Artificial Intelligence (AI)-powered StartUs Insights Discovery Platform, covering over 3 790 000+ startups & scaleups globally, we identified 1952 blockchain startups. The Global Startup Heat Map below highlights the 10 blockchain startups you should watch in 2023 as well as the geo-distribution of all 1952 startups & scaleups we analyzed for this research. Based on the heat map, we see high startup activity in the US and the UK, followed by the rest of Western Europe and Singapore. These blockchain startups work on solutions ranging from peer-to-peer (P2P) transactions and decentralized finance (DeFi) to blockchain gaming and tokenization.
Interested to explore all 1900+ blockchain startups?
As the world's largest resource for data on emerging companies, the SaaS platform enables you to identify relevant technologies and industry trends quickly & exhaustively. Based on the data from the platform, the Top 5 Blockchain Startup Hubs are in London, Singapore, New York City, San Francisco, and Dubai. The 10 hand-picked startups highlighted in this report are chosen from all over the world and develop solutions for traceable transactions, product identification, and data integrity.
10 Top Blockchain Startups to Watch in 2023
Implementation of smart contracts enables automated and self-executing transactions, which are applied in various industries. For example, smart contracts automate the process of buying and selling properties in real estate, eliminating the need for intermediaries such as lawyers and real estate agents. Similarly, in supply chain management, blockchain-based smart contracts are used to track the movement of goods from their origin to their destination. This ensures transparency and prevents fraud. In finance, smart contracts self-execute transactions to enable instantaneous cross-border transactions, automated settlements, and more. The use of blockchain saves time and reduces costs while increasing security and transparency.
CnerG simplifies Energy Procurement
South Korean startup CnerG provides a cloud-based clean energy procurement marketplace and transaction management platform. It uses smart contracts for the origination, execution, and settlement of power purchase agreements (PPAs) and energy attribute certificate (EAC) trade. These smart contracts, based on the startup's proprietary blockchain technology, offer transactional transparency for both global and local energy markets. Moreover, it integrates Ethereum and Quorum protocols to facilitate private bilateral PPAs and EAC transactions as well as open auctions. Renewable energy asset owners, operators, and investors use CnerG's platform for data-driven clean energy trading and generation asset management and investment optimization.
Protokol provides Digital Product Passports
Dutch startup Protokol develops a blockchain-based platform and smartphone application to create digital product passports and manage product identity. Brands generate digital twins of their products in an immutable digital ledger. It records product lifecycle event data, provenance, manufacturing, and repairs, among others. This enhances the traceability, transparency, and tradability of the product and curbs counterfeit goods and fraudulent supplier practices. Similarly, customers scan the code linked with the product's digital twin to claim digital asset ownership or optimize resale verification. Luxury brands and consumer goods industries use this customizable platform to improve customer trust and brand protection as well as ensure regulatory compliance.
Origami advances DAO Creation
US-based startup Origami makes a DAO operating system (OS) for organizations to build their own DAOs. It is a centralized platform to manage the DAO and facilitates on-chain member voting on multiple DAO proposals. The platform also provides non-fungible tokens (NFTs) to validate member onboarding and protect private resources as well as issues governance tokens for member compensation. Organizations get access to Origami partner network and data-driven guidance to launch and grow their own DAOs with tailored requirements.
Axel enables Low-code DeFi Development
US-based startup Axel provides developer application programming interfaces (APIs) and software development kits (SDKs) for DeF). The startup's plug-and-play SDKs allow developers to integrate DeFi into any application. They support native integration in the backend and front end as well as across multiple blockchain protocols while executing non-custodial transactions. It features input parameters and user interaction customization for developers to build fintech applications. Axel thus enables enterprise-grade wallets, decentralized exchanges (DeX), aggregators, neobanks, and other fintech apps to build new DeFi features while ensuring blockchain interoperability.
Truffles builds an International Payments Platform
UAE-based startup Truffles develops a decentralized platform to offer on-chain business banking for cross-border payments. The startup's platform supports blockchain-enabled banking services such as invoicing, accounting integrations, global fiat banking, and institutional on- and off-ramping. This accelerates the time for international remittance settlements and features fraud prevention through private NFT-based invoices and compliance integrations. Companies use this platform to streamline transactions and adopt Web3 to advance business banking.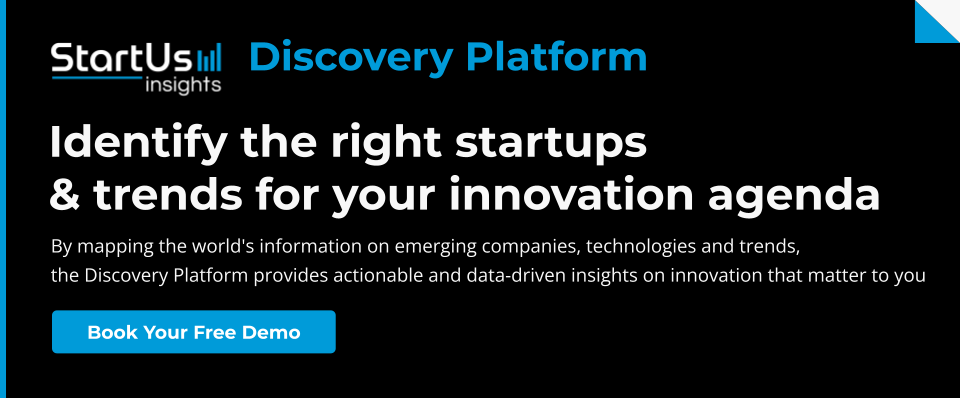 AllesHealth maintains Secure Medical Records Library
Swiss startup AllesHealth offers a blockchain-powered platform to unify patient health data from multiple sources. It allows patients to store their health records digitally and anonymously as well as share them with clinical research organizations (CROs). The platform's medical record library ingests data from labs, wearables, and medical records and puts patients in control of their data using blockchain encryption. This facilitates patient health journey mapping, treatment personalization, and proactive disease management for clinicians. Moreover, it enables patients to monetize their health data and provides CROs and hospitals with real-world evidence (RWE) to advance clinical trials.
CiRCLR offers a Waste Processing Platform
New Zealand-based startup CiRCLR builds a waste processing platform to reuse and reduce waste from business operations. The startup's business-to-business (B2B) platform utilizes blockchain and artificial intelligence (AI) to measure, track, trade, and report sustainability claims. These audits enable businesses to minimize waste and incentivize sustainable practices. Further, the platform connects businesses producing non-edible waste with other verified businesses to aid waste exchange. This way, businesses achieve net zero targets and use these impact measurements to attract sustainable financing.
Archipels facilitates Document Verification
French startup Archipels develops a web3 platform for the digital verification of documents and data. It offers solutions for document and data certification, verification, and authentication. The startup's Archipels Verify APIs and SDKs use blockchain to authenticate the integrity of documents at the issuer or source. This way, businesses, banks, and public service organizations accelerate the time to detect documentation fraud and authentication processing time. Additionally, this enables faster customer onboarding by reducing time and error in know-your-customer (KYC) and other regulatory compliances.
Oasys advances Blockchain-integrated Game Development
Singaporean startup Oasys provides a gaming-optimized blockchain that aids game development and distribution. Its autonomous blockchain gaming ecosystem offers a proof-of-stake (POS)-based eco-friendly blockchain that increases the adoption of the play-and-earn economy. Its blockchain architecture combines layer-1 featuring network stability and data availability with layer-2 featuring zero-gas fee, scam resistance, and flexible tokenization. These features eliminate common issues like transaction and network security that blockchain game developers face. This enables fast and scalable game development.
Shelter Blockchain Technologies facilitates Real Estate Investing
Spanish startup Shelter Blockchain Technologies provides a real-estate investment platform using blockchain-based smart contracts. The startup's platform offers a proprietary token, shelter utility tokens (SUT), as investment instruments for real estate projects and properties. It tokenizes properties, provides NFT auctions of holiday rentals, and enables project crowdfunding. The platform aims to scale up to other real estate services using the SUT tokens and offer safer investments during volatile periods. Small real estate projects use this platform to receive project investment from retail investors.
Discover All Emerging Blockchain Startups
The 10 blockchain startups showcased in this report are only a small sample of all startups we identified through our data-driven startup scouting approach. Download our free Industry Innovation Reports for a broad overview of the industry or get in touch for quick & exhaustive research on the latest technologies & emerging solutions that will impact your company in 2023!
Looking for blockchain startups & technologies?
✕