Global Startup Heat Map highlights 10 Zero Waste Packaging Startups to Watch in 2023
Through the Big Data & Artificial Intelligence (AI)-powered StartUs Insights Discovery Platform, which covers over 3 790 000+ startups & scaleups globally, we identified 702 zero waste packaging startups. The Global Startup Heat Map below highlights the 10 zero waste packaging startups you should watch in 2023 as well as the geo-distribution of all 702 startups & scaleups we analyzed for this research. Based on the heat map, we see high startup activity in Western Europe, followed by the US and India. These zero waste packaging startups work on solutions ranging from sustainable and compostable materials to takeaway bowls and reusable packages.
Interested to explore all 700+ zero waste packaging startups?
As the world's largest resource for data on emerging companies, the SaaS platform enables you to identify relevant technologies and industry trends quickly & exhaustively. Based on the data from the platform, the Top 5 Zero Waste Packaging Startup Hubs are in London, New York City, Berlin, Los Angeles & Mumbai. The 10 hand-picked startups highlighted in this report are chosen from all over the world and develop solutions for food containers, reusable packages, circular economy, and biodegradable packaging.
10 Top Zero Waste Packaging Startups to Watch in 2023
Zero waste packaging addresses the environmental impact of traditional packaging materials. For instance, compostable and biodegradable packaging materials are derived from renewable resources like plant fibers, seaweed, and mushroom mycelium. These materials offer an eco-friendly alternative to conventional plastics, as they naturally break down and return to the environment without causing harm. Additionally, the surge in the adoption of reusable packaging systems, where consumers return or refill containers, reduces the need for single-use packaging. Technological advances further lead to the creation of edible packaging made from materials like seaweed or edible films. It minimizes waste and also provides an innovative and sustainable solution to tackle package waste. These innovations in zero waste packaging contribute to the reduction of plastic pollution, promote a circular economy, and support the transition to more sustainable packaging.
rhinopaq makes Sustainable Shipping Packages
German startup rhinopaq provides sustainable shipping packaging for online shopping. It utilizes a reusable system to reduce the carbon footprint in the online retail sector. The startup's packaging solution enables multiple reuses to build a circular packaging cycle. The startup also allows rental companies to reduce packaging costs while delivering the parcels and accepting returns. rhinopaq offers pay-per-box and pay-per-use packaging solutions to online retailers to save costs and resources on return shipping.
Movo offers Reusable Packages
Italian startup Movo manufactures reusable packaging solutions for eCommerce companies. The startup allows final customers to return the packaging as envelopes. Prepaid shipping also enables customers to return the packages back to their destination by posting via the nearest mailbox. Movo provides eCommerce companies with safe and secure circular shipping means while reducing their carbon footprint.
ERA zero waste makes Organic & Plastic-Free Boxes
ERA zero waste is a German startup that provides organic and plastic-free customized boxes for grocery shipping. It features flexible order scheduling for single or repeated orders and enables customers to return the packaging on the next delivery. The packaging ensures zero carbon emissions on deliveries. ERA zero waste also offers refillable containers, reusable shipping boxes, and compostable paper bags to enable sustainability in grocery shipping businesses.
Reusabowl provides Rice Husk-based Takeaway Bowls
Reusabowl is a New Zealand-based startup that creates reusable packaging for takeaways in workplaces and eateries. It uses rice husk to manufacture reusable bowls and cutlery that are durable, leakproof, and microwave safe. The startup thus helps eateries to eliminate single-use packaging wastage and reduce operational costs. Reusabowl also provides compostable packaging solutions with leakproof silicone lids to ensure reliability and sustainability.
futuREproof delivers Reusable Packaging as a Service
Belgian startup futuREproof offers package borrowing solutions for restaurants and end customers. Its mobile application makes package borrowing convenient for takeaways and delivery meals. The startup offers a range of Mepal Pro products, its premium food bowls for storing cold and hot meals suitable for both refrigerators and microwaves.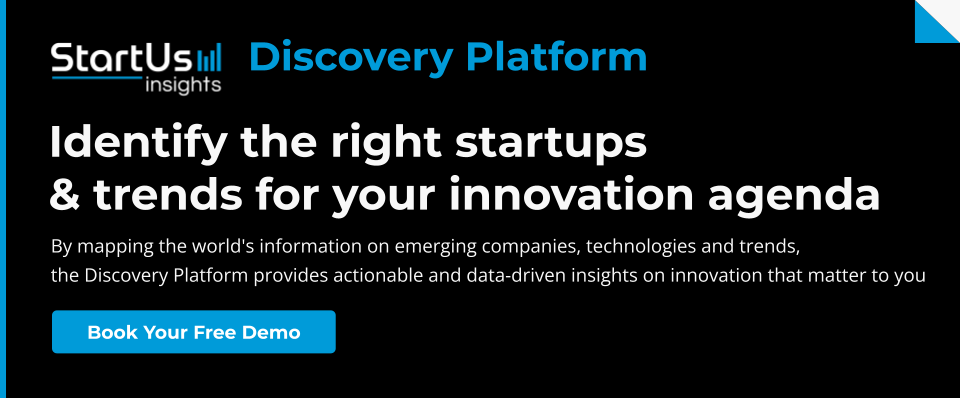 Circulr offers a Packaging Reuse Program
Circulr is a Canadian startup that works with grocery store brands for creating a reusable packaging platform to reduce the environmental impact. It enables customers to return the packaging and the companion app allows them to track the packages to receive deposits and rewards. The startup helps consumer packaged goods (CPG) brands to elevate their brand image through sustainable packaging. Moreover, Circulr helps local brands with package sourcing, collection, deposit management, and sanitation, replacing single-use plastic packaging.
Zero Impack ensures Circular Food Delivery
Italian startup Zero Impack develops a circular delivery platform to eliminate single-use waste from food deliveries, catering events, and takeaways. The platform tracks the positive results by using quantitative data in sustainability reports. It also organizes and manages zero-waste catering events for companies, universities, events, and businesses. The platform enables businesses to offer circular food deliveries in reusable containers and reduce carbon emissions.
Zuckerpak uses Bagasse for Packaging
US-based startup Zuckerpak manufactures sustainable packaging from bagasse, sugar cane waste residual fibers. The startup produces food packaging items like takeaway containers, plates, and bowls. It also substitutes wood to produce pulp, paper, and board which enables industries to switch to a greener alternative. Zuckerpak processes bagasse through an eco-friendly mechanical process that provides a bio-compostable product line for the packaging industry.
Al Tabeeah manufactures Durable Biodegradable Disposables
AL Tabeeah is a UAE-based startup that provides a range of durable biodegradable food packaging products for businesses. The startup's green, leak-resistant tableware caters to hot and cold liquid. It also provides seed-embedded, all-natural paper plantable packaging that grows a plant in soil post disposal. This enables Al Tabeeah to cater to cafes, airlines, and the retail sector by reusing, planting, and recycling packaging materials.
Reusables develops a Zero-Waste Packaging Platform
Canadian startup Reusables provides a container-sharing zero-waste platform for the food and beverages industry. Its reusable stainless steel containers are for food handling in campuses, offices, and commercial buildings. The platform also enables companies to borrow food-grade, recycled steel reusables with sealable lids to reduce plastic usage and wastage. This allows businesses to attract conscious customers and save packaging costs to reduce their carbon footprint.
Discover All Emerging Packaging Startups
The packaging startups showcased in this report are only a small sample of all startups we identified through our data-driven startup scouting approach. Download our free Packaging Innovation Report for a broad overview of the industry or get in touch for quick & exhaustive research on the latest technologies & emerging solutions that will impact your company in 2023!
Looking for zero waste packaging startups & technologies?
✕
Get your free Packaging Innovation Report
We'll deliver it straight to your inbox!
✕