The up-and-coming food industry trends mark a shift towards sustainable and personalized food choices. These include alternative protein sources, local foods, nutraceuticals, and personalized nutrition. The concern over environmental impacts is causing FoodTech startups and brands to integrate waste reduction practices as well as zero-waste workflows. Also, the COVID-19 pandemic had a compelling impact on accelerating the adoption of food industry 4.0 technologies throughout the food value chain and improving food quality.
Food producers are digitizing their production floors with robotics, eCommerce, and digital food-management tools. Further, restaurants are employing robots for hospitality and cooking, as well as promoting e-commerce. The food industry is tackling the continuing impact of the COVID-19 situation using all the above tools, towards efficient, transparent, and sustainable operations.
This article was published in June 2021 and last updated in September 2023.
What are the latest trends in the food industry?
Innovation Map outlines the Top 10 Food Industry Trends & 20 Promising Startups
For this in-depth research on the Top Food Technology Trends & Startups, we analyzed a sample of 5065 global startups & scaleups. This data-driven research provides innovation intelligence that helps you improve strategic decision-making by giving you an overview of emerging technologies in the food industry. In the Food Tech Innovation Map, you get a comprehensive overview of the innovation trends & startups that impact your company.
These insights are derived by working with our Big Data & Artificial Intelligence-powered StartUs Insights Discovery Platform, covering 3 790 000+ startups & scaleups globally. As the world's largest resource for data on emerging companies, the SaaS platform enables you to identify relevant technologies and industry trends quickly & exhaustively.
Tree Map reveals the Impact of the Top 10 Food Technology Trends in 2024
The Tree Map below illustrates the Top Food Trends that will impact companies in 2024. Consumers shifting to alternative protein sources, including lab-grown food, is the most significant trend in the food industry. Further, the increased awareness of nutrition and health concerns during the pandemic drives the demand for nutraceuticals and personalized nutrition. Food e-commerce is another big trend that is fueled by the COVID-19 situation. Also, there is a substantial rise in food safety concerns directly impacting food transparency across the food value chain.
With digitization being an integral part of the food and beverage industry, companies are adopting restaurant digitization, digital food management, and food robotics to improve operations. Food brands are also focussing on food waste reduction and are adopting zero-waste practices. 3D food printers are also a part of the trends in food science and technology, enabling many other major trends such as meat alternatives and personalized nutrition.
Global Startup Heat Map covers 5065 Food Technology Startups & Scaleups
The Global Startup Heat Map below highlights the global distribution of the 5065 exemplary startups & scaleups that we analyzed for this research. Created through the StartUs Insights Discovery Platform, the Heat Map reveals that the US is home to most of these companies while we also observe increased activity in Europe, particularly in the UK and France.
Below, you get to meet 20 out of these 5065 promising startups & scaleups as well as the solutions they develop. These 20 startups were hand-picked based on criteria such as founding year, location, funding raised, and more. Depending on your specific needs, your top picks might look entirely different.
Interested to explore all 5000+ food technology startups & scaleups?
Top 10 Trends in the Food Industry (2024)
1. Alternative Proteins
Consumers are increasingly shifting towards alternative protein sources, driven by health and environmental considerations. This makes it a prominent trend in food technology. These alternatives include cultured meat, lab-grown food, plant-based nutrition, edible insects, and mycoprotein. They have high nutritional richness and resource efficiency from production to consumption, a marked contrast to traditional livestock-based protein.
Further, alternative protein sources offer cost advantages due to their minimal dietary requirements and health monitoring. The ongoing advances in 3D printing, fermentation, and molecular biology also empower startups to develop sustainable solutions for protein production. This, in turn, allows food companies to address ethical concerns and reduce the carbon footprint associated with conventional meat production.
The Protein Brewery offers Animal-Free Protein
The Protein Brewery, a Dutch startup, develops FERMOTEIN, a proprietary animal-free lab-grown food. The startup brews FERMOTEIN using non-allergenic crops and fungi, infusing them with essential amino acids and fiber. This protein alternative has a 10% fat content and high water-binding capabilities, resulting in a meat-like flavor profile.
FERMOTEIN stands out as a natural ingredient, comprising solely brewed fibrous protein. The startup's solution enables sustainable food developers to mitigate additional protein processing and expedite food product development.
ento manufactures Insect-based Protein
Malaysian startup ento farms crickets in a controlled environment to develop nutritious cricket-based food products. The startup's insect-based alternative protein offers more proteins per gram than beef and contains all nine essential amino acids.
Also, ento's cricket farming solution requires less land, water, and food than traditional livestock production, reducing greenhouse gas emissions. This enables food producers to save production costs.
2. Nutraceuticals
There is an increasing concern about the impact of food habits on health and a growing need for essential nutrients for a healthy lifestyle. With the COVID-19 pandemic, consumers are focusing more on eating healthy, making nutraceuticals a top trend in the food industry. This is a critical element in driving the demand for nutraceuticals.
Nutriceuticals include nutritional supplements, functional foods, medicinal foods, and gut microbiome-enhancing foods like prebiotics, probiotics, and postbiotics. Scientific research on nutraceuticals underscores their potential health benefits. Importantly, their use in addressing oxidative stress-related disorders such as allergies, diabetes, and immune-related conditions.
Farmhand Organics provides Fermented Foods
Based in the US, FoodTech startup Farmhand Organics develops hand-crafted, naturally probiotic, plant-based, fermented foods using organic ingredients. The startup's organic krauts and kimchi facilitate healthy digestion, as well as maintain sleep and immunity balance.
Further, Farmhand Organics' fermented vegetables are nutrient-rich and flavorful. The startup sources its ingredients directly from family farms and other local suppliers, reducing the carbon footprint due to transport.
Voll Sante makes Functional Food
Indian startup Voll Sante provides functional foods and beverages as well as nutraceuticals. The startup's products utilize natural ingredients to prevent and manage malnutrition. Its nutraceutical products assist consumers in preventing chronic diseases.
The startup's nutraceuticals also reduce healthcare expenditures and turn the focus of healthcare from reactive to preventive. They are available as protein and vitamin supplements, immunity boosters, and breakfast cereals.
3. eCommerce
eCommerce has long been a focal point in the food and beverage industry, but the COVID-19 pandemic has accelerated innovations within food supply chains. Food brands are harnessing digital platforms to provide on-demand online delivery services and connect with customers through direct-to-customer (D2C) distribution models. Additionally, heightened safety concerns during the pandemic are fueling the growth of ghost kitchens or cloud kitchens, exclusively offering food takeout and delivery services.
In tandem with D2C strategies, brands are prioritizing omnichannel distribution to enhance the customer experience and boost sales. This integrated approach ensures that customers access products both online and in brick-and-mortar stores, catering to diverse shopping preferences. Further, eCommerce empowers food manufacturers to establish stronger connections with their customers while ensuring product availability. This direct engagement allows manufacturers to gather valuable feedback and data, enabling them to tailor their offerings to consumer preferences.
Byte Elephant builds a Food E-Commerce Platform
Byte Elephant is an Indian startup that develops BETs, an e-commerce platform for food companies. It allows multi-brand, multi-location businesses to manage all orders in a centralized ecosystem. The platform features a quick customer onboarding workflow and is customizable based on specific brand requirements.
The startup's platform thus enables food businesses to mitigate upfront IT development costs and offer online service quickly. It also enables them to scale operations quickly. This allows food businesses to address customer demands and stay ahead of the competition.
Ghost Kitchen offers Kitchen Spaces
South Korean startup Ghost Kitchen provides individual kitchen spaces to quickly start delivery businesses. At present, the startup owns 143 kitchens with adequate hygiene management and workflow from material storage to cooking, packaging, and delivery.
Also, Ghost Kitchen enables data-driven planning services through shared data collection from the entire individual kitchens. In effect, the startup minimizes expenses for contracts and interiors by directly offering standalone kitchens for restaurants and other food delivery entrepreneurs.
4. Food Safety & Transparency
Consumers prioritize the quality and safety of food products, leading to heightened food safety concerns. To address these concerns, consumers now have access to smart labels and standalone food grading devices, empowering them to make informed decisions when selecting food items. Additionally, advancements in blockchain technology and real-time food monitoring via Internet of Things (IoT) devices allow food brands to offer comprehensive end-to-end traceability.
Further, startups are contributing to food safety and transparency by creating cost-effective and scalable monitoring solutions. These innovations foster trust between food producers and consumers, increasing brand credibility and sales. Startups also play a crucial role in driving continuous improvement in food safety practices and ensuring that consumers have access to reliable information about the products they consume.
Thrasos simplifies Cleaning Protocol Scanning
Thrasos is a French startup that offers an AI-based solution to scan cleaning protocols in food production lines. The startup's food safety management system utilizes a deep learning network to analyze numerous food safety parameters to validate the compliance of hygiene procedures.
This approach enables food businesses to leverage food safety management as a service as well as monitor and assess the efficacy of cleaning operations. As a result, food companies are able to ensure food-safe production lines and improve customer safety.
ThisFish develops Seafood Traceability Software
ThisFish is a Canadian startup that develops Tally, a software solution for seafood traceability. The startup digitizes data collection in real time on the food manufacturing floor using electronic scales, barcode printers, and scanners. Also, Tally allows seafood manufacturers to upload catch certificates and compliance documents.
The startup's approach strengthens traceability while eliminating data errors and building trust among customers. Furthermore, ThisFish assists seafood producers in streamlining their operations for overall cost reduction, from fleet management and port unloading to production and quality control.
5. Personalized Nutrition
Growing consumer awareness about nutrition is fueling the demand for personalized nutrition solutions. These solutions encompass nutrigenomics-based diets and also cater to individual preferences such as sugar-free, gluten-free, vegan diets, and clean-label food products. Technological advancements like 3D printing and the integration of robotics into food production lines enable food manufacturers to offer personalized nutrition on a large scale.
At-home blood and urine testing kits empower consumers to identify dietary choices that align with their genetic profiles. Tracking devices further allow users to monitor their diets and health conditions, streamlining their nutritional choices. This level of customization enhances customer convenience and drives sales. Furthermore, ongoing research and development efforts are continuously expanding the range of personalized nutrition offerings. This ensures that consumers have access to dietary options to suit their needs.
NGX provides Genetically Personalized Meal-Shakes
NGX is a British startup that develops genetically personalized meal shakes. The startup offers at-home DNA nutrition tests and utilizes the test results to personalize nutrition intake for each individual. NGX's products are plant-based breakfast and snack shakes that contain 30 essential nutrients including valine, isoleucine, leucine, lysine, and more.
Also, the startup's products have minimal calories, fat, and carbohydrate value as well as zero added sugars. NGX's meal shakes enable customers to reach their fitness goals quicker and lead healthier lives.
Mefood Omics develops an Online Precision Nutrition Platform
Mefood Omics is a French startup that builds an online precision nutrition platform for nutrition professionals. It combines nutrigenetics, artificial intelligence, and machine learning to design personalized dietary plans and monitor patients. Patients use the platform to create appointments and track billing as well as support diet customization and dynamic patient tracking.
The company also provides a nutrigenetic test and syncs the results with patient profiles. This way, the platform integrates nutrigenetic information as the last layer of personalization in generating the diet plan. This allows nutrition professionals and patients to leverage data-driven eating habits tailored to patient-specific diet goals.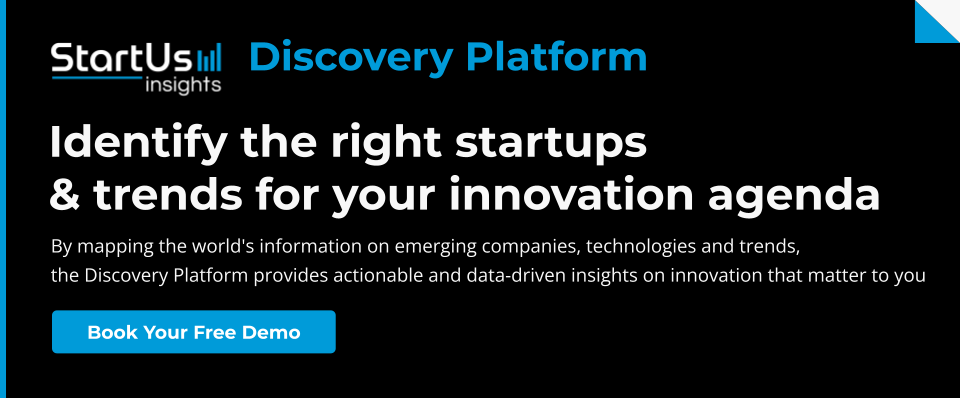 6. Restaurant Digitization
Digitization in restaurants enhances the customer experience and also streamlines operational management, leading to improved efficiency. It empowers restaurant brands to collect valuable data at every stage, facilitating data-driven decision-making across operations. The upheaval caused by the COVID-19 pandemic has accelerated the adoption of digital management systems throughout the food and beverage supply chain. To minimize direct human-to-human contact, restaurants are integrating digital menus, self-service kiosks, and cashless payment methods.
Additionally, emerging technologies like chatbots and voice bots are gaining prominence for assisting customers with food orders and addressing restaurant-related inquiries. Leveraging customer preference and behavior data, AI-enabled tools provide personalized food recommendations and even contribute to new recipe development. This transformation underscores the pivotal role of digital solutions in the evolving restaurant landscape.
AAHI develops a Customer Engagement Platform
AAHI is a Czech startup that provides a customer engagement platform for restaurants. The startup's contactless ordering platform uses digital menus and QR codes, supports multiple languages, and is tailorable to brand specifications. This offers a unique interactive experience for customers along with minimizing direct contact between personnel and customers.
Also, the platform optimizes customer-restaurant interactions, thereby increasing order frequency. AAHI's Ecological Marketplace further connects restaurants with customers interested in sustainability and promotes special offers. This allows businesses to turn unsold and less popular items into revenue, reducing food wastage.
RestaurantOS optimizes Restaurant Operations
RestaurantOS is a Canadian startup that creates a restaurant management platform. Its AI assistant automates back-office tasks like order creation, reservation management, menu pricing, and more. The platform also offers guest analytics and supports inventory management and customer loyalty programs.
Through its solution, RestaurantOS enables restaurant chains to optimize operations, save time, and cut costs. Its pay-as-you-go business model further alleviates upfront and per-order platform fees for food businesses.
7. Digital Food Management
The integration of big data analytics and AI, coupled with real-time monitoring, facilitates comprehensive digital food management from farm to fork. Innovative startups are developing food management solutions that optimize manufacturing processes and streamline supply chain operations. Further, the digitization of restaurants empowers businesses to analyze customer behavior and forecast demand based on consumer preferences.
Collectively, these digital solutions empower food producers to gain a deeper understanding of market requirements and anticipate potential disruptions. This minimizes losses and improves surplus food inventory management. For instance, the utilization of quantum computing allows startups to swiftly analyze critical disruptions, including pandemics, and simulate market fluctuations accurately. Additionally, customer and market intelligence enables brands to streamline marketing strategies and drive increased sales.
Tastewise develops a Food Intelligence AI Engine
Tastewise is an Israeli startup that provides customer intelligence. The startup's food intelligence AI engine collects customer data from social media interactions and digital restaurant platforms. It then cleans and classifies the data using historical consumer behavior and restaurant activities.
Through this process, the platform identifies critical insights into customer preferences and overall trends. It visualizes these insights as dashboards and reports, enabling restaurant owners to formulate strategies for product innovation, content marketing, and customer retention.
Food Market Hub provides a Procurement and Inventory System
Food Market Hub, a Malaysian startup, provides a cloud-based procurement and inventory system for the food and beverage industry. It streamlines the supply chain by offering real-time inventory tracking and automated purchase order generation. It also emails the purchase orders to the suppliers.
Using its companion smartphone app, restaurant managers centralize all procurement activities in one accessible platform. Moreover, Food Market Hub enhances inventory control by leveraging data analysis from various sources, like weather reports and historical data, to make more accurate purchase forecasts.
8. Food Waste Reduction
Addressing food wastage is paramount in the global effort to combat food insecurity and reduce the environmental footprint associated with the food industry. Food entrepreneurs and major corporations are prioritizing food waste reduction as a means to achieve sustainability and cut operational costs. The implementation of advanced food monitoring solutions empowers food producers, restaurants, and smart cities to proactively mitigate food waste.
Further, there is a notable shift towards adopting zero-waste approaches in food manufacturing. This emphasizes the upcycling and reuse of food waste to create value and resonate with environmentally-conscious consumers. A prime example of this shift is the emergence of 3D food printing solutions that utilize food waste to produce edible food products. Such means effectively curb food waste at restaurants and other food outlets while promoting sustainability.
Lumitics develops a Smart Food Waste Tracker
Lumitics is a Singaporean startup that tracks food waste. The startup's smart food waste tracker, Insight, uses proprietary AI-based image recognition technology. It offers chefs insights into food waste, fostering feedback loops that enhance food quality based on customer preferences.
This dynamic approach empowers restaurants and food establishments to optimize production and tailor menus to meet customer demands effectively. Lumitics' Insight reduces food waste and costs in hotels, airplanes, cruise ships, and more.
Food Drop connects Surplus Food to Local Charities
British startup Food Drop connects stores with unsold or surplus food to local charities, schools, and community groups. The startup's online platform allows stores and charities to sign up, which then matches the stores and local charities.
Food Drop's automated platform ensures a supply of charities to collect the surplus from stores at the end of the day. Also, if a charity is unavailable for pick up, the platform notifies stores in real time. The startup's solution provides monthly reports on donated food and carbon savings.
9. Robotics
In the food and beverage industry, robotics plays a pivotal role across the entire value chain. It improves efficiency, consistency, and scalability throughout food production processes. Hospitality robots find their place in hotels and restaurants, elevating customer convenience and safety. Robotic chefs and food processing robots further solidify food robotics as a prominent trend in food technology.
Autonomous drones and vehicles are emerging as efficient alternatives to manual delivery services, increasing cost savings. These drones and other food-handling robots facilitate rapid and cost-effective food tagging and monitoring in warehouses and grocery stores. In effect, the robotics bloom in the food industry is expediting food production revenue with enhanced speed and precise food quality control.
Bear Robotics manufactures Autonomous Food Service Robots
US-based startup Bear Robotics develops Servi, an autonomous food-serving robot. It complements waitstaff by delivering dishes and beverages in tight spaces using advanced camera and laser sensor navigation, allowing it to navigate without encountering blind spots.
By prioritizing safety, Servi promptly stops or adjusts its course when encountering obstacles. Bear Robotics' solutions offer a transformative approach to hospitality, enhancing operational efficiency and service quality in the industry.
ROBOEATZ provides Autonomous Robotic Kitchens
ROBOEATZ is a Canadian startup developing AI-based autonomous robotic kitchens for restaurants, grocery stores, and office spaces. The startup's ARK 03 robot uses proprietary software for autonomous operation of kitchen tasks, including hot and cold food storage, preparation, plating, cleaning, and sanitizing.
Additionally, ARK 03 features automatic ordering and inventory control that keeps a tab on ingredient supply and automatically requests refills from wholesalers. ROBOEATZ's solution improves the efficiency of food production while requiring minimal human intervention and adhering to effective food safety practices.
10. 3D Food Printers
3D food printers open up possibilities for personalized diets and the creation of alternative protein-based meals, offering precision and consistency in nutrition. While material extrusion remains the most widely used method in food printing, startups are exploring innovative approaches such as laser and inkjet food printing, as well as bioprinting. These novel methods enhance the quality and accuracy of 3D-printed food products.
With an emphasis on meeting specific product requirements and ensuring consistent quality, ongoing research in 3D food printing is geared toward large-scale food production. As a result, 3D food printing simplifies production processes and reduces costs. Further, it empowers food brands to deliver personalized food products at scale without the need for additional tooling and operational expenses.
SavorEat prints Plant-based Meat
SavorEat is an Israeli startup that develops plant-based meat. The startup combines chef robots, proprietary 3D printing, and non-GMO ingredients to print meat. At present, the startup produces meatless burgers and plans to expand to steaks, kebabs, and alternative seafood.
SavorEat's meat alternatives replicate the authentic taste, texture, and experience of real meat. They are also customizable to suit specific preferences, dietary needs, and lifestyles. This 3D printing technology ensures rapid, precise, and consistent results, making it ideal for food trucks, restaurants, and hotels.
COCUUS manufactures Bioinks for 3D Food Printers
Spanish startup COCUUS produces plant- or cell-based animal protein analogs using 2D/3D laser printing, bioprinting, and robotics. The startup offers LEVEL-UP inkjet 3D printers and LASERGLOW laser 2D/3D printers for food producers. The LASERGLOW is accurate to design specifications and supports 3D shapes as well as hyper-personalization.
On the other hand, LEVEL-UP is suitable for product customization with surface filling at scale. The startup's 3D printers allow restaurants and food brands to personalize their products without tooling changes and help in improving the brand reach, boosting sales.
Discover all Food Tech Trends & Startups
The top 10 food technology trends drive sustainable food sources and food waste reduction, with Industry 4.0 technologies enhancing efficiency and scalability. 3D food printing emerges as a promising technology, complementing other key trends and prompting continued investment in 3D food printers and bio-inks. Furthermore, advances in AI and big data analytics play a crucial role in optimizing food industry operations.
In synergy, the food and beverage sector is making strides towards sustainability while elevating overall operational efficiency. The Food Industry Trends & Startups outlined in this report only scratch the surface of trends that we identified during our data-driven innovation & startup scouting process. Identifying new opportunities & emerging technologies to implement into your business goes a long way in gaining a competitive advantage.
Looking for emerging food tech startups & technologies?
✕