Emerging robotics trends meet the growing demand for industrial automation, digitalization, and sustainability. Automated guided vehicles (AGVs) and autonomous mobile robots (AMRs) automate material handling in warehouses. On the other hand, cobots perform pick-and-place tasks alongside humans in manufacturing operations. The robotics sector also sees large activity and investment in drones, humanoid robots, and robotic cybersecurity, among others. This report provides an overview of robotics trends ranging from intelligent robotics and robots as a service to the Internet of Things (IoT). Read more to explore how they impact your business.
This article was published in October 2022 and updated in August 2023.
Innovation Map outlines the Top 10 Latest Robot Technology Trends & 20 Promising Startups
For this in-depth research on the Top Robotics Technology Trends & Startups, we analyzed a sample of 8949 global startups & scaleups. This data-driven research provides innovation intelligence that helps you improve strategic decision-making by giving you an overview of emerging technologies in the robotics industry. In the Robotics Innovation Map, you get a comprehensive overview of the innovation trends & startups that impact your company.
Top 10 Robotics Trends in 2024
These insights are derived by working with our Big Data & Artificial Intelligence-powered StartUs Insights Discovery Platform, covering 3 790 000+ startups & scaleups globally. As the world's largest resource for data on emerging companies, the SaaS platform enables you to identify relevant technologies and industry trends quickly & exhaustively.
Tree Map reveals the Impact of the Top 10 Robotics Innovations & Trends in 2024
Based on the Robotics Innovation Map, the Tree Map below illustrates the impact of the Top 10 Robotic Innovations & Trends in 2024. Startups and scaleups are developing autonomous mobile robots for seamless material movement. AGVs also transport finished goods from assembly lines to storage locations. Cobots find applications in production floors to improve manufacturing throughput.
Further, the robotics industry leverages technologies like artificial intelligence (AI), IoT, and cloud computing to improve robot performance. At the same time, the rising concerns around cyber-attacks necessitate the development of robotic cybersecurity solutions. Lastly, humanoid and assistive robots minimize the physical dependence of people while robotics as a service (RaaS) allows businesses to quickly integrate robotics.
Global Startup Heat Map covers 8949 Robotics Startups & Scaleups
The Global Startup Heat Map below highlights the global distribution of the 8949 exemplary startups & scaleups that we analyzed for this research. Created through the StartUs Insights Discovery Platform, the Heat Map reveals high startup activity in the US and Western Europe. Below, you get to meet 20 out of these 8949 promising startups & scaleups as well as the solutions they develop. These robotics startups are hand-picked based on criteria such as founding year, location, funding raised, & more. Depending on your specific needs, your top picks might look entirely different.
Interested to explore all 8900+ robotics startups & scaleups?
Top 10 Robotics Innovation Trends for 2024
1. Autonomous Mobile Robots
Workers are exposed to hazardous situations such as toxic chemicals, tight spaces, or heavy machinery in production environments. To mitigate this, startups and scaleups utilize AMRs to automate various industrial processes. They combine sensors, AI, and computer vision to understand immediate surroundings and navigate independently. For example, warehouse AMRs feature scanners to detect stock levels and automate material handling, preventing inventory depletion.
AMRs also move sub-assemblies and parts over long distances inside factories to speed up operations and save workers from pushing heavy carts. Additionally, they find applications in cleaning shop floors and hospitals through autonomous disinfection. AMRs also find use in the hospitality industry for housekeeping as well as delivering food and goods in hotels and restaurants. Last-mile delivery (LMD) robots see a rapid deployment for contactless and quick deliveries.
Bottobo Robotics makes Collaborative AMRs
Turkish startup Bottobo Robotics builds collaborative AMRs. They automate material movement without changing the warehouse infrastructure. The AMRs leverage 2D and 3D light detection and ranging (LIDAR), depth cameras, and IoT to identify obstacles and navigate autonomously.
They also feature a proprietary warehouse intelligence system that provides warehouse data analytics. This enables allows warehouse operators to optimize movement and maximize efficiency.
OttonomyIO offers Autonomous Delivery Robots
US-based startup OttonomyIO provides autonomous delivery robots. They follow behavior-based contextual navigation to move accurately and autonomously in crowded areas. The robots allow businesses to provide contactless delivery of food, beverages, grocery, and other items to curbside, last mile, and indoor environments.
This way, the startup tackles staffing shortages in restaurants and retail stores as well as reduces carbon emissions.
2. Intelligent Robotics
The integration of AI into robotics allows robots to utilize real-time information and optimize tasks. For this, startups use computer vision, reinforcement learning, machine learning, dynamics modeling, and more. Additionally, large datasets and real-time data train the robots to improve their accuracy and performance. This, in turn, enables them to quickly recognize objects and better perceive the environment to navigate autonomously.
The implementation of AI-based robots in manufacturing automates repetitive tasks from part picking and placing to 3D printing and quality inspection. Robots used in retail stores and hotels also leverage natural language processing (NLP) to boost customer interactions.
Sereact enables AI-powered Picking
German startup Sereact develops Capto, an intelligent software solution for robotic picking. It leverages AI to optimize the picking of previously known items and also speeds up the picking of new items. The software continuously learns from operations to adapt the gripping performance of robots as per requirements.
This allows manufacturers to free operators from repetitive tasks and enhance floor productivity.
Loop Robots designs Smart Disinfection Robots
Dutch startup Loop Robots develops SAM, a smart robot to automate hospital disinfection. It autonomously navigates around the hospital facility to disinfect the air and surfaces in patient rooms. The robot reduces the use of chemical disinfectants and prevents hospital-acquired infections.
3. Cobots
Cobots or collaborative robots feature advanced sensors and software that ensure safe behavior around people, unlike conventional industrial robots. They primarily take the form of end-of-arm tooling (EOAT) to automate assembly tasks such as part welding and screw drilling. Such robots lift heavy materials like metals, plastic, and other substances that pose a risk to human workers.
Moreover, cobots augment already existing manufacturing lines to aid workers and hence require minimal production downtime for integration. This accelerates their adoption across industries to improve worker safety and throughput. Further, advances in 5G and high-performance computing (HPC) will enhance person-robot partnerships.
Rapid Robotics makes End-of-Arm Tooling
US-based startup Rapid Robotics builds Rapid Machine Operator (RMO), an AI-powered EOAT. It is a six-axis cobot that automates injection molding, heat staking, ultrasonic welding, and pad printing, among others.
The cobot automatically switches between tasks and is suitable for time-bound manufacturing operations. These features allow manufacturers to improve production efficiency and quality.
Safetics aids Cobot Safety Analysis
South Korean startup Safetics offers cobot safety analysis. The startup utilizes AI to analyze the collision safety of robots that work alongside humans. It enables companies to develop safe-certified robots without the installation of safety fences or sensors.
This, in turn, saves manufacturing costs and improves the safety of workers.
4. Robotics as a Service
Developing and maintaining robots is a costly and time-consuming process. Many companies, especially small businesses, are unable to integrate robotics into their operations due to these constraints. On the other hand, RaaS provides a subscription-based business model to leverage robotics.
The startup's approach allows companies to hire robots on demand, allowing easy scaling as per changing market conditions. Moreover, cloud-based robotics enables service providers to quickly update existing configurations, improving performance based on real-time data.
Agroverse provides Agriculture Robots as a Service
Agroverse is a Greek startup that offers agriculture robots as a service. The startup's autonomous robot automates weeding and spraying to replace cost-intensive manual labor in farms. This, in turn, allows farmers to mitigate upfront costs associated with the implementation of robots in fields.
Formic offers Industrial Automation Robots
US-based startup Formic provides robotics as a service for industrial automation. The startup partners with robotic manufacturers to build customized robots and offers them on a subscription basis. This allows manufacturers to automate machine tending, materials handling, inspection, and welding.
Moreover, Formic enables them to scale operations faster and automate difficult, dangerous, or time-consuming tasks.
5. Robotics Cybersecurity
The integration of IoT and the growing need for connectivity in robotics make them easy targets for cyber attacks. Moreover, the application of robotics across defense, manufacturing, healthcare, and space industries necessitates the protection of robotic solutions from unauthorized access. Robotic cybersecurity solutions safeguard endpoints and connectivity stacks to avoid data leaks and asset downtimes.
For this, startups deploy continuous network and device monitoring using AI or machine learning. Such solutions allow businesses to monitor device activities in real-time and promptly flag security threats, preventing downtime and financial loss.
Alias Robotics provides Robot Endpoint Security
Spanish startup Alias Robotics offers Robot Immune System (RIS), a robot endpoint protection platform. It provides malware protection to robots and robotic components. Additionally, RIS incorporates antivirus, data encryption, data loss prevention, and more to tackle a variety of threats.
The startup also offers a secure data recorder for investigating cyber attacks or malfunctions in robots. This allows robot developers and users to ensure the security of robots in industrial and commercial spaces.
DroneSec offers Drones Security
Australian startup DroneSec designs DroneSec Notify, a threat intelligence software for drones. It monitors fleets to provide real-time visibility into drones. The software also enables an additional layer of data security by reviewing the drone data flow and with whom it is shared.
Additionally, it offers real-time notifications of any suspicious activities. Based on this data, security teams ground the drone or migrate it to safer airspace, avoiding sensitive information leaks.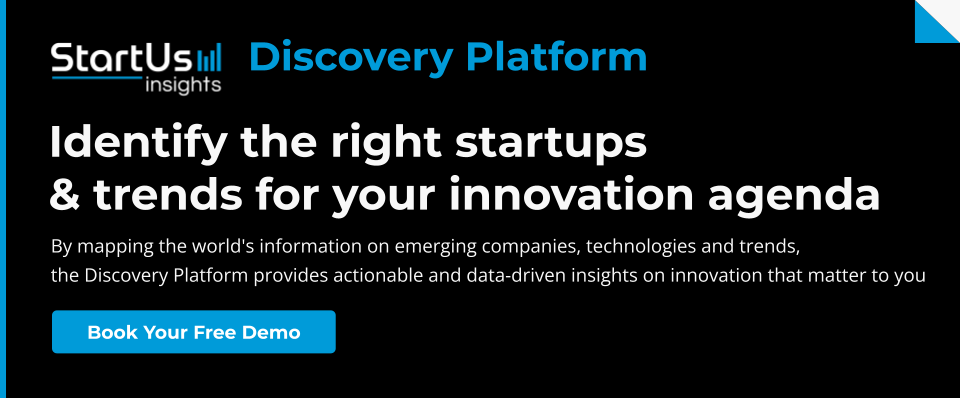 6. Drones
Advances in edge computing, HPC, and connectivity technologies enable startups to build drones with improved range and capabilities. They find applications across industries to deliver packages, collect aerial data, inspect infrastructure, and more. On the other hand, agricultural drones track crops and monitor cattle movement as well as deliver pesticides and plant seeds at precise locations. The flexibility of drones further accelerates their integration in last-mile delivery of groceries and medical supplies, among others.
Further, startups use vertical take-off and landing (VTOL) technology to improve the usability of drones in confined spaces. This enables emergency service delivery at times of natural disasters and pandemics.
AgMaps simplifies Crop Monitoring
US-based startup AgMaps makes drones for crop mapping and scouting. They capture real-time aerial imagery to provide an overview and close-up image of plants, weeds, and soil. This allows farmers to speed up scouting and crop analysis, aiding farm management and maximizing yields.
Arventek aids in Construction Aerial Mapping
Turkish startup Arventek provides drones for remote construction management. The startup's drone captures geographic data using computer vision. Arventek's cloud platform, RemoteSite, then creates a 3D digital twin of the construction site to facilitate analysis, quality monitoring, and budget control.
This allows project managers and customers to track progress, manage construction assets, and make data-driven decisions.
7. Internet of Robotic Things
IoT enables sensing, monitoring, and tracking while robotics focuses on production, interaction, and autonomous behavior. Connected robots collect and send data to edge computing platforms that drive their performance, enabling feedback-driven workflows. Recent developments in edge IoT also enable robot manufacturers to move computing closer to the data source.
IoT in robotic systems allows them to leverage near real-time data and optimize task efficiency. Further, machine-to-machine (M2M) and machine-to-human communication enable better collaboration between humans and robots.
SKY POWERLINES aids Power Line Inspections
Portuguese startup SKY POWERLINES develops an IoT-powered drone for aerial photogrammetry. It captures images of transmission and distribution lines to create 3D maps. The startup's SaaS platform then analyzes the collected images and offers analysis reports.
This improves inspection operations and provides utility companies with a cost-effective alternative to large helicopters, manned aircraft, and laser scanners.
Marut Drones provides Agricultural Drones
Indian startup Marut Drones creates IoT-enabled agricultural drones. They collect field data using IoT and cameras to enable remote data-backed management. The startup's drone, Agricopter, enables precision agriculture by offering accurate fertilizer delivery, irrigation, direct seeding, pest management, and crop monitoring.
This protects farmers from associated health risks and speeds up operations. Another drone, Seedcopter, looks for land restoration opportunities to plant seeds, facilitating rapid afforestation and reforestation.
8. Humanoid Robots
Startups develop humanoids for various applications in the education, entertainment, hospitality, and healthcare industries, among others. Post pandemic world has seen a rise of humanoid robots for contactless cleaning or in-hospital delivery operations.
Moreover, they find use in inspections, maintenance, and disaster recovery operations at power plants, relieving human workers from hazardous environments. Apart from greeting customers at the reception as hosts, they provide companionship to the elderly and sick. Like other robots, they too automate tasks to save costs and improve productivity.
Doozy Robotics makes an AI-powered Humanoid Robot
Singaporean startup Doozy Robotics develops Doozy, a humanoid robot. By leveraging AI-based facial recognition and 3D depth sensing, the robot detects the emotions, gender, age, and ethnicity of individuals.
The startup incorporates LiDAR to differentiate objects from people and respond accurately. Doozy performs tasks like teaching, assisting, and socially interacting with people.
Fulcra Robotics develops Intelligent Humanoid Robots
Fulcra Robotics is a US-based startup that makes intelligent humanoid robots. They replace astronauts, soldiers, and workers in hazardous environments like space missions, battlefields, and industrial settings. This improves the safety of humans.
9. Automated Guided Vehicles
AGVs or self-guided vehicles primarily transport materials in warehouses, distribution centers, and manufacturing facilities. Their movement is directed through a predictable path by a combination of software and sensor-based navigation systems. For example, automated guided carts (AGCs) transport a variety of light to heavy materials while forklift AGVs move pallets without human intervention.
Such robots cut down operational costs and time. Moreover, operators precisely control the acceleration and deceleration of AGVs via computer software, reducing accidents and improving worker safety. AGVs also feature automatic obstacle detection bumpers for safe movement.
Filics enables Automated Pallet Transport
German startup Filics offers AGVs for automated pallet transport. The startup's AGVs feature two digitally-controllable skids that lift pallets and move them to desired locations. This allows floor-based pallet movement without separate transfer stations.
The AGVs also sort the pallets in small spaces and automate the loading and unloading in trucks. This saves time and infrastructural costs needed for alternative transport equipment.
Multiway Robotics aids Material Handling
Chinese startup Multiway Robotics develops unmanned AGVs for material handling. With accurate positioning and speed control capabilities, they automate palletizing, docking, and truck loading for intralogistics. This allows manufacturing companies to optimize on-site logistics while minimizing labor requirements, time, and floor accidents.
10. Assistive Robots
Assistive robots increasingly improve the independence and quality of life of persons with varied abilities. They incorporate sensors and intelligent algorithms to sense and process sensory information and interact with humans. Startups improve cognitive decision-making in robots to empower the elderly, disabled, or sick in fulfilling activities of daily living (ADLs). This allows them to live independently and safely in their own homes.
Further, robotic assistive devices like powered exoskeletons function as rehabilitation tools for patients. These wearable robotic units restore motor function in impaired individuals. They also ensure industrial worker safety by decreasing repetitive stress injuries or fatigue while offering ergonomic support.
ORTHOPUS develops External Robotic Arms
French startup ORTHOPUS makes robotic exoskeletons for arm mobility. They assist people with motor disabilities, neuromuscular diseases, and musculoskeletal disorders, who find it difficult or tiring to raise their arms.
The exoskeletons also enable users to adjust the modes for free or specific movements and are installable on electric wheelchairs. This provides convenience to users and allows them to do daily tasks independent of caregivers.
Verve Motion makes Industrial Wearables
US-based startup Verve Motion creates SafeLift Suit, a wearable robotic assistive device for industrial workers. Workers wear the robotic suit as a backpack to prevent injuries or strain during heavy weight lifting.
The exosuit further uses an intuitive control system and advanced movement analytics to customize the experience for each worker. This enables personalized care and protection to workers indulged in logistics, retail, and manufacturing operations.
Discover all Robotic Technologies, Trends & Companies
Apart from autonomous robots, assistive devices like cobots, AGVs, or humanoids are replacing manual handling to improve efficiency and reduce errors. Moreover, robotics is transitioning to fully autonomous operations using cognitive intelligence. Widespread adoption of AI, IoT, cloud, and edge solutions will further improve the performance of robots. At the same time, startups focus on developing low-cost robotic solutions to accelerate robot integration.
The Robotics Trends & Startups outlined in this report only scratch the surface of trends that we identified during our data-driven innovation and startup scouting process. Among others, HPC, AI, and IoT will transform the sector as we know it today. Identifying new opportunities and emerging technologies to implement into your business goes a long way in gaining a competitive advantage. Get in touch to easily and exhaustively scout startups, technologies & trends that matter to you!
Interested to explore all 8900+ robotics startups & scaleups?
✕
Looking for emerging robotics startups & technologies?
✕
Interested to explore all robotics trends & technologies?
✕