Global Startup Heat Map highlights 10 Predictive Maintenance Startups to Watch in 2023
Through the Big Data & Artificial Intelligence (AI)-powered StartUs Insights Discovery Platform, covering over 3 790 000+ startups & scaleups globally, we identified 351 Predictive Maintenance startups. The Global Startup Heat Map below highlights the 10 predictive maintenance startups you should watch in 2023 as well as the geo-distribution of all 351 startups & scaleups we analyzed for this research. Based on the heat map, we see high startup activity in Western Europe, followed by the US and India. These predictive maintenance startups work on solutions spanning anomaly detection, asset monitoring, vibration-based monitoring, and much more.
Interested to explore all 350+ predictive maintenance startups?
As the world's largest resource for data on emerging companies, the SaaS platform enables you to identify relevant technologies and industry trends quickly & exhaustively. Based on the data from the platform, the top Predictive Maintenance Startup Hub is London, followed by New York City and Berlin. Bangalore and Singapore are the fourth and fifth hubs among the top 5 we are featuring. The 10 hand-picked startups highlighted in this report are chosen from all over the world and develop solutions for real-time asset monitoring, predictive analytics, and sensor-integration, among others.
10 Top Predictive Maintenance Startups to Watch in 2023
Key technologies such as sensors, machine learning, and predictive analytics are advancing predictive maintenance, benefitting industries by enabling them to predict equipment failures before they occur. By continuously monitoring equipment and analyzing data, companies are able to identify patterns and anomalies that indicate impending failures. This enables proactive maintenance, reducing downtime, increasing equipment lifespan, and lowering maintenance costs. Additionally, predictive maintenance improves safety by preventing equipment failures that lead to accidents. The 10 startups featured in this report develop technologies that transform maintenance from a reactive to a proactive approach, providing significant benefits to numerous:
Dexmen enables Vibration Data-based Machine Monitoring
Finnish startup Dexmen gathers data from assets to monitor and predict machinery performance. The startup's cloud-based solution, Dexmen IoT Monitor, caters to data collection from both wired and wireless sensor solutions. It provides real-time condition monitoring and analyzes vibration-related variables to ensure uninterrupted production and consistent quality. The solution thus allows production and manufacturing industries to reduce costs by detecting deviations in vibration patterns in machines through a Fast Fourier Transform (FFT) analysis.
Utpatti facilitates Machine Condition Monitoring
German startup Utpatti uses AI for monitoring machine conditions. The startup's software predicts the remaining useful life of the equipment and identifies failures by utilizing sensors and breakdown data. Additionally, its decentralized AI engine alerts maintenance engineers of potential breakdowns and schedules planned downtime. This data allows manufacturers to produce spare parts earlier and reduce maintenance costs.
Pantohealth provides Train Monitoring & Simulation Tools
Pantohealth is a German startup that offers real-time locomotive monitoring via sensors and cameras. The startup's simulation-as-a-service platform, PANTOsim, generates and solves the differential equation of the train's catenary and pantograph. Additionally, the startup's other product, PANTOsystem, collects and analyzes data through machine learning algorithms to estimate the trend of damages and predict maintenance plans. Plantohealth's solution improves data collection and train monitoring which allows companies to simulate various scenarios. This reduces the cost of maintenance and eliminates unexpected disruptions to rail.
Kavaken advances Wind Turbine Monitoring
Turkish startup Kavaken manufactures solutions to prevent the failure of wind turbine components by harnessing vibration and SCADA data. The startup's AI-based platform analyzes turbine performance and its shift of power through time. It also ensures maximum turbine output using International Electrotechnical Commission (IEC)-approved methods. The platform automatically identifies and sends alerts on low-performing turbines. Kavaken allows turbine manufacturers to reduce turbine operational costs and make them more efficient in the long term.
Groundup.ai builds Video Analytics-driven Monitoring
Groundup.ai is a Singaporean startup that develops an AI-powered real-time monitoring solution that utilizes IoT sensors to prevent sudden machine breakdowns. It uses frequency, amplitude, and time, as well as industrial noise cancellation, to help machine operators build efficient asset maintenance plans. Additionally, the solution utilizes video analytics to help industries reduce unplanned machine downtime. Thus, the startup's automated sound data analysis allows manufacturers to discover machine failures and recommend optimal maintenance schedules.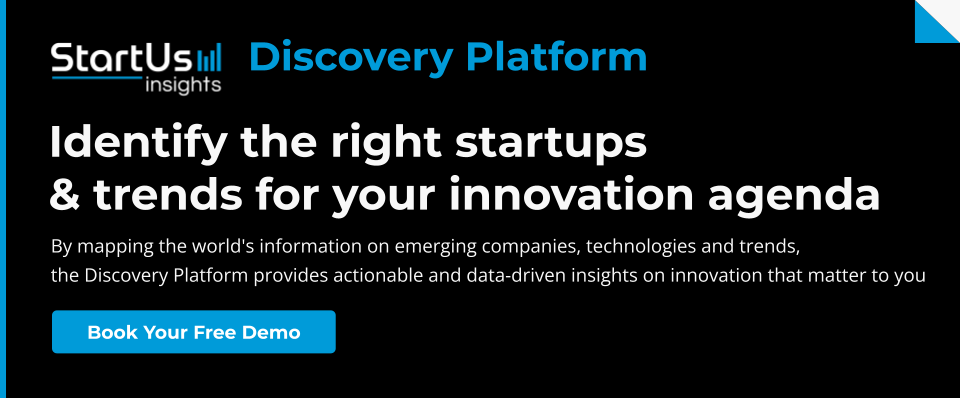 Algebra Intelligence provides Renewable Energy System Monitoring
Jordanian startup Algebra Intelligence delivers electrical systems and system portfolios with a predictive monitoring system. It offers an AI-driven energy management platform, TaQTaK, that monitors and tracks renewable energy generation systems. The startup's system also features an AI-based energy forecast solution to ensure data accuracy. This helps system engineers maximize operations and reduce maintenance costs. Algebra Intelligence improves the financial performance of assets and enhances planning for long-term use in the renewable energy industry.
Senzary enables Real-Time Anomaly Detection
Senzary is a US-based startup that provides industrial IoT services and pre-integrated solutions for commercial and industrial environments. The startup's AI-based platform, IoTLogIQ, supports real-time anomaly detection and analytics. RotaryIQ is the startup's evaluation kit that offers manufacturers wireless machine-maintenance tools to reduce unplanned downtime. By affixing sensors to machines without any additional infrastructure, the platform provides engineers with high-level data accuracy and automated learning of equipment patterns. Senzary caters to the manufacturing industry by minimizing maintenance costs and tackling machine breakdowns.
Amplo facilitates EV Charger Monitoring
Amplo is a Swiss startup that leverages machine learning algorithms and IoT for automated diagnostics and root-cause analysis of EV charger failures or malfunctions. The startup's platform allows manufacturers to monitor and manage EV chargers remotely. It features local data aggregation to avoid data loss due to connectivity issues and over-the-air (OTA) updates for continuous secure operation. Amplo provides the EV industry with end-to-end encrypted communication channels and secure authorization certificates for informed maintenance planning.
Inergio delivers Machine Performance Forecasts
Indian startup Inergio provides an open-source platform for asset and performance management. It uses pre-built AI-based analytics and data models to provide insights into anomaly detection and risk assessment. The startup's platform also features descriptive analytics that interprets historical data to draw comparisons, determine patterns, and predict future trends. Inergio thus reduces maintenance costs and sudden breakdowns by forecasting machine performance to ensure smooth industrial operations.
Averroes simplifies Machine Defect Detection
Averroes is a US-based startup that offers fully automated quality testing using deep-learning models for visual inspection and fault detection. The startup's real-time AI engine, Averroes Inspect, integrates with existing systems and processes multiple images to automatically detect defects. Also, its no-code, AI-based, and real-time anomaly detection platform, Averroes Predict, for industrial machines enables continuous learning and provides automated alerts through a cloud-based dashboard. Averros focuses on industries like renewable energy, semiconductors, and smart farming to automate machine maintenance and make operations more efficient.
Discover All Emerging Industry 4.0 Startups
The Industry 4.0 startups showcased in this report are only a small sample of all startups we identified through our data-driven startup scouting approach. Download our free Industry 4.0 Innovation Report for a broad overview of the industry or get in touch for quick & exhaustive research on the latest technologies & emerging solutions that will impact your company in 2023!
Looking for predictive maintenance startups & technologies?
✕
Get your free Industry 4.0 Innovation Report
We'll deliver it straight to your inbox!
✕