The United Nations Framework Convention on Climate Change (UNFCCC) now recognizes nuclear technologies as means for low-carbon energy to reduce global emissions. Startups are developing compact nuclear reactors and safer fuels to advance clean energy production. These innovations also empower nuclear-powered propulsion and semiconductor devices for use across industries. This research provides you with the top 6 nuclear technology trends and innovations in 2023. They range from artificial intelligence (AI) to nucleology and radioactive waste management. Read more to explore the other trends and how they impact your business.
Innovation Map outlines the Top 6 Nuclear Technology Trends & 14 Promising Startups
For this in-depth research on the Top 6 Nuclear Technology Trends & Startups, we analyzed a sample of 582 global startups & scaleups. The result of this research is data-driven innovation intelligence that improves strategic decision-making by giving you an overview of emerging technologies & startups in the nuclear industry. These insights are derived by working with our Big Data & Artificial Intelligence-powered StartUs Insights Discovery Platform, covering 2 500 000+ startups & scaleups globally. As the world's largest resource for data on emerging companies, the SaaS platform enables you to identify relevant startups, emerging technologies & future industry trends quickly & exhaustively.
In the Innovation Map below, you get an overview of the Top 6 Nuclear Technology Trends & Innovations that impact 582 companies worldwide. Moreover, the Nuclear Technology Innovation Map reveals 14 hand-picked startups, all working on emerging technologies that advance their field.
Top 6 Nuclear Technology Trends
Tree Map reveals the Impact of the Top 6 Nuclear Technology Trends
Based on the Nuclear Technology Innovation Map, the Tree Map below illustrates the impact of the Top 6 Nuclear Technology Trends in 2023. Small modular reactors (SMRs), miniaturized cyclotrons, and synthetic fuels are advancing the production of clean energy. Startups are developing novel radiotracers to expedite early diagnosis and targeted treatment of various diseases. Similarly, AI improves the efficiency of power station operations, advances material research, and performs radiation surveys. Radiation-hardened electronics and nuclear power-based propulsion systems increase workability in harsh or dangerous environments. Lastly, startups and scaleups are developing novel methods to recycle and reuse radioactive waste and decarbonize nuclear technologies in all aspects.
Interested to explore all 580+ nuclear technology startups & scaleups?
Global Startup Heat Map covers 582 Nuclear Technology Startups & Scaleups
The Global Startup Heat Map below highlights the global distribution of the 582 exemplary startups & scaleups that we analyzed for this research. Created through the StartUs Insights Discovery Platform, the Heat Map reveals that US & UK see the most startup activity.
Below, you get to meet 14 out of these 582 promising startups & scaleups as well as the solutions they develop. These nuclear technology startups are hand-picked based on criteria such as founding year, location, funding raised, & more. Depending on your specific needs, your top picks might look entirely different.
Top 6 Nuclear Technology Trends in 2023
1. Clean Energy
Conventional nuclear reactors are capital-intensive, require constant base load demand, and pose a high environmental risk. Therefore, startups develop advanced nuclear reactors such as micro and small modular reactors (SMRs) based on both fission and fusion. SMRs are passively safe systems and offer modularity, fuel reuse, and integrability with renewable energy sources such as wind and solar. Utilities increasingly use SMRs to start carbon-free power production. Advanced reactors provide the flexibility to use water and non-water-based coolants, reduce the refueling period, and work with synthetic fuels. Molten salt, thorium-based, gas-cooled, and liquid-metal-cooled reactors are examples of advanced reactors that commercialize clean energy generation. Further, startups leverage the portability of micro-reactors to provide greener energy sources in remote areas and space operations. Additionally, these innovations decarbonize hydrogen production, water desalination, and other industrial processes that require large amounts of heat energy.
Jimmy develops Thermal Generators
French startup Jimmy makes thermal generators to produce carbon-free heat. The startup's thermal generators utilize high-temperature nuclear micro-reactors (HTR) and tri-structural isotropic (TRISO) particle nuclear fuel to generate heat. They feature control rods, circulators, and industrial heat exchangers to adapt and transport the generated heat. The startup also uses graphite as a nuclear moderator to choke the reactor and enable residual heat evacuation in case of accidents. Industrial manufacturers use Jimmy's generator as a low-carbon and affordable alternative heat source in their processes while improving air quality and safety.
Dual Fluid makes a Dual Fluid Reactor
Canadian startup Dual Fluid builds advanced nuclear reactor cores incorporating the properties of both molten salt and liquid metal-cooled reactors. The startup's patented technology uses a dual-fluid core in which one carries liquid fuel and the other extracts heat to power the nuclear plant. This design allows using any fissile material, including nuclear waste, as fuel and increases safety by self-shutting the reactor at high temperatures. Moreover, it increases fuel efficiency and reuses the fissionable waste from spent fuel to create a new fuel cycle, reducing the waste volume. Several of its SMR core, DF300, replace existing power plants to provide efficient and clean energy production in all weather conditions.
NANO Nuclear builds Micro-Small Modular Reactors (μSMRs)
US-based startup NANO Nuclear develops advanced μSMR for on-demand clean energy production. The startup eradicates coolants and pumps from the reactor design by utilizing a solid core and thermal conduction for heat transfer. This compact design eases the transport up to power stations using existing transport systems. The startup's replaceable mobile nano nuclear reactors are proposed for deployment in existing power grids and residential, commercial, and industrial projects.
2. Nuclear Medicine
Diagnostic and clinical radiopharmaceuticals are essential to diagnose and treat various diseases. However, frequent exposure to radiation is equally harmful. Startups combat this by developing novel medical isotopes and tools that enable enhanced imaging and targeted drug delivery. Advanced radiotracers for positron emission tomography (PET) and radiotherapy bring precision to complex disease therapeutics. This especially improves cancer and cardiovascular disease treatments. Radioisotopes with longer half-lives enable the creation of specific disease biomarkers, better target tumor cells, and prevent radiation leaks. Startups use innovations such as medical cyclotrons, particle accelerators, and SMRs to develop clean and diversified radioactive tracers and improve nuclear medicine.
Tetrakit provides a Radiolabeling Platform
Tetrakit is a Danish startup that creates a radiolabeling platform for developing theranostic radiopharmaceuticals. It uses click chemistry for labeling therapeutic radionuclides with universal targeting vectors to cost-effectively produce desired products. The startup develops proprietary radiopharmaceutical compounds using its platform for use in PET imaging and targeted radionuclide therapy (TAT). Other radiopharmaceuticals also utilize Tetrakit's platform to develop affordable treatments for patients with metastatic cancer.
Ysotope creates Radiotracers
Spanish startup Ysotope develops radiotracers for monitoring chimeric antigen receptor-T (CAR-T) cells in cancer patients. The startup's co-diagnostic radiotracers use specific ligands to trace the distribution and concentration of CAR-T cells within different body tissues. This nuclear imaging technique enables hemato-oncologists and radiotherapists to deliver personalized treatment to blood cancer patients undergoing CAR-T cell therapy.
Nemosia advances Radiopharmaceuticals
Swiss startup Nemosia develops PET tracers that diagnose neurological disorders and prevent neurodegeneration. The startup's PET tracers target the N-methyl-D-aspartate (NMDA) receptor, which is an essential biomarker of neurodegeneration. It enables early detection of neurodegenerative diseases such as Alzheimer's disease and multiple sclerosis. Further, the startup's tracers advance drug development, improve patient recruitment, and enable personalized therapies.
3. Artificial Intelligence
AI brings efficiency, cost-savings, and resilience to nuclear power operations. Startups build robotic process automation (RPA) tools for monitoring nuclear facilities and radiation surveys for mining, food safety, and soil analysis. AI-based automation further limits human exposure to radioactive contamination. Such solutions leverage radiation level monitoring data from dosimeters and produce contamination maps to reduce the population health risks. Moreover, AI improves the speed of information analysis and provides decision support. This improves plant operations, nuclear structure demolition, and designing complex workflows. Startups also use AI-based simulations for designing next-generation nuclear reactors and material discovery to enhance their performance and safety.
Serva Energy provides Nuclear Simulation Software
US-based startup Serva Energy offers nuclear simulation software to streamline the production of smart nuclear materials. The software uses AI for finite element analysis (FEA) to model nuclear reactions and creates efficient pathways for material development. Additionally, particle accelerators precisely monitor individual nuclear reactions while Serva Energy's AI analyzes this data to modify fuel pellets for better reactivity control. This reduces the development time for advanced and emission-free fuels. The startup also develops a range of medical radioisotopes and accident-tolerant fuels for commercial reactors for improved safety, stability, and operational life.
Nuclearn enables Nuclear Plant Condition Monitoring
US-based startup Nuclearn provides an AI-powered platform for automating routine nuclear power plant operations. It deploys ready-to-use pre-trained machine learning (ML) models to automate tasks such as corrective action plan (CAP) screening and compliance readiness assessment. The platform offers systems-level integration through its application programming interfaces (APIs) and provides time-sensitive predictions and reports on selected parameters. Nuclear power plant owners and operators use it to generate reports on condition monitoring and safety assessments while improving operational efficiency.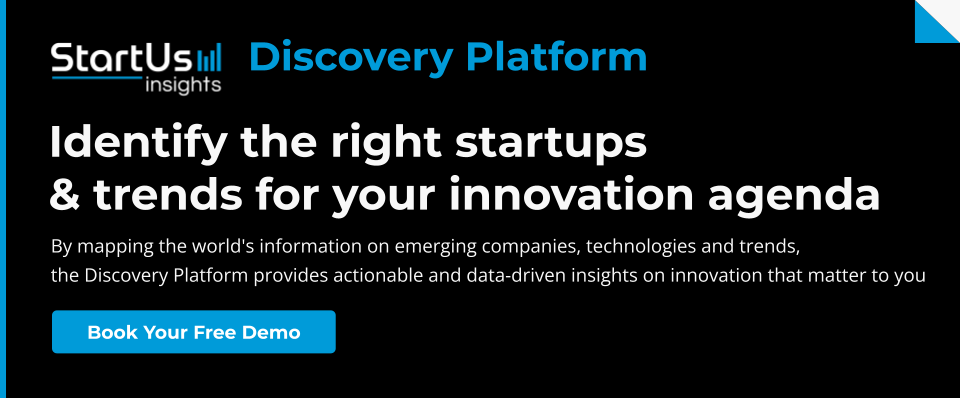 4. Semiconductors
Ionizing radiation from particle accelerators and nuclear power plants degrades the normal functioning of semiconductor devices. Such incidents render the power projects and aerospace missions inefficacious and pose design challenges. Startups use radiation-hardened semiconductor materials that improve the workability of electronic devices and digital circuits in highly ionizing environments. Irradiating materials change the properties of semiconductors and startups utilize this feature to introduce application-specific modifications in semiconductor materials. This results in increased electrical conductivity, defect tolerance, and operational life of components. They primarily find applications in military equipment, medical devices, industrial systems, etc. Moreover, startups reuse decay or fissile products from reactors in smoke detectors and industrial tracers. Similarly, innovations in integrated circuits (IC) enable startups to manufacture microchips that detect radiation levels in the working environment and improve overall safety.
Actinia empowers Gamma Ray detection
US-based startup Actinia develops all-inorganic Cesium Lead Bromide (CsPbBr3 or CLB) halide perovskite semiconductors. The startup leverages its proprietary growth technology to produce size-controlled, pure, single CLB crystals. These crystals exhibit high energy discrimination ability as well as high sensitivity and resolution to X-rays and gamma rays. Therefore, these perovskite semiconductors find use in nuclear detectors for border security, defense, medical imaging, and industrial safety equipment.
Varadis offers Radiation Detection Electronics
Irish startup Varadis develops RADFET, a microelectronic chip for active dosimetry. It is a discrete p-channel metal-oxide-semiconductor field-effect transistor (MOSFET) that detects gamma rays, X-rays, and protons. RADFET's small form factor enables its integration into electronic systems and shows tolerance for doses between 1 centigray (cGy) to 1 kilogray (kGy). Additionally, the startup manufactures RADFET Reader PRO to measure the output voltage of RADFET chips. Space agencies, satellite component manufacturers, and scientific research facilities use these chips to monitor and measure radiation levels.
5. Propulsion Technology
Nuclear propulsion systems generate more thrust and are fuel efficient than conventional chemical propulsion systems. Advances in SMRs also advance thermal, electric, and solar hybrid propulsion as these systems enable modular assembly. Startups and scaleups in the space tech, aerospace, marine, and automobile industries are incorporating nuclear power in their engine design. Space system designs prefer nuclear thermal and electric propulsion engines as they are reliable energy sources for deep space missions. Additionally, they offer greater payload capacity and shortened flight time. Besides the power efficiency, nuclear propulsion lowers the carbon footprint and is therefore increasingly experimented with in other consumer technologies.
Nearstar Fusion provides Fusion Propulsion Technology
US-based startup Nearstar Fusion makes a hypervelocity gradient field fusion (HGFF) power plant based on fusion propulsion technology and molten salt reactors. The HGFF plant produces a continuous pulsed fusion reaction through a hypervelocity launcher to accelerate fuel capsules to the field coil. This mechanism provides continuous energy and reduces plant complexity. As a result, it advances spacecraft propulsion with clean renewable energy.
Core Power advances Marine Propulsion
UK-based startup Core Power develops nuclear electric propulsion for ships. The startup's reactor and power conversion system produces and distributes power for all propulsion and auxiliary systems of the ship. The reactors for such ships are located in the hull instead of the stern as in traditional vessels and offer higher propulsive efficiency. The startup's solution decarbonizes the shipping industry, improves onboard energy efficiency, and increases the speed of electric cargo ships.
6. Nuclear Waste Management
Nuclear waste management is critical to make nuclear technology sustainable. High-level and transuranic waste is the major radioactive substance produced from nuclear reactors, rare-earth mining, and weapons processing. Innovations in waste management technologies enable startups to leverage radioactive waste for energy production. Waste-to-energy (WTE) solutions separate spent plutonium and uranium from nuclear waste and reprocess them to make reactor fuels and advance the fuel cycle. Startups are also developing environmental remediation and radioactive waste storage solutions for nuclear disasters and decommissioning power plants.
Newcleo offers Recycled Nuclear Fuel
UK-based startup Newcleo creates mixed oxide (MOX) fuel from nuclear waste. It consists of depleted Uranium from Uranium-fed reactors, Plutonium from spent nuclear fuel, and Thorium. Additionally, the startup develops lead-cooled fast reactors (LFRs) that are fed with its MOX fuels made from reprocessed nuclear waste. Thus, it enables fuel cycle completion and reduces nuclear waste and cardiotoxicity, improving cost-effectiveness and sustainability.
NDB provides a Nuclear Powered Battery
US-based startup NDB develops self-charging atomic voltaic cells that produce stable power. The startup's nuclear battery, NBD Cell, converts energy released from the radioactive decay of isotopes from recycled nuclear fuels into usable energy. Its nanodiamond technology makes these batteries suitable for high-power applications. Further, the nuclear voltaic cell uses a broad spectrum of radioisotopes as a power source, making the battery system non-polluting. NDB nuclear batteries find applications in data centers, medical technology, consumer electronics, marine, automotive, aviation, and space tech among others.
Discover all Nuclear Technology Trends & Startups
The fifth-generation nuclear advances include fuels that work efficiently in higher temperatures while eliminating Uranium or Plutonium. Startups are developing laser and traveling-wave reactors (TWR) that do not require fuel enrichment and processing. Digital technologies, such as AI, augmented reality (AR), and virtual reality (VR), provide essential tools for the maintenance of nuclear plants and workforce training. Further, startups increasingly use additive manufacturing to design application-specific reactors, improving sustainability.
The Nuclear Technology Trends & Startups outlined in this report only scratch the surface of trends that we identified during our data-driven innovation & startup scouting process. Among others, nuclear fission, high-precision control systems, and AI will transform the sector as we know it today. Identifying new opportunities & emerging technologies to implement into your business goes a long way in gaining a competitive advantage. Get in touch to easily & exhaustively scout startups, technologies & trends that matter to you!
Looking for emerging nuclear technology startups & technologies?
✕