The covid-19 pandemic has drastically affected the economic situation of the world today. Corporations have had to adjust to the changing climate and pay special attention to effectively manage corporate innovation during a recession. Now, we are possibly facing the next recession in the wake of the SVB collapse.
With corporations facing a range of challenges related to budgeting, production, and market fluctuations, they must stay ahead of the curve with innovative solutions. Innovation is essential for businesses during a recession because it opens up new ways to generate revenue, reduce costs, and adapt to changing market conditions.
Here are proven tips to manage corporate innovation during a recession to help you stay innovative through challenging times.
5 Ways to Encourage Corporate Innovation in Recession
During a recession, companies need to make difficult decisions. Despite fewer resources at their disposal, they must remain innovative and competitive. Let's discuss some of the strategies that have proved to be useful for companies like yours to keep corporate innovation afloat during a recession:
1. Identify New Opportunities
Identify the changes happening in the market to take advantage of new opportunities. Change is a natural part of business, and it is important to embrace changes to stay relevant and competitive.
Take the time to analyze the current market and look for areas where your company can improve its performance. This could include anything from introducing new products or services to improving existing ones. Once you have identified the changes, use them as an opportunity to innovate and create something unique that will give your business an edge over its competitors.
Discover some examples here: 3 Inspiring Business Innovations amidst COVID-19
Create a vision for your company that outlines where you want to be in the future and how you plan to get there. This will provide a roadmap for your team to follow and help keep you on track. Make sure that your team is ready and willing to take on new roles and responsibilities to make the most out of any changes or opportunities.
2. Optimize Resource Allocation for Maximum Impact
You need to prioritize resources for maximum impact. With limited resources available, it is important to be strategic and make the most of the resources you have. Focus on developing products and services that can increase the company's bottom line and have the potential to generate new revenue streams. This will help you maximize the impact of your resources and secure the best possible outcome for the company.
You should also utilize your resources to build customer-focused products. Determine what your customers need or want and prioritize these initiatives first. This will ensure that you are able to create innovative products that are in high demand.
Finally, allocate resources to projects that have a higher return on investment (ROI). Analyze the impact of each project and determine which ones will benefit the company the most in the long run.
You might be interested in: Run Low-Cost Innovation Programs
3. Develop Scenario Planning Strategies
Scenario planning is a powerful tool for managing corporate innovation during a recession. It helps leaders and decision-makers understand how an innovation or business opportunity will unfold in different scenarios and what the most likely outcomes of a particular scenario might be.
By identifying and tracking multiple outcomes, this process helps organizations develop strategies and plans to successfully manage and adapt to the current economic climate. Here are some tips to help you make the most of scenario planning:
Identify potential scenarios — Start by identifying key factors that could affect your business and list out the different types of scenarios that may arise from these factors.
Analyze the data — Once you have identified the potential scenarios, you should analyze the data to identify the most likely outcomes. This analysis should include both quantitative and qualitative data.
Develop strategies — Based on your analysis, develop strategies and plans that can help you manage the risks associated with each scenario.
Monitor progress — Regularly monitor your progress and adjust your strategies as needed. This will help you stay ahead of any potential changes in the market.
Communicate with stakeholders — Make sure to communicate with stakeholders throughout the process to ensure everyone is on the same page.
Also read: 3 Ways Crises Accelerate Innovation
4. Acknowledge the Human Element
While technology may assist us in our journey, it is important to acknowledge that people are the catalysts behind corporate innovation. It is important to listen to others and learn from them. This means being open to feedback and ideas and embracing the differences of opinion and thought processes.
By acknowledging the human element, you create an environment that encourages innovation. There is no one-size-fits-all approach when it comes to managing innovation. Instead, it is important to understand that each individual brings something unique and valuable to the table. By taking the time to listen and learn from others, you encourage your employees to develop their own ideas and drive the process.
Also read: Build a Culture of Innovation in Your Organization
5. Leverage Technology to Do More With Less
One of the best ways to manage innovation during a recession is to leverage technology to do more with less. Technology can help employees innovate and create while ensuring that the innovation process is efficient and effective.
For example, if an employee is a prototype developer, they can use technology to help them get started with building a new application. This could include using cloud-based software to access and share resources, as well as virtual prototyping tools to quickly test out ideas.
By utilizing technologies like artificial intelligence (AI) and machine learning (ML), you can automate certain processes. This allows you to focus your resources on tasks that require a more human touch. Additionally, AI and ML can provide insights into trends and customer data, helping you better understand your market and make informed decisions.
Read this next: 3 Reasons to Use Innovation Management Software
This is exactly where StartUs Insights can support you to continue innovating even during trying times.
Combat the Recession with Innovation Scouting
As artificial intelligence (AI) continues to progress, data is playing a larger role in the innovation process. The good news is that you can use data to generate valuable insights.
Wondering how?
At StartUs Insights, we develop an Innovation Scouting Platform that helps companies keep a tab on their market — what's new, what's changing, what has the maximum scope, and much more.
Using our big data and AI-powered SaaS tool, we:
Analyze billions of data points from over 3.7m startups and technologies globally
Map the data with AI and expert knowledge
So, what does this mean for you?
Discover Opportunities Before Others — Our proprietary technology enables you to discover relevant startups, technologies, and business cases early on. Hence, you can empower your business units with actionable, data-driven insights.
Detect Pivotal Changes — We continuously monitor the startup ecosystem to detect pivotal changes.
Map the World of Tomorrow — Our advanced data mapping process provides you with a bird's-eye view of the emerging technology landscape. Use our comprehensive Innovation Maps for effective decision-making.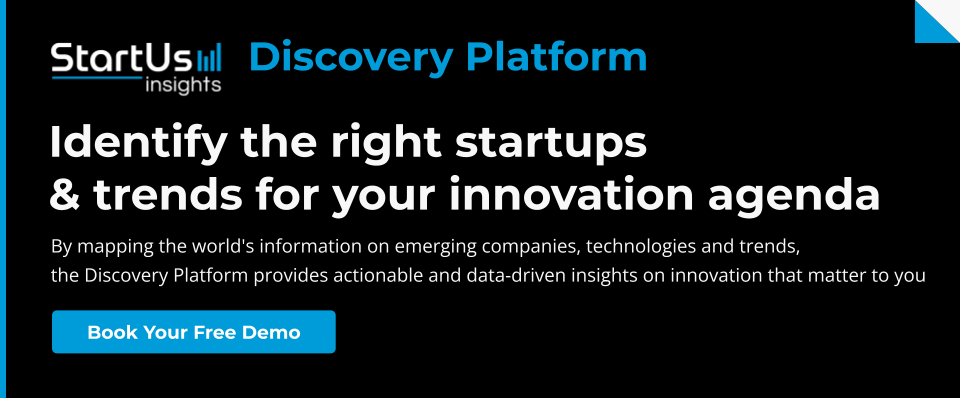 What else do we have in store for you?
We also provide you with a Trend Intelligence solution that gives you access to 29 500+ trends and technologies. This allows you to:
Anticipate Future Trends & Business Opportunities — we deploy advanced analytics to hundreds of thousands of trusted sources on startups, emerging technologies, and industry trends to provide you with accurate insights into trends impacting your industry in a short amount of time.
Stay Up to Date — Monitoring the business ecosystem continuously ensures the identification of emerging technologies, trends, and opportunities. Our service provides you with regular updates on recent developments through Trend Intelligence Reports, Innovation Maps, and Real-time Databases.
Also read: How does Trend Analysis drive Innovation
All this structured data and granular analysis of the same along with the monitoring of emerging trends and technologies in your industry helps you improve your company's innovation management process. We ensure that your decision-making process is built on the most recent insights available.
It's time to hear from you — how are you keeping your company's innovation up and running in this difficult time? Let us support you in your efforts. Schedule a free demo session of our product today to learn more about everything that we offer!
Looking for startup-driven innovation intelligence?
✕