Technological innovations in imaging transform how we capture and interpret visual information. For example, the integration of computer vision with imaging enables automated image recognition, object detection, and scene understanding. Generative AI, also known as generative adversarial networks (GANs), advances image synthesis and super-resolution. Further, hyperspectral imaging performs a detailed analysis of the unique spectral signatures of materials. This research provides you with the top 10 imaging technology trends in 2024, ranging from computer vision and high-speed imaging to 4D and nuclear imaging. Read more about the latest innovations and opportunities in imaging technologies and learn how they help advance your business.
Innovation Map outlines the Top 10 Imaging Technology Trends & 20 Promising Startups
For this in-depth research on the Top Imaging Tech Trends & Startups, we analyzed a sample of 3565 global startups & scaleups. This data-driven research provides innovation intelligence that helps you improve strategic decision-making by giving you an overview of emerging technologies across industries. In the Imaging Technology Innovation Map below, you get a comprehensive overview of the innovation trends & startups that impact your company.
These insights are derived by working with our Big Data & Artificial Intelligence-powered StartUs Insights Discovery Platform, covering 3 790 000+ startups & scaleups globally. As the world's largest resource for data on emerging companies, the SaaS platform enables you to identify relevant technologies and industry trends quickly & exhaustively.
Tree Map reveals the Impact of the Top 10 Trends in Imaging Technology
Based on the Imaging Technology Innovation Map, the Tree Map below illustrates the impact of the Top 10 Imaging Technology Trends in 2024. Startups and scaleups are developing imaging solutions powered by AI, the Internet of Things (IoT), and computer vision. Generative AI is used in imaging to create realistic and high-quality images, and even assist in medical imaging by generating synthetic data for training purposes. The healthcare industry also adopts nuclear imaging for improved diagnostics. Hyperspectral imaging and LiDAR advance the capabilities of remote sensing and imaging systems. Innovations in 3D and 4D imaging, as well as extended reality (XR), deliver immersive experiences and high-resolution data for businesses. Additionally, high-speed imaging facilitates the understanding of fast-paced processes, such as fluid dynamics, combustion, and biological movements. This enables accurate behavioral analysis of rapidly moving objects.
Top 10 Advanced Imaging Technology Trends in 2024
Global Startup Heat Map covers 3565 Imaging Technology Startups & Scaleups
The Global Startup Heat Map below highlights the global distribution of the 3565 exemplary startups & scaleups that we analyzed for this research. Created through the StartUs Insights Discovery Platform, the Heat Map reveals high startup activity in the US and Western Europe, followed by India. Below, you get to meet 20 out of these 3565 promising startups & scaleups as well as the solutions they develop. These imaging tech startups are hand-picked based on criteria such as founding year, location, funding raised & more. Depending on your specific needs, your top picks might look entirely different.
Interested to explore all 3500+ imaging technology startups & scaleups?
10 New Imaging Technologies in 2024
1. Computer Vision
Convolutional neural networks (CNNs) improve image classification, object detection, and segmentation. This allows better identification and localization of objects in images for applications in surveillance systems, autonomous vehicles, and facial recognition. With its improved image classification, computer vision further finds use in medical imaging, such as for tumor detection. This assists healthcare professionals in the diagnosis, treatment planning, and monitoring of various medical conditions. Computer vision applications also restore images that are degraded due to noise or blur for advancing forensic investigations. It is also increasingly combined with other modalities, such as depth sensors, thermal imaging, and multi-spectral imaging, to enhance the information richness for more comprehensive image analysis.
Chloropy Technologies facilitates Crop Monitoring
Singaporean startup Chloropy Technologies enables plant-level data collection for farmers and agricultural research. The startup deploys drones across the fields to capture plant images, offering a faster alternative to manual inspection. The solution then uses computer vision and AI algorithms to analyze the images and generate insights on crop health, diseases, irrigation, and more. It also offers farmers access to reports on multiple devices for ease and quick analysis.
Ubicept advances Image Sensing
US-based startup Ubicept enhances image sensing by combining image sensors with advanced computer vision algorithms. The startup develops a monochrome photon-counting camera and proprietary software for viewing, capturing, and processing camera data. It improves image perception and detailing via ultra-high frame rate motion compensation, ultra-high dynamic range, optical flow, event camera emulation, and more. This advances imaging for mobility, robotics, and consumer applications.
2. Connected Imaging Systems
Integrating IoT into imaging systems enables in-device connectivity and data exchange. IoT-integrated medical imaging equipment includes X-ray machines, computed tomography (CT) scanners, magnetic resonance imaging (MRI) systems, and more. They offer remote access to imaging data. Such machines allow healthcare professionals to review and diagnose medical conditions from anywhere. IoT-based imaging solutions also find applications in manufacturing processes to capture images or videos for continuous monitoring and predictive maintenance. Similarly, IoT-enabled cameras are used in surveillance and security applications. Drones equipped with imaging sensors and connectivity capture aerial imagery of crops, allowing farmers to assess plant health. IoT-based environmental monitoring systems use imaging devices to gather data on air quality, pollution levels, and biodiversity, aiding in ecological conservation efforts.
VRAIN Solution enables IoT-powered Visual Inspection
Japanese startup VRAIN Solution develops AI and IoT-powered software to digitize manufacturing. It offers audio and visual inspection of machinery, as well as safety management. This provides insights into equipment performance and health. By addressing these problems before they lead to major breakdowns, manufacturers minimize downtime and maximize asset availability and productivity.
Pixelar delivers Geospatial Imagery
US-based startup Pixelar provides satellite and aerial imaging solutions along with insights into the captured data. The startup's satellite imagery types include multi-spectral, hyperspectral, panchromatic, RGB, and near-infrared (NIR). The aerial imagery also ranges from simple aerial photography to 3D mapping and light detection and ranging (LiDAR). The integration of data from these sources and their analysis enables accurate terrain modeling. Hence, it empowers industries like agriculture, forestry, energy, and infrastructure. In agriculture, for example, the startup performs imagery acquisition, processing, and geographic information system (GIS) analysis to help farmers scout and monitor their crops.
3. Generative AI
GenAI leverages generative models to create or manipulate images. Models like generative adversarial networks (GANs) and variational autoencoders (VAEs) create realistic-looking human faces, objects, scenes, and landscapes. This has applications in computer graphics, video games, and virtual reality environments. Such generative models also create high-resolution versions of images by learning the underlying patterns and structures in the data, simplifying image upscaling. GenAI thus assists creative professionals in generating new designs, artwork, and graphics.
Booth.ai produces GenAI-powered Images
US-based startup Booth.ai creates a digital photography platform that offers an AI-based virtual try-on plugin. It deploys generative AI to support product photography. This enables clients to generate lifestyle photos by specifying their desired shots and uploading sample product images. The platform thus provides a fast and cost-effective alternative to platforms requiring physical samples for e-commerce fashion.
STYX AI drives Generative Image Processing
Taiwanese startup STYX AI provides generative image processing for industries like astronomy, art, and healthcare. It focuses on generative image processing, filters, quantum-based algorithms, depth maps, and more to create realistic images. By using deep learning algorithms, the startup also interprets biomedical images to enhance diagnostic accuracy and efficiency.
4. Hyperspectral Imaging
Unlike traditional color imaging that captures three primary color channels (red, green, and blue), hyperspectral imaging is sensitive to a greater spectral band. This results in a high-dimensional data cube. Hyperspectral imaging also reveals hidden or subtle information that may not be visible via traditional imaging techniques. By analyzing the spectral information contained in hyperspectral images, companies identify and classify materials based on their spectral properties. This has applications in food quality assessment, mineral exploration, geological surveys, and more. Hyperspectral imaging also finds applications in agriculture. Such systems monitor crop health, identify nutrient deficiencies, detect diseases, optimize irrigation and fertilization, and assess the overall vegetation status. In medical diagnostics, particularly dermatology and ophthalmology, they detect abnormalities, characterize tissues, identify biomarkers, and assist in disease diagnosis.
ProSpectral offers Hyperspectral Imaging Hardware
UK-based startup ProSpectral designs sensors for hyperspectral imaging. The startup's solution leverages AI to analyze images captured by drone-mountable camera systems for material analytics. This provides industries like recycling, agriculture, and more with detailed spectral information about the material being analyzed. Thereby, enabling effective resource management and decision-making.
Deep Atlas advances Mineral Imaging
Dutch startup Deep Atlas advances mineral imaging and permeability prediction. It deploys hyperspectral imaging to measure clay or mineral properties directly. The solution dissects the mineral infrared absorption fingerprint in a structured and repeatable way. Machine learning algorithms then analyze this data to predict a continuous permeability profile. It provides a better understanding of reservoir flow properties and geochemical analysis, benefitting mining companies.
5. High-Speed Imaging
Innovations in high-speed imaging involve the use of specialized cameras capable of recording a large number of frames per second (fps). This allows visualization and analysis of rapid events. Advances in miniaturization and portability further make high-speed imaging systems more compact and easier to use. In sports, high-speed imaging captures and reviews the motions of athletes. This enables coaches to identify areas for improvement, analyze techniques, and enhance training methodologies. Further, it aids the visualization of high-speed fluid dynamics, such as the behavior of shockwaves, explosions, and fluid flows. High-speed imaging also enables the entertainment industry to capture slow-motion or fast-motion sequences for films, commercials, and broadcasts.
EyeLogic offers High-Speed Biometric Imaging
German startup EyeLogic facilitates high-speed image processing for biometric applications. Its LogicOne is a screen-based eye-tracking device that enables researchers to get insights into human behavior by analyzing gaze and eye movement patterns. Another product, Lite, is a screen-based eye-tracking technology that uncovers the visual behavior on smaller laptop screens. Through fast computation of eye and gaze position, the startup's products ensure accuracy at high frame rates and minimal latencies.
FeverGuard simplifies Remote Temperature Measurement
Polish startup FeverGuard deploys high-speed imaging and AI to detect human body temperature in real-time. With a throughput of over 300 people per minute, the startup's sensor detects the human face in its field of view (FoV). It then analyzes the face surface temperature distribution to determine body temperature. When there is a temperature anomaly for a person, the system alerts users via audio and visual notification. This way, the startup facilitates contactless body temperature measurement for human safety. As a result, it allows transportation hubs, educational institutions, and healthcare facilities to comply with safety protocols. The solution uses only low-resolution thermal images to preserve individual identity.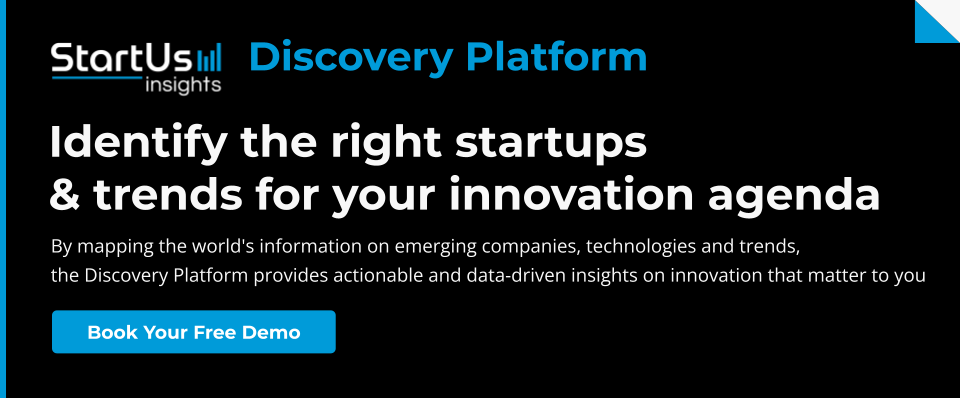 6. XR Visualization
Extended reality technologies offer novel ways to visualize and simulate imaging data. By leveraging virtual reality (VR) or mixed reality (MR), such solutions transform complex imaging data, like medical scans and architectural renderings, into immersive and interactive experiences. Users interact with the data in a three-dimensional space, facilitating better understanding, analysis, and decision-making. VR enables users to explore images in a 360-degree virtual environment for a more engaging experience. Augmented reality (AR) overlays additional digital content onto a user's view to enhance industrial or medical imaging. Medical professionals use VR or MR to simulate surgeries or practice complex procedures in a safe and controlled environment. Artists also explore new ways of storytelling, visual expression, and audience engagement by integrating XR elements into artistic practices.
AVATAR MEDICAL provides VR-based Medical Images
French startup AVATAR MEDICAL creates interactive 3D representations of patients' medical images. The startup's platform uses virtual reality and Bayesian approaches to allow ultra-fluid navigation within medical images. It enables surgeons to better visualize tumors, vessels, and muscles, as well as CT and MRI scans in an interactive manner for assistive decision-making. The platform also facilitates understanding of medical images and training of medical professionals as well as improves patient engagement.
Medi-AR designs a Medical Image Viewer
Australian startup Medi-AR develops a medical image viewer and communication platform. It deploys AR and VR to create 3D representations of patients' medical images like CT or MRI on smartphones. This allows medical professionals to better visualize, interpret, and make scan results clear to the patient.
7. LiDAR
LiDAR imaging systems capture detailed information about objects' shape, size, and position in a scene. It then constructs a 3D point cloud that represents the object by measuring the time the light returns after hitting the object. Micro-electro-mechanical systems (MEMS)-based lidar systems are compact, consume less power, and offer faster scanning capabilities. These advances allow lidar integration into smaller devices like smartphones and drones. LiDAR sensors are now also incorporated into smartphones. They provide in-depth information, allowing virtual objects to be placed accurately in the real world for more immersive experiences. Further, multi-wavelength lidar enhances the ability to discriminate between vegetation and man-made structures. This also allows researchers to accurately measure the height and structure of vegetation, detect changes over time, and assess the health of ecosystems, forests, and more. Lastly, LiDAR-based imaging aids city modeling, simulations, and impact assessment by collecting information on building and terrain elevations and shapes.
Mach9 Robotics aids Geospatial Data Processing
US-based startup Mach9 Robotics offers computer vision software that transforms complex 3D geospatial data into 2D and 3D engineering models. It leverages LiDAR and image-capture technology to convert large-scale image datasets into actionable insights for the analysis of distance and clearance. This benefits surveying, engineering, and construction firms by saving time and labor on data processing.
Volar Alta delivers Drone Inspections
Indian startup Volar Alta provides drone-based inspections for industrial, surveillance, and logistics applications. The startup deploys drones with LiDAR sensors to scan the ground and measure variable distances. The data generated is used to produce high-resolution maps and 3D models of objects. This data enables maintenance teams to predict failure probabilities and better plan maintenance activities.
8. 3D Imaging Technology
Innovations in 3D imaging include depth sensing in consumer devices, light field imaging, computational photography, and more. These advances bring 3D imaging capabilities to the fingertips of everyday users. Integration of depth sensors, such as time-of-flight (ToF) cameras or structured light sensors, enables end-users to capture and interact with 3D content, including AR applications. Light field cameras create immersive 3D representations, enabling users to change their viewpoint and focus within the captured image or video. Further, real-time 3D scanning technologies quickly capture and reconstruct 3D models to empower fields like design, architecture, and virtual reality. Medical imaging also deploys detailed 3D representations for diagnosis and surgical planning.
MultiVu makes a 3D Camera
Israeli startup MultiVu facilitates 3D imaging using a single camera. Leveraging its patented light field technology, the startup utilizes multiple apertures in one lens to collect different viewpoints. It then integrates with a complementary metal-oxide semiconductor (CMOS) image sensor. Deep learning algorithms use the data from the sensor to create a 3D image and a depth map. This provides a power-saving and compact alternative to other 3D imaging solutions that require complex assembly and calibration.
Osteoid makes 3D Dental Imaging Software
US-based startup Osteoid offers 3D dental imaging software Invivo6 Plus. It converts the patients' cone-beam computed tomography (CBCT) scans into 3D images to better assist dentists, orthodontists, and endodontists in diagnostics and decision-making. The software automatically reconstructs volume, thus eliminating the need for manual model conversion. It also creates 3D cephalometric tracing and surgery simulations to assist oral surgeons.
9. Nuclear Imaging
Innovations in nuclear imaging, also known as nuclear medicine imaging, enhance diagnostic capabilities for more personalized and precise patient care. These innovations include hybrid imaging systems like single-photon emission computed tomography (SPECT)-CT and positron emission tomography (PET)-C. They combine functional nuclear imaging with anatomical imaging modalities like CT or MRI. This facilitates better localization and characterization of abnormalities. Another notable advancement is the incorporation of ToF in PET imaging, which enables more accurate localization of radiotracers. Consequently, it results in improved image quality and lesion detection. Digital detectors also transform nuclear imaging by offering higher sensitivity and improved spatial resolution. Advances in radiotracer development expand the range of imaging agents available, allowing for more targeted and specific imaging of various diseases. Quantitative imaging techniques and the integration of machine learning algorithms further contribute to precise image analysis, standardization, and automation.
Nuclivision enables Automated Triaging
Belgian startup Nuclivision develops software that combines PET-CT scanning with an automated triage tool. It assists physicians with image acquisition, diagnosis, and follow-up. Using AI, the software detects metastatic lesions and other abnormalities in patients, offering decision support for doctors and maintaining the quality of assessment.
Muon Vision facilitates Bulk Density Measurement of Geophysical Assets
US-based startup Muon Vision makes a nuclear imaging sensor that measures the bulk density of geophysical assets. The startup buries the sensor under the object of study, eliminating any interference. It detects the percolation of process fluids across leaching heaps over time. This allows researchers to monitor asset performance and control issues such as metal recovery or slope stability. Moreover, the sensor is non-invasive and X-ray-based to increase mine safety.
10. 4D Imaging
In 4D imaging, the additional dimension represents temporal information, allowing for the capture and visualization of dynamic changes over time in a 3D scene. It plays a crucial role in engineering and manufacturing processes. For instance, 4D imaging enables real-time monitoring and analysis of complex structures and machinery to facilitate quality control and predictive maintenance. This allows companies to assess the structural health of bridges, buildings, and infrastructure through real-time and continuous monitoring of deformations, vibrations, and stress distribution. 4D imaging systems also provide insights into the movement and interaction of robotic systems. The integration of 4D imaging with AR or VR creates immersive experiences for education, training, and entertainment. Innovations such as real-time 4D ultrasound, dynamic MRI, and time-resolved CT enable clinicians to observe anatomical changes and physiological functions in real-time. It also allows research to monitor environmental and geological changes, such as landslides, erosion, glacier movements, volcanic activity, and sea level rise.
Zadar Labs aids in Accurate Data Perception
US-based startup Zadar Labs works on a 4D imaging radar sensing platform, Software-Defined Imaging Radar (SDIR), for automotive, robotics, and smart infrastructure applications. SDIR combines sensing hardware and novel statistical signal-processing algorithms to improve data perception. The startup's radar operating system, zVUE, detects and eliminates common radar point cloud defects and noisy points. This reduces false alarms and improves safety. zVUE also distinguishes between moving and stationary objects for better detection and accuracy.
FleetSafe India specializes in a 4D Imaging Radar for Autonomous Vehicles
Indian startup FleetSafe India develops a 4D imaging radar based on echolocation and ToF technology for the automotive industry. Its radar deploys multiple input multiple output (MIMO) antenna arrays. They send out signals to objects in their surroundings and then detect the signals when they bounce back. Additionally, it interprets Doppler shifts occurring in the surroundings, facilitating the determination of the direction of movement of objects. This improves accuracy in object detection and, thus, the safety of autonomous vehicles.
Discover all Imaging Trends, Technologies & Startups
Innovations in imaging systems continue to deliver detailed spatial information, temporal dynamics, and depth perception. Further, advances in hyperspectral imaging, high-speed imaging, and extended reality facilitate better data acquisition, analysis, and visualization. This will enable industries to explore complex phenomena and simulate realistic environments. The imaging technology trends & startups outlined in this report only scratch the surface of trends that we identified during our data-driven innovation & startup scouting process. Identifying new opportunities & emerging technologies to implement into your business goes a long way in gaining a competitive advantage.
Looking for imaging technologies & startups?
✕