Global Startup Heat Map highlights 10 GovTech Startups to Watch in 2023
Through the Big Data & Artificial Intelligence (AI)-powered StartUs Insights Discovery Platform, covering over 3 790 000+ startups & scaleups globally, we identified 1389 GovTech startups. The Global Startup Heat Map below highlights the 10 GovTech startups you should watch in 2023 as well as the geo-distribution of all GovTech startups & scaleups we analyzed for this research. Based on the heat map, we see high startup activity in the US, followed by the UK and India. These government technology startups work on solutions ranging from payment solutions and citizen intelligence to blockchain-enabled voting and citizen engagement.
Interested to explore all 1300+ GovTech startups?
As the world's largest resource for data on emerging companies, the SaaS platform enables you to identify relevant technologies and industry trends quickly & exhaustively. Based on the data from the platform, the top GovTech startup hub is London, followed by New York City and Singapore. Australian and Indian startup hubs Sydney and Bangalore round up the top GovTech startup hub list. The 10 hand-picked startups highlighted in this report are chosen from all over the world and develop solutions for transparent voting and payment, public health, and citizen engagement.
10 Top GovTech Startups to Watch in 2023
Advances in artificial intelligence, blockchain, and cloud computing are transforming the GovTech industry, improving the delivery of government services. AI-powered chatbots and virtual assistants are enhancing citizen engagement and improving service delivery. Blockchain is enabling secure and transparent record-keeping while cloud computing is enabling greater data sharing and collaboration among government agencies. These technologies are also allowing the development of smart cities with sensors and internet of things (IoT) devices. They collect and analyze data to improve urban planning and resource allocation. Overall, these innovations are making government services more efficient, accessible, and citizen-centric.
GovMind offers GovTech Intelligence
German startup GovMind develops GovMind Insights Service, a platform for GovTech vendor landscape. It helps identify suitable vendors or gain a better understanding of the GovTech universe and trends through vendor profiles. the platform caters to public administrations by gathering data, and systematically analyzing and interpreting information on innovative solutions for governments and states. This enables public administrators and external innovators to make informed decisions using the startup's product. GovMind manages a central intelligence service, enabling public administration to obtain specific knowledge about GovTech.
Abstract provides Lobbying as a Service
US-based startup Abstract creates an all-in-one workspace that delivers lobbying as a service for government affairs. It offers a convenient and efficient way to instantly brief stakeholders and influence legislation. The digital workspace provides a centralized location where users access the necessary tools to keep stakeholders aligned and impact legislation effectively. The startup's AI-powered bill search and real-time reports enable users to stay up-to-date on legislative information and remain productive on the go with mobile access. Abstract thus streamlines government affairs management, improves stakeholder communication, and enhances the legislative process.
Moneta develops a Government Payment Solution
Nigerian startup Moneta builds a payment aggregator platform that automates payment and revenue collection for governments. The platform offers a single omnichannel payment system that processes multiple gateways and devices, streamlining payment processing. It also provides billing, collection, analysis, and reconciliation. The platform offers features such as secure invoicing and receipting, as well as intelligent attribution of sales. As a result, Moneta aids governments and businesses by blocking revenue leakages, increasing internally generated revenue, capturing more sales opportunities, and providing valuable insights into revenue streams.
Digital Planning facilitates Telecommunication Infrastructure Deployment
Colombian startup Digital Planning streamlines the installation of small cell telecommunications infrastructure for enabling 5G networks and reducing the digital divide. The startup develops a territorial planning procedure for small cells that enables operators to deploy them in urban furniture without requiring permits from local authorities. The geo-referenced control panel in the startup's software-as-a-service (SaaS) platform calculates the placement of the small cells, thereby optimizing public management and minimizing interactions. Digital Planning encourages investment in infrastructure, enhances social welfare, and promotes the development of smart cities by simplifying telecommunications infrastructure deployment.
Afya Pamoja offers Public Health Decision Support
Tanzanian startup Afya Pamoja develops a digital patient feedback and analytics platform for healthcare managers. It collects data from patients via surveys using short message service (SMS) and unstructured supplementary service data (USSD) technologies. Then, the platform analyzes data in real time on a local basis. Healthcare workers and public health decision-makers receive insights based on the data collected. Afya Pamoja collaborates with governments, multilateral institutions, and social innovation organizations for improving the quality of healthcare.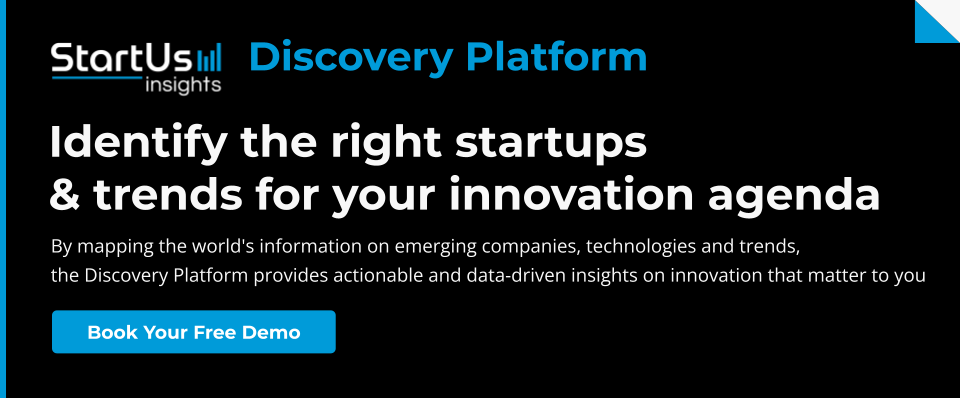 ALCEBA deploys AI-based City Maintenance
Argentine startup ALCEBA offers AI-powered city maintenance solutions that help the public sector with their daily maintenance tasks. It uses image processing and machine learning to provide hardware and software solutions for image capture, incident monitoring, and early detection of incidents. The solution offers continuous incident detection and real-time analytics, among other features. The hardware is easy to install into existing government fleets, while its software platform helps manage the incidents throughout their entire life-cycle. ALCEBA promotes the adoption of AI-based solutions for smart cities, helping governments in their transition and optimizing their limited resources for efficient and effective maintenance.
Raizit implements Public Participation System
Israeli startup Raizit provides a platform for public participation and consultation processes. It enables organizations to create, manage, distribute, and conclude public participation processes. The startup's solution includes complete support for all types of surveys, discussions, multiphased processes, and online and offline stages. Its back-office solution provides control of the organization's public participation apparatus, including managing different levels of access and interdepartmental processes. Raizit helps government personnel to engage citizens in decision-making, increasing transparency and fostering public trust.
EazyVC enables Blockchain-enabled Voting
Indian startup EazyVC makes a blockchain-based online voting platform for government and regulatory bodies. It offers an easy and intuitive user experience, along with features for various voting scenarios such as shareholders, educational institutions, and societies. The platform also integrates with video conferencing platforms and has an in-built video conference. This makes it a complete solution for secure and convenient online voting. The platform's security features ensure the integrity of the voting process, eliminating risks of fraudulent votes or double-voting.
Unlockit supports Real Estate Tokenization
Portugal-based startup Unlockit provides a decentralized platform for real estate tokenization and services. It streamlines real estate transactions, increasing efficiency and focusing on deal closing. The platform simplifies compliance, paperwork, and communications, enabling collaboration through home buying and selling processes. The startup's distributed ledger technology (DLT) offers transparency, data integrity, and automation through smart contracts. This streamlines commission payments, while reducing bureaucracy and costs. Unlockit thus provides governments with the guarantee of transaction records, resulting in better industry regulation, and a reduction in fraud and money laundering activities.
Urbanpinion improves Citizen Engagement
Estonian startup Urbanpinion offers a citizen engagement platform that helps governments collect citizen initiatives and receive in-depth analytics. It also helps them make informed decisions about city development. The platform allows governments to create their own web page survey with custom question types. This facilitates citizens' involvement in a dialogue through an interactive map. It also provides analytics and the ability to download data in different formats. With Urbanpinion, governments increase citizen engagement, promote transparency, and make data-driven decisions that benefit the community.
Discover All Emerging GovTech Startups
The 10 GovTech startups showcased in this report are only a small sample of all startups we identified through our data-driven startup scouting approach. Download our free Industry Innovation Reports for a broad overview of the industry or get in touch for quick & exhaustive research on the latest technologies & emerging solutions that will impact your company in 2023!
Looking for GovTech startups & technologies?
✕