Energy management optimizes energy consumption and enables sustainability. This allows businesses to reduce energy costs and environmental footprint, finding applications across industries. They range from energy and utility to healthcare and automotive industries. This article provides you with innovation insights based on our analysis of 2 153 energy management startups & technologies and the top 10 industries building energy resilience. Read more to explore the impact of energy management on these industries and how they advance your business.
Tree Map reveals the 10 Industries building Energy Resilience
Based on the Innovation Map, the Tree Map below illustrates the impact of Energy Management on 10 industries in 2023. Leveraging energy management solutions greatly reduce the emissions associated with energy consumption, lowering environmental impacts and slowing down climate change. Emerging solutions also help manage or mitigate the effects of attacks on Ukrainian power infrastructure as well as its impact on energy prices elsewhere. Energy and utility companies as well as manufacturing, real estate, healthcare, construction, and automotive industries primarily use energy management systems. Cities also leverage such solutions to reduce their emissions and improve the quality of living. Lastly, industry 4.0 aids energy management without massive capital expenses.
Interested to explore all 2 000+ startups & scaleups building energy resilience?
Global Startup Heat Map covers 2 153 Startups & Scaleups building Energy Resilience
The Global Startup Heat Map below highlights the global distribution of the 2 153 exemplary startups & scaleups that we analyzed for this research. Created through the StartUs Insights Discovery Platform that covers 2 500 000+ startups & scaleups globally, the Heat Map reveals that Western Europe has a high concentration of energy management startups.
Below, you get to meet 10 out of these 2 153 promising startups & scaleups as well as the solutions they develop. These startups building energy resilience are hand-picked based on criteria such as founding year, location, funding raised, & more. Depending on your specific needs, your top picks might look entirely different.
Top 10 Industries building Energy Resilience Solutions
1. Environment & Climate
Unchecked consumption of fossil fuels and lack of cleaner energy sources generate massive amounts of carbon emissions, thereby accelerating climate change. On the other hand, efficient energy management reduces greenhouse gas emissions from households and industries even while the energy needs are growing every day. Integration of renewable energy generation systems requires real-time and transparent energy management in grids and among consumers. That is why startups are developing energy management systems, including virtual power plants (VPPs), that specifically aid renewable integration. Consequently, this improves air quality and mitigates associated emissions, enhancing environmental performance.
ENEKA Energiekartografie aids Municipal Energy Planning
ENEKA Energiekartografie is a German startup that facilitates municipal energy planning. The startup's product combines heat maps with data related to energy potential, consumption, costs, and emissions. This information allows municipalities to advance heating planning and map the inventory, potential, and supply analysis. It also simplifies CO2 emission monitoring and CO2 costs, aiding energy transition.
2. Energy
While energy management optimizes power consumption for consumers, energy companies leverage it for improved load balancing. Additionally, this data allows energy businesses to better manage their renewable portfolios, allowing them to deliver clean electricity. Energy efficiency solutions are also gaining interest among energy producers and distributors due to energy sourcing issues developed by the Russo-Ukrainian war. For instance, many heating facilities analyze energy consumption patterns to identify CO2 hotspots and offer targeted heat delivery for improved air quality. Similarly, such solutions improve energy planning as well as saves costs and energy for businesses and consumers.
nista.io offers Energy Efficiency-as-a-Service
Austrian startup nista.io provides energy efficiency-as-a-service. The startup's AI-powered software collects and analyzes energy data to provide insights into consumption. This allows businesses to save energy costs and gain long-term control over energy usage. The software also features a no-code approach to aid data onboarding and offers regular reports on the latest findings.
3. Utilities
Energy management is a critical part of electric utility grids and district heating systems to optimize their operations. At the same time, other utility services like waste management, telecom, and water management utilize energy management to streamline energy consumption. Through this, they are able to reduce energy costs and their carbon footprint. Additionally, monitoring energy consumption provides asset-level information that enables advanced analytics and predictive maintenance. For example, continuous tracking of recycler energy consumption allows waste recycling facilities to promptly identify deviations from standard consumption patterns.
Ogre provides Energy Demand Forecasts
Ogre is a Romanian startup that develops an energy demand forecasting solution. It combines big data, machine learning, cloud computing, and IoT to enable renewable energy sources (RES) and demand forecasting. Additionally, the solution detects anomalies in grid infrastructures by leveraging real-time data. This allows electricity and gas companies to forecast demands while allowing district heating systems to reduce emissions.
4. Manufacturing
The concerns around climate change and the hike in energy prices significantly affect manufacturing operations. Regulations deem their processes to become more sustainable while the increased energy costs impact their operating expenses. Energy management systems tackle these issues by tracking, monitoring, and optimizing industrial energy consumption. They enable manufacturers to generate granular data on the energy consumption of their assets and factories. This data allows them to optimize consumption and identify hotspots with high energy requirements. Further, this information, along with other industrial data, improves maintenance planning and asset replacements.
SEEITEK creates Power Monitoring Sensors
SEEITEK is an Australian startup that manufactures IoT-based power monitoring sensors. The startup's wireless sensors and power meters collect real-time energy consumption data from individual circuits and devices. They also monitor main powerlines and large devices while enabling the sub-metering of industrial assets. Further, the startup's intelligence platform offers granular insights into these assets and allows manufacturers to lower energy costs and improve infrastructure operational efficiency.
5. Real Estate
Increasing energy costs affect both commercial and residential building owners. That is why property owners and developers are already deploying smart meters and other connected systems to better manage their power consumption. With full-fledged energy management systems, property owners are able to continuously monitor their consumption patterns and reward responsible behaviors. Additionally, this increases cost savings on energy expenses and improves the environmental performance of buildings. Since properties now offer on-site energy generation systems, effective energy management enhances their performance as well.
Brain4Energy improves Building Energy Efficiency
Brain4Energy is a US-based startup that increases building energy efficiency. The startup's AI-powered energy conservation software integrates with building management systems (BMS). It then collects data on temperature, humidity, occupancy, and electric, thermal, and lighting power. Further, the software identifies usage trends and predicts future consumption patterns. This information allows commercial building owners to find optimal control parameters for minimal energy consumption while ensuring comfortable conditions, reducing maintenance costs and CO2 emissions.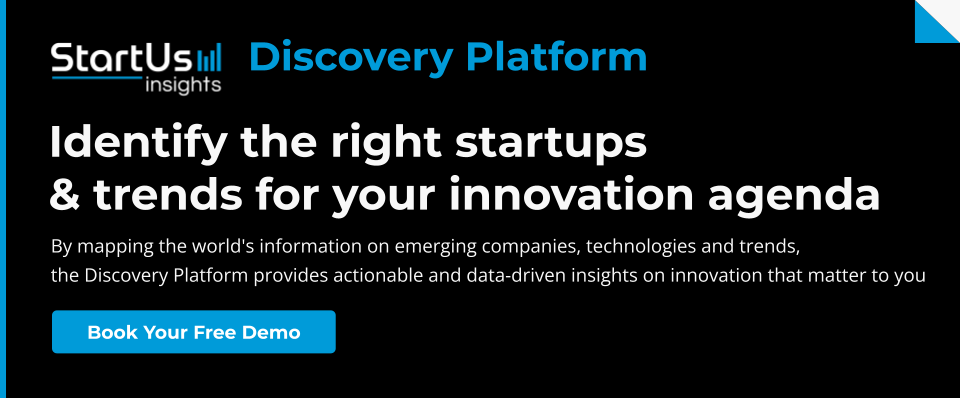 6. Smart Cities
Modern cities integrate various energy-efficient assets, including high-performance microgrids and energy-efficient buildings, to ensure service delivery while minimizing emissions. Hence, energy management is a crucial element across city operations. To aid them, startups offer energy management solutions that continuously track energy consumption data. For this, they use the internet of things (IoT). Cities also leverage energy management systems to integrate utility-scale renewable energy sources and improve demand-side management. These efforts will reduce their carbon footprint and improve the quality of life in cities.
UtopiaTech makes Smart Time Switches (STS)
UtopiaTech is an Indian startup that develops smart time switches. They are IoT-enabled devices that connect to the junction boxes of street lights to track their electrical footprint. The startup's cloud-based software then analyzes this data to offer insights into energy consumption. It further allows operators to remotely control and monitor lighting assets and quickly identify outages, allowing cities to automate lighting control.
7. Construction
Energy management solutions in the construction sector significantly impact the energy efficiency and overall sustainability of construction sites and buildings. They leverage advanced analytics and automated systems to monitor and control energy usage. For instance, some startups offer EMS tailored for on-site energy generation systems that primarily power construction operations. In buildings, construction companies streamline HVAC systems, lighting, and other appliances and equipment to optimize energy consumption. This leads to lower energy bills and a reduction in the site and building carbon footprint. Additionally, energy management solutions aid construction companies in meeting energy efficiency regulations and standards, advancing sustainable building practices.
Tangent Energy Systems provides an Energy Control System
Tangent Energy Systems is a UK-based startup that makes an energy control system. It collects data from various parts of the systems and intellectually controls loads to reduce energy consumption. Additionally, the startup's energy management software, Prism EMS, optimizes site management and aids remote asset management. Tangent Energy Systems' energy storage systems (ESS) also include its EMS to better manage energy use in construction sites where diesel generators are the primary movers. This saves energy costs and improves operational sustainability.
8. Healthcare
Power outages in mission-critical departments, like operating and emergency rooms, are often caused by power quality issues that originate within healthcare facilities. Energy management systems analyze consumption patterns to promptly identify such power quality issues and mitigate outages. Further, they allow hospitals to identify wasteful facilities and circuits. Accurate energy demand and usage forecasts based on historical energy readings also optimize their consumption. At the same time, energy efficiency solutions, including integrations for heating, ventilation, and air conditioning (HVAC), reuse waste energy or reduce consumption.
KelTech IoE Networks aids Hospital Energy Management
KelTech IoE Networks is an Irish startup that offers energy management solutions for hospitals. The startup connects siloed IoT devices in hospitals and centralizes their control. For this, it leverages connectivity technologies like dual distributed networks (DDN), 5G, and fiber optics along with advanced analytics. KelTech IoE Networks' solutions enable hospitals to better control temperature and lighting as well as receive insights into space utilization. This data allows them to optimize energy usage and mitigate wastage.
9. Automotive
The automotive sector integrates energy management practices into production floors and vehicles. In automotive manufacturing plants, such solutions monitor asset-specific and factory-wide energy consumption to offer insights into patterns. This data also enables them to forecast energy costs and optimize operations to reduce operating costs. On the other hand, EVs leverage energy management systems to optimize power consumption from vehicle batteries and improve battery life and range. They also leverage data from charging infrastructures to aid load balancing, reducing energy costs.
MinervaS provides an Advanced Driver Assistance System (ADAS)
MinervaS is an Italian startup that develops TruckY, an ADAS for heavy-duty vehicles. It analyzes real-time route, traffic, and payload data for suggesting optimal speeds to drivers. They are able to see it through their smartphones or buy the startup's dashboard monitor. Automotive and mobility companies leverage it to reduce vehicle fuel consumption and vehicular emissions while keeping travel duration in control.
10. Industry 4.0
Advances in industry 4.0 provide industries with massive amounts of granular energy data that aids energy management across processes. This is due to mass digitization and IoT integration efforts in industries. For example, monitoring energy consumption patterns of machinery does not require extra devices, mitigating capital expenses. Similarly, factories leverage energy analytics to enable predictive maintenance to improve maintenance planning and optimize energy costs. This further reduces their carbon footprint while improving energy efficiency.
Factana Computing advances Automated Industrial Energy Management
Factana Computing is an Indian startup that automates industrial energy management. The startup's platform, Fogwing, leverages data from energy monitoring sensors to monitor consumption in real-time. It further combines productivity data to accurately identify energy wastage in manufacturing assets and apply automated controllers to mitigate this loss. Additionally, the platform features in-built alert and visualization modules to notify manufacturers of energy usage and simplify consumption reporting.
Discover All Startups building Energy Resilience
As the integration of IoT and advanced analytics into business processes increases, companies are able to better manage their energy sourcing and consumption. However, more affordable energy management solutions are required to increase their adoption across industries. Startups are thus developing energy management as a service to address this issue. Innovations in high-performance and edge computing will further improve the performance of such solutions. Get in touch to identify specific energy management startups & solutions that make your business energy resilient!
Looking for energy resilience startups & technologies?
✕