Global Startup Heat Map highlights 10 Compostable Packaging Startups to Watch in 2023
Through the Big Data & Artificial Intelligence (AI)-powered StartUs Insights Discovery Platform, which covers over 3 790 000+ startups & scaleups globally, we identified 477 compostable packaging startups. The Global Startup Heat Map below highlights the 10 compostable packaging startups you should watch in 2023 as well as the geo-distribution of all 477 startups & scaleups we analyzed for this research. Based on the heat map, we see high startup activity in the US and the UK, followed by other Western European countries. These compostable packaging startups work on solutions ranging from biodegradable and bio-based materials to modular and microplastic-free packaging.
Interested to explore all 470+ compostable packaging startups?
As the world's largest resource for data on emerging companies, the SaaS platform enables you to identify relevant technologies and industry trends quickly & exhaustively. Based on the data from the platform, the Top 5 Compostable Packaging Startup Hubs are in London, New York City, Los Angeles, Mumbai & Bangalore. The 10 hand-picked startups highlighted in this report are chosen from all over the world and develop solutions for sustainable, customizable, and biodegradable packaging.
10 Top Compostable Packaging Startups to Watch in 2023
Packaging companies are developing plant-based materials that replace traditional plastics. These novel materials are biodegradable and thus reduce environmental impact. Advanced technologies ensure packaging's durability and functionality. Biopolymers derived from renewable sources, like cornstarch or sugarcane, are also commonly used. Composting facilities process these materials, converting them into nutrient-rich soil. These innovations promote a circular economy and reduce waste pollution. Additionally, compostable packaging offers comparable performance to conventional alternatives. Consumers now make more sustainable choices while maintaining product quality and safety. The growth of compostable packaging aligns with global efforts to address plastic waste and foster a greener future.
WildClean manufactures Eco-Friendly Detergent Packaging
New Zealand-based startup WildClean manufactures cleaning products, packed using fully reclaimed plastic and compostable packaging materials. Its KIT 'N KABOODLE kit includes a variety of eco-friendly cleaning products, a refillable bottle, dissolvable refills, and dishwasher detergent tablets. Besides providing sustainable consumer product packaging, WildClean partners with companies to remove plastic waste from the environment. The startup's approach reduces single-use plastic by providing a cycle of receiving, filling, and dissolving its products.
RAIKU Packaging provides Wood-based Protective Packaging
Estonian startup RAIKU Packaging manufactures a packaging material to substitute plastic-based protective bubble wrap and other high-footprint packaging materials. The startup's manufacturing process upscales and converts wood into protective packaging material. Additionally, the production process uses significantly less water, energy, and no chemical, unlike conventional plastic package manufacturing. The startup's products protect fragile items such as bottles, ceramics, cosmetics, and more while being completely compostable.
Noriware makes a Home Compostable Packaging Film
Swiss startup Noriware creates eco-friendly disposable cups developed using algae and other natural materials. The startup's product Norifilm is a flexible packaging material for dry goods that is durable as plastic but with a reduced environmental footprint. This edible packaging film is also transparent, biodegradable, and leaves no waste when discarded. The startup's other product Noricup is a drinking cup sourced from algae and other natural substances and is an alternative to disposable plastic cups. These products are biodegradable in marine environments and home compostable while also reducing carbon and water footprints through seaweed's CO2 sequestration.
Daurema produces Molded Cellulose
French startup Daurema manufactures molded cellulose fiber packaging that is fully biodegradable and domestically compostable. The startup offers a range of sustainable packaging for fruits and vegetables with different carrying capacities. Moreover, the startup's trays are perfluoroalkyl and polyfluoroalkyl substance-free (PFAS), have water barrier properties, and are compliant with the AGEC law. As a result, they are inert and do not release any harmful chemicals into the environment, enabling businesses to replace plastic food packages.
ComposTerra advances Circular & Modular Packaging
Dutch startup ComposTerra creates bio-based packaging materials that are recyclable or compostable. It also offers a modular and compostable alternative to plastic packaging. Besides, the startup creates decorative products, cups, and takeaway packaging using organic materials that completely biodegrade. ComposTerra supports the circular packaging economy by conducting case studies, exploring local waste streams, and performing feasibility analyses. It also promotes material science research and the supply of processed organic materials to lower the carbon footprint of the packaging industry.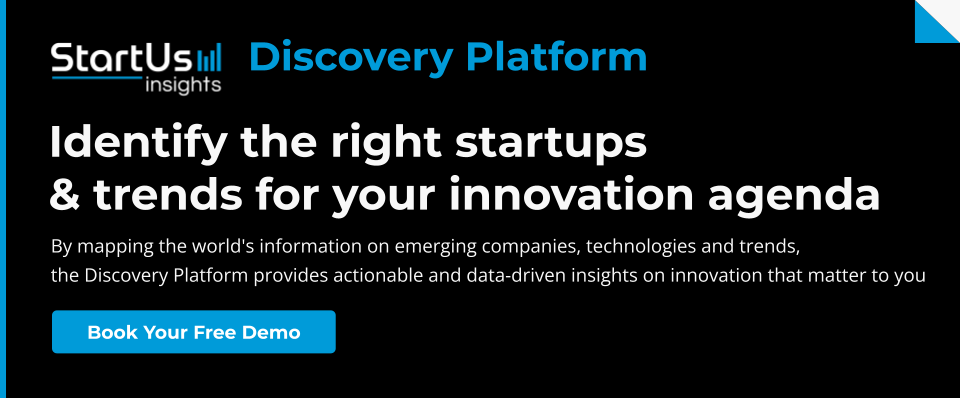 Mushloop creates Mycelium-based Packaging
Indian startup Mushloop manufactures sustainable packaging with mycelium and agricultural waste to replace styrofoam and single-use plastics. The startup's production process guides mycelial fibers into large format sheets which grow in vertical farms to optimize space. This maximizes surface area and carrying capacity with minimal energy wastage. Mushloop's product range includes compostable packaging for various items and is grown to meet size and shape requirements.
Nvirovate Materials develops Pressure-Sensitive Adhesives
US-based startup Nvirovate Materials creates a pressure-sensitive adhesive that removes carbon dioxide from the atmosphere. The sustainability-focused adhesive consists of over 93% organic materials, use no solvents or water, and does not use UV light processing. Moreover, the adhesives are compostable, stable, and have a storage life of over a year. The adhesives also eliminate the need for drying processes and are oxygen tolerant which further reduces production cost. The PSAs find various applications from sticky notes to tapes for labeling, protective films, packaging, and more. The startup's solution eliminates greenhouse gases from PSAs and reduces the carbon footprint of the industries such as consumer packaging.
NovoEarth creates Compostable Biopolymers
Indian startup NovoEarth develops NovoPolymer, a bioplastic that behaves like plastic and is compostable in marine and soil environments. It is manufactured with industrial waste and works well with a wide range of existing manufacturing equipment. Additionally, NovoEarth provides NovoBoards, a fully recyclable board made with non-recyclable plastic waste like multi-layered plastic (MLP), polyvinylchloride (PVC), and polystyrene. Its materials are cost-competitive with plastics and are also suitable for use in existing injection molding and blown film extrusion equipment.
EcoPackables develops Sustainable Packaging Polymers
US-based EcoPackables provides a range of eco-friendly packaging made with compostable, recycled plastic or recycled paper. Its compostable packaging material features a blend of compostable polymers. The recycled plastic is global recycle standard (GRS) certified with customizable blends. EcoPackables also offers fully customizable packaging with low minimum order quantities (MOQ) and offers a wide range of compostable and recyclable materials.
ZNIKA creates Microplastic-free Packaging
Polish startup ZNIKA produces and distributes eco-friendly packaging and plant-based packaging. The startup manufactures a range of products such as ecological packaging, eco-labels, compostable materials, personalized packaging, and packaging accessories. Moreover, its packaging products are suitable for industrial composting and also decompose in home composting. The startup's products are plastic-free and created from bioplastics that decompose into organic substances, leave no microplastics, and serve as a fertilizer.
Discover All Emerging Packaging Startups
The packaging startups showcased in this report are only a small sample of all startups we identified through our data-driven startup scouting approach. Download our free Packaging Innovation Report for a broad overview of the industry or get in touch for quick & exhaustive research on the latest technologies & emerging solutions that will impact your company in 2023!
Looking for compostable packaging startups?
✕
Get your free Packaging Innovation Report
We'll deliver it straight to your inbox!
✕