Global Startup Heat Map highlights 10 Asset Monitoring Startups to Watch in 2023
Through the Big Data & Artificial Intelligence (AI)-powered StartUs Insights Discovery Platform, which covers over 3 790 000+ startups & scaleups globally, we identified 501 asset monitoring startups. The Global Startup Heat Map below highlights the 10 asset monitoring startups you should watch in 2023 as well as the geo-distribution of all 501 startups & scaleups we analyzed for this research. Based on the heat map, we see high startup activity in the US, followed by Western Europe and India. These asset monitoring startups work on solutions ranging from connected sensors to digital twins and fault analysis to predictive maintenance.
Interested to explore all 500+ asset monitoring startups?
As the world's largest resource for data on emerging companies, the SaaS platform enables you to identify relevant technologies and industry trends quickly & exhaustively. Based on the data from the platform, the Top 5 Asset Monitoring Startup Hubs are in London, San Francisco, Bangalore, New York City & Tel Aviv. The 10 hand-picked startups highlighted in this report are chosen from all over the world and develop solutions for oil asset monitoring, drone-based monitoring, vehicle diagnostics, and root cause analysis.
10 Top Asset Monitoring Startups to Watch in 2023
The integration of the Internet of Things (IoT) enables real-time monitoring and remote management of assets. IoT devices with sensors and connectivity capabilities collect and transmit valuable data on asset location, condition, and performance. Businesses then analyze this data using AI and machine learning algorithms to generate actionable insights and enable predictive maintenance. Additionally, the rise of cloud computing facilitates the storage, processing, and accessibility of vast amounts of asset data. This allows organizations to make informed decisions and optimize asset utilization. Further, advances in AI pave the way for intelligent asset monitoring systems capable of detecting anomalies, predicting failures, and optimizing asset performance. These innovations in asset monitoring enhance operational efficiency, reduce downtime, improve maintenance planning, and drive cost savings across various industries.
Stoke Systems manufactures Asset Monitoring Sensors
US-based startup Stoke Systems develops plug-and-play sensors to monitor asset conditions. The startup's SmartEdge solution utilizes AI algorithms to convert raw sensor data into actionable insights. Its devices are installable on any asset, including engines, motors, compressors, pumps, HVAC systems, etc. They provide continuous machine data without additional infrastructure. Besides, the devices autonomously monitor the condition of industrial assets for up to 3 years using their battery life. Stoke Systems' solution features a low total cost of ownership as it requires minimal capital expenditure and an affordable subscription model, enabling more efficient industrial asset monitoring.
Volateq provides Drone-based Asset Monitoring
German startup Volateq offers drone-based health checks for solar fields through autonomous data recording and severity identification of low-performing areas. The startup's web app enables easy data upload and generates accurate, comprehensible reports which enable data-driven decision-making. Additionally, its software offers in-depth condition monitoring of solar plants with parameters like thermal and component analysis, soiling, and geometry. Besides, Volateq enables photovoltaic (PV) park operators to receive performance indicators and overviews through soiling and anomaly detection.
Willog aids In-Transit Asset Monitoring
South Korean startup Willog makes customizable sensor devices to monitor assets in transit and provides data streams for logistics environments and transportation modes. The devices are pre-engineered with product information through the integration with customer databases or management systems, eliminating the need for manual mapping. Willogs' one-time QR-code (OTQ) records condition data such as temperature, humidity, and shocks. Its zero-touch device also features remote connectivity and GPS capabilities for automatic data uploads. Moreover, the startup's disposable tags provide visibility in environments where devices cannot be retrieved. Willog enables industries, such as food, agriculture, and pharma, to minimize risks and costs from damage with transparent condition visibility.
datavi creates a Data Logger
German startup datavi creates a data logger that captures key performance metrics of machines and provides real-time visualizations. Its hardware solution, All Productions Control (APC), provides transparency in production through real-time data logging. The device easily integrates with existing equipment through a relay connection and connects directly to central controllers using network cables. It identifies problems and makes necessary adjustments to optimize machine performance. Moreover, APC provides full traceability to identify a decline in quality and offers immediate countermeasures to save costs.
Widya Matador provides Vehicle Diagnostics
Indonesian startup Widya Matador develops a tracker that provides a range of vehicle and driver information, including vehicle diagnostics. The startup's Matador Tracker provides real-time visibility of vehicle status, daily operational reports, GPS tracking, fleet management, geofencing, and on-device data storage. It also includes a fuel power monitor, temperature sensors, mechanical sensors, gas sensors, and a battery for applications in self-powered or autonomous vehicles. Matador Tracker thus allows companies to monitor the position of their vehicles in real-time, enhancing logistics and supply chain management.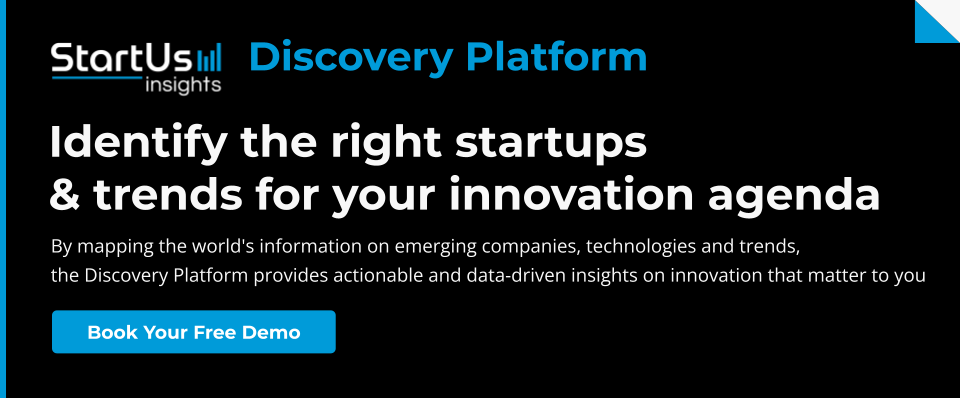 Sanchip advances Predictive Machine Maintenance
SanChip is an Italian startup that offers devices that extend life and increase the productivity of oil assets. Its plug-and-play devices enable online oil condition monitoring without the need for regular oil sampling and laboratory analysis. The devices deliver real-time monitoring of lubricant parameters, water content, and temperature. Additionally, SanChip's lab-on-chip-based online analysis hub, L-HUBTM, provides real-time, multiparametric oil condition monitoring by analyzing various physical-chemical properties of the oil. With data processing and interpretation capabilities, it supports the predictive maintenance of critical assets. SanChip also creates D-BRANE, a cloud-based predictive analysis solution using AI algorithms for failure diagnosis.
Chatter.dev simplifies Equipment Visualization
Chatter.dev is a US-based startup that makes a cloud-based platform that lets machine shops visualize equipment data in real time. The startup's cloud-based platform, Chatter, utilizes algorithms to process and parse data, granting management and operators access to data-driven insights. Further, it provides machine monitoring and analytics through rapid integration with machines. Besides, the platform is compatible with a wide range of equipment manufacturers including Fanuc, Brother, Siemens, and Mitsubishi. Therefore, Chatter.dev simplifies shopfloor management by providing all the necessary hardware to monitor machines.
Nectar. aids Heavy Machine Management
Indian startup Nectar. creates a cloud-based telematics platform to manage heavy machine assets across multiple work sites. It utilizes data from people, sensors, and devices along with AI and machine learning to ensure the optimal efficiency of critical assets and operations. The platform also features precise asset tracking through GPS, performance intelligence that delivers fuel efficiency analysis, and automatic logs to avoid manual data entry. Further, it aids document management, service management with checklists, and geofencing for alerts on machine movement. Nectar.'s platform, in turn, enables heavy equipment owners and operators to reduce machine downtime and extend asset life.
Santinela improves Overall Equipment Effectiveness
Romanian startup Santinela develops an OEE module that tracks and optimizes manufacturing performance. It measures the availability, performance, and quality of machine production to identify the root causes of inefficiencies like incorrect measurements and lack of engagement. The module also offers real-time monitoring and reporting of production lines, comprehensive diagnosis for downtimes and defects, and curative maintenance management. This way, it identifies lost opportunities and provides recommendations to reduce manufacturing waste, increasing profitability.
VISENSE offers Machine Error Diagnostics
VISENSE is a Swiss startup that develops a solution to visually record flaws in industrial machine processes. Its AI-powered Visual Error Exploration System (VEES) identifies, documents, understands, and resolves machine errors, saving time in machine troubleshooting. The startup's hardware hub combines industry-grade cameras and sensors to enable an all-in-one camera system that provides reliable machine observation. It features plug-and-play capability for different camera types and IO-Link sensors with rapid data orchestration and low latency.
Discover All Emerging Industry 4.0 Startups
The Industry 4.0 startups showcased in this report are only a small sample of all startups we identified through our data-driven startup scouting approach. Download our free Industry 4.0 Innovation Report for a broad overview of the industry or get in touch for quick & exhaustive research on the latest technologies & emerging solutions that will impact your company in 2023!
Looking for asset monitoring startups & technologies?
✕
Get your free Industry 4.0 Innovation Report
We'll deliver it straight to your inbox!
✕